If you've been to the movies lately, you've probably noticed posters for the new films No Strings Attached and Friends With Benefits, both celebrating sex minus the romance. While "straight people screwing without falling in love" is not necessarily a new topic at the movies, these films have it as the main plot and make no attempt to hide it, announcing it in the titles. Obviously, this has led to the usual media-handwringing about "kids these days" and all their brave new relationship models. Collier Myerson of Alternet, however, thinks there is something distinctly queer about these movies, despite their exclusively heterosexual couplings:
"The re-imagining of the 'relationship' played out in heterosexist films such as No Strings Attached owes itself to those that are less represented as heroes of love on the silver screen…Growing up witnessing the movement of LGBT people from the fringes into the center, witnessing the expansion of sexuality as we know it, is what allows the friends-with-benefits genre to exist… An article in the New York Times in January 2010 reported on a study that 'followed 556 male couples for three years— about 50 percent of those surveyed have sex outside their relationships, with the knowledge and approval of their partners.' Because 'gay' as a sexual designation was unacknowledged for so long, LGBT people have fought hard to subvert the trappings of hetero-normative relationships, and have instead begun to restructure 'the relationship' away from the antiquated idea of monogamy and into newer, more malleable terms. And those terms, though unnoticed in the [romantic comedy] genre, do inform it."
So to some degree, the queer critics of marriage equality had it backward. Certainly, queers are facing more and more pressure to conform to the marriage-and-kids formula as it becomes more accessible for us. Yet at the same time, the opposite is occurring: straights are becoming more and more aware of the alternative models common among gay men (and not unheard-of among lesbians) and realizing, "Hey, maybe this non-monogamy stuff isn't such a bad idea." The fact that many of these models developed simply due to being shut out of the traditional ones makes it that much more interesting that straight people are now embracing them over the norms.
One of the biggest people pushing the gospel of nonmonogamy is Dan Savage, the rare gay man with a gay model of sex and love who also has a captive straight audience. Recently he coined a new term, "monogamish," to describe relationships like his with his husband Terry. Unlike truly "open" relationships, "monogamish" couples are not actively looking for sex outside the main relationship, but it's okay if it happens. Savage compares it to having a door open just a crack as opposed to wide-open.
I've always been a little skeptical of open relationships and polyamory. Not in terms of other people doing it; I'm completely "whatever floats your boat as long as it's consensual and sanitary" when it comes to other people's sex lives. Just not for me. As an introvert, I have difficulty being intimate with one person, let alone multiple people, and polyamory just sounds too crowded for my liking. (Ergo, I have a feeling I wouldn't enjoy threesomes, making me living proof that not all bisexuals do.) Even with open relationships, I tend to be a fairly jealous person. While I might enjoy messing around with others, I'm not sure if I could handle my partner doing it — and as someone who doesn't like being a hypocrite, I figure it's just better that we both keep our hands to ourselves outside of the relationship.
But re-reading a lot of mainstream relationship advice makes me think that Dan Savage is on to something with this "monogamish" business. (Sidenote: The general awfulness of mainstream relationship advice is why I am such a huge Savage Love fan despite — to put it mildly — not always seeing eye-to-eye with Savage.) The idea that true love should be tossed out at the first sign of wandering eyes just makes it seem so…disposable. Take, for example, the advice book I randomly flipped through in the school bookstore a few days ago, called UChic: The College Girl's Guide to Everything. (Yes, despite being 75% done with college, I still need these books. I'm still a wide-eyed freshman deep down.) In its section on long-distance relationships, the book lists "You have your eye on someone else" as a reason to break up with one's long-distance boyfriend. Get over for a moment the heterosexism of a book written for "all college girls" assuming the reader likes boys, and just listen to the advice itself:
"This is exactly why long-distance relationships tend not to be satisfying in college. College is the time to explore yourself and your options. You shouldn't feel guilty when you find yourself staring at the cute boy in sociology class with the shaggy hair and Johnny Depp-esque eyes. Being in college gives you an all-access pass to plenty of educated, attractive, and ambitious potential lovers. These lovers can teach you a lot about the world, other people, and even yourself. If you feel even a little inkling that you might want to see other people, it's probably time to wave buh-bye to your cross-country boyfriend and try to connect with someone a little more accessible. As I mentioned earlier, I decided I needed to call it quits with my high school long-distance lover when I started to find myself attracted to a guy in my new group of friends."
That may have worked for the author; she describes her attraction to her high school boyfriend as because he was what she thought was "cool" at the time: "passionate, dark, addicted to punk music and cigarettes," and not much else. So maybe it was inevitable that it would end sooner or later. But what if your "main" person really is the love of your life? Is it worth treating that relationship as something so disposable — that it should be tossed aside at the first sign of compelling physical attraction toward someone else? Why does finding other people hot necessarily mean you love your main partner any less — especially if your partner is long-distance and, thus, you aren't getting regular physical stimulation from them?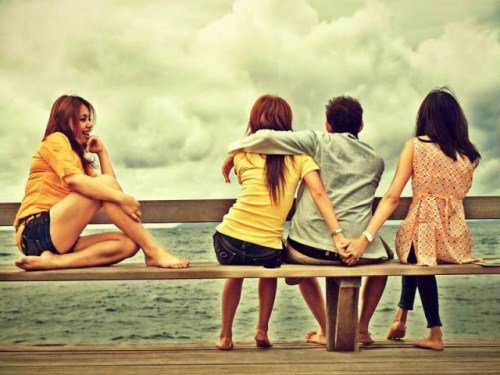 In The Advocate's recent article on straight couples taking lessons in non-monogamy from gays, sexual dysfunction seems to be a common reason for choosing an open relationship:
"When birth control pills were making Megan's sex drive almost nonexistent, she told her boyfriend, Colin, what many gay men in a similar position might say to theirs: 'If you want to have sex, feel free to sleep with someone else; just don't tell me about it.' Last year, after six years together and a year and a half of marriage, Colin's chronic back pain was making sex less than fun. So he returned the favor: 'Sleep around all you want,' he said. 'Just don't do anything stupid, and don't tell me about it.'"
One could argue that a big part of "true love" means putting your partner's needs above your own, and part of that is acknowledging when you're not physically satisfying them enough and they perhaps could get those needs better met elsewhere. In that sense, non-monogamy in these situations is not only logical, it is also romantic. It also separates sexual from romantic attachment — that just because your sexual needs aren't being met does not mean your emotional needs aren't. This is a notion completely absent from the model given in UChic, where wanting to roll around with the random classroom hottie somehow means your love for your long-distance lover has waned.
The Advocate article focuses a lot on the ostracization that both gay and straight non-monogamous couples face when they openly acknowledge it. No matter how sensible the idea may be — Savage and his supporters argue that going "monogamish" can strengthen relationships by not putting unrealistic demands on them as well as making other things, like honesty, more important — monogamy is still a very entrenched cultural norm. It's entrenched enough that its advocates can ignore how entrenched it is. And it's often been taboo particularly for gays to have that conversation, because it "proves" the bigots right by showing that acceptance of homosexuality has changed the "institution of marriage." One thing you have to admit about Dan Savage, though, is that he doesn't play by the rules and isn't afraid to have those "taboo" conversations. And why should he be afraid? It's clearly a conversation that gay and straight couples alike want to have.