It's officially the holidaze. Whatever holigay you may choose or be coerced into celebrating in a lackluster or unsettlingly enthusiastic manner, I think we can all agree that it's a fine time for gaming. A) It's cold outside or should be, global warming aside B) You may have time off from work or school or juvie or whatever C) It hits an acceptable middle point on the socially-acceptable-avenues-for-total-immersive-escapism scale. Unacceptable being how much small-batch bourbon I would drink, had I the foresight to travel from my Portlandish micro-paradise to Kentucky with my CamelBak. Completely acceptable being a checked-out smile and a reindeer sweater.
Now I am home for whatever holiday I am supposed to be caring about, which I think is Christmas. And you know what? I may be a light packer (that sounds more intense/sexy than I intended), but I insisted on bringing my Xbox 360 along for the ride. When it went through PDX security, a TSA manperson with powdered gloves and a benign if unhinged smile lifted it out of my handsome duffel and told me that my 360 was a "sweet rig" and that he intended to own one. I don't know what the fuck he was talking about, but I really hope he gets one for the ambiguous gift-oriented winter holiday of his choosing. Santa/God, are you listening? It's not me, Margaret, because I never read any Judy Blume books.
While gaming hasn't exactly been at the fore of my existence lately, my main gaming must-plays include Skyrim and Skyrim. I've only played for basically one multi-hour session that consisted mainly of obsessive character creation…and re-creation (what did you end up rolling?! I had to have a tail…I just had to!), I am on the cusp now, I can feel it.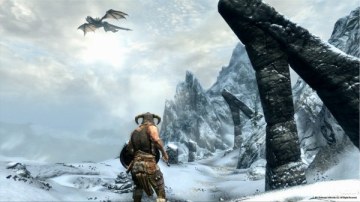 And by that I mean a bunch of prophets and kingtypes were like "you need to go up this mountain and hear how special you are, because you are the protagonist and that's just how it works. No really, go up this mountain…"
Beyond Skyrim, I'd love to dig into Arkham City (which I've been lusting after since I previewed it at E3 earlier this year), and in fact might be more likely to given that playing Skyrim is essentially entering into a somewhat monogamous liferelationship, except you don't get laid or get pets, you just get better spells with more impressive particle effects, I can only assume.
Which brings me to my point. (It didn't really, but Humor Me: I'm a little jetlagged, You know how it goes, being a lesser time traveler and not getting the R-E-S-P-E-C-etc. that you deserve.)
What games are you investing your blood, sweat and tears in this holigay season? Actually if blood or tears are a direct result of your gaming experience, you might want to cool your jets for a hot second or a series of hot and/or warm seconds. As for sweat, well, I'm a sweaty person…a phenomenon which tends to be triggered by boss fights, menu-based tedium and also any time anyone sends me a message on Xbox Live from that one time I made an Autostraddle gaming socialization call-out so we could all have more virtual friends.
Which re-brings me to my point:
What are you playing? Why? How do you like it? And did you break up with your ladyfriend for SW:TOR? Better yet, how do you pull off your epic holigay gaming sessions? My grandmother gets nervous when I don't see the purported "light of day" or "eat things" for more than 72 consecutive hours, which I think is just really square. You know?