feature image via Vice
Hello my adorable opossums, it is that time again: Friday. Remember that Rebecca Black song that cursed us all for a time? Friday, Friday, etc. As usual, Friday is the day that we queers a-gather on the internet and talk to one another in this, the comment section of Autostraddle dot com. Hi hello welcome, it is I, today's host, A.E. Osworth. I technically do not work here anymore! But they still let me hang out sometimes.
Today, I want to talk about curses. I want to talk about whether or not you believe in them, the last time you experienced a Cursed Time in your life. And I want to talk about that because I am experiencing what I think is a curse right the fuck now. For, like, the last year all the things have gone inexplicably wrong (except for career stuff, for some reason I'm killing it at work, KNOCK ON ALL THE WOOD). There's been autoimmune disorders, there's been friend break-ups, there's been other health scares—and every single time I think okay, that has to be the last of it, we come to something else. This July and August, the curse came for my home and my cat and I've had it up to here with whatever is lurking in the corners of my life.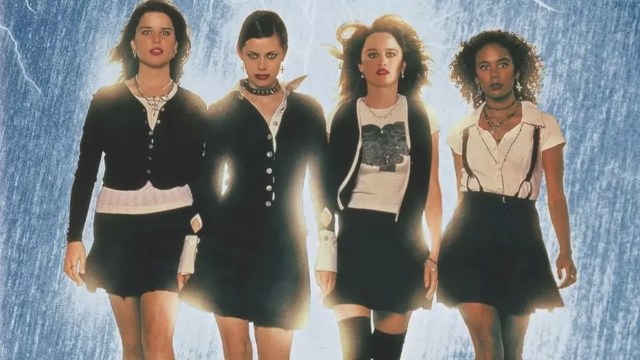 In July my cat's kidney's stopped working, which is apparently a thing that happens to cats for no reason at all because they are poorly designed. Turns out the right one was less a kidney and more a gravel machine, and the left one had a blockage in the ureter, which is the wee tube that connects the kidney to the bladder (you learn something new every day). Thank Goodness for pet insurance, because she is four and a half and we are not giving up our bb so easily, so we built her a new ureter. She is happy as a clam rn, but I have a new job: I am a full-time cat kidney. On top of all the other things that I do.
Then, literally right after this happened in the middle of our vacation on the fourth of July, we discovered we had a moth problem. We discovered this because our air conditioner stopped working (thank you, curse), and we were all of a sudden covered in moths. Where could they be coming from, we wondered? They weren't in our closets, there weren't in the giant wool stash. Where were the fecking moths mothing? Under our bed in our rug, turns out. We didn't see the damage until we moved the bed out of the way on our moth quest—the moths had been eating a beautiful antique rug for months. We threw it out. We wept.
About this time we ordered some burnables and shitton of spell candles because hot damn, we were cursed. A writhing pile of larvae under our bed felt pointed and personal. Even people in our lives who do not care one wit for magic advised us to sage tf out of our apartment. When the spell candles arrived, the one labeled "Protection" arrived broken, glass and all.
Cursed.
We've since got it sorted—the moths have been unmothed, I'm getting the hang of giving my cat a lot of needles, and a new Protection candle arrived intact (thank you, Seagrape Soap). I hope it's gone. I went from zero to sixty on this one; from not believing in curses to definitely believing in curses.
So now I come to you, queerest of community, and I ask you:
Do you believe in curses, too?
Tell me about your week, sure. But also tell me about that run of time where you were SURE that someone put an ill-wish in your coffee. And tell me what you did about it. How did you break your curse?
---
How To Post A Photo In The Comments:
Find a photo on the web, right click (on a Mac, control+click), hit "Copy Image URL" and then…
code it in to your comment like so:
If you need to upload the photo you love from your computer, try using imgur. To learn more about posting photos, check out A.E.i's step-by-step guide.
How To Post A Video In The Comments, Too:
Find a video on YouTube, copy the URL, and paste the link on its own separate line in your comment. You no longer need to use the "embed" code!