Do you remember a few months ago when we spoke to Emilie Wapnick about 'multipotentialism'? She described a kind of person who can't and won't choose 'one path' and commit to it, who rejects the idea of 'one calling' and instead creates varied careers satisfying and celebrating of their many passions?
Miyuki Baker is one of those people. She's an artist and a zine-maker, a researcher, travelling the world collecting stories and inspiration for her work. She's a feminist and QWOC activist. She's a PhD student of performance studies. In this inspiring and hilarious interview, Miyuki introduces us to her life as a continuously-evolving process of creation and discovery, and what it's like to live solely off your art. (She also shares pictures of the tiny house she built, which are amazing!)
---
Miyuki, artist/activist/academic
Age 26, Oakland CA
Hi Miyuki! Can you introduce your business?
Queer Scribe Productions is what I call my publishing "cabin," and home to the 13 zines I've made in the past three years. It started because I was traveling the world documenting different queer artists and activists and wanted to create a space for them to exist as a collection. When I returned from that trip, I continued to make more zines that branched off from the topic of international queer art and activism. Some of the recent zines I've made are on other topics like pregnancy and chestfeeding for gender non-conforming folks, yoga and meditation, and hairy vulvas! My mission is to make accessible media about issues that I care about or are in need of visibility. I primarily use Etsy to sell my zines and prints although one of my favorite things to do when I'm traveling is to bring a bunch of my pieces and a big scarf, set it down in a place with lots of people and open shop. There was also one zine fest in L.A. where I had a big bike messenger backpack on with a sign that said "Ask me about my queer art and activism zines" so I could walk around the zine fest while selling my zines.
Another key service I offer is zine consulting! This came out of a zine making for social change workshop I led at the Allied Media Conference in 2014 where one of the participants invited me to come on as a contracted worker to make three zines for their non-profit organization, WhyHunger. One of the zines is already out. My job for that one was to facilitate and teach two youth food justice organizers to create a zine filled with submissions from all over the country on the topic of youth food justice.
So I'm an artist/activist/journalist/consultant freelancer, but I also started a PhD program at UC Berkeley this September in Performance Studies! I'm still selling my zines and prints on my etsy shop and finishing up some zine making consulting jobs that I started last year but my main source of income is coming from my PhD program, which means I'm not just barely getting by off of my art.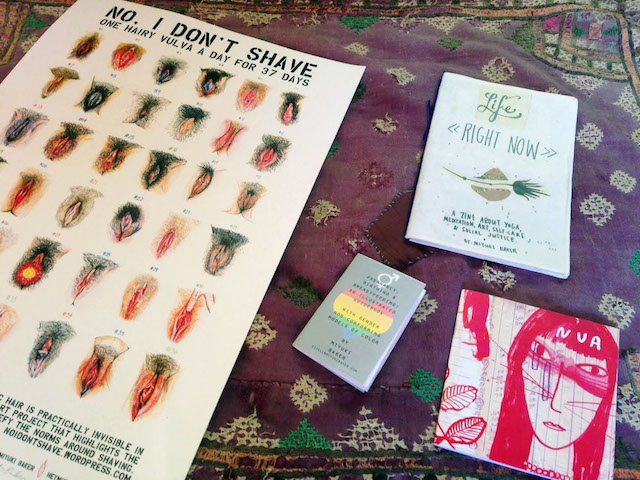 How would you describe your approach to business? What personal qualities inform your approach?
Oh I'm totally winging it most of the time. I've always been good about having bouts of professional planning, like having a google folder with all of the pdfs and a spreadsheet with orders, but it usually unravels at some point — ha! My mom always tells me that after I cook, the kitchen looks like a storm passed by. I am working on cleaning my messes as I make them but I also think that messiness and winging it also have some perks. For example, some people may look at some of the things I've done (i.e. travel around the world for several years, run an indiegogo campaign, open an underground yoga studio, do performances on masturbation, make a tiny house, etc.) and wonder how I managed to do it.
Well, I'm able to do it because I don't plan long and hard before doing it. If I did, I probably would make excuses not to do it with all the risks involved. Even though I sometimes find myself in a bind because of the impulsive decisions I make or winging things, in the end, it all somehow works out. Even if I fail, I've usually learned some really invaluable lessons. The other day, I went to this women's circle at a local meditation house where one of the activities we did was go around the circle and say "I failed" and everyone claps and cheers! It was hilarious and silly, but extremely empowering! In other words, we could probably avoid being so disappointed in ourselves if we had a culture of celebrating failure! I mean really, no matter what advice people try to give me in advance, my biggest motivation to really change are almost always products of my own failure/mistake of some kind.
What does a typical day look like for you? Do you have a routine? What is your workspace like?
I try to wake up by 7 or 7:30AM during the winter months and put the kettle on to make some ginger or nettle tea to warm up. After visiting the bathroom (ahem, yes, it's super important to poop first thing in the morning!) I sit for 10-20 minutes to freewrite. I didn't start doing freewrites until this summer but they're really helpful! I literally write whatever's on my mind and it helps me clear out whatever is lingering on my mind from the day before or things that are worrying me about the rest of the day or week. (p.s. got this idea from The Artist's Way, a really awesome book I recommend for anyone who wants to make art!)
Since I just started graduate school a few months ago, my freelance artist/activist/traveler life has shifted drastically. Whereas before, I could wake up most mornings and ask myself "Hmm what do I feel like making/doing today?", now I need to be much more strategic, better about time management and leave room for ample self-care. Coursework takes up a lot of time, and reading and writing can get me pretty stressed out. So I've been asking myself what my priorities are in terms of my art and what I put out into the world. I'm asking myself too, how to bridge my work as an academic and my art making. Recently, I decided that one way would be to do portraits and interviews of some inspiring professors for my blog! This semester my blog didn't get as much attention because I was getting used to my new life but in the past I've used that as a way to have a routine.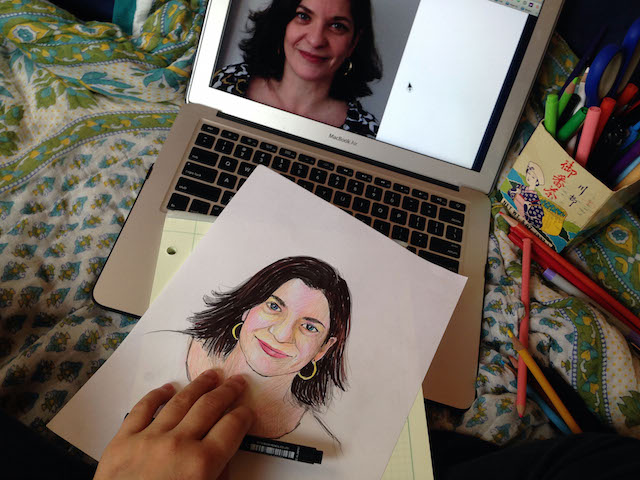 On the business side of things, I'm selling things I made up until before grad school started! I'm also still finishing up a couple of zines for WhyHunger on SNCC (The Student Nonviolent Coordinating Committee), one of the most important organizations of the American Civil Rights Movement in the 1960s, and UFW (United Farm Workers) which organizes agricultural workers, many of whom are Mexican-Americans. These days, I'd say I spend an hour a week for Etsy orders and then a couple hours a week on zine consulting/making. But it really depends on how many orders I get and what my schedule is looking like for the week.
I'd say that my instagram feed is another primary way I share art with the world. I put a lot of love into making food and finding beautiful/inspiring things to capture that I love sharing with folks via photos!
My workspace is usually in my tiny house at my little desk. I also have a bunch of mailer tubes in my landlord's garage because they wouldn't fit in my house. Because my zines combine manual and digital processes, I use my laptop for Photoshop, which I can bring almost anywhere I want! I've also never owned a scanner, despite using them for so much of my work, but I always end up having access to one. Currently I have access to a great big Xerox machine through UC Berkeley which is where I'm doing my PhD program. When I'm traveling or out and about, I like to take my favorite Faber-Castell markers, a Sharpie and some ink pens so that I can work on illustrations and zine-ideas on found paper — that way my workspace isn't limited to one place either.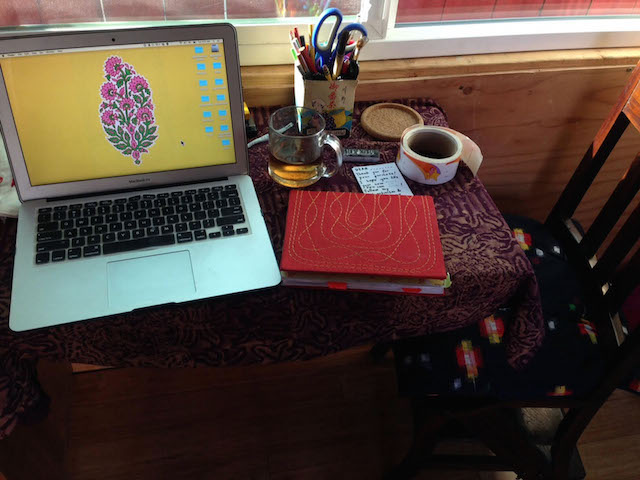 When did you know that this was what you wanted to do? And what were your early goals, your first steps?
I've always been a maker as long as I can remember. Actually a cute story is that according to my mom, I came home one day when I was 6 years old with a pocket full of change announcing that I had sold my art to our neighbors! But more seriously, in college I had a really hard time imagining myself in any kind of conventional 9-5 job. I was bent on getting this fellowship to travel the world with a project of my own design and thanks to some extreme star-aligning, I got it! I feel extremely fortunate to have experienced the satisfaction of doing exactly what I wanted to do without worrying about finances or a boss for a whole year right out of college. On the flipside, when the fellowship ended, I felt like many people who had been supportive of me in that year of traveling were suddenly asking me when I was going to get a real job, which wasn't the best thing to hear at a time when I had less than five hundred dollars left to my name.
Still, I couldn't see myself at a conventional company or organization, so I hopped around from one place to the next trying to keep busy with random projects. I taught a workshop at the Allied Media Conference. I raised money with an Indiegogo campaign to attend a yoga teacher training. I took the GRE. I learned about bike mechanics in LA's Bicycle Kitchen. I flew to Ecuador to find closure with my ex-girlfriend. I went on a bike tour in South America. I built a tiny house. In retrospect it may sound chronological and well-planned out, but in the midst of it, it was often confusing, chaotic and I felt like I was on an intense emotional roller coaster. On good days, I felt the world providing its abundance, but on bad days, I felt like I was wasting my time looking for something I didn't even know the name of.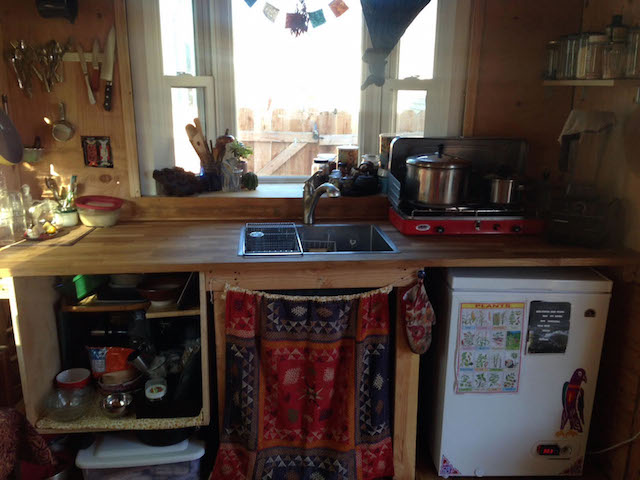 Hm, I keep going on tangents! Let me get to answering the original question! Because I never felt like I could take on a conventional job, I decided at some point that selling my wares and leading zine workshops would at least give me some income, however minimal. Living abroad in Ecuador also meant I had way lower living costs which helped. But I was very financially poor and with no health insurance for a couple of years. Now that I'm in a paid PhD program, I feel like I'm in a pretty different boat. I can actually make a budget (well I would have if I was more organized… NEXT YEAR!) I also felt like I had enough money to experiment with selling a high-quality print of my art which I had never done before. Zines are always way more accessible to print and buy but good paper and prints cost a bit more.
Hopefully I'll start offering more prints of work I've posted in previous zines and on my blog.
Why do you do this? What makes you spring out of bed in the morning? What's the best thing about the work you do? 
Because I can't not make art. Needing to go poop makes me spring out of bed in the morning! Just kidding, I think the unexpected moments of true connection with other magical beings and happenings in the world make me excited to get out of bed. There are also plenty of days during the year when I don't want to get out of bed because I'm depressed and feeling down. But as long as I make sure I'm putting in a few hours of self-care a week, I feel excited about getting out of bed in the morning.
The best thing about the work I do is really in the connections I make with people who find my art inspiring or motivating! I also love the feeling of getting lost in a project I'm working on and losing sense of all time!
And the worst?
The voices of self-doubt. Also the conundrum of feeling like it's impossible to put a dollar value on my art while being upset when people don't value my art with their money.
Where would you like to see yourself in five, ten years' time?
I'd like to continue the work I do for my blog and other blogs with my handwritten illustrated articles — I aspire to be like Maira Kalman who seems to get to write and illustrate articles on any topic that strikes her fancy on the New York Times and beyond! In five years, I'd like to see myself as a rad parent, and in ten years, a professor living in a handmade cob house with an art studio!
How do you market your business?
Social media! But I haven't been doing it enough recently. Like my organizational skills, marketing comes and goes in waves ;)
What's the most valuable tool in your kit?
Being willing to take risks.
How does being LGBTQ impact on your business (if at all)?
Nearly all of my zines have to do with queerness and the publishing cabin is called Queer Scribe so I'd say I'm pretty loud about that ;) I suppose it impacts me in that people find me when they're looking for queer things and my queer community has been there for me when I needed their support.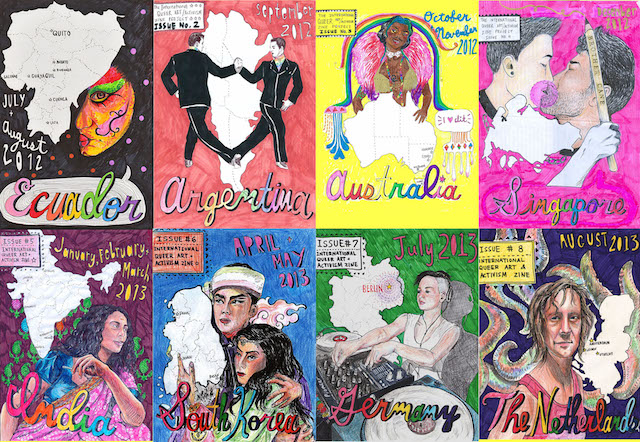 What's your hot tip for queer women who want to start their own business?
Fail big! Try it out! You might not have figured out all the kinks in your plan, but if you find yourself prolonging the leap, it could be time to just close your eyes and do it. On the side of more practical advice, write out who all are your mentors. Figure out what parts of your life they mentor you in, and make sure you have mentors or role models who have successful businesses. Seek out their advice and don't be afraid to ask for help. People are usually honored to be asked for help as long as you're specific about what you need help with.
---
You can keep up with Miyuki at her blog, Hey Miyuki! She's also on Twitter, Instagram and Pinterest.
Read her many brilliant zines at Queer Scribe Productions and buy things at her Etsy shop!