If you want to see a a queer woman in a Christmas movie, you've got to dig through the deleted scenes on your Love Actually DVD, where you will find about 15 minutes of — spoiler alert! —an elderly lesbian dying while her elderly partner tries to stay strong and make her laugh in her final, wheezing hours of life on this planet. HAPPY HOLIDAYS! 2105 was a pretty good year for queer women at the movies, so to continue that trend, I've brainstormed ten sure-to-be-blockbuster Christmas movie ideas featuring queer women. You're welcome, Hollywood!
---
It's A Wonderful Lifestyle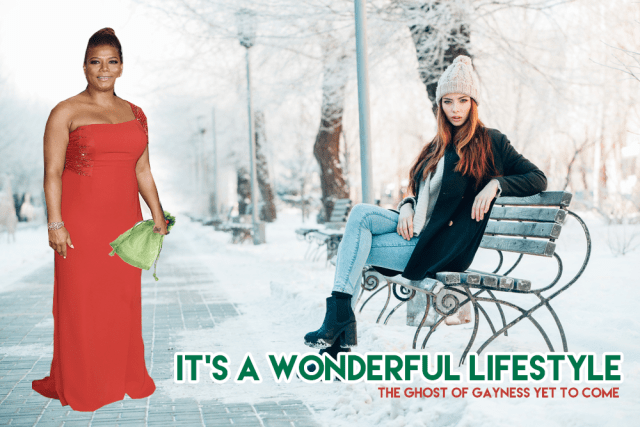 Hannah is home and still gay for the holidays. Her less-than-accepting parents have invited the Greens over for Christmas Eve Eve. Hannah's mom points out that Sean — who went to high school with Hannah — is single, if you get where they're going here. Sitting at the dinner table under false pretenses, in the house where she grew up and now feels stunted in, with people that she has no connection to, Hannah flips the table and runs out of the house into the snowy night. She goes to her favorite park where she used to sit and think.
For a moment she wonders if she should just appease her parents when all of a sudden an angel appears next to her on the bench. The ghost, played by Queen Latifah, explains she was dispatched when she heard Hannah's awful thought. The angel shows Hannah what her life would have been like had she gone forward with the sham of a straight relationship  — flashing before Hannah's eyes, the images of being talked at about FanDuel over dinner, a BBQ at Sean's buddy Shaun's, and standing in line for a new movie about some chess prodigy — are awful enough that Hannah returns home with a renewed confidence in her gayness.
---
Love Symbolically
This is the story of eight unconnected lesbians who are cosmically bound by one thing: their Jennifer Lawrence and/or Sarah Lawrence vision boards. Holed away for weeks gazing into a series of varying hairstyles, open-mouth smiles, and bloopers, each is convinced that this is real love. Bri opens the movie trying to fight the holiday shoppers at the mega mall to buy her crafts. Bri meets Alex in the felt aisle, and their discussion starts a chain of events that impossibly leads to Jae meeting Keely, to Nicki meeting Allie, and to Alicia meeting Gabriella. The genuine human connection made that day inspired each to throw out what is essentially a growing piece of trash and commit to love… actually.
---
The Family Healing Crystal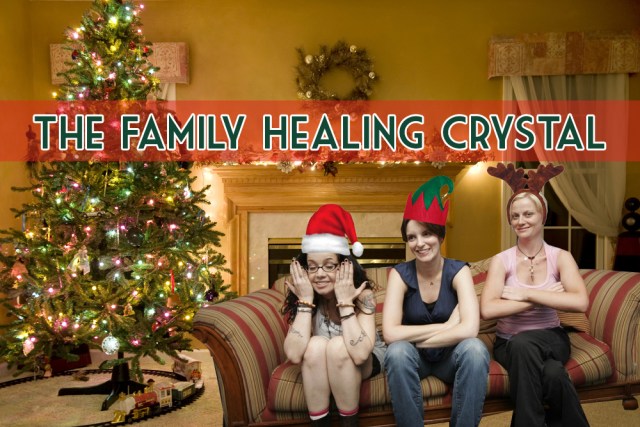 With the likes of Meryl Streep, Ted Danson, Tina Fey, January Jones, Chris Evans, Carrot Top, Julia Roberts, and Kevin James, it really is a white Christmas! This family that looks nothing alike is missing just one thing: their cranky sister! Janeane Garafalo stars as Helen, who considers herself a witch first and lesbian second. She's also the resident black sheep — or so she thinks. Her family has actually been overwhelmingly supportive and love her unconditionally, they're just bummed out she invests zero interest in their lives and instead talks nonstop about things like energy grids, foot reflexology, the Goddess Tradition, essential oils and in particular oregano oil, and about whether she has a weak Saturn or a strong Saturn.
There is a montage of Helen performing cleansing rituals with her friend, Nevada, in preparation for what she calls a "toxic environment". But when she arrives to her parents for Christmas dinner, it's revealed instead that her entire family has gathered to celebrate Saturnalia, the week-long unruly pagan celebration during the winter solstice. Someone ascends, but I won't say who.
---
The Polar Limited (Too)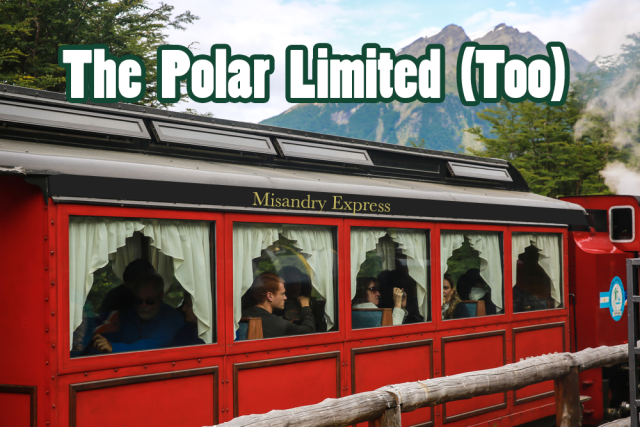 All aboard! The train to the everyone's favorite underground queer night is taking off for an all-inclusive holiday bonanza, and it's full of women dressed in clothes from Limited Too. It's hard to tell — because of the clothing reserved for teens in the 90s — if someone is 18 or 32. It's freezing out and the doors keep opening for every stop, but even though everyone is wearing some variation of cropped mesh, velvet, and polyester blend, no one's "even cold".  Dialogue is indecipherable in this movie as phrases like, "Are you a top or a bottom", "As someone who ___ I find that incredibly offensive", "So you're femme right",  "Wow real leather really", and "cis-heteronormative" meld into a humming frequency that mimics the trains'. The movie reaches it climax around the same time as the girls in the back cart when someone writes "MISANDRY" with puff paint on the back of conductor's jacket.
---
Leave Me Alone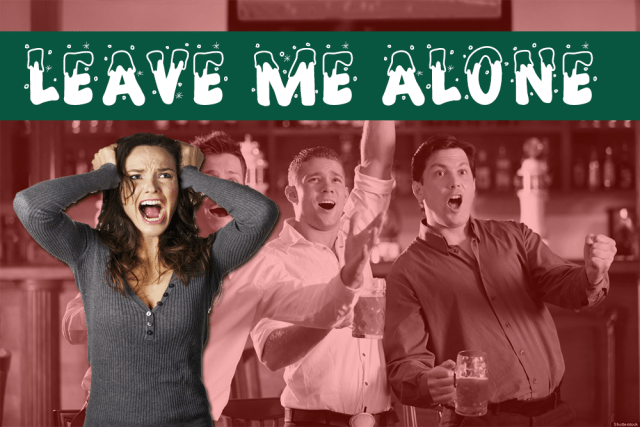 Straight bars, woof! *Queer woman screams not in the mirror alone but in a crowded bar* Kira's traveled back to her small town to be with family for Christmas, and she's been invited by the one person she still keeps in touch with from high school to meet at the local townie bar. Her friend is running behind and two straight men on the hunt spot Kira by herself. Approaching from all sides, they try and infiltrate her defenses. They dodge the "I'm gay" swinging paint can, carefully tiptop over the "I'm taken" toy race cars on the steps, and extinguish the "I'm not interested" blowtorched hat. This continues for what seems like hours until finally Kira's friend arrives and hits both of the men with an actual shovel.
---
A Christmas Carol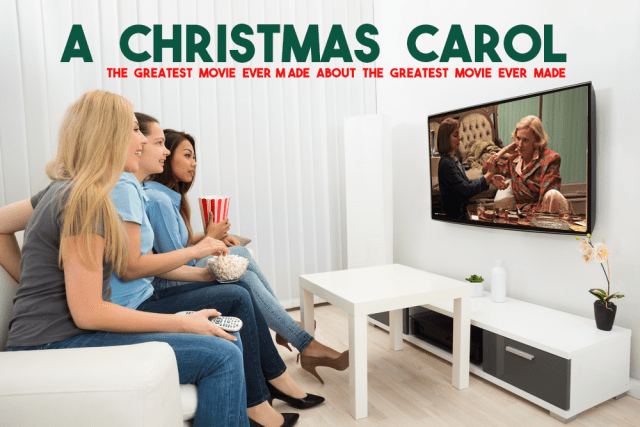 The ghosts of Erin Past, Erin Present, and Erin Yet to Come meet for coffee to discuss the movie Carol. Time doesn't exist now, and neither do they. Had they ever? The answer is no. The concept of space has also slipped from their reality — they are now chained to the confines of a world that lives in a screen. Most of the movie is them just staring at the table peppering the silence with unfinished thoughts. As they get up to leave they dump their coffees all over the Christmas tree inside the cafe because since no one else really "gets it" they're also Scrooge now. Without a separation of self to create a system of checks and balances, all four of them slowly but surely sabotage every relationship they've ever had based on a movie. There is no turn around moment for Erin and god blesses no one at the end.
---
Elf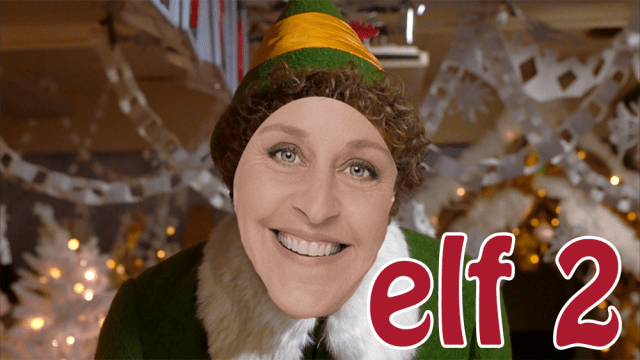 This 2015 reboot stars Ellen DeGeneres because it's a great idea.
---
Tim Burton's Christmas Hellscgaype
Guess who knows another gay person from your hometown and has arranged you two to meet at the gay club directed towards men? It's your cousin! This movie stars you, weirdly, and the car ride you thought you were taking with your cousin to escape your extended family is in fact a kidnapping. You are escorted inside and immediately two gay men squeal, "Ewww, what are lesbians doing here!" Your cousin makes you go get her a drink while she finds her friend and you end up paying 18 dollars for two gin and tonics. Your night is spent with two people you could not have less in common with, listening to dubstep remixes of Adele, and having gay men remind you that you have a vagina and saying it's gross.
---
A Christmas Story
It's 1940 and nine year old Christine, "Chris", wants nothing more than to receive a Red Ryder B.B. gun for Christmas. But no matter how much she persists, her parents, her teachers, and even Santa himself protests that this is not the toy for a young girl! "You'll scare the men off!" they all taunt. One snowy night, her mom calls her downstairs and is standing in front of the tree with a wrapped package. Chris is convinced her Christmas wish has come early, but when she unwraps the rectangular package, it's not a gun at all — it's an abhorrent dress. Her mom forces her to try it on for the whole family and Chris is inconsolable when she comes downstairs in the long-sleeved velvet travesty.
Finally Christmas morning arrives and Chris is presented with dolls, baking utensils, and more dresses. She's given up on her ideal gift when her dad unveils one last present. She tears it open to reveal to Red Ryder B.B gun. She immediately takes it out back and her first shot hits the neighbor boy in his glasses. Success! Merry Christmas to all and to all a goodnight.
---
It's Doggone Christmas!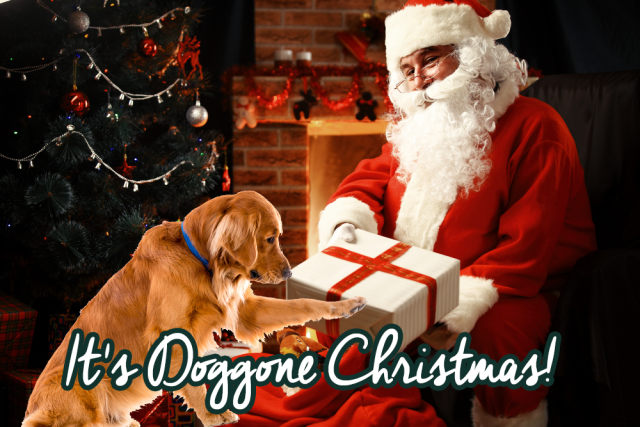 The 89th installment of the Air Bud series tells the story of a dog destined to save Christmas — and his moms! Murray the dog has been witness to the decline of his moms' six year relationship, and the stress of the holidays have really amped up their tension. More and more he has been used as a mouthpiece between the two with things like, "Wow, your mom really haphazardly strung these ornaments up!" and, "Hm, never knew your mom was so into the consumerist aspect of Christmas!"
In a last ditch attempt to salvage their floundering marriage, Jen and Francine take Murray for a Christmas portrait with Santa at their local mall. While on Santa's lap, Murray telepathically requests for his moms to be like they were when it first started. Santa winks and sprinkles nutritional yeast on Murray's moms right as the camera flashes. Jen and Francine turn to really look at each other for the first time in years. Their gaze is only broken by the dog chorus that's arrived and started to bark Indigo Girls' "Closer to Fine". As the credits start to roll, Murray winks at the camera.