feature image via Labor Notes
---
Today across the United States, people are protesting to demand a $15/hour minimum wage. The Fight for $15 began in late 2012, when hundreds of fast food workers walked off the job in New York City. The movement's call reverberated across the U.S., tying into continuing movements for economic and racial justice.
Since 2012, the Fight for $15 has involved strikes, job walk-offs and media campaigns. The campaign has grown from fast food workers to incorporate low-wage workers from various fields, and it also intersects with organizing against police brutality.
This year, the March 2 Justice is walking 250 miles from Washington, DC to New York to draw attention to police brutality, and will be stopping in Philadelphia to join with the Fight for 15 rally there today. Fast food workers, retail workers, security guards, adjunct faculty, childcare workers and low wage workers from other sectors will join with them to demand a living wage and the right to enjoy a living wage in a world where poor people of color, especially black Americans, aren't criminalized for walking down the street.
We know that queer and trans people represent a huge number of low-wage workers across the U.S and are seriously impacted by not just economic inequality, but economic injustice. While we are often portrayed in the media as wealthy and childless, the reality is that queer and trans people have families (that come in many configurations) and are more likely to be living in poverty than our straight and/or cis counterparts. Queer and trans people, especially queer and trans people of color, are extremely vulnerable to police brutality and abuse, especially when poverty leaves queer and trans people no other options for income except criminalized economies. Raising the minimum wage is a critical piece in a complex puzzle of alleviating economic struggle for queer and trans people.
Here are five reasons why the Fight for $15 is a fight for queer and trans people:
1. LGBT people have higher costs but less income than straight and cis people
KaeLyn broke down the Paying an Unfair Price report, which described how laws that don't recognize LGBT families and fail to protect LGBT people from discrimination result in an enormous financial burden for LGBT people that cis and straight people don't have.
The report also detailed extremely low income for trans people, with 28% of trans people making less than $10,000 per year, in comparison to 4% of the overall U.S. population. It also noted that LGBT people of color, and in particular black LGBT people, are more likely to be living in poverty than white LGBTs. Raising the minimum wage would secure higher incomes for many (though not all) LGBT people living in poverty.
---
2. LGBT women face greater economic security than GBT men and straight and cis women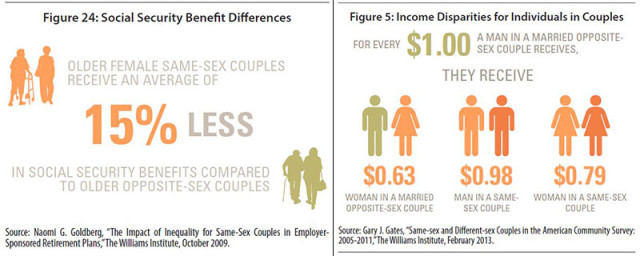 Last month, a data subset from Paying an Unfair Price illustrated how LGBT women are more heavily impacted by economic insecurity than straight and cis women and GBT men. Audrey described how trans and cis women are less likely to have adequate access to health insurance, family leave, and daycare in facilities that accept their families. Families where two women head the household are more likely to have children than households headed by two men, and they have to deal with the gender pay gap twice over. Partnered or married women are more likely to see reduced income and benefits throughout the course of their lives, which is not something married or partnered men or straight people experience. Raising the minimum wage was listed in the report as one of the ways that these disparities can begin to be addressed.
---
3. 2/3 of minimum wage workers are women; 22% are women of color
Last year while minimum wage workers called for fair wages, Helen pointed out that two thirds of minimum wage workers are women, and that raising the minimum wage is critical for single mothers and women of color. She wrote:
Twenty-two percent of minimum wage workers are women of color, even though women of color only make up sixteen percent of workers overall. Specifically, the condition of workers in tipped occupations, such as servers in restaurants, is pretty dire given that the federal minimum wage for these positions is $2.13 per hour and nearly three-quarters of workers in these occupations are women.
---
4. LGBT people of color disproportionately experience economic injustice
The Broken Bargain report by LGBT Map, artfully dissected by Carmen, went much deeper than income inequality to identify why LGBT people of color are disproportionately affected by economic injustice. The study examined barriers LGBT youth of color face, like under-resourced schools, bullying, the school-to-prison pipeline, and barriers to higher education. It also pinpointed institutionalized barriers like inadequate nondiscrimination laws, bias and discrimination in hiring practices and workplaces, background checks, and lack of legal work authorization which make it much more difficult for people of color to find work.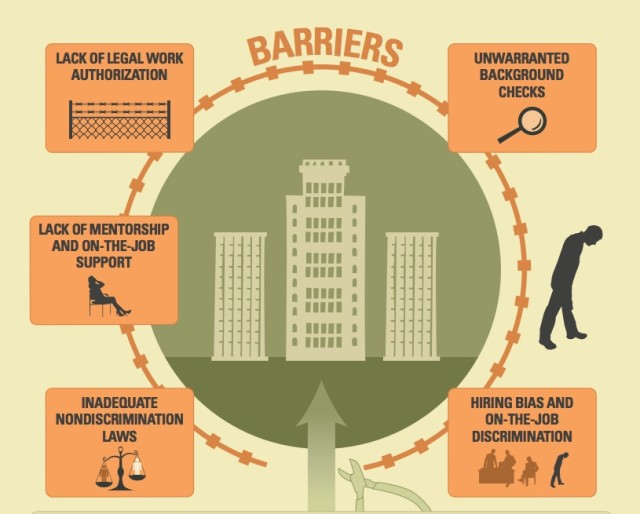 While a higher minimum wage won't solve all these problems, it would help build a critical foundation to stand on while dismantling the rest, which is why the Fight for $15 takes an intersectional approach, bringing together groups that are fighting to address economic injustice across the board.
---
5. Low-wage workers are put in impossible situations by their employers
On top of only being guaranteed $7.25 an hour if you work an hourly job in the U.S., minimum wage employers are notorious for implementing systems for their employees which makes their income unreliable and unpredictable. Practices like inflexible scheduling, as Kaitlyn describes, maximize profits for companies while treating their workers like disposable commodities. This can be incredibly difficult or impossible to juggle for parents who need to arrange childcare while they go to work, for people who need to arrange healthcare for themselves or family members, or people who are trying to go to school or do other things to expand their skill set. This disproportionately affects women, who are both more likely to be doing minimum wage work and more likely to be in charge of arranging care for their families.
---
But remember…
The fight to raise the minimum wage is critical for the economic well-being of LGBT people, but it's not the only barrier. An end to police brutality, the expansion of welfare benefits, and the decriminalization of drugs and sex work will also be critical to LGBT people getting economic justice. It's also critical that we address the needs of people with disabilities, many trans and gender non-conforming people, undocumented people and formerly incarcerated people, many of whom can't find work at all, let alone work at a living wage.
---
To find out about Fight for $15 actions in your city today or in the future, visit Fight for $15 or follow along on Twitter at #fightfor15.