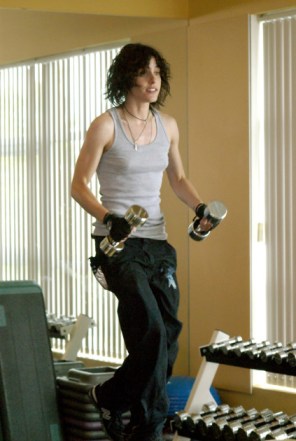 It is a fact universally acknowledged that exercise makes you feel good and gives your forehead a sexy glisten — but why, exactly? A recent New York Times article discusses a new study from The National Institute of Mental Health which "provides some intriguing new clues into how exercise intertwines with emotions, along with the soothing message that it may not require much physical activity to provide lasting emotional resilience."
Basically, researchers assembled a group of aggressive mice and nice mice and put them in cages together, divided by a transparent partition which was removed daily for five-minute periods of time. After two weeks of this, the nice mice were really stressed out and ridden with "anxiety-like behaviors."
However, one sub-group of mice had been given access to running wheels and "nifty, explorable tubes" before moving in with the aggressive mice. Although these mice remained submissive to the aggressive mice when confronted, they "rallied nicely when away from them. They didn't freeze or cling to dark spaces in unfamiliar situations. They explored. They appeared to be, Dr. Lehmann said, "stress-resistant.""
The New York Times cites two other recent studies with similar results: Norwegian researchers found exercise improved mental health (even in small doses). The American College of Sports Medicine revealed that six weeks of bike riding or weight training reduced the anxiety levels of women diagnosed with anxiety disorders.
So basically exercise makes you stronger, happier, more flexible, healthier, and less stressed out! Doesn't that sound delightful? We thought it would be neat to all talk about what some of us here on the team do for exercise.
Disclaimer: The Autostraddle Roundtable is a smattering of opinions from team members. It is not, and should not be interpreted as, a representative sample of the population reflecting the diversity of our community. That being said, if you've got a workout story you wanna share, let us know and maybe we could work on some future posts on the topic. Share your own stories in the comments!

Rachel
The thing about my 'exercise regimen' is that my therapist is obsessed with yoga, which means that I have to kind of be also or else every time I whine about something she makes a stern face and says "Well, have you been going to yoga?" Her theory is that yoga and its emphasis on mindfulness is really good for people with anxiety, because it helps you practice focusing on the moment instead of letting your brain spin out on a million scary possibilities. I think her theory has some merit. I find that it's also really good for kind of resetting how you feel about your body – as in, "I can hold that dancer pose thing for a full minute!" instead of "What is wrong with my thighs???" Actually, I think all exercise does that to an extent. Also, as a bonus, I've found that sometimes yoga (especially if it's hot yoga) can really help the back pain I've had since like age 14.
The other "exercise" I've gotten really committed to is walking – no, really. If you live in an area where the climate/weather is conducive to going outside, try taking a 30-60 minute walk outside every day for a week and tell me you don't feel way better at the end of it. It's partially the physical activity, partially being in the sun, and partially the time to think, but it makes a huge difference, at least for me. And since scientists now say that sitting down too much can kill you or whatever, I think it's probably legit.

Sarah Croce
I gym it up. It's hard to do HIIT (high intensity interval training) on your own and that's what works best for my body. So I try to hit the weight room and focus on a different muscle group and subgroup every time. I.e. Shoulders and triceps or chest and biceps. It helps me to buy magazines geared toward super muscled men because it amps me up and makes me want to show them that women can work out just as hard if not harder, also it gives me good workout ideas. And I alternate iron pumping days with running or hiking or cardio of some kind.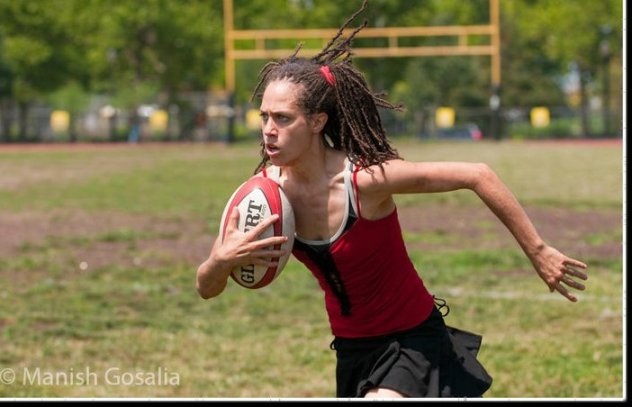 Natalie
Writer

Hmmm…I've been exercising for a while now, in one form or another. I pay for some of it, other activities I do for free. I used to be a cheerleader – so, there was that. And there were boys and girls I wanted to impress and I used to hate myself, so, there was that. Exercise filled (at least to some degree) the voids created by those feelings.
But now, now!! I'm a whole woman. So: what do I do? Here is a glimpse at my "routine": cardio, usually 20-40 minutes on the elliptical machine (see Riese's much too kind review of my form), maybe 4 minutes of running (I hate running – and am unbearably jealous of people who like it)… and then some push-ups and sit-ups. And sometimes, on a special day, leg weights. Other days I just walk. And others, I do yoga on the 4 x 6 foot free space I have in my apartment.
I exercise because it's good for my heart, it makes me feel strong, capable and healthy. That's what I'd say if you caught me on a good day…and I suppose to a large degree it is true. But also: structured exercise helps me feel a bit more sane…a bit more in control – which, of course, is an illusion. But one I'll happily buy. I also like it because I work alone and it offers a moment where – even though I rarely speak to anyone – I'm around other people.
I exercise because I sit all day…and I'm afraid of what my legs would look like without it. I exercise because it helps my joints. I also exercise because I can – which is a huge privilege.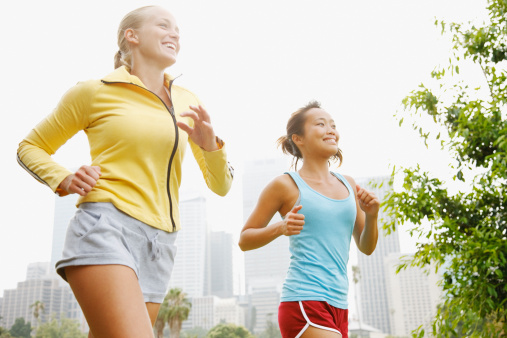 Bevin
Writer
Last year I began a regular yoga practice. I had done yoga only a handful of times before but was always very discouraged by the activity. I'm fat, but as you know, fat people have incredibly different bodies. Mine happens to carry a lot of weight in my torso—primarily my ample rack and belly. This makes it terribly difficult, if not impossible, to do things like bend over or stretch in the ways required by a lot of yoga poses. So at Michfest I solicited my friend Dana, a yoga regular, to take me with her to one of her yoga classes. It felt safe to tag along to a class with another fatty.
Back home I started going to yoga classes at Re/Dress but when the instructor moved to Ithaca, I wanted to figure out a way to get into yoga at home that wasn't with a dvd so that I could maintain my twice weekly pace. I flipped through this book at Re/Dress that Deb brought in and I fell in love. I bought it immediately. Here was a list of all of the yoga poses I had been learning over time, with explanations of what they did for your body and modifications for how to do them in a larger body written by a fat yoga instructor!
I love using it at home so much! I can put on the cd of my choice and go through the poses at my own pace. The slow flow of it really helps me. I can sit in a pose a little bit longer if I'm really feeling something. I also like the supplement to the classes I'm taking, because I learn the poses and get adjusted in class but learn more about them at home.
They call it practice for a reason—it's not ever going to be perfect. But so far I feel really enthusiastic about what yoga has helped me do with my body. I feel more limber, I feel more secure, I have more balance. It also very much enhanced a recent laycation, so if nothing else, being able to fuck in more interesting ways is a win-win.
What I like most about yoga is that I have to be really "in" my body. I need to pay attention to my limits, what it is like to push into the limit and really trust my body's capabilities. I remember what it was like to be a brave kid and climb waterfalls hiking with my Girl Scout troupe and I don't know where I got into being a fraidy cat about stuff with my body.
I  do notice that usually in every class I suck the worst. But at the same time, I feel like it is really good for me to suck at something for an hour and a half every week. It's humbling, it gives me something to work on and I still feel amazing afterward because I did something hard that was really good for me.
At this point I incorporate yoga into my day at least once, and ideally three times a week do a full hour/90 minutes. I get so disappointed when I'm missing Monday morning yoga. It really does set you back a bunch when you miss a week. Prioritize your yoga practice. Self-care is really important and having time set aside for mind/body/spiritual connection is really important.
[this post was adapted from The Queer Fat Femme Guide to Beginning a Yoga Practice]

Jess
After a lifetime of fast food and playing Oregon Trail in my youth, I began working out in 2004 when I moved into my first apartment after college. My body changed rather dramatically in those first few months, especially because I began eating very clean and was serious about working out ~4-5x a week [elliptical for cardio and lots of free weights]. Although I continued 4-5x a week consistently over the last seven years, my body plateaued after the first six months and it's been difficult to jump start weight loss again. UNTIL NOW. Three months ago I began running. Running has changed my life. It never came naturally to me but I began with high intensity interval runs (2 minutes on, 1 minute off) for 10 minutes and slowly built up to ~35 minutes.
I personally love strength training, so I do about 30-40 minutes of weight lifting after cardio. I used to separate my cardio/strength days but now I combine the two, every day. No excuses. I've learned the trick is to continually shock the body so it never fully adapts to what you are doing. I had noticed that I was getting sore from running 4-5x a week so I began stair sprinting and jumping rope on my non-run days and that shit will keep you lean. Since I work a full-time job finding an hour to work out can sometimes be difficult so I also integrate Tabata style high intensity circuit training which helps you achieve in 20 minutes which would normally take you much longer to accomplish. For strength/cardio integration I get lots of new ideas from bodyrock which I cannot recommend strongly enough! I've felt completely different these past few months and am so grateful that I finally learned how to run.


Crystal

My favorite form of exercise is boxing, aka 'boxercise', the activity where you bounce around and beat up practice pads (not people). Boxing significantly lowers my stress levels. I find that it's a highly effective outlet for feelings and frustrations that I'm naturally inclined to deny or bottle up. Also! boxing works out a large number of muscles, including ones I didn't know I had, and feeling them grow stronger week by week makes me feel healthy and productive. I cannot say that about too many other activities i participate in.

Riese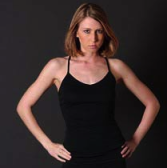 I've been exercising at the gym (and sometimes outside) regularly for like 12 years, since my senior year of high school. Before that I was scrawny/weak/unflexible and after about a year of working out all that changed, which was empowering — I could carry my own boxes! I could touch my toes!
For my first year of exercise I'd run for 30-40 minutes 4-5 days a week and strength train 2-3 times a week for about 20 minutes. I got a bit obsessive at first but dialed that back within a few years.
My second year of college, I was diagnosed with fibromyalgia. So basically if I don't go to the gym, in addition to feeling shitty and like I'm not in touch with my body, I get a lot of achiness in my joints.
I've gone through tons of phases in what I do at the gym. Once upon a time I regularly took Spinning classes, in another lifetime I swam laps every morning.  Honestly, I still find going to a workout class for the first time to be PETRIFYING! On my first day of a Total Body Conditioning class at New York Sports Club, having no idea what equipment to pick up and afraid to ask anyone, I did what I always do which is obviously look around and see what everyone else is getting and get those. I'd taken weight related classes before and usually took 8 lb weights so I did that this time. A few minutes into the class I was realizing everyone else had 2.5 or 5 pound weights — it turns out we'd be doing hundreds of repetitions with those weights — some women didn't have any weights at all! I couldn't walk the next day. But I kept going back. I always feel better when I'm regularly taking classes.
Now I live in Oakland which means it's 65-70 degrees outside every day year-round, which is fantastic! It's a town for people with cars, and I don't have a car, so I bike everywhere. My present exercise routine isn't ideal, but I'm so busy it's hard to do anything else. I go to the YMCA 3-4 days a week which has a "Women's Fitness Area" with strength-training and cardio where no men are allowed. I'll do 40 minutes on the elliptical while catching up on articles I need to read on my kindle.
On days that I don't go to the gym, I'll go on a bike ride and do 20-30 minutes of yoga in my apartment. I also have weights here to do ab & leg exercises. On weekends my girlfriend and I will go on at least one bike ride of significant length.
I've never had trouble motivating myself to go to the gym. Almost everything else I do to my body could be categorized as "unhealthy" so exercise, I hope, balances that out a little bit.
It's my ME-time. I always say it's the only guaranteed high you can get without any possible negative side effects.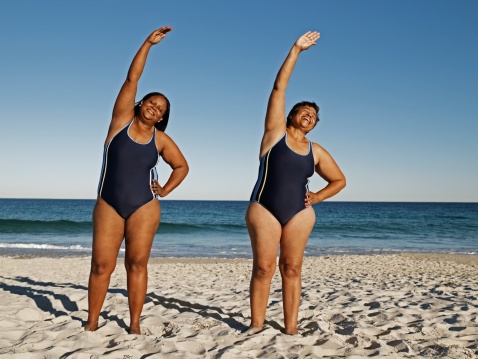 Other Exercise-Related Testimonials You Might Like: 
Damien Luxe and Why She Loves the Gym: "I began to look forward to the focus and quiet I'd get when I went to the gym; began to crave the feeling of actually being in my body after a lifetime of being kicked out; went from being amazed that I was allowed to be there, to being pissed that it took over 20 years to get there."
Kate Harding's Dance Dance Party Party: "… and then I would just dance. And it was a fucking blast. It was also one of the best workouts I've had in a while, and a perfect example of everything I preach about exercise: To wit, if it's fun, you'll want to keep doing it, and if you go at your own pace and honor what your body's telling you, you will have more fun."
Rachel Kramer Bussel on CrossFit: "I was thrilled when I could lift my 12-pound dumbbell or walk across the Williamsburg Bridge before I started at Crossfit, but couldn't do a situp without major groaning. Now I do situps with a 10-pound medicine ball, squat with 170 pounds on my back, and know that my back is for more than schlepping super heavy bags around."
Jezebel's A Call to Arms (and Abs, Quads and Shoulders): " Physical fitness doesn't have to be about anyone else but you or about anything else but becoming stronger. It's time we stopped associated exercise with a form of conformity and surrender, because do so is to deprive yourself of the potential that your body offers you."



Do you exercise? Do you like it? What do you do? Discuss!