Firstly,  I like Zooey Deschanel a bunch. Deschanel was awesome in the movies 500 days of Summer (2009) and Elf (2003) and of course her band with M. Ward She & Him. So I was excited to watch the first episode of "The New Girl."
According to The Wall Street Journal, ratings for "The New Girl" were off the charts — over 10 million viewers tuned in and most of them were young. Television ratings people really like youngsters.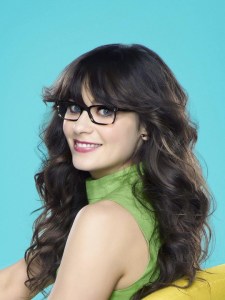 But this entire show is premised on the idea that she needs dudes (her male roommates) to teach her how to date and dress, therefore saving her from that rascaly quirky personality of hers that's making her so damn unbearable to the opposite sex. I feel like I've already seen this happen in a Sandra Bullock romantic comedy.
In one of the excerpt clips available streaming on Hulu the new potential male roomates debate the pros and cons of having a female roommate. Pros include "smells nice" and "good at folding." Cons, obviously — women are just so emotionally unstable!
Look, she can't walk in heels:
I might be alone in feeling tired by all this — The Los Angeles Times loved The New Girl and its usage of "sexiness as dorkiness":
Which is to say, with the occasional sensual growl and knowing twinkle in her eye, letting everyone know that Jess is in on the joke. Like the men around her, she has a level of self-awareness that belies her often clumsy actions, which makes their little experiment in gender studies much more intriguing than a simple "male friends help dowdy girl become a Real Woman" plot line.
Viewers will come to see Deschanel but they'll stay for the whole package because smart writing, confident timing and characters that are both familiar yet surprisingly fresh make "New Girl" the most promising comedy, and one of the most promising shows, of the season.
Possibly, if they keep watching the show.
The New Girl is one of many new shows this season about girls — we've got the laugh-tracked "hipsters" of 2 Broke Girls, the bunnies in The Playboy Club, the flight attendants of Pam An, a sitcom called Whitney about a comedian named Whitney, that Are You There Vodka It's Me Chelsea? thing — but none of them have really lived up to their hype so far. Does The New Girl?
In Fall TV's Gender Wars: 6 Talking Points, The Week magazine asks if this season is truly the "season of female empowerment" everyone's saying it is.
Talking point 3:
But these heralded "lady comedies" may actually be sexist
For all of the talk of girl power, these female-centric sitcoms "rehash old stereotypes," says Jessica Grose at Slate. New Girl and 2 Broke Girls are not "so much about girl power as they are girl strategy" — using "stereotypical 'girl' qualities" like flirtiness and feigned innocence to get ahead, says Ken Tucker at Entertainment Weekly. And Whitney, with its deluge of jokes about biological clocks and being "whipped," is the most "unself-awarely retro-sexist show on television," says Mary Elizabeth Williams at Salon. And that in a season with Playboy bunnies, sexy stewardesses, and Charlie's Angels.
Are these roles actually empowering, or do they just seem that way compared to what else is out there? Although women are chronically misrepresented in just about every area of entertainment media, television has always been a more equitable place for female characters. Our editor pointed out to me that in the 90s, strong women were anything but scarce: Murphy Brown, Cybill, Grace Under Fire, Roseanne, Ellen, Thea, Caroline in the City, Blossom, Golden Girls, The Nanny, Sister Sister, Sabrina the Teenage Witch, Living Single — but in this 1998 article about The Murphy Brown finale, The Los Angeles Times noted:
I am woman. Hear me roar–right off the air… [Murphy Brown, Cybill and Ellen] were assertive,  outspoken, funny, strong, and now they're gone…
In their place is a sea of comedy babes–younger, ditsier and cheerier. Dharma of "Dharma & Greg" is the ultimate flower child grown-up; Ally of "Ally McBeal" is now famous for her quirky fantasies and moments of tongue-tied awkwardness; Brooke Shields' Susan, of "Suddenly Susan," is struggling to find her voice and backbone…
"I kind of characterize the new ones as lovers and the old ones going out as fighters," muses producer and writer Diane English.
The article says this kind of thing is "cyclical," which seems to make sense. This fall's crop of new shows seems to be somewhere in the middle — and it's worth pointing out that generally shows about men play on the same gender-based humor, too.
I really want to like this show because I really like Zooey Deschanel — and in this "behind the scenes" clip, Zooey herself says "you never see female roles written this well."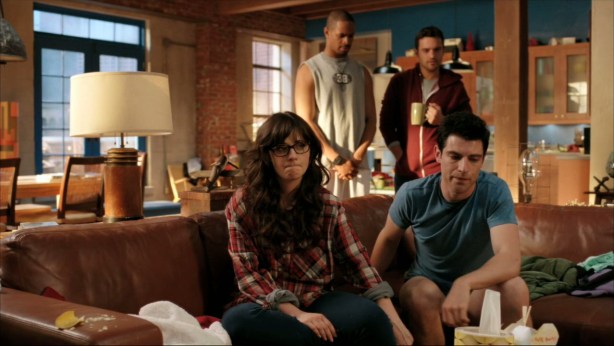 Am I thinking too hard or is this just another show that plays up old stereotypes we've seen a million times before? If it is, can it still be funny? Her style and charm do  shine through, but I don't know that it's enough to make up for the plot. What did you think?