Men and women. Men. Women. Men and women! Men like women. Women like men, but men REALLY like women. In a sexual way. Especially pretty women! Men LOVE pretty women! Pretty women make men do wild things! Men like money and power and sex. Women like getting married and haircare products. Men and women! Forever and ever and ever!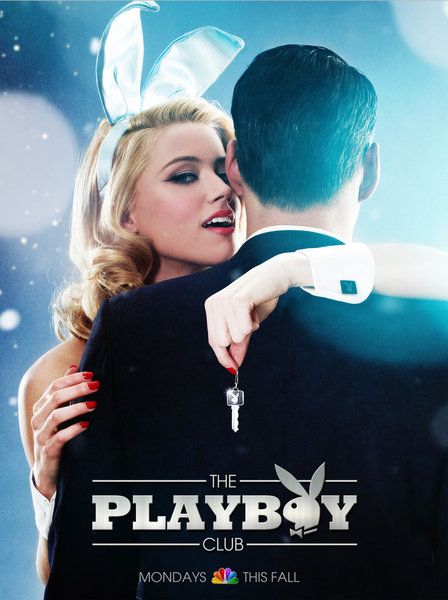 Yawn.
The Playboy Club premiered on NBC last night, and it was okay. Actually the first 55 minutes were borderline compelling, but then it ended with this smarmy heavyhanded Young Hugh Hefner voiceover which retroactively undid any of the program's prior achievements. He growled about "things changing" in America back then and then unloaded a cement truck of shit onto the screen by declaring that at The Playboy Club, "women could be whatever they wanted to be" — which is only true if all women want to be is an employee of The Playboy Club.
The post-show "scenes from this season on The Playboy Club" fell a bit flat, too: Mafia-type men in suits (all men look the same to me, basically) sit in cars and talk to each other like stand-ins for the mob guys from Season Two of The Wire. Men make threats to other men and occasionally to women. Laura Benanti's character, despite being played by Laura Benanti, continues scaling the Mountain of Unlikeability. Women are mean to other women because of men. Men and women kiss each other and yell at each other.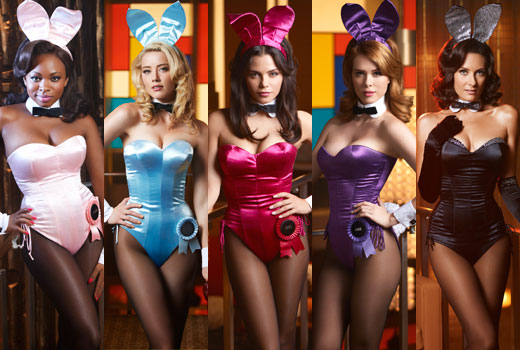 It got me thinking — I'll watch any program with a lesbian storyline. That's my team. But that's not the only reason. Gay storylines are bound to say something new, something necessary and fresh, something people might notice and remember.
In the case of The Playboy Club, the gay storyline is, surprisingly enough, by far the show's freshest element. Teevee overlords need to stop driving new television shows forward which depend on this year's fad to explain their existence — Mad Men Retro, Friends Multi-Gendered Buddy Comedy, ER Hunky Hospital Show. The original isn't just good because it's written or produced better than the knock-off. It's good just because it's the original.
Luckily for this show, it's got the aforementioned gay storyline, which'll likely ease my instinct to drywall this time next week. Alice and her gay husband are already being sneaky homosexual radicals in Episode One and you can't be mad at a lesbian who works as a Playboy Bunny to fundraise for the epically important secret gay rights group The Mattachine Society.
[Sidenote: The Mattachine Society aimed to "unify homosexuals," "educate homosexuals and heterosexuals toward an ethical homosexual culture paralleling the cultures of the Negro, Mexican and Jewish peoples," assist oppressed gays and "lead socially conscious gays to provide leadership for "social deviantes," whatever that may mean in this context.]
This could easily be the first time in recorded history that gay history is being taught on a mainstream television program, because everybody in television thinks that gay people were invented in 1995 (except the industry veterans who vaguely remember SOAP).
Furthermore, lesbian actress Amber Heard is playing the show's female lead, Maureen the Doe-Eyed And/Or Whipsmart Bunny, which means ten thousand men will google Amber Heard tonight and see this:
Although one might predict The Playboy Club would engender feminist rage, I wasn't put off by the gender roles at work here (save Hef's voiceover). Regardless, it seems the program's trying to make progress in other areas to compensate for its inherently sexist premise — the female characters do, for the most part, come off as strong, smart and independent.
I'll keep watching, because of inertia and the lesbian, but I hope this show finds its voice at some point — and I don't mean a voice like Hugh Hefner's voiceover, I mean the opposite of that: an edge, a voice we haven't heard before, something that uses a new setting to tell new stories rather than wasting it on the same old song and dance.
(Also, this face puts me to sleep:)