Lambda Rising, the totally infamous and sometimes hilarious LGBTQ bookstore in Washington, DC, closed before I came out, but even when I wasn't out, it was still a great place to be. I used to go in there because I like gay people and the Golden Girls, and sometimes Katrina and I would walk around and look at the cards. But when I wanted to send "GUESS WHAT I AM A LESBIAN NOW" cards to my friends, it was too late. I settled for being a total cliché and doing it with words instead.
We've been concerned about the vanishing gay bookstores and shuttered gay publications for as long as we've been a gay publication ourselves, which requires being told constantly that nobody has succeeded at doing what you're doing without corporate ownership. In 2010, gay and feminist bookstores from New York to Rehoboth to Los Angeles were closing their doors for the last time. Now, Glad Day Bookstore in Toronto – believed to have been the oldest standing LGBTQ bookstore in the world – may join those establishments by becoming a memory. And in Minneapolis, the True Colors Feminist Bookstore — the oldest independent feminist bookstore in North America — will close at the end of February, "barring a miracle."
Ruta Skujins bought True Colors, which specializes in "lesbian, GLBT, women's interest, multicultural/diversity books and children's books," and blames the bad economy for the shop's demise. The bookstore was originally named the Amazon Bookstore Cooperative when it opened 40 years ago, but the store was renamed following a legal dispute with Amazon.com. That blows, obviously.
Skujins, who lived off a pension while running the store, had tried a lot of things to keep it open, like hosting readings and book clubs. She sacrificed her own salary and staffed the store with her two daughters and her partner's daughter. She still hopes an angel investor will appear, and notes "People keep saying I'm getting a lot of emotional support, but that doesn't pay the bills."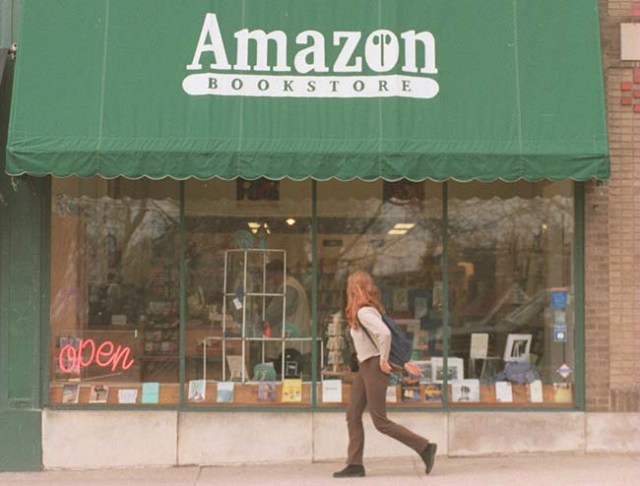 Glad Day's owner, John Scythes, is trying to sell the store. He began his search for a new owner last month, and wants to reach out to regular customers and his friends before taking the listing completely public. A small white sheet of paper in the store lists the call for a new owner.
The store opened in 1970. Scythes bought the store from its founder, Jearld Moldenhauer, in 1991. It was the first of its kind in Canada. In June 2010, the establishment signaled that extinction was in sight, and Scythes revealed that he had begun using his own money to cover the costs of the shop. That summer they experienced an extreme drop in sales:
"Glad Day has suffered a big decline in the past six months and fears it will be forced to shut its 40-year-old doors by the end of summer if things don't improve. If that happens, Toronto will lose much more than a bookshop – it will lose an 'active archive' of gay heritage in the city and beyond, said co-manager Sholem Krishtalka. 'On the shelves of Glad Day we have books whereby you can essentially trace Toronto's queer history from the early days to now,' he said. It's this very important recording of queer culture.'"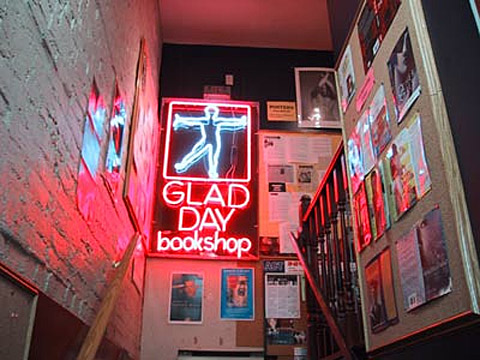 So, now that you're depressed about the shuttering of Canada's oldest gay bookstore and oldest feminist bookstore, let's talk about a gay newsmagazine that also recently announced is departure!
For many years, local complementary publications have been a mainstay in gay-friendly cities, offering in the scoop on local LGBT government and culture, such as which night clubs are being built and which are being turned into condominiums. No but really — nightlife, the arts, local human interest stories — these weeklies are vital to queer culture and every time one dies, an angel loses its wings. If you live in Washington, DC, one of your free LGBT media outlets focused on the local queer scene is "Metro Weekly," which I actually did once grace the pages of, y'all:
And if you live in Portland, Oregon (or the metropolitan area surrounding it), you were probably super into the free queer magazine "Just Out." (They've always had a good website, too.) The only problem is that, as the magazine so poignantly put it, "three years of recession have taken their toll." The magazine has ceased publication, effective as of an announcement December 26. The last issue went out this month, ending 28 years of service to the extended Portland community. In recent years the publication had to downsize its free circulation to focus more on the main city, with only one drop box in surrounding areas.
The publication will be missed by its community and, more importantly, its devoted readers. One commenter on the site said: "So sad to hear this news—yet another significant loss for those attempting to do good work in these challenging times.  look forward to the reincarnation, Marty, in whatever form your good intentions manifest. There is no death of good intentions and good works—only the temporary transformations."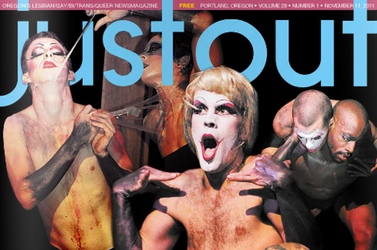 Editor Daniel Borgen said: "Right now, the end of Just Outfeels like a divorce, or even a death—there's a big gaping chasm, a void that's going to be incredibly tough to fill. The people who came together to make this paper week in and week out worked hard. More than that, our whole hearts were in that work. Writers poured their guts out. We broached uncomfortable subjects. Every two weeks, all of this effort turned into the creation of something—a tangible thing that came from nothing, put out there for all the world to see."
The "digital revolution," aka "the era of putting everything on the internet" has altered how we consume news, and some industries and publications have adapted easier than others. As advertising revenues wane, publications distributed for free, whether online or in print, are scrambling to find a new financial model to survive. LGBT publications, of course, face special challenges, such as being a relatively small percentage of the population. Then there's this pesky repression thing. Two years ago, even, Windows Media, which owned a ton of LGBT publications, went out of business.
Obviously, the difficulty of keeping queer and/or feminist publications/stores financially sustained is one near and dear to our hearts. All of the aforementioned stores and publications were independently owned, as were most of those that shut down last time we talked about this. Most major queer publications, online and off, are struggling. Going into 2012 and a seemingly never-ending recession of death and misery, it's more important than ever to support independently-owned queer and feminist media.
"In the end, Just Out was much bigger than any one person or any one incident," wrote Just Out's editor Daniel Borgen. "We were a collective—of artists, designers, writers, editors, salespeople, publishers—who wholeheartedly believed in the product we created. Regardless of what comes next, the hole Just Out filled for 29 years now becomes a void. A big, empty void."