Rachel's Team Pick:
Breaking up is hard to do.  There are infinity and one impossible things to do — telling your friends, returning the keys to their apartment, remembering that you don't have to remember to buy a birthday present for their mother. Among the impossible things is figuring out what to do with their stuff, which is also sort of your stuff because it's in your apartment and your laundry bin and book case, because until last week it was both of your stuff.  What on earth are you going to do with it? Can you even bear to think about it? Well, while you may not have much more than time on your side as far as the rest of the breakup goes, there's finally something that might help you out as far as the eight pieces of Tupperware and Sarah McLachlan tote bag: there's now a "post-relationship" startup that can get that shit out of your apartment and out of your heart.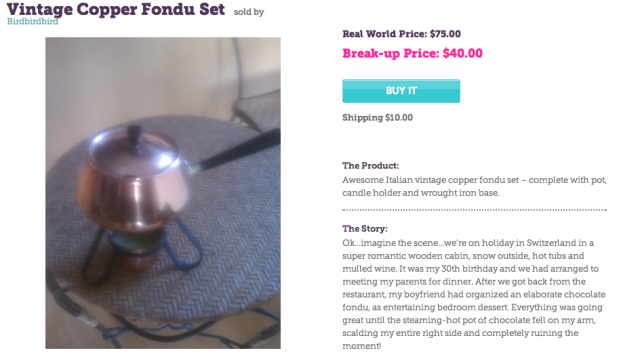 Never Liked It Anyway is like a version of eBay that happens on your mom's sofa, where you can get rid of the wedding dress or the charm bracelet or the pastel drawing of Tegan (or was it Sara???) while also getting off your chest the story behind it. If that's not enough for you, hey, just click on the "Moving On Manual" for reader-based suggestions on what to do with your life when it still sucks even after you've gotten rid of their last hoodie, even if you don't have any of your books back.
Life is too short to carry around someone else's baggage in your heart well after they're out of your life, and it's definitely way too short to carry their old economics textbooks and Snuggies around your tiny one-bedroom apartment that doesn't even have room to fit your toaster. What do you need to move on from?