Welcome to my multi-part what-to-wear series on New Year's Eve! If you're like me and you own infinity number of little black dresses and high heels then New Year's Eve is awesome and really straight forward. On the other hand, if the idea of wearing a dress makes you feel a little queasy and/or oppressed then New Year's can be sort of terrifying and stressful and maybe make you want to stay in all night and watch the ball drop with your roommate and seventeen cats. But never fear, I'll be rolling out some sweet styles for the femmebutch, the not-butch not-femme, the androgynous, the totally butch and the scared shitless of looking fancy. Well, okay, let's be real — I'll do my best.

Before I get started, I just want to say a few words about black tie events. You might find yourself invited to or buying tickets to a black tie event this New Year's. Maybe your best friend is gay marrying their girlfriend at midnight or maybe you're attending a hoppin' New Year's charity event. Maybe your rich mother-in-law bought your and your wife tickets without considering how uncomfortable an ultra-formal gala might make you. Here's the deal: if dresses are ever a thing you would wear, you should wear a floor length gown. If dresses are never a thing you would wear then you have to wear a black tuxedo or the nicest black men's/women's suit you can find with a white blouse. You might even want to consider a black vest or even a tie as well. Basically, if you're not going to wear a gown to a black tie event, you need to look as formal or more formal than then men attending. You might even want to make a trip to Nordstrom. I'm sorry, but them's the black tie attire rules. Check out these looks for ideas.
If you're not going to a real honest-t0-goodness black tie event, then here's the deal. I get a lot of Formspring questions from readers who feel like they want a not-a-dress but also not-a-suit look for New Year's. I'm sure this could translate in to a ton of different outfits, but I came across a particular look I love.
Pants But Not A Suit Or Tie Look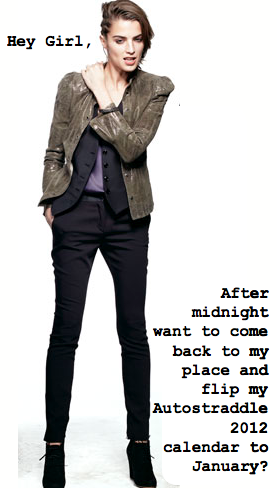 What I like about this look is that it's extremely versatile and you might even have everything you need already. Isn't that the best? When you don't have to buy anything and you can spend all the monies on other things you love like dinner for two or booze?
Let's start from the bottom. For pants, you're looking for something skinny or straight leg. I prefer super skinny, but that's because I have freakishly small calves I like to show off. Your body/style might be more of a straight leg pant and that's fine. These pants can be jeans, (faux) leather or a nicer fabric, but they should be black. If you're wearing leather pants, make sure that you look casual and not like you're in a bondage club (unless that's the look you're going for. You do you). Investigate a black belt for your pants.
On top is where things get crazy. Pick a loose, silky grey, purplish or otherwise neutral but sort of metallic colored tank top/sleeveless shirt. Tuck your shirt in. I know it's scary but just bear with me. On top of that shirt wear a black suit vest unbuttoned. Buttoning up the vest will look weird. On top of that vest/shirt combo wear a straight collared jacket. With fabric or jeans, a grey or gunmetal colored leather jacket will look cool. That being said, there's no reason a black jacket won't look just as good. The thing to keep in mind is that it should be a straight collared jacket as oppose to a heavily zippered motorcycle style jacket. Leather blazers are also cool and you could certainly wear one instead. I do not suggest wearing a leather jacket with a leather pants because it's be all squeaky. Instead, wear a canvas or light weight fabric straight collared jacket. You could also wear a blazer, but I think a jacket looks cooler with the leather pants. Of course, you can also forgo the jacket/blazer completely.
You can finish off this look by styling it more butch-ish or more femme depending on how you want to look. You can certainly make it look more butch with a pair of loafers or other flat lace up shoes and a cool chunky watch. Alternatively you could wear it with black or sparkly pumps or black heeled boots and a long necklace. Regardless of your hair length or style this is a sleek look so I suggest slicked, smooth styling for short hair or a straight back pony tail for longer hair. If you have long hair and/or an undercut, a small knot on the nape of your neck on the non-shaven part of your head would also look nice.
The great thing about this outfit are the layers. If you have to wait outside a club you'll be nice and warm with a vest and a jacket. Plus, once you get inside you can keep the jacket on to look cool/have a security blanket of layers or take it off and still look good and properly dressed up.

Feel free to ask me specific New Year's Eve fashion questions on Formspring or through ASS messaging and watch closely for more stuff about stuff to stuff your stuff in to for New Year's Eve in the days/hours/moments to come.