The Complete Wimmen's Comix is simply one of the most beautiful books I've ever seen. I'm proud just to hold it in my hands; I'm proud just to have it on my bookshelf. It's the crown jewel of my comics collection. It's giant and gorgeous. Even if you don't plan on reading it, I would still recommend buying it, because it's just that impressive of a tome. It weighs seven pounds, the case is a gorgeous heart red, covered with comics in black and blue. It's stunning.
The Wimmen's Comix Collective, as chronicled in the opening to this collection, was started when Trina Robbins noticed that most comics were exclusively a boys' club. After working on It Ain't Me Babe, a feminist newspaper based in Berkeley, Robbins had the idea to put together the first all-woman comic book It Ain't Me Babe Comix. Robbins and the many other women who worked on these comics together wanted to make sure that women had a place at the comics table — a battle that's still being fought today in many ways. The Complete Wimmen's Comix is a wonderful historical document showing the beginning of the movement to make sure that women and girls who read comics have a voice in creating them as well.
These books are dense; in total there are over 700 pages packed with content. There are comics by Trina Robbins, Aline Kominsky-Crumb, Lee Marrs, Alison Bechdel, Leslie Ewing, Roberta Gregory, Willy Mendes, "Hurricane Nancy" Kalish, Malinda Gebbie, Mary Fleener, Carol Tyler, Dori Seda, Phoebe Gloeckner and Lynda Barry. I'm already planning on reading each of them several more times. There are so many comics packed into each book, and so much detail in each comic, that you can keep on coming back to them and finding new things each time. It's just fascinating to look through these comics purely from an artistic standpoint. I know that I'll enjoy them for years to come.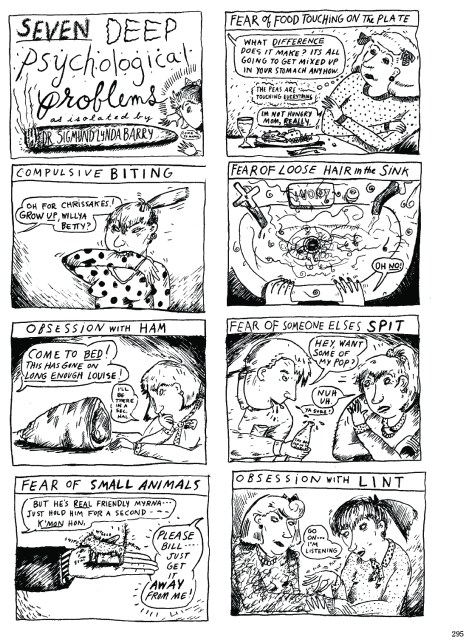 Topics of these comics include motherhood, girlhood, going on dates, aging, and periods, but one of the main themes through these comics is sisterhood. There are comics espousing the virtues of female friendship, women's liberation, sexual freedom, lesbianism and the right to choose. There are others talking about the pains of the male gaze, rape culture, discrimination and sexism, street harassment and body issues. A lot of these comics have a strong political angle to them, while being pretty clever and fun to read. You can tell that the women of Wimmen's Comix were having fun creating and expressing their feelings in a way that they knew would resonate with other women.
This collection also, importantly, includes what is considered to be the first comic strip featuring an "out lesbian," Robbins' "Sandy Comes Out." Maybe my favorite panel in the whole 600+ pages of comics is one where Witch Hazel, an old crone in a hooded black robe, is standing over the earth laughing "Ha! Ha! Ha! Ha! Ha!!! Feminist Rebellion is creeping all over the Earth!!! (cackle!!)" This panel perfectly sums up these comics in one black and white (mostly black) drawing.
Another thing that I love about this collection is that it completely throws conventions of what art by women should look like, at least for the time they were created. The art is very in line with other underground comix at the time, but without the misogyny and toxic masculinity. These comics are very rarely pretty, clean or polite. The lines are sharp, the shadows are harsh, the language is colorful. Also, dang, there are a lot of naked bodies and sex scenes, but they're never drawn in a way that caters to the male gaze. These women weren't writing comics that they thought would make men comfortable. Moreover, these comics are utterly strange; they would never be mistaken for being "girly." And I say all this while most of my favorite comics are closer to Hellcat, Squirrel Girl and Zodiac Starforce than anything else. Now, I'm definitely not saying that softer, "girlier" or more "feminine" art is less feminist or empowering; I'm saying that you can tell that these comics were made a specific way that served the purpose at the time of sending a message that these comics were not trying to fit into cultural ideas of what women's art should look like.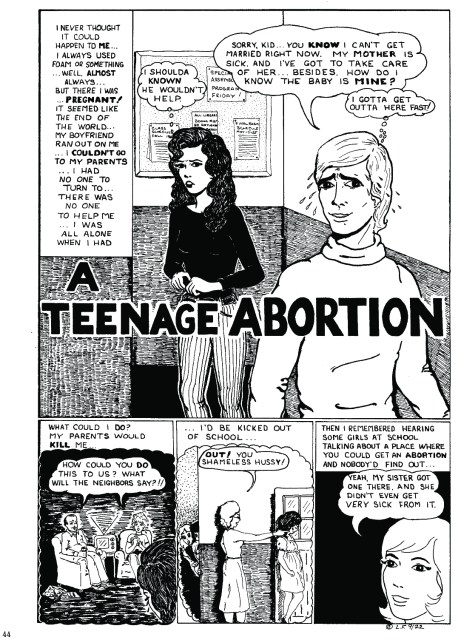 If you're a comics fan, you've likely come across the alternative and underground comix of people like Robert Crumb, Daniel Clowes, Art Spiegelman and Harvey Pekar. The Complete Wimmen's Comix gives readers a chance to see comics from that same movement done by dozens of women. A book like this that collects and chronicles a part of the history of women making comics is especially important coming just a few months after the French comic awards, Angouleme, only nominated men for their Grand Prix, which recognizes lifetime achievement in comics and defended that decision by saying that it was because "The concept of the Grand Prix is to reward an author for their whole oeuvre. When you look at the prize list, you can see the artists on it have a certain maturity and a certain age. Unfortunately, there are few women in the history of comics art. It's a reality. If you go to the Louvre, you'll equally find very few women artists." The Complete Wimmen's Comix helps blow that idea out of the water.
This book is radical, but in a very 1970s way. Basically what I'm saying is that it's very white and very cis. I'm not saying that we should ignore these problems, not at all. I think it's important to look at this book as a part of history, warts and all. Honestly, if you're trans or a POC and you think that this book would end up making you feel more left out or othered than anything else, I'm not going to recommend it for you. This collection shouldn't be used as a primer for intersectional feminist comics. But if you want a really important and incredibly fascinating look at the history of women in American comics, this makes a great purchase.
I know it sounds like I have some issues with this collection, and honestly I do, but still, I'm more proud to show off The Complete Wimmen's Comix than I am to show off any other book that I own. I'm more excited to show it off than just about any thing that I own. I feel lucky to be able to hold it in my hands. It's a gorgeous, important and historical piece of art that can continue to bring new experiences to the reader for years and years. You can buy The Complete Wimmen's Comix, published by Fantagraphics, in bookstores, comic book shops and you can preorder it at Amazon.
New Releases (February 24)
Rachel Rising #40 (Abstract)
Betty and Veronica Friends Comics Annual Digest #247 (Archie)
Adventure Time: Enchiridion Edition Vol. 4 HC (Boom!)
Adventure Time: Sugary Shorts Enchridion Edition Vol. 1 HC (Boom!)
Bravest Warriors Vol. 6 TPB (Boom!)
Teen Titans #17 (DC)
We Are Robin #9 (DC)
Dejah Thoris #1 (Dynamite)
Red Sonja Vol. 3 #2 (Dynamite)
Jem and The Holograms #12 (IDW)
Orphan Black: Helsinki #4 (IDW)
Wynonna Earp #1 (IDW)
Octopus Pie Vol. 1 TPB (Image)
Saga #34 (Image)
All-New All-Different Avengers #6 (Marvel)
Angela: Queen of Hel #5 (Marvel)
Moon Girl and Devil Dinosaur #4 (Marvel)
Patsy Walker A.K.A. Hellcat #3 (Marvel)
Siege Battleworld TPB (Marvel)
Silk #5 (Marvel)
Spider-Verse TPB (Marvel)
Unbeatable Squirrel Girl #5 (Marvel)
Faith #2 (Valiant)
---
Welcome to Drawn to Comics! From diary comics to superheroes, from webcomics to graphic novels – this is where we'll be taking a look at comics by, featuring and for queer ladies. So whether you love to look at detailed personal accounts of other people's lives, explore new and creative worlds, or you just love to see hot ladies in spandex, we've got something for you.
If you have a comic that you'd like to see me review, you can email me at mey [at] autostraddle [dot] com.