Crystal's LISTEN UP: Music is Your Hot Hot Fix #1: I've asked Intern Emily to join me in the musical madness this month. Emily came to mind first because she's from Canada, and Canadian music rocks, e.g. Raine Maida, Our Lady Peace, Finger Eleven, Leonard Cohen etc. And I guess it would be remiss if I did not mention k.d. lang and Tegan & Sara. We just won't speak of Nickelback. [Intern Emily: "Nickelback = shame of Canada"]
Stef's Defacing Public Property with Amanda Tannen of stellastarr*: "I ask if she'd dressed up as a cat burglar and hit the streets at 4AM.  "No!  I did it in the middle of the day!""
The Empire strikes back on Bluehost Sucks, and Robin is your Very Special Tuesday Televisionary.

#BLUEHOST SUCKS: The Lavender Liberal has sorted the whole thing out with an excellent article/overview of Bluehost's terrific record of terribleness: Bluehost vs. The Lesbians! Fun fact – "Here is a clue about which businesses are Mormon owned: Biz names with 'Blue' in them (i.e., JetBlue, Bluehost.com) – the 'Blue' refers to 'true-blue Mormons' (aka 'TBM', as opposed to Jack Mormons)."
TEGAN & SARA: Interview of Tegan & Sara in Under the Radar. I don't even need to tell you what they said 'cause I bet you're gonna read it. Or not. I mean if you might you've probs gotten this far. Potato. Tinkerbell! I feel like Tegan & Sara changed my life. Ok you changed my life too. Whoo-hoo. (@undertheradar)
TRUE BLOOD: This kid went to boarding school with me (riese), and he is doing quite well for himself, probs inspired by  being the lead reader for my play in playwriting class: interview with Michael McMillan from True Blood. (@i09)
BOOYA: Gay Marriage: What Would Martin Luther King Do? "Simply put, a national civil rights organization that takes a 'neutral position' on an issue of basic civil rights does not deserve to exist" (@ CQPolitics)
FULL COURT PRESS: Sotomayor on gay marriage"Lindsay Graham's little scold session was particularly harsh, but then I guess that's what happens when politically impotent Senate Republicans are charged with determining the qualifications for someone who's far more qualified for her job than they are for theirs and will end up being more powerful than they are." (@ The Bilerico Project)
[Intern X: has everybody been watching the confirmation hearings all day everyday? just me? Ok well Sonia Sotomayor answers questions like a mother answers her 4 year old, except the 4 year old is a republican senator?]
Whip it! Trailer
LOHAN: Lindsay Lohan Vogue España August 2009:"Helicopters recording from the air, dozens of paparazzi climbed the mountain that leads to the Hollywood sign and firing their cameras from the most unimaginable, an entourage of about ten people – including his sister and her personal stylist surrounding diva. Welcome to a photo session with Lindsay Lohan" (@ ONTD)
TEEVEE: Cable Shines in Emmy Nominations: And once again I am left wondering WTF TWO AND A HALF MEN WHO WATCHES THAT F*CKING SHOW WHY'S IT ALWAYS NOMINATED FOR SOMETHING. (@ NY Times)
LITERATI: Dave Eggers Confident that America's Literature-Devouring Youth Will Save Print:"The vast majority of students we work with read newspapers and books, more so than I did at their age. And I don't see that dropping off. If anything the lack of faith comes from people our age, where we just assume that it's dead or dying. I think we've given up a little too soon." (@ Gawker)
LEGALEASE: Free legal clinic for gays & their crazy exes opens tonight – "When I split from my partner I didn't know what to do. I'm gay, I don't have any protections, so I need to hang my head and keep on walking," Waldron added. "It's good there are people out there who want to build protections." (@ Seattle Times)
YOUR FAVORITE TAX WRITE-OFFS: Your favorite gay non-profits do not include the HRC or GLAAD … (@queerty)
DADT: Obama delays ending 'don't ask, don't tell: "The soldiers we have in our military today – the strongest military in the world – they're professionals. They have professional leaders and they can handle the lifting of the ban much better than they can handle having their gay and lesbian fellow soldiers, officers, being ripped out of the unit for a stupid policy." (@ ABC news)
NO MORE DOOM: Gay rights group plans talk on silencing slurs by online gamers: "Electronic Arts is hosting a panel discussion on the topic and will look at what gaming companies can do to limit this behavior, create more gay-friendly games and educate gamers about the need for more sensitivity." (@ San Francisco Gate)

Auto-Straddler of the Glorious Day: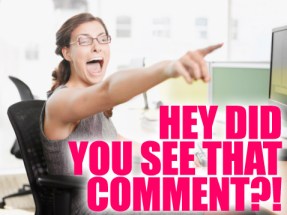 Here's the rules: two best comments a week. Interns & Team are not eligible unless an intern says something so mind-blowingly awesome that we add a third comment to the two of the week.
Lynne on Bluehost Sucks: "I think my favorite part about this post being public is Mr. Heaton's comment being public."
bcw also on Bluehost Sucks: "you guys, all this belly button talk is explicit and inappropriate. i mean, just the implications . . . "innies," "outies," god. is it getting hot in here? where's my bible.
We'd like to introduce a new phrase to the Lexicon via Autumn M, who did not know the password for the Bluehost post when it was still password protected and then was unable to check out Alex's Team Pick in the Daily Fix: "I have a feeling everything hates me today. I just wanna see the earth at night. why does nothing ever work for me. miserable."
When things aren't going your way, I suggest you add "I just wanna see the earth at night" to your litany. Previous inclusions in this particular type of speech include "And I think I'm gay!" inspired by young Haviland crying in the backseat of the car after a miserable no-good day.
from Intern X:


So I'm recently in like with this blog MadAtoms. It's cool because the articles are short, interesting,random and paired with illustration. They also do some really cool charts and the nerd in me appreciates that, check out this one called "Hipster Hybrids." Also go read Breaking up with friends. How does MadAtoms solve this conundrum? "Bite the bullet and sleep with them." OK it just went from like to love.

from Stef:
Too bad Carly's on vacation cos this has her name all over it – Yelle covering Robin's "Who's That Girl?" – the French version is called Qui Est Cette Fille? and um… it sounds exactly like you think it'd sound. Whenever I listen to Yelle, she immediately becomes my #1 feeling. I suspect you'll feel the same.
from Alex:
40 wonderful images from the Apollo 11 mission — 40 years ago today.