As you probably know by now, comedy and women are about the extent of my interests. So why not combine these two things? Comedy Crush will highlight the work of current comedy writers and/or performers in hopes of encouraging a queer lady following so they'll pander to us for the rest of their careers. Hey, at least I'm trying.
---
Yamara Taylor is a Los Angeles based comedy writer and performer. Her writing credits include The Boondocks, How to Rock, and Instant Mom. She's appeared on Awesomeness TV and Comedy Bang Bang. In addition to television, she's an accomplished sketch writer. Her team, The Get Go, performs at UCBTLA's Maude Night.
You've written for How to Rock and The Boondocks which seem like polar opposites as far as shows go. What was the biggest difference between those two writers' rooms?
The Boondocks didn't have much of a writer's room, honestly. Not in the traditional sense. We definitely all sat around and talked story and pitched jokes but it was really laid back. We ate every meal together, so we kind of just worked casually throughout the course of the day. When we were being "officially in the writer's room" we had a writer's assistant to take notes and stuff, but when I got on How to Rock I realized just how different we functioned. No one on The Boondocks went off on script, for instance. We just broke stories in the room with Aaron McGruder and then he'd go off and write. We rarely got network notes, so there wasn't much rewriting. There were times where it was just the two of us staring at his computer while he typed. And times when he was holed up, writing alone while Carl Jones and I hammered out the comic strip. It really depended on what he needed from us at the time. But it was genuinely like working with your best friends so no matter what we were doing we had the most fun.
How to Rock, on the other hand, was run by veterans. David Isreal and his number twos, Bill Martin and Mike Schiff, have very specific network, multi-cam experience. Bill and Mike ran Grounded for Life on Fox and all three of them wrote on shows like Third Rock from the Sun. So they have a very traditional way of running the room. We all gathered around a giant table that had pens and notepads and then broke stories, pitched, punched up and rewrote. Multi-cam is much more of an assembly line of TV producing than animation so we would have scripts in different stages. We'd get assigned scripts and go off to write, get notes and return when we were finished with our drafts. And then the room would tear it apart (in a good way, because I think the room has the ability to make what you've written better).
I'd say that another notable difference between the rooms is that Aaron was brand new to television. He didn't know how he was supposed to run a writer's room and didn't care because he has his own process. And we were all new, so we followed his lead and had the best time. I imagine it's how it must feel if your best friend got his own show and you guys just got to hang out all day and make each other laugh. That was The Boondocks writer's room.
If you could go back in time and write for any show, which would it be?
I Love Lucy, in a heartbeat. It's my all time favorite show. I used to keep it on while I cooked and just listen to it, trying to figure out dialogue rhythms and how jokes sound. I think modern television has told just about every story Lucy told and she's still done it better. I'm obsessed with how funny and smart that show is. And how simple. Such a simple premise that generates story after story. It has the perfect amount of characters to tell the stories it needs to, and everyone serves the perfect functions. It's the perfect show.
If you could cast anyone in your dream pilot, who would be the lead?
Hmmm. Myself? Just because I'm becoming a ham and I think it would be fun! If not myself I'd cast someone like Sandra Bullock. Everyone wants to be her best friend and she's SO funny to me. Maybe Oprah, cause it's Oprah. But only if she'd be my best friend. Like my real one, not any of that "pretend she is but Gayle is still there bullshit." Gosh, I honestly don't know! What a great question! Aisha Tyler? We've trick-or-treated at her house the last two years and she's so nice. I always want to go in and sit on her couch for a chat. This last Halloween, my daughter and her best friend walked up to her house and we heard Aisha yell (from behind a closed door), "Say trick or treat!" Like, she was so excited about the night. So maybe her. She seems like the coolest. So either someone who makes me laugh a bunch, or someone I just want to be best friends with. Or both!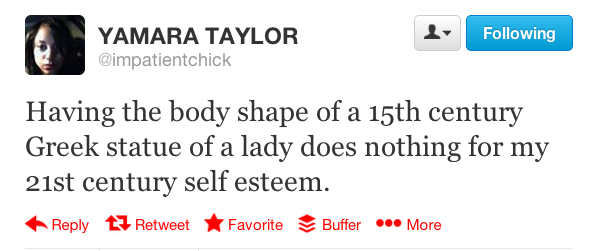 How did you get into sketch writing?
Well, a couple of my friends that I went to UCLA film school with started taking improv/sketch classes at UCBTLA when it first opened, so this was 2005. And I was always curious about improv but was too terrified to try it. So I made myself take sketch classes as kind of a stepping stone to improv. I wanted to start at UCB with something I did well before I did the thing I knew I'd suck at. And I had heard that the UCB approach to sketch writing helped you become a better writer across the board, which I can attest to. So I took Sketch 101 while we were on a hiatus from The Boondocks in 2007. Then like a year later, I jumped into Sketch 201. I took it with Neil Campbell who later went on to become a really good friend of mine and the coach of my Maude Team, The Get Go. To me, Neil is the sketch God. He's so good. He put me on The Get Go and the rest is history.
Sketch writing at UCB, I think, really kind of gave me a career again. When I got on The Get Go I had already left The Boondocks and was just kind of writing pilots, trying to get staffed. And I had a lot of trouble, especially coming from animation and going into single cam or multi-cam. But writing sketch gave me another skill — which, now that sketch is making such a huge come back, is super valuable. And it kept me sharp. I met all of my best friends, my boyfriend and the best collaborators at UCB. So that one sketch class I took in 2007 has been one of the most rewarding things I've ever done. And I finally got into improv and tackled that demon. I'm surrounded by all of the best improvisers in the country, so I'd rather just watch them, but it's so great to have that skill. Improv has helped me the most in the writer's room.
Do you ever feel your sketch writing is limited by not having people of color to write for on your team?
Nope! I have the pleasure of working with some of the funniest ladies I know. And most of what I find funny is based in just being a human, not a person of color. Honestly, I'll write about gender before race because I grew up with four older brothers and find how men and women relate to each other so silly. And I'll write about having a kid, wanting a kid, etc. because it's a thing people go nuts over. None of these ideas require people of color and I honestly never think about it. I'm just writing for humans and the human experience. My mother is Korean and Japanese and my father is black. My mom never made race an issue. I didn't even realize she was a different race until I was like in middle school. As a writer, I feel like if what I've written hinges on race then it's not necessarily my best work. I write for my team and I have six amazing people to write for. They make all of my words funny. If anything, I'm limited by not having a five year old on our team. I have a ton of "my kindergardener is insane" sketches just itching be seen!
Twitter: @impatientchick
Sketch Videos: The Get Go
Current shows: Instant Mom, Maude Night