Aparna Nancherla, former co-worker of past Comedy Crush Janine Brito, is a writer and stand-up comedian. She was the first Indian-American female comic to perform on late-night television. Her credits include @midnight, Conan, Last Comic Standing, and Totally Biased with W. Kamau Bell. She's been listed on LA Weekly's "12 Comedy Acts to Watch," Serial Optimist's "10 Comics You Must Know," and Splitsider's "10 Up-and-Coming Comedians on Each Coast."
What are some of the "normal" jobs you had before you started doing comedy full time?
Some of the normal jobs I had before I started doing comedy full time include various internships, writer/editor at a trade magazine, temp office gopher at a big Hollywood studio, and freelance dating columnist for a free newsletter on singles in the city. Though I really pushed the boundaries on what constitutes "working" at a job.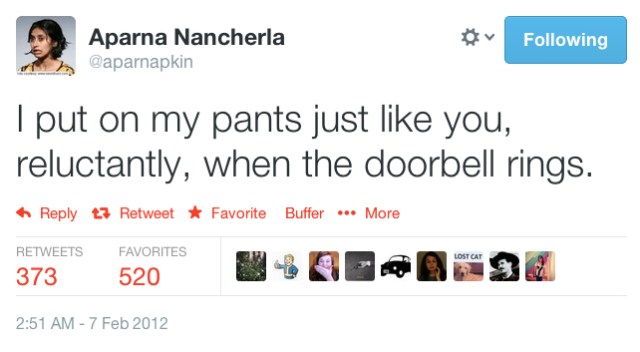 I know you didn't watch a lot of stand-up growing up; are there any stand-up specials you've watched since you got serious about comedy that you've really loved or found inspiring?
How did you know?! I need to have a word with Google about that. I have to be honest in that I haven't watched any stand up specials in the last few years. That's right: zero. I have four on my desktop waiting, just waiting, for me.

So I have to wing this question. I find anything Maria Bamford does very transcendental. But really anyone who plays with the form or surprises me in some way is a continual delight. That being said, some performers I have loved watching recently are Brent Weinbach, a fresh-faced up-and-comer named Kyle Mizono, and Nick Vatterott.
https://www.youtube.com/watch?v=rly4Hdsr2Cs
What's your general state of being before you go on stage?
A leaked press release of nerves. I am learning to handle my anxiety through breathing exercises and more discreet panicking.
What's the worst nickname you've ever had?
Porn.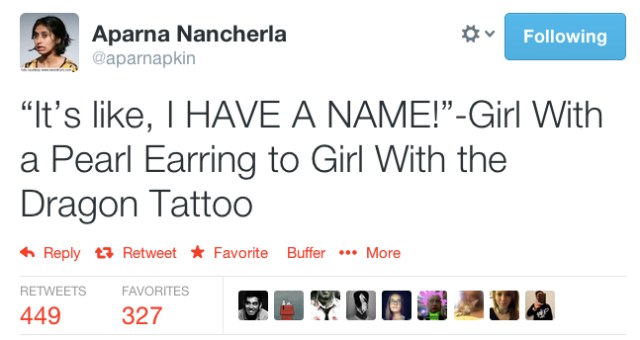 I think it's been enough time that people can answer this with confidence… What is your favorite song off the new Beyoncé album?
Remember when I said I haven't watched any comedy specials? Well, I DID listen to this album but it was someone else's iPod and I didn't bother to learn the names of any of the songs. That being said, the first one?
Follow her @aparnapkin
She's headlining the Melbourne International Comedy Festival!
---
As you probably know by now, comedy and women are about the extent of my interests. So why not combine these two things? Comedy Crush will highlight the work of current comedy writers and/or performers in hopes of encouraging a queer lady following so they'll pander to us for the rest of their careers. Hey, at least I'm trying.