The comics of Sara Goetter first caught  my eye when her most recent short-story comic appeared on my tumblr dashboard last week. I'm always a sucker for stories about princesses and brave and heroic women warriors, especially if there's a queer twist. And this comic gave me everything I want and more. When I decided to check out some of her other works, I was even more delighted to find a whole bunch of cute, fun, lady-centered and very clever comics.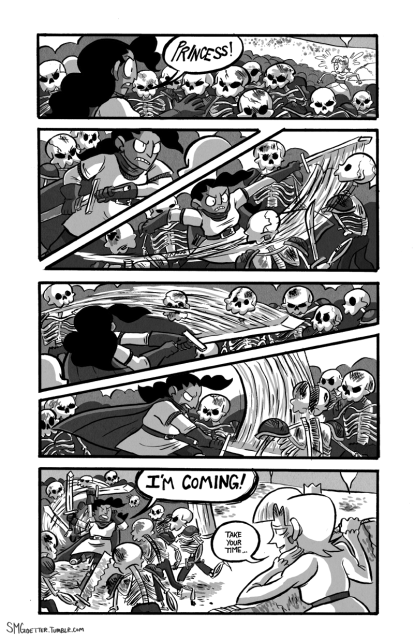 Haircut, Goetter's most recent comic, and the one that first caught my eye, is about a young woman named Princess Mildred the Third and her companion, a female knight named Lady Beatrice (or B, as Mildred calls her). At first they're just sitting and chatting, setting the scene of where they've been for us. The center of their conversation is Mildred's hair, which, thanks to Beatrice and a rock troll, has recently been cut short. Beatrice is apologizing for accidentally cutting Mildred's hair with her sword, Mildred is thanking Beatrice for saving both of their lives, and both of them are blushing and avoiding eye contact at every turn. Beatrice then compliments Mildred on her new hairstyle and they're about to settle down and share a meal.
At that moment, the earth splits open and an army of skeletons bursts out and attacks. Beatrice is able to fight them off, but before they can take a breath, Mildred hears a familiar voice: her father's. The king is projecting his voice into one of his undead generals so that he can chastise his daughter and get her to come back home. He seems to be under the impression that she was kidnapped by Beatrice and that she would be happy to see him again. He could not be more mistaken. Finally, he insults her new haircut and Mildred has had it. She picks up Beatrice's sword, says she's not coming home and that she likes her hair short and slices her dad's skeleton proxy in half.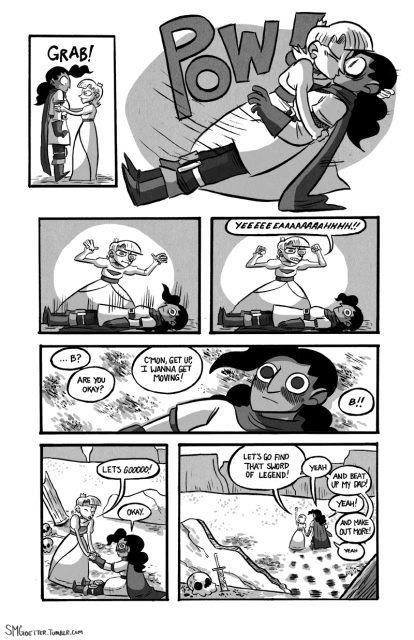 Beatrice notices that Mildred is started to breathe heavy and asks her if she's alright only to see the princess scream and shout "I feel GREAT!" She says that she feel like she can do anything and wonders if this is how Beatrice, as a knight, feels all the time. Before Beatrice has a chance to properly respond, Mildred grabs her, dips her and kisses her right on the lips. Again, Beatrice doesn't really have time to collect herself and they are off on a quest to find the Sword of Legend, defeat Mildred's dad and make out some more. This comic definitely has a happy ending.
My other favorite comic by Goetter is her entry for 24 Hour Comics Day 2013, a day when comic artists from all over try to write and illustrate an entire comic in just 24 hours. This story tells the story of a rambunctious young girl named Mia on the last day of summer vacation. She goes into the woods looking for adventure, but before she goes too far, adventure finds her in the form of a giant nameless fox spirit. This spirit takes her on a journey to kill several other spirit creatures, and it ends up not quite being the great, adventure-filled last day of summer break that she imagined.
A third comic that I think you should definitely check out is a 10-page story about a girl and her pet titled Good Dog. In this comic, a young woman is taking her dog, Rex, out for a walk. Only this is no ordinary dog. It appears to be some sort of blob creature (as his owner says, "he is not a monster") about the size of a VW Beetle. This young woman is just trying to take good care of her pet, but a police officer slams on his brakes and tries to come to her rescue. At first, Rex starts crying when he hears the police officer call him "thing" and "a monster," but as soon as the police officer grabs the girl to pull her away, to what he thinks is safety despite her shouts that Rex is her dog, Rex opens up a giant mouth and soon the police officer is floating inside his semi-transparent gelatinous body. However, Rex is a good dog, and soon the pair are racing off to the park, hopefully leaving the police officer a little bit wiser.
Goetter lives in Pennsylvania and doesn't just write short story comics; she also has a webcomic called Boozle about a wizard and his cyclops companion as they go together on an adventure that has multiple page updates every Friday. If you do want to check up on her short story and other one-off comics, you can check out her art blog.
---
Welcome to Drawn to Comics! From diary comics to superheroes, from webcomics to graphic novels – this is where we'll be taking a look at comics by, featuring and for queer ladies. So whether you love to look at detailed personal accounts of other people's lives, explore new and creative worlds, or you just love to see hot ladies in spandex, we've got something for you.
If you have a comic that you'd like to see me review, you can email me at mey [at] autostraddle [dot] com.
Header by Rory Midhani