Welcome to Drawn to Comics! From diary comics to superheroes, from webcomics to graphic novels – this is where we'll be taking a look at comics by, featuring and for queer ladies. So whether you love to look at detailed personal accounts of other people's lives, explore new and creative worlds, or you just love to see hot ladies in spandex, we've got something for you.
Header by Rory Midhani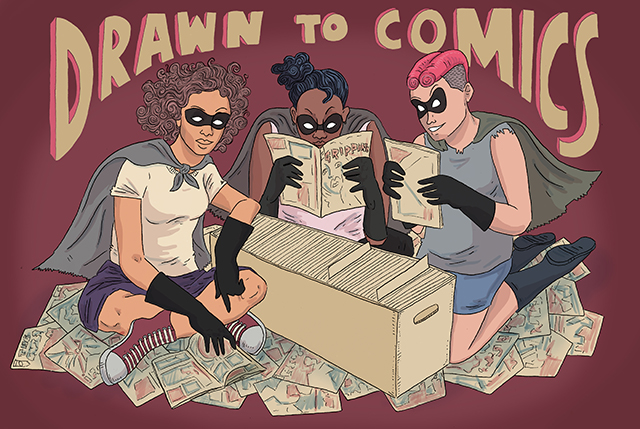 ---
For a long, long time I've loved Disney Princess movies. I've imagined myself being Belle or Ariel or Jasmine. But in my imagination it's always a She-Beast, Princess Erica or a street rat named Aliyah who I marry in the end. While I'm not holding my breath for Disney to have an actual lesbian princess movie, I never let that dream completely die and I'm always on the look out for a good princess story that has characters who I can relate to. Well, my dreams came true when I read Princess Princess, the wonderful webcomic by tumblr user strangelykatie. What starts off as a lesbian twist on a Rapunzel-like story soon turns into an adventure about standing up to bullies and forging your own path in life. Plus, it features two princesses who are super cute in their own distinct ways.
As the story starts, we see the all-too familiar scene of a princess shouting for help after she has been trapped in a tower. A rider approaches, saying that they have come to rescue the fair maiden. Our princess is not impressed. She's tired of fitting into the boring tropes that come with being a princess in a fairy tale. She says that none of the dozens of princes that have come and tried so far to rescue her have succeeded, so what makes this one different? That's when the rescuer steps off of their beautiful unicorn steed and announces in classic Éowyn style, "I am no prince!" Also, she has a grappling hook. This is our introduction to the very dapper Princess Amira.
Once Amira gets into the tower, she meets the fat and femme Princess Sadie and her dragon buddy Oliver. The two princesses escape from the tower and go off looking for adventure. And they're able to find it with hilariously little effort. Soon their group grows to include Prince Vladric, who doesn't seem to fit many stereotypes of a fairy tale prince. They also meet the Big Bad of the story. As the comic progresses, we get to see short backstories for each of the princesses and we learn that the villain who locked Sadie in the tower is someone from her past. Even though it was Amira who originally rescued Sadie, they both work together to creatively solve their problems, defeat their enemies and become the kind of princesses that they want to be. None of our heroes fit the normal fairy tale roles. Our brave rescuer is a princess and doesn't defeat every challenge by fighting it. Our princess who was rescued isn't helpless and actually stands up for herself when she needs to. The prince who is there has no desire to fit the daring, violent adventurer role that his father imagined for him. It's all very refreshing and makes the story so much more enjoyable to read.
The story is fun and full of little jokes that help to move the story along and develop the characters. Each of the people we meet has their own distinct voice and personality. The writing is clever and fast paced and even when things are sad or intense, it keeps it's fairy tale feel. And the art only enhances the experience. The lines are soft and round and the color palette is made up of light pinks and reds (although there are some pages done in full color). This gives the entire comic a whimsical, delicate feel that is reminiscent of Bee & PuppyCat by Natasha Allegri or the Marceline and The Scream Queens comics.
Just about everything about this little comic is great. The two princesses are both different as can be, but they compliment each other so well. Amira is a cool Princess of Color who wears a military uniform, has an awesome alternative lifestyle haircut and loves questing and kicking butt. Sadie on the other hand is chubby, wears a cute dress, loves cookies and would rather talk things out than start a fight. The comic works wonderfully to show us how their different personalities and styles are each perfectly valid and good and that even though they're both princesses, they do not want to be the same kind of princess. Even though Princess Princess is full of messages about being yourself and not being ashamed of your body and creating your own fate, it manages to stay uplifting and entertaining instead of becoming cheesy or heavy-handed.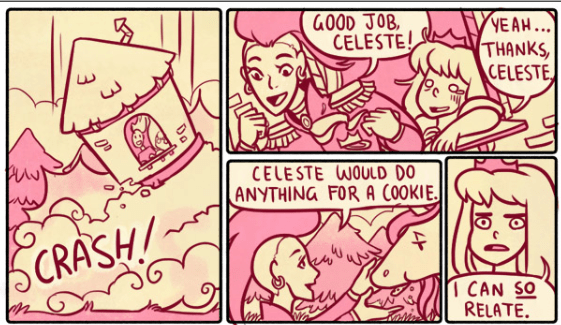 A lot of queer women (including me) grew up dreaming of being princesses. As we grew up and started seeing sexism and racism and the ugly face of the patriarchy permeating throughout pop culture a lot of those dreams disappeared. We simply weren't able to find the kind of princess stories that we wanted any more. Sure, I still love fairy tales and I can sing all the words to a ton of Disney songs, but I also can't help but cringe when I see all the problematic aspects in my favorite princess stories. Princess Princess manages to avoid those problems without sacrificing quality or entertainment.
The comic first appeared on her personal tumblr and a special Princess Princess tumblr back in December of 2012 and after weekly updates, the story ended this spring. She recently started selling the Princess Princess Pack at her gumroad store for only $2.50. This digital pack includes the entire original comic, 7 new epilogue pages, and a folder of high-resolution images including some that aren't found anywhere else, and I have to say that It's definitely worth buying.
---
If you have or know of a comic that you would to be featured on Drawn to Comics you can email me at mey@autostraddle.com.