Guten tag, folks! Welcome to this week's Also.Also.Also, in which I do serious reporting on the stories we missed this week. But first: PUPPIES IN A PUMPKIN PATCH.
And now, without further ado, let's get down to funkytown business.
Sad Times and Terrible Sh*t
+ Moment of silence for Gloria Johnson:
The San Diego LGBT community is in mourning after the death of one of its pioneers, Gloria Johnson, who died Sunday morning according to the San Diego Democrats for Equality. Johnson was 76 years old, according to Jeri Dilno, who said her friend "shared her birthday on Aug. 26 with Women's Equality Day, a fact that pleased her immensely."

Johnson told Gay San Diego in 2012 that Pride was her "favorite 'holiday'" and that she enjoyed it more than the traditional holidays.

"I have been there from the earliest days when a small group of us LG folks (we didn't have the B/T yet) strutted down Broadway and waived at a few people along the way," Johnson said.
+ The SCOTUS ruling that states did not have to expand Medicaid under Obamacare is going to end up hurting (surprise, surprise) folks of color and "and those who work but don't earn enough to live." How sweet!
+ LGBT inequality in the military is far from a thing of the past. Here's five reasons to prove it.
+ Russia's childrens ombudsman says they don't need no stinkin' sex ed because they have TOLSTOY. Duh.
+ Sixty percent of single women can't afford to meet their basic needs, and more women are in poverty now than any previous recorded time in the past twenty years. (Cue Clinton-era nostalgia and me eating Ramen for dinner tonight.)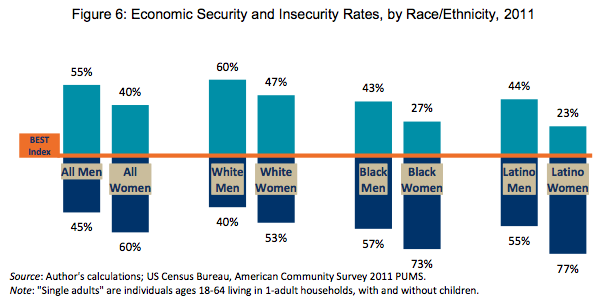 LGBT Law Firm Heads to Weezy F. Baby's Hometown
The queers have landed in NOLA. Take that, stubborn Louisiana lawmakers.
Last week, Louisiana Revenue Secretary Tim Barfield said that the state will not recognize a same-sex marriage tax filing because of its 2004 constitutional ban on gay marriage. Barfield, who was appointed by Republican Gov. Bobby Jindal, a vocal opponent of gay marriage, believes that Louisiana's constitution trumps all other laws.

It's because of Barfield and other naysayers that Delaney and Robb felt compelled to open their firm.

"It's important to me as a gay individual that I'm treated as fair and equal as possible," Robb said.
On "Killing The Rapist"
What is it about vigilante justice that's so good yet so bad at the same time? And why is it something we aspire to and praise? BITCH investigated our innermost emotions for us this week.
In a world where women are raped, beaten, and killed with alarming regularity and with little consequence, it's hard not get on board with vigilante justice. Of course, there are bigger questions to consider—the long term effects of combatting violence with violence, the retaliation women may experience, what this all says about us as a society—but it's somehow comforting, at least for me, to encounter women and characters who take the law into their own hands because they're left with little alternative.

I don't know what it says about me that I have great trouble mustering sympathy for rapists who are killed by their survivors, finding it very easy to discount the fact that they may have been products of their environment who weren't given the chance at rehabilitation. As a survivor, I could never imagine seeking out revenge in the form of murdering a rapist, though I don't condemn the woman who apparently did and I would never tell her she must practice forgiveness.

I'm less concerned with arguments about whether vigilante justice is right or wrong, and more intrigued as to why it is that we crave these stories, why we secretly – or not so secretly – rejoice the Diana the Huntresses of the world. It's about understanding the many shortcomings of our criminal justice systems, but it's also about something more primal, the kind of satisfaction that can only result when you feel true justice has been served.
You Should Give + You Should Go: Butch Voices Needs 10K in 10 Days
+ BUTCH Voices needs you for their campaign to raise $10K in 10 days.
Since 2008, BUTCH Voices has been dedicated to building a masculine-of-center community. At the core we are about improving the recognition and respect for masculine-of-center people and their families. This year's conference proved our commitment by enforcing deeper accessibility; providing safer space to address prevailing issues of racism, transphobia and misogyny within butch circles; and fully utilizing social media to promote daily positive representation of butches, studs, machas, and other masculine-of-center folks. We love the cultural work we do but, despite its extraordinary gains- we currently need your financial support.

While the 2013 BUTCH Voices Conference is the third biennial conference, it is produced solely through the efforts of an all-volunteer board and a minimal budget. As our commitment grows to enhance awareness and solidarity, we ask that enthusiastic partners and allies like you take the pledge. Without your donation, BUTCH Voices runs the risk of subsidence. Help us close 2013 and continue to build better community by making a financial contribution today.
+ Knights in Shining Armor, the "first national traveling fashion show movement to showcase dominant lesbians, masculine of center persons, queer, androgynous, and transmen bodied models" is coming to a runway near you. And if you live in or around West Hollywood, you can get tickets to see it THIS SATURDAY! Mary Lambert and some other hella queer artists are performing live too, so it gets the official Autostraddle Stamp of Approval. Your face should be there in all of its glory. And your eyeballs too, because I have a feeling it's gonna be the best thing they've ever seen.
Meet The Inductees of Chicago's Gay and Lesbian Hall of Fame
On November 12, a whole lot of queers (14 individuals and two organizations, to be precise) will be inducted into Chicago's Gay and Lesbian Hall of Fame. Here are some selected bios from the ladies in the crowd:
Gaylon B. Alcaraz, 42, for almost 20 years of work on behalf of women's reproductive freedom, the interests of African American lesbian and bisexual women, adolescent health and other social concerns. She was a founder of Affinity Community Services, a South Side social-justice group, and is the Chicago Abortion Fund's executive director.

Paté, 55, for her community involvement since 1986 as a bartender in numerous venues, where she has built a loyal customer base, won mixology awards and volunteered and raised funds for numerous organizations, while also devoting countless hours to organizations rescuing and rehoming lost, neglected, and discarded pet animals, both locally and after Hurricane Katrina.

Laura Ricketts, 46, for generous donor support and board service to LGBT and non-LGBT organizations, including Lambda Legal, Housing Opportunities for Women, GayCo Productions, Opportunity Education, and Democratic Party entities. She has backed ecotourism and, as a part owner of the Chicago Cubs, is the first openly LGBT owner of a Major League Baseball team.

POW-WOW (once formally known as Performers or Writers for Women on Women's Issues, Inc.) for 10 years of offering an open and affirming space for women, especially those of color, to create and present artistic performances and writing, as well as helping women and girls re-entering society to develop artistic careers and providing socially relevant, arts-based literacy programs.

Brenda Webb, 60, executive director of Chicago Filmmakers, for her 32 years of perseverance as organizer of Reeling, the Chicago LGBT international film festival. Reeling is said to be the world's second-oldest such festival and has become a major cultural event for Chicago's LGBT communities and the city's general arts and culture scene.
What Bisexuals Think of All Y'all Haters
Ain't nobody got time for that shit.