Welcome to Queer Outfit of the Week ,where I scour the world and tell you all about my one favorite queer outfit this week. I'll envision a scenario where you or your girlfriend or your best friend or your mom or your cat could wear it, and talk all about why it's a great outfit for that event. Every week will be a different style, gender presentation and event so there's a little something for everyone — even the person who just wants to look at pictures of stylish queers! So let's get to it — we're going to figure out what the heck we're going to wear this week!
Header by Rory Midhani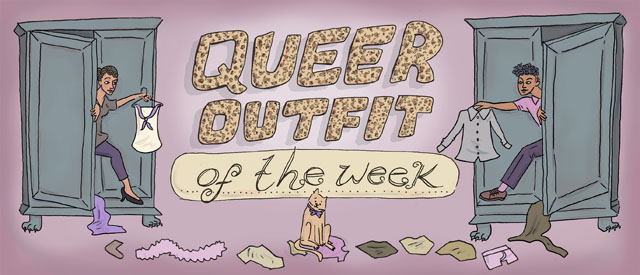 ---
How did you let yourself get this behind on errands? I mean, I know things have been busy lately, but you have a ton of stuff to do this week! There are only so many hours in the day to get your car inspected, your renter's insurance dropped off, your roommate's girlfriend's birthday gift purchased. God I hope the pharmacy is open until 11pm tonight. Pull on a functional outfit; an outfit to get shit done.
If you're going to finally get some shit done, you better start with something comfy but not too comfy. You want to be able to walk around all day, but it helps to be able to clean your outfit up in a jiffy if you need to. Certainly you should wear some looser pants — this isn't the time to suffer from the distractingly uncomfortable crotch of Too Tight Pants Syndrome. Still, you might find yourself finally squeezing in that meeting you've been putting off. So go for some straight leg khakis and a button-up. A somewhat muted but flexible button-up is a safe, comfy and practical option. You can even go for a chambray fabric. I also strongly suggest a denim jacket. Yes, even over chambray. You just never know when you're going to need a denim jacket.
Accessories are easy here. You need no-nonsense footwear and a backpack. If big sorel boots are comfortable for you to walk around in all day, you should go for it. They have that perfect foot stomp of making things happen. If snow boots are uncomfortable or hot, you can swap them out for a lightweight work or military boot. A backpack is also a total necessity, so you won't have to trudge back home between errands. Backpacks are hitting the trends again so it shouldn't be hard to find one that looks more like Busy and Important Queer and less like I Forgot My Algebra Homework. I particularly like the canvas and denim backpacks for their ability to transcend different styles and easily dress up or dress down.
If you're looking for something a bit femmier to get things done in, you can swap men's khakis for skinny cropped cargo pants and a slimmer foot boot. You can even swap the button-up for a black or blue tank top if it's more comfortable. Remember though, that this isn't the time for heels. You don't want to be rushing home mid-errands to change into comfier shoes.
Today is the day to start fresh and get things done. So throw your wallet in your pocket, stuff your backpack full of all the goodies you need and go get it done.
---
If you see something that you think should be featured on Queer Outfit of the Week, send me an ASS message, ask on my tumblr, or tweet me @Ohheyitslizz