Feature Image via Soko Fotohaus
 On Thursday, July 19th in Edmonton, Canada, 26-year-old gay University of Alberta student and makeup artist Chevi Rabbit was feeling hungry. He wanted a snack, so he did what you or I would do when running low on groceries and faced with a similar gastronomical situation — he decided to walk the few blocks to Safeway and get something to eat. Walking to the grocery store is the most ordinary of activities, but Chevi Rabbit is no ordinary guy. To put it simply, he's fabulous! And as he walked to Safeway that Thursday evening, you can bet your gay unicorns he was wearing perfectly applied makeup. It's hard to imagine what exactly was going on in the minds of the three men who attacked him, but they must've had a major problem with a visibly gay man who had the audacity to be out doing an ordinary activity in public with makeup on. Edmonton, like too many North American cities, has an affinity for gender norms and an aversion to walking (driving is the preferred method of transportation here). I guess that makes Chevi somewhat of a radical. Since I also live in Edmonton, Chevi's story hit close to my heart. I was lucky to interview him about the attack as well as on violence against gender non-conforming people, what he is doing to make the city a safer place for queers and why, as he puts it, "walking to the grocery store should not be a life or death situation."
Chevi tells me that as he was walking to Safeway, a vehicle pulled up beside him. Inside there were three men. "They stopped at the intersection beside me," he says. "They started shouting anti-gay comments such as, 'Hey faggot, you're a fucking faggot, you faggot!'" Chevi handled this verbal attack with remarkable poise and well, fabulousness. He turned around to face them, said, "Thank you." and continued on his way.
"It was embarrassing." Chevi says about being verbally assaulted. "There were so many people around! There were over 15 people playing volleyball next to the sidewalk where I was walking. The neighbourhood is a good one. There are so many students in the area and everyone could hear what they were saying to me!"
He texted a friend about what had happened, not realizing that the van had begun backing up towards him. It stopped and the three men jumped out of the car, putting Chevi into a headlock and pushing him onto the concrete sidewalk. "Luckily there was a group of people who had witnessed everything," Chevi tells me. "They scared off [the attackers], ran after them, and even managed to get their license plate and description." Unfortunately, the three men still managed to steal Chevi's iPhone.
In many ways, our culture is still deeply attached to a structure of rigid gender norms, and specific gendered behaviours assigned to one gender or the other. Who's ever heard the expression "boys will be boys?" Growing up, I didn't understand why there was supposed to be much of a difference between boys and girls. I painted my little brother's nails and had clothing exchanges with the neighbourhood boys. I'd invite them to my room, undress them, wear their hockey jerseys and put them in my dresses. When I went to church on Sunday, the fact that the priest was always a man offended the little-girl feminist in me. What if I wanted to be a priest? To me, gender was one of the many things adults made unnecessarily complicated.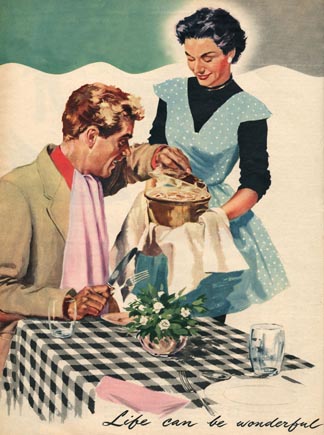 And even though I guess I've now joined the ranks of the adult, I still can't wrap my head around why people get so hot and bothered about gender non-conformity. Remember when Jenna Lyons painted her son's toenails in a JC Penney ad, and it created a huge controversy? Psychiatrist Keith Ablow shared his thoughts on gender and the ad on the oh-so-reputable Fox News:
This is a dramatic example of the way our culture is being encouraged to abandon all trappings of gender identity – homogenizing males and females when the outcome is not known.
As far as I know, Keith Ablow is not assaulting any gender non-conforming individuals on their way to the grocery store, but comments like his touch upon the discomfort many feel when the trappings of femininity or masculinity are loosened. But gender shouldn't be trapped by its trappings; it should be dressed up, dressed down and played with. The outcome of gender non-conformity should be having fun and letting us feel more like ourselves.
This is something Chevi understands. He's been wearing makeup and has felt comfortable with his sexuality for a long time. "I came out about my sexuality at a very young age — early teens." he says. Luckily, up until July 19th, he had experienced little homophobia. "Thank goodness that I had a very accepting family and a strong mother. My mother has always given unconditional love to me and her family. Because of her love for me, I was able to be myself and have grown up comfortable with my sexuality. I don't have any issues with who I am as an openly gay man. I feel that sometimes it's others who are caught off guard with how comfortable I am with myself in all situations."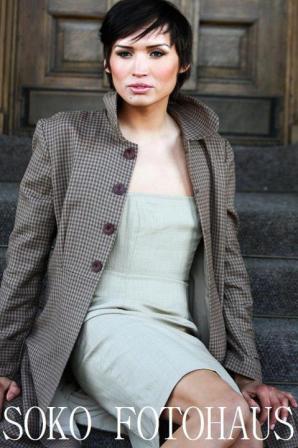 But post-attack, he wondered if he should wipe off the makeup for good. As a professional makeup artist working freelance and also for Yves St. Laurent and Giorgio Armani, Chevi tells me that makeup has always been a huge passion of his. But it's dangerous to be different — and a man openly passionate about makeup is certainly different. We were all horrified when we heard about the attack on a lesbian woman in Nebraska, and closer to home for me, there was the violent assault on Shannon Barry in Edmonton. To add gender non-conformity to an identity as a sexual minority can create a dangerous mix. A 2011 report found that gender non-conforming youth are the most vulnerable when it comes to violence and bullying. Comments such as Ablow's only add fuel to the dangerous fire that is the all-too prevalent bullying and attacking of queer and gender non-conforming individuals. Despite the danger, Chevi decided that the prejudices of others shouldn't stop him from being himself. He says, "I have come to the conclusion that yes, this was a terrible hate crime and attack, but I will not let it change who I am. I will continue to wear makeup and live a fabulous gay life."
For Chevi Rabbit, it's not enough to be himself. Since the attack, he has become quite the activist, speaking out to the media about what happened to him while actively organizing a NOH8 March and Rally that will take place in Edmonton this Thursday, August 2nd. "There needs to be some tolerance." he tells me. "Certain demographics of people need to be educated on the differences that exist in our society, and that those differences are okay and should be embraced. It's okay to be different and unique and feel safe being so!"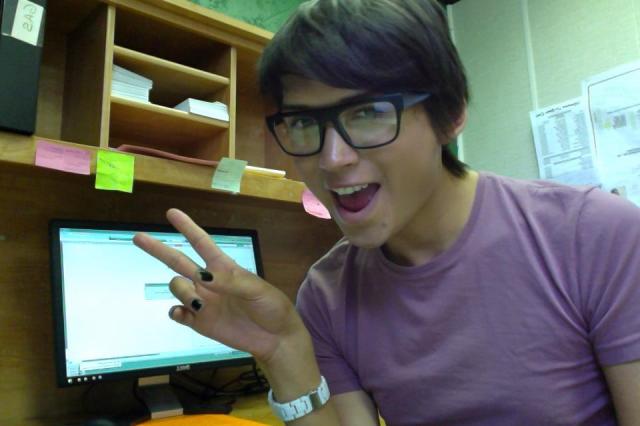 This Thursday, August 2nd, people in Edmonton are encouraged to come to Chevi's NOH8 rally. He asks that you wear purple, the anti-bullying colour. The march will begin on the corner of 110st and 84 ave, where the attack happened. "Then we will walk," Chevi says, "holding the hands of someone of the same sex as you." There will also be speeches from some pretty impressive community leaders including Michael Phair, the director of community relations at the University of Alberta and the first openly gay city counsellor; Lewis Cardinal, the Aboriginal Federal NDP candidate; and Gary Simpson from the United Church. Tony-award nominated Broadway singer Michelle Rios will also be performing.
When I first heard about what had happened to Chevi, I was both saddened and angered by the violence and homophobia in my city. It made me think of the first time I held hands with a girl: I was walking down Edmonton's Jasper Avenue when a man muttered, "Would you look at that!" I'll never forget how angry his eyes were, and all I could think was, "I'm just being myself in my city." Chevi is working hard to make Edmonton a safer place for anyone who is different, anyone whose sexuality and gender presentation doesn't fit into a neat heteronormative box. My reaction to his story has changed from feelings of rage and grief to courage and inspiration. Yes, Chevi was attacked, but people came to help him and chased his attackers away. And now on Thursday, July 19th Edmontonians will gather to let the city know that hate crimes will not be accepted. Before our interview ended, I asked Chevi if he had anything to say to anyone who is being harassed and/or feeling bad about being different.
"I hope that my story helps someone know that it's okay to be yourself, that it is okay to be openly gay, lesbian, bisexual, or transgender. You are valued in our society. And life is worth living."
I thanked Chevi for the interview, for sharing his story, for being brave.
Feel free to contact Chevi Rabbit for freelance work, or even just to offer a message of love and support at chevirabbit [at] gmail [dot] com. You can also visit his makeup artist's blog. And for more information about August 2nd's NoH8 March and Rally, please check out the event's Facebook page.