It happens so quickly, in the aftermath — the gathering of the community, the vigils, the facebook tribute pages, the fundraising for the medical bills. We are good at this, lesbians: we are good at gathering, at empathy, at selflessness. We are good at unconditional support and automatic embraces. We have been good at this for decades. We've had to be, because nobody wanted to hear our stories, because nobody believed the stories we told about our lives, especially the hard ones, the violent ones, the tragic ones.
But are we ever too good at this?
When news broke that 33-year-old Charlie Rogers, a lesbian from Nebraska and a former college basketball star, had been attacked in her home by three masked men — that they'd tied her arms and legs together with zip ties, carved "dyke" and other hateful words onto her skin, spray-painted "we found u dyke" onto her basement wall and then attempted to light her home on fire — I admit I didn't believe a word of it. Not because I don't think hate crimes happen, obviously, but because the facts of the case didn't add up and her testimony was full of holes. I had the same feeling about Charlie that I'd had when Cheyenne Williams made the news in 2009 for allegedly being attacked by her friends on National Coming Out Day, a story that turned out to be a lie, albeit a lie I could more easily fit into a coherent narrative than this one.
But I am a skeptical and jaded person. Working and living online for so long has often exposed me to numerous "fakers" and introduced me to one liar in particular who tore my life apart — after you've helped your friend mourn the loss of an entirely-fabricated newborn child and composed a eulogy for a dead mother who never existed, nothing is sacred and any lie is possible, any lie at all. I've immersed myself in research about Münchausen syndrome (also, by proxy and the "by internet") and "compulsive liars" and scam artists and the people who believed the liars and there's a certain pattern and form these situations take and they become recognizable to the jaded eye. I also watch way too many crime shows on television.
I just need you to understand that this is where I'm coming from, this very subjective place, before we go any further. We've been talking about this all day, me and the other Contributing Editors, and it's clear to me that our reaction to this story is deeply wedded to "where you're coming from."
This case left me conflicted because, perhaps like you, I put aside my skepticism for cases involving hate and women and a gay woman especially. It's our responsibility in this community to believe and listen, and I would've been outraged to see Rogers' testimony challenged on a mainstream website. But I wasn't sure how to feel when a commenter on Fonseca's article about the attack was verbally massacred for, essentially, questioning what I saw as a very questionable situation.
"I believed it," Kate said. "The first thing you're trained to do [when you do survivor support work] is to believe the victim, because so many people won't."
"I split myself in two," said Fonseca, who emailed with Charlie's girlfriend and the vigil organizer to write her story, "I didn't believe it, but knowing what Kate does about supporting survivors, I presented the case as it was."
Yesterday Lincoln police reported that the only person being charged in the Charlie Rogers case is Charlie Rogers, a determination which has been supported by four Nebraska gay-rights groups following the case, who released a statement commending the police "for conducting what [the gay rights groups] believe was a balanced and thorough investigation."
Fonseca caught up with the Vigil organizer she'd spoken to for our original piece and the Vigil organizer said she "regret[s] nothing." Furthermore, she recalls, "one month ago I started a Facebook event that called our LGBTQA community together to light candles and fight the darkness of hate. No matter what happens with Charlie, that fight is a real one, one that must continue.  I will not let the news of today cloud my vision in my quest for tolerance and equality, nor will I let it extinguish the inspiration that was ignited in me when I looked over a sea of hundreds of candles."
There were elements of her basic story that raised a lot of questions for me at the time: it seemed convenient that the attackers took an unnecessary field trip to the basement (the attack allegedly occurred upstairs) to spray-paint her unfinished basement wall in super-neat handwriting rather than vandalize the painted and wallpapered upstairs walls. It's unusual that a seemingly pre-meditated crime of this nature wouldn't be accompanied by sexual assault or theft. The small fire causing only $200 of damage in her kitchen? The fact that carving "Dyke" in somebody's skin with a blade is kinda… sensationalistic?
So let me dig into the specifics of this case for a second.
Forensic evidence has revealed numerous holes in Rogers' story. Rogers claimed she awoke to three men in ski masks standing around her bed who undressed her and held her down while one man cut derogatory words into her arms, stomach, thighs and shins as well as a cross on her chest area, yet police found no sign of a struggle or any blood on the bed where she claims she rolled around after being cut. Furthermore, Rogers sent a friend a photograph of the cross carved into her chest far before the crime occurred: "Initially, (Police Chief) Peschong said she told police the assailants carved the cross. Then later, she said her father had carved it into her chest and the assailants cut it again. She also claimed her father had abused her twice before, a claim police said was unfounded." An FBI forensic pathologist determined the cuts, which were superficial and symmetrical, seem to be either self-inflicted or administered with consent. They were too straight to have occurred during a struggle, and were all in areas that could've been self-inflicted.
A hardware store clerk has testified (and bar codes confirm) that Rogers was the woman who'd purchased the white knit gloves, red box cutter, zip ties and extra blades Rogers claimed were used against her by her attackers.  Rogers' DNA, and the trace DNA of another female, was the only DNA found on the gloves, which are the only item of those aforementioned Rogers still denies purchasing. There was no evidence of a break-in and she had no idea how they entered or left her house. Rogers deleted all text messages she sent and received the night of the incident before turning her phone over to police.
Rogers reported that while she was on the bed, she heard "splashing" that she believed was gasoline being thrown around her house and that she was able to hop to the door at which point "she observed a match light, and then an ignition and the door was blown shut." Her neighbor didn't see any fire or smoke, and when firefighters arrived there was no active fire. Only $200 in damage occurred. Rogers reportedly told initial responding officers that there was graffiti in the basement, but later in her statement said that she didn't know about the graffiti when she initially left the house.
Like many in Nebraska, Charlie was riled up by the debate over the "fairness ordinance" that would ban discrimination against gay, lesbian, bisexual and transgender people — it was passed by the City Council, but opponents had gathered enough signatures to put it up for a popular vote. Four days prior to her attack, she "outlined in a Facebook posting what investigators believe was her motive for faking the July 22 attack" when she wrote: "So maybe I am too idealistic, but I believe way deep inside me that we can make things better for everyone. I will be a catalyst. I will do what it takes. I will. Watch me."
In her interview with a Nebraska ABC News Affiliate, Rogers stated, "for people to think this doesn't happen here, it does. It did." Using (not always accurate) Statement Analysis techniques, Rogers shaky testimony can be parsed out by analyzing that interview she did in July, which contains many linguistic red flags, like her eschewing of first person or any sensory details and the removed manner in which she addressed people who questioned her: "The idea that people think it's a lie is so hurtful. It's understandable… Intellectually I understand that people have a hard time wrapping their heads around what happened, as do I. But I'm a person, with feelings, with concerns…and it's just so…it feels like a punch in the stomach, like a betrayal." The blog Eyes for Lies, which analyzes videos like these for potential veracity, notes that her overall behavior, facial expressions and phraseology are inconsistent with a victim of the crime she claims to have survived.
Furthermore, had her story been true, it would've been an unprecedented combination of unlikely factors, considering her gender, her relationship to the alleged attackers, the location of the attack (hate crimes are far less likely to occur at the victim's home than nonhate crimes), the number of attackers and the usage of ropes/restraints, according to statistics from the National Coalition of Anti-Violence Programs and the U.S. Department of Justice.  Had her story, which claimed these strangers probably targeted her because she attended a Gay Pride event, been true, it would've been the first time in recorded history these circumstances combined in this fashion. The case of Teresa Butz's murder (and the rape of both her and her partner) is the closest thing to the crime Rogers claimed was committed; a man whom the couple had never interacted with before broke into their home and attacked both of them. But even that case was much more typical in that sexual assault was committed, and there was only one attacker — looking at how indescribably horrific the crime was, it seems inconceivable that he could have convinced anyone to be an accomplice, let alone two people.
The Police Chief told the press that a hoax is "really the last thing on our mind" when they approach a case: "The physical evidence, you know, almost always corroborates what you're being told. When the physical evidence isn't consistent with what you're being told, then at that particular point in time, investigators start asking themselves why or why not."
In light of the warrant issued yesterday, the police have assured the public that "the case will not affect his department's trust in crime victims, saying people shouldn't hesitate to report crimes. He said the department spent thousands of dollars investigating the case. Police don't know what may have motivated her, but have encouraged her to consider counseling."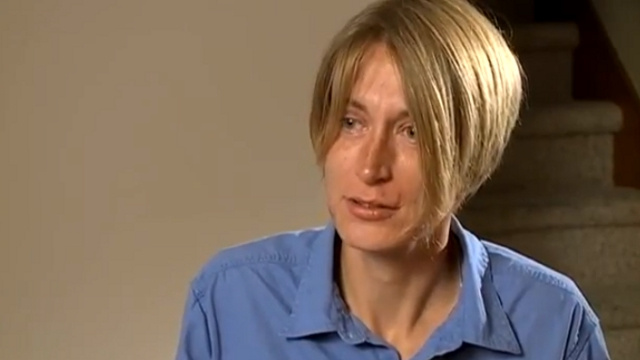 When I talked about this today with other contributing editors, there were two major threads of thought: the first is what I've already presented here, more or less. The second is, as Carmen said, "even though this woman was lying, let's be honest, hate crimes are still a big deal" and, as Ali said, "I feel like it's always the best policy to believe something someone says… I hate it when people assume that I'm hysterical or that I don't know what I'm talking about based on the fact that I'm a woman."
Kate asked, "What if we had written an article that questions all the facts, that delves into the details and doesn't believe the story? What happens when a survivor reads that article? What happens when she's already doubting herself and hating herself, and she sees her own community doubting and questioning someone's story? I always, always think of that survivor. That's who I put first. and if she's unwilling now to come forward and tell her story, to feel safe, to feel like she will be believed when every single other person and institution in her life has wanted her to PROVE it to them, then we have failed her and ourselves."
Kristen summed it up thusly: "I questioned it, watched the video, cried and then kicked myself for being a mean asshole."
But there is anger, too. Malaika: "When a friend of mine was raped what did the police do? Nothing. And are stories of women faking attacks going to help women who really need it? No. So why should we give her publicity. Let's save it for someone who deserves it."
Hansen echoed those views: "I think it's really upsetting to see that this woman was lying. It puts such a negative light on so many abuse victims."
Like all crimes, there will always be fakers, and that includes anti-gay hate crimes. She's not the first to lie about an anti-gay hate crime this year, unfortunately. In June, a lesbian couple who had claimed that anti-gay vandals had spray-painted "Kill the Gay" on their garage and left a noose on their doorstep in October 2011 were sentenced to probation and community service for falsely reporting a crime and in July, it was revealed that Central Connecticut State University student Alexandra Pennell had lied in March about receiving threatening notes at her dorm room attacking her for being a lesbian. The student body had even held a rally to support her when the accusations first broke.
"I hate it when things like this happen," Malaika added. "Because it gives more popularity to sexist ideas that women usually lie about rape and abuse and damages the credibility of women who actually need people to believe their stories and help them fight and survive.  "
"I make these things personal but I can't help that, and I feel like every survivor will take it personally too," said Kate. "I'm furious at this woman for doing what happened. I've read the details and it makes me upset and terrified, but I also need my safe space to have believed her from the start."
As I said earlier in this post, I would be outraged to see an article picking apart her story on a mainstream website, reinforcing stereotypes and damaging assumptions about victims. But is that a safe conversation to have here? I'm consistently impressed by how quickly and effectively we rally around LGBT victims of violent crimes, but I've also been consistently conflicted about how quickly and effectively we shut down dissent and eliminate room for nuanced questioning in favor of this speedy and unconditional support and allegiance to the only story we're allowed to tell.
But who are these vigils really for, anyhow? Are they for Charlie Rogers or Cheyenne Williams or Alexandra Pennell or are those just names we use to justify gathering to mourn the longer list of names nobody ever wrote down, the longer list of LGBT people who have been left for dead and never mourned, the longer list of an entire generation of gay men killed by AIDS, the longer list of queer youth who died on the streets after being kicked out of their homes, the longest list of transgender women who have been murdered as the world watches their killers go free? Were we wrong to attend vigils and donate to Charlie's recovery fund, or were we wrong to mask our doubt? How do we talk about Charlie Rogers?