Learning to feed yourself can be one of the most terrifying things. Am I about to give myself food poisoning? If I eat this too often will I end up with scurvy? How can I get the most nutritional bang for my buck? Why does this still taste like ass?
With Ode to My Pantry, learn to navigate a grocery store without having a meltdown in aisle three. Give a man a fish and feed him for a day, teach a queer to cook and stave off malnutrition for another semester.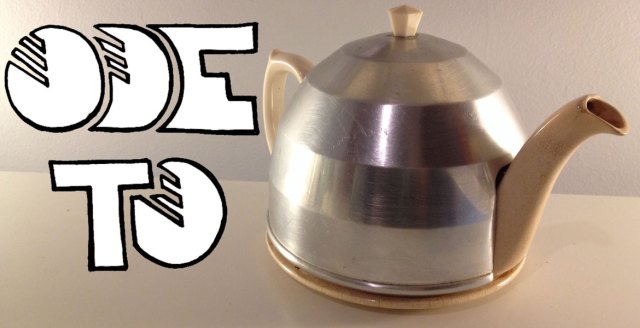 January's winding down but it isn't too late to celebrate National Tea Month! It's time to break out your favourite mug, your favourite infuser and all of those bits and bobs that make the tea ritual so great. (Not that you aren't doing it already.) But while you're planning your tea party down to a T, have you ever wondered what you're actually drinking? When I'm craving a cuppa, I just keep it simple with the hard stuff! Even though herbal concoctions, fruit medleys, flavoured rooibos and other delicious hot beverages deserve a place in the world, tisanes give me way too many options.  If it seems like I'm missing out on a big part of the world, you don't have to pity me because there's a heckuva lot of options when you start with that leaf.
Just like herbs and spices, tea leaves are just plants trying to do their plant thing while avoiding predators and parasites. If tea trees had legs they could just rely on them to keep critters at bay, but these dirt-bound plants have to rely on chemical warfare instead. So fine, they're gonna let those predators prune them, but they're going synthesize tons of bitter compounds and alkaloids so we they don't go down without a fight! As it turns out, one particular alkaloid (caffeine) is a potent pesticide that'll keep tea's asshole neighbours at bay. Teas won the arms race against a bunch of slugs and other bugs, but unfortunately that delicious defense piqued human interest instead.
Given the complexity of teas in the market, it's hard to believe they all start with Camellia sinensis. You've probably all heard the legend of how tea began when a few tea leaves fell into a pot of boiling water, but do you know how the story continued? Because while I have no doubt that Emperor Shen Nung's leaf water tasted great compared to boring, boiling water, I doubt if the trend would have caught on if someone hadn't played with their food a bit. As much as we applaud fresh flavours and bright leaves with the rest of their herbs, a little bit of manhandling can smell, taste and feel fantastic in your cup.
Tea Processing: It's Not Just for Feelings
By simply picking your leaves, you're already setting off some chemical reactions! Fresh leaves will start to wilt as soon as they're picked and this withering process, dries out, softens and transform a few of the bitter compounds into sweeter ones. The drying process also ensures that the leaves will survive relatively whole if they're processed further.
Take it a step further by crushing, rolling and bruising a fresh leaf and the previously sequestered enzymes are free to start chomping their way through the leaves.
Leave it a bit longer and you're going to start what's colloquially known as fermentation even though this oxidation process happens microbe-free. Enzymes munch their way through sugar-bound aromatics, leaving these smelly compounds free to float through the air (and eventually hit your nostrils). As time goes on, tiny bitter phenols grab onto oxygen to form complexes that become less bitter and more colourful with size. Wait long enough and you'll end up with a deeply coloured leaf that makes thin slippery water seem to linger longer due to all of the massive molecules floating about your cup.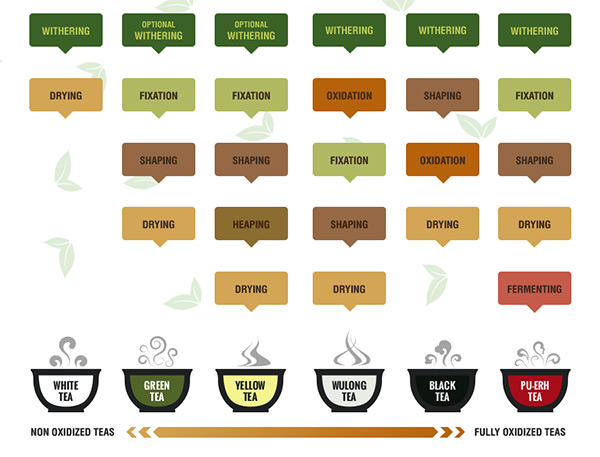 But all of these processes can be reined in! You can stop wherever you want down the line by steaming or frying the leaves, to turn off the enzymes for a tea profile that suits your taste.
After that, further drying will ensure your tea's shelf stable when it's making its way to your cupboard.

Green Tea
The leaves for green tea are steamed or pan-fried almost as soon as they're picked to turn off all of the enzymes. They're the least processed of the bunch, preserving both the tea's grassy notes and chlorophyll-induced green colour.
While this is all well and good when it comes to taste, it means that brewing is a tad tricky. The enzymes didn't get any time to incapacitate the phenols, so you have a veritable army of bitter nasties waiting to invade your pot! The trick is to use cooler water (160-100°F/70-45°F) with a longer brewing time to extract the tea's flavour but leave the phenols trapped inside. Just be sure to not leave the leaves too long, as those phenols are always eager to escape. One trick I use to prevent the dreaded Bitter Brew is to briefly rinse my leaves with cool water to serve as a slight thermal buffer!
If you're a purist you might reach for grassy sencha or the familiar malted, nutty pop of genmaicha's popped brown rice and tea combination. When it comes to scented greens, adding a bit of jasmine is a longstanding classic.
Black
On the other end of the tea spectrum, black teas are allowed to wither, bruise and ferment into an inch of their lives to do that delicious damage. The resulting leaves can produce a wide variety of complex flavours that range from spicy to woody to malty whereas the colour will always be a bright red-orange.
Since most of the phenols have gone the way of the dino, you don't have to worry about a pointedly bitter brew. You can bring your water up to a boil and pour it right over the leaves! With all of that extra thermal energy, it's a lot easier to draw out the caffeine and the flavour. But if you want to draw out some of the clunkier phenolic compounds that'll make you sit up and remember your cup, you'll have to be a bit more patient. If you reuse your leaves, keep in mind that the second brew will contain less caffeine but also brew a bit bitterer.
Nothing beats an assertive Ceylon, but there are a shitton of options. For Earl Grey fans, try a French Earl Grey (paired with rose petals) that lend a bright, fruity note. But if you want to try something really different, look for lapsang souchong, a pine smoked tea that falls somewhere between a campfire and a piece of smoked bacon.

Oolong
Oolongs strike a balance between fresh and fermented. They're allowed to wither until they're quite wilted and weak, but they aren't pressed all the way to the edge. They're shaken and left just so, allowing the edges to bruise and brown. A quick pan-firing, a soft roll of the leaves and a gentle drying lends a light-orange colour that smells relatively fruity and floral in comparison to its grassy or roasty cousins.
You can get away with water near the boil and not worry about making a monster. The leaves are often curled and twisted into complex shapes, so let your tea sit a bit longer than black to ensure all the leaves unfurl. The nice thing about oolongs are that they lend well to second and third and even fourth cups. Each pour will be slightly weaker, so be sure to extend your brew time to extract everything that you can.
Let me know how you've been celebrating National Tea Month. Did you reach for an Oolong, Black, Green or your own special blend? You Brew You!