We all have a lot of feelings about tea. Good feelings! Slightly less good feelings! Scared and anxious feelings! It's okay, we understand. There's a lot of tea out there. A lot of decisions to be made. Take a deep breath, you don't have to do this all at once. We all love a good peppermint or chamomile, a nice Irish Breakfast. Still, though, it's worth maybe opening your heart and mind to some new options. Did you know that chocolate mint tea
exists? What about smoky earl grey? Brown rice sencha?
I know, I know. You need a minute. It's okay.
Whatever kind of tea we choose to drink, we can agree that we need something to drink tea out of. Ideally, something totally awesome. There's nothing worse than looking forward to a nice cup of tea all day to have a mug of lukewarm water with a dusty teabag floating on top handed to you unceremoniously. And if you have loose tea (which, duh, you do), then you need some equipment to make sure that you're getting all that you can out of each tiny little dried-up leaf.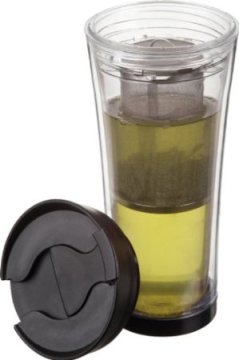 For the tea enthusiast on the go, are you ever frustrated that your leaving-the-house routine is so much more complicated than it is for people who just pour out a cup of coffee and go? Well, maybe that's just because you don't have a to-go cup
that will let your loose tea steep and then be easily removed when it's ready!

If you just want to make your tea with some loose tea and then BLAMMO, pour it and drink it, then maybe this is for you! This is a pitcher
, which magically keeps your tea leaves inside and pours out your delicious perfectly steeped tea, into a mug or a to-go cup or I guess if you're really hardcore your mouth? Just kidding, don't do that.
There's also the option to just dunk your tea right in your mug, without extraneous equipment, via the use of a tea strainer. Tea strainers can be metallic or mesh or little spheres — or they can be AWESOME. I have one shaped like a duck! And this one is a DINOSAUR. Are you ready for this cup of tea? No, you're not.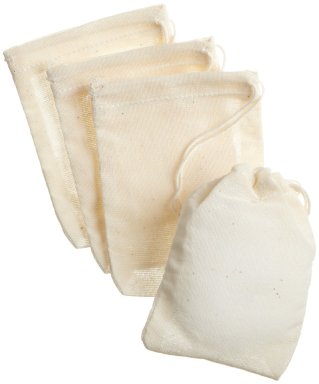 And for the purist, there's always teabags — but obvs the earth-friendly reusable ones, which you can dump the tea out of afterwards and then wash by hand or in the machine. Does this make you feel like a character in Portlandia or possible Quinn, Medicine Woman? Enjoy that.
This post goes hand-in-hand with A-Camp's High Tea with Laneia, Rachel, and Riese.