BUTCH PLEASE is all about a butch and her adventures in queer masculinity, with dabblings in such topics as gender roles, boy briefs, and aftershave.
Header by Rory Midhani
---
Note: As this particular edition of the column concerns clothing, there are pictures of me in my states of "butch fashion." I felt very conflicted using my own photos, not because this isn't a highly personal column, but because selfies are my forms of self-care and things I text to my crush, not things I want to post on a widely circulated article about queer self-expression. At the same time, I felt equally uncomfortable posting anyone else's interpretations of butch fashion because I cannot guarantee the identities of someone based on an image, nor do I want to undermine anyone's empowerment via their outfits, which I think is an incredibly essential and important and vital thing that queers need. So, you're all going to be looking at my weird face and I'm going to deal with it.
I'd also like to note that this article is the experience specifically of a white butch speaking of the white butch interpretation of dapper queer. I have no intention of speaking for the identities of studs, AGs, doms, and queer people of color who identify as butch or otherwise, especially those who also identify as dapper or dandy. White butchness comes with immense and specific privileges in constant need of unpacking, and I am commenting on that identity in particular.
First, a little word to the people who have been reading this column and patiently waiting: I've been gone for a while, and I'm sorry. Retreating is a thing I sometimes do to people I care for a lot. If you put a different emphasis on different words in that last sentence, it'll mean different things. All of those things are true. Every time I've referred to myself as "butch" out loud, there's a little part of my heart that's been tugging at the memory of this column. I want to send each one of you a love letter about the nights my binder wasn't too tight and how that was just glorious, the way I can't write unless I feel like someone's on the other end, tightening the string on their tin can so I come in clearer. You'll shout back and ask, so I'll have to answer: What have I been doing instead of writing on here?
I've been working late shifts, coming home with numb feet and too much air in my lungs. My mouth's so tired from pulling expressions over my buttoned-all-the-way-up collars that the night sky looks like the dream of a smile. Of course, the city can't decide if it's sleeping or just waiting for its old lady to finish her cigarette and get back into bed. Back in the mountains, I was used to nights that whispered and hummed under their breath; Philadelphia nights are singing at the top of their lungs, running from one end of the block to the other, belting out half-drunk renditions of Ethiopian jazz and Meek Mill and garage rock and fado music. Have you heard fado music? Somewhere in my neighborhood is an open window from which it often spills, pools in the corners of the vacant house next door. It sounds like someone cupping their hands around a song and crying into the space of their palms. I love it. I love that I can listen to someone sing in a language I don't know, but still understand that they're singing about the same aches and bruises of being poor and tired and the things that come with being queer. Remember when I told you how hard it is to milk those butch tears? Sometimes I let that music do the crying for me. I get wasted on that kind of stuff; I drink it up through my window screens to save money on Jim Beam.
I've been living from miracle to miracle, the Holy Miracle of the Rent Check Not Bouncing This Time, the Great and Wondrous Miracle of the Expiration Date Being A Suggestion. I've been preoccupied with shape-shifting, how easy it is when someone else does it for you. A girl kissed me so hard she chipped her tooth. She has a Catholic mother and a sticky red heart, so she told her mother she chipped the tooth on a bottle of beer. I love that in that little world she made to keep her mother happy and safe from the truth of my gender, I was a bottle of beer. I hope I was shaken hard and smashed on a sidewalk. I hope I'm still glimmering in the cracks somewhere. I hope two kids were so drunk on the idea of each other that they mistook me for fallen stars beneath their shoes.
Lastly, I've been working two jobs, one of them in retail, which is a strange place to work when you're willing to sell the clothes off your back for trolley fare. I still make my monthly budgets on napkins, and clothing never makes the list. I wear my pants until they fall off of me, or are taken off of me, or until the holes in them are big enough to show that I'm human after all. If you can see through the places where the denim ripped out, you can see I've got skin and kneecaps and blue boxer-briefs I bought from Label Shopper. I went and set them next to the register with a package of white undershirts. "Are you shopping for your boyfriend,wp_poststhe cashier asked, and I held my laughter in for so long that I almost died in the parking lot.
I want to talk about shape-shifting, and clothing, and being a butch who wears things, because so much of butchness is tied up in the things I put on my body. Not just the boxer-briefs and the undershirts, but the tattoos that hide old and knowing scars, the oversized jackets, the snapbacks that girls tell me look cute when they're angled to the side, the blazers that I wish understood hips and tits, the muscle shirts, the binders I mail-ordered from that medical supply company in Florida. So much of "coming outwp_postsas butch is wrapped up in the buzzing of hair and the transition to menswear, that moment at which one's identity is capable of physical manifestation, like the end result of an incantation, like magic.
Let the record show that I love and I hate butch fashion. I love playing with identity through clothing and physical appearance. I love that a single outfit can be my commentary on a trend in masculinity and my said queering of such a trend. I love how I look in a shirt whose label says men's because I spent a long time feeling like an impostor in the women's section, but I also hate that clothing, especially menswear, is so tied up in the complexity of class, race, capitalism, sizeism, ableism, and the limits of the binary. Working in retail, specifically in a place where employees are meant to be fashion-conscious and dress as such, has made me have to constantly examine and re-examine the things I wear and why, and I've come to realize the intense limits in the range of "desirable" butch fashion.
I think butch is an integral space whose subversive power is not honored enough, maybe because masculinity is a tricky weapon to try and handle without firing. I genuinely believe butch fashion is an opportunity to critique trends in masculinity and upset patriarchal modes of power. I like my ability to shift between identities and tropes and genders and names as I switch between outfits. It felt strange in my coming out, then, to be prodded into a corner where I had to present my butchness in a certain way in order to be someone who was succeeding at their masculinity, their butchness, their queerness. To be a good butch, one who would be immediately recognized and respected, I felt an immense pressure to look the way so many other young white butches did, a look that's referred to as "dapper butch."
The dapper butch: A creature we all know and love, have fetishized and deemed attractive, have crafted from grandfather's garage sales and Neiman Marcus alike. I have dabbled in the dapper, I'll openly admit it. When I started presenting in a less feminine way, I felt a lot of pressure to be the dapper dandy. I think it's a recognizable stage for most people who identify as butch, because it was an easy way to be correctly identified by others when I was first coming into my own. It's also a state of being that has been deemed highly desirable, highly respected, and is just about the only thing you're going to find on the Internet when searching for "butch fashion." Google those two words and what do you find?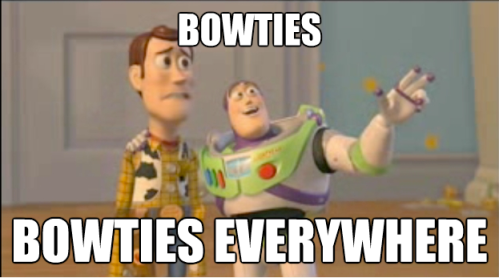 Here is my unpopular queer opinion: I am over the "dapper butch/dapper queerwp_postslook that's become so celebrated in the ranks of white butches. I am done with trying to emulate a certain type of class-reflective status and "educated rich white man" aesthetic that feels really overdone and not true to where I am as a queer person or a butch, period. I want to state for the record that I 100% understand and respect the mode of dapper/dandy via menswear that is being reinterpreted and reclaimed by butch bodies. I completely understand and respect the tradition of oppressed bodies to reclaim and reinterpret the effects of the oppressor as a method of survival. I get it because I've been doing it for a while, and if survival isn't a necessary part of the way I dress myself every morning, I don't know what is.
The thing is that I personally don't feel empowered by bowties and button-downs anymore.
I just feel like I'm polishing up my appearance to be a kind of "proper dapper butchwp_poststhat people will respect and recognize as part of some reinforced gender hierarchy. I feel like I'm denying my roots as a working class poor person who shouldn't have to hide that part of themselves, and as a white person, emulating something that is so inherently tied to "whiteness" doesn't feel subversive, especially now that it's become a uniform. If butchness and butch desirability has its own power structure, dapper butch is at the top, which makes sense in a twisted and sad way when you think that rich educated white men, the thing that dapper butch is meant to emulate (either ironically or not – in so many cases I think a critical commentary is no longer in play or being utilized) are at the top of the macro version of that power structure.
Like so many other parts of queer masculinity, dapper feels good. It feels good to dress dapper because I know I will be immediately accepted by queers and non-queers alike. I know I will be considered attractive, I will be able to navigate queer spaces with complete ease, and my masculinity will not be questioned. I feel like there's something to the fact that dapper masculinity is a very "safe" and less threatening form of masculinity that can almost act as a cover for queer masculine privilege. For me; dapper seems neutered and removed from more aggressive forms of masculinity, so it's non-threatening to heteronormative society.
As a result of this self-examination, I'm in a transitory position in my presentation; my identity is the same, as I remain butch and masculine, but I'm ready for a new way to express and explore said qualities in my attire. Initially, I thought that adding more feminine touches to my wardrobe would be the answer, but it felt like I was only picking from one side of the binary or the other. I'm more interested in expanding the ways that we understand masculinity in our wardrobe. I want to think beyond suits and ties. I continue to shift from one outfit to the other, from one presentation to the next in the hopes that something sticks to my tired-out bones.
I do want to make this clear: the queer mode of existence has risen from so many complex and multi-faceted things, and by no means is any critique of a fashion trend a critique of the individuals who embody it. I think the agency to dress the way that makes a queer feel good should trump absolutely everything else, because expressing oneself is an essential form of self-care and I wouldn't dare to take that away from anyone. Fashion is adornment and fashion is survival. I wear binders not just to fit into my favorite clothes or play with gender, but to blend in when I'm walking through certain areas, to feel safe and secure on days when I would otherwise fly into nothingness. I understand that how we present ourselves is a vital part of how we feel, and if bowties and suspenders make you feel like a champion, you keep on keeping on, friend. I just want my fellow butches to be simultaneously aware of why things are empowering, and whether or not our feeling better about ourselves comes at the cost of others' comforts and rights through the shitty systems said empowerment may support.
None of this means I'm throwing away my bowties. You'll still catch me in a suit when the occasion calls for it, but don't expect it to blend in very well. I'm the broken glass on the sidewalk. Butch may be rough edges, but it'll shine and glitter like nothin' else when the light hits it.
---
Special Note: Autostraddle's "First Person" personal essays do not necessarily reflect the ideals of Autostraddle or its editors, nor do any First Person writers intend to speak on behalf of anyone other than themselves. First Person writers are simply speaking honestly from their own hearts.