Pretty chill week, eh? Totally normal and none of you have fallen into a stress- or anxiety-spiral, I'm sure. I know I sure haven't! There were some TV things to love, though. Valerie Anne recapped Wynonna Earp and Orphan Black. The Bold Type is just so very delightful and surprisingly queer and culturally resonant and Kayla is recapping that. Mey chatted up some of the queer cast and crew of Danger & Eggs. Perhaps most importantly Steven Universe released a music video of Estelle performing "Stronger Than You" and it's everything you've ever needed, and especially what you need right now.
Here is some more TV!
---
The Fosters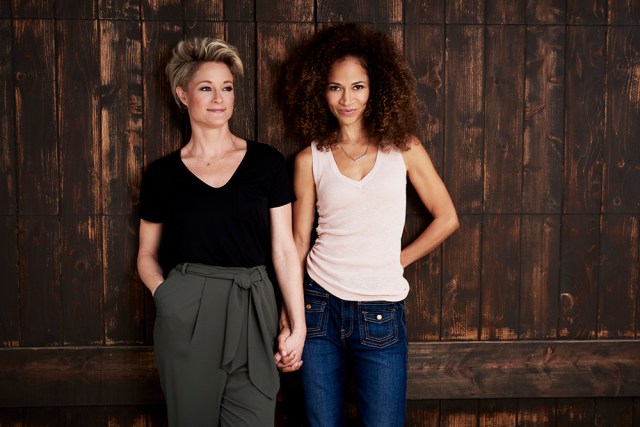 Remember that season two murder storyline on Friday Night Lights? No, right? Because for some reason between seasons one and two NBC put their grubby hands all over one of the greatest shows on earth and demanded more scantily clad teenage bodies, sunshine, and INTRIGUE. It was very dumb and when NBC finally relented and told the showrunner to just do what he wanted, Landry's dad drove his son's murder car to the desert and set it on fire and literally no one on that show ever spoke of that storyline ever again. The Fosters didn't go quite that far but they did mercifully tie up a lot of the legitimately bonkers storylines from last season and set them out to sea at the beginning of season five.
The Callie drama, especially, seems gone forever. Well, those specific Callie dramas. The sex worker teen and her abusive pimp and drug deals and guns and jail and drunk driving and vehicular homicide and all that. Some of the storylines just end with Stef declaring them done through exposition and some of them play out in dramatic fashion with Callie and Diamond rushing from a near death experience in a motel room directly into Stef's arms. On the ride home, Stef tells Callie she's gotta stop living life like there's nothing left to lose because there is something to lose, a lot of things to lose, in fact; and also it's just fucking exhausting to watch the relentlessness of it on TV. The pace of Callie's bad decisions gives Gossip Girl a run for its money and that show blew through storylines like bubble gum. It's also a very sweet talk. I cried.
The main teen takeaways from the first three episodes are: 1) Mariana is going to become an even bigger badass by joining a roller derby team. 2) Mariana and Jude have created a rogue student newspaper to spread the truth about their jackass interim principal and it's called Rise Up! As in, "Just like my country I'm young, scrappy, and hungry and I'm not throwing away my shot!"
Okay, but the moms of course continue to be the heart of this entire show. Let me tell you about Stef's life before she met Lena. She had a crush on her best friend Tess from high school and when the mood struck her she stole cars to go see Indigo Girls concerts. The reason we know this is because Tess lives next door now and Lena cooked her dinner! Tess, however, was and remains a straight woman. Irredeemably straight. A normal person sees Stef's haircut and immediately becomes gay. Not ol' Tess, though. She does have a cute little son that Mariana is into. It's fine. As long as he doesn't interfere with her hobbies of dance team, coding, robot building, roller derby, and being the next Lois Lane.
Lena's not having an easy time of it. She's fighting the board of Anchor Beach to keep Monte as the principal after Drew's coup, which has now escalated to him stomping out free speech and surveilling the students and twirling his handlebar mustache and threatening to tie Mariana to some train tracks. Drew is a monster. Obviously he will go down in a blaze of glory, but it's sad watching Lena be sad about it.
One of the most interesting things happening so far this season is Lena and Stef finally starting to talk about how unbelievably actively involved their kids' biological parents are in their lives. You've got Robert over here throwing Callie a Get Out of Jail party and Gabe living in the backyard and offering up more long lost relatives for Jesus. The thing is that Stef and Lena do want what's best for their kids. And if Jesus, for example, needs Gabe and his construction connections to work through his PTSD and rage, they're all in. But it's not easy for them and it's nice to see them having conversations about navigating that very complicated reality. This show has gone on and off the rails but Stef and Lena remain one of the best and most important queer couples in TV history.
---
Younger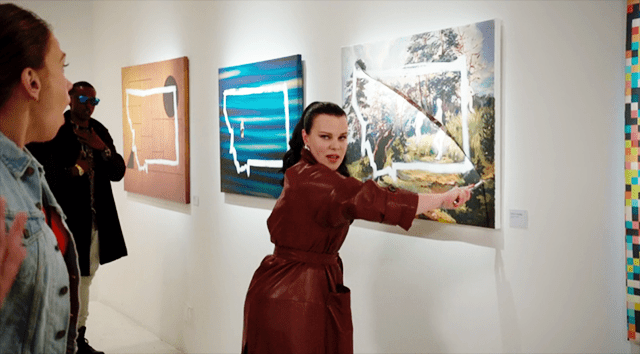 This week's Younger is the best Maggie episode ever and it deals with Happily Ever Afters (HEAs) while giving us the very most best most happily every after. Let me tell you it: DIANA AND MAGGIE ARE GOING TO MEET. Diana tells Liza to arrange a meeting after reading a New York Magazine article (so many NYM references this week; there's a Vulture shout out too) about Maggie's hijinks at an art show in Brooklyn. These are the hijinks: Josh finds out that his new lover Montana is actually named Amy and is a trust fund baby and her deal with art is she gets artists to gift her paintings and then she paints the state of Montana on them and resells them. Josh tells Maggie she's going to do that exact thing to one of her pieces, because he really is a stand up guy, and so Maggie goes to Montana's art show and pulls out a switch blade and slashes through the painting. Then she stabs a salami on a tray passing by in a server's hands, pops it in her mouth, and swaggers out the door. This after telling Liza she keeps a stash of bail money in the Halloween pumpkin in her bedroom.
Hey if you like this show you know what else you'll like? THE BOLD TYPE.
---
Queen Sugar

First things first, how exciting is Queen Sugar's season 3 renewal!?!?1 I'm so pleased that this lovingly crafted, rich, introspective piece of feminist art continues to find success. I am ready to follow Ava DuVernay and the Bordelons on their journey, and have implicit faith that in wherever they might take us will be worth it.
That said, we have to talk about this episode: Queen Sugar has a "perfect man" problem.
Up until this point, with the exception of Davis- who is singled out as a villain from the pilot episode- the Bordelon men have been nearly a dream. Ralph Angel, Hollywood, and Remy are all sensitive, smart, with a strong moral fiber, and are almost unflinchingly supportive of the women in their life. These men have been the exact opposite of the two-dimensional portrayals of toxic masculinity that clutters so much of television. And though the Bordelons continues to be haunted by the death of their family patriarch Earnest, patriarchy is a not a word I would have used to talk about the show itself. That is, until today.
Last week we all watched horrified as the Bordelons broke apart, and this week I am disappointed to tell you what we found laid bare underneath: unnecessary manpain and misogyny.
Let's start with Ralph Angel, who threw a grenade into his family last week when he reveled that he had an addendum to Earnest's will proving he was the intended sole heir to their farm. There has been some discussion about Ra's motivations in this revelation, and I maintain that Ralph Angel isn't nefarious. He isn't purposefully working to screw over his sisters. I don't believe that he is trying to rob Charley's work and get rich quick.
In fact, what makes this so awful is that I agree with Ralph Angel; his manual labor, contributions, and growth are overlooked by his sisters. They still see him for his worst mistakes. I feel for him, and understand his need to prove himself. But, the way he has gone about addressing these concerns is immature, bratty, and short-sighted. Has Ralph Angel- even for a moment- thought about how he is actively ripping apart his sisters and aunt's lives in his recent turn toward petulance? He's turned cold. He's angry and beyond reason. And no one receives the brunt of this pain like Darla.
If you have loved Bianca Lawson at any point in your life- if you still think of her fondly for setting your queer heart aflame as Maya in Pretty Little Liars or as Kenya in Buffy- then you need to see the tour de force performance that she is delivering as Darla right now. Darla finds herself as an unwitting pawn in the argument between Charley and Ralph Angel. Charley needs Darla to continue her job at the mill, and Ra ridiculously sees any work on Charley's behalf as choosing her side in their sibling war. He makes an ultimatum. Darla tries to reason with him, she works at the mill because they- she and Ra and Blue- need the money. She already lost one job because she came to Ralph Angel's side when he needed her, and she cannot lose another. Bianca Lawson sells Darla's impossible choice with shaking hands and a determined, furrowed brow. She knows that her relationship with Ra is still fragile after her addiction, but he has left her with no other option. She goes to work.
Later, Darla comes back to visit Ralph Angel. He can continue to be angry with her, but she will not will let that anger get in the way of seeing her son. If he won't let her in the house, she will take Blue swimming outside of the house. Ralph Angel is still livid, and Darla reminds him, patiently (much more so than I would have) that no one is punishing him. He is punishing himself. It's at this moment I realized Ra's true colors, and how selfish his love can be.
We learn that Nova isn't necessarily angry over losing her claim to the farm, but that being removed from the will symbolizes a painful queer longing that I know many of us know all too intimately: Her father never approved of or understood her. She confides in Vi, "Me and Daddy, we always circled back to that same place… When you gonna settle down? Girl, where my grand babies at? … He could never seem to just let me be me". A single tear falls from Rutina Wesley's eye at the memory. Earnest Bordelon didn't see his daughter for who she was. While her sexuality was not directly spoken of, it weighs heavy and colors the ellipses in Nova's confession.
The dynamics of adult queer children and their parents are not explored on camera as often as they should be. Nova has thus far been presented as confident in her bisexuality, her decision not to have children, and her devotion to her activism. Now we know that Earnest wanted a more "traditional" life for Nova than the one she built for herself. She left for New Orleans as a means of self-preservation. She knows her father loved her, but for Nova being cut out of the farm "seems like he's judging me" one last time. It's the reopening of old wounds that unsettle her.
Charley has the unfortunate patriarchal double whammy of having Earnest's memory used against her by her current on-again/off-again boyfriend. Charley confesses to Remy that she was forced to publicly break the news of her divorce from Davis to a reporter. It was the only way to move the story away from her panic attacks. At her admission, a darkness colors Remy's face. He tells her of how often Earnest would praise Charley while she lived in California. He would talk about her success as a result of her thoughtfulness. Once upon a time, Remy believed that thoughtfulness to mean sincerity, but now "I wonder if I misunderstood your father. Maybe thoughtful meant calculating". It's a cruel break up. There was no other point to the anecdote except to wound Charley, and at a time when she is already vulnerable. She tells Remy to leave, but the damage is already done.
Maybe I would have felt less sour about this episode if every single Bordelon woman hadn't been disenfranchised and hurt by the men in their lives all at once- even Aunt Vi reveals that she was once part owner of the family farm, before selling to Earnest 30 years ago in order to get out of an abusive marriage- but here we are. Still, I won't take an errant episode and use it to abandon ship about the feminist politics of the show. After all, that's part of the problem with "perfect men" to begin with; perfection in any circumstance is not realistic. In life, there are flaws. It's my hope that moving forward, Queen Sugar uses these newfound flaws to build an even stronger reconciliation for their characters and path forward for the show.