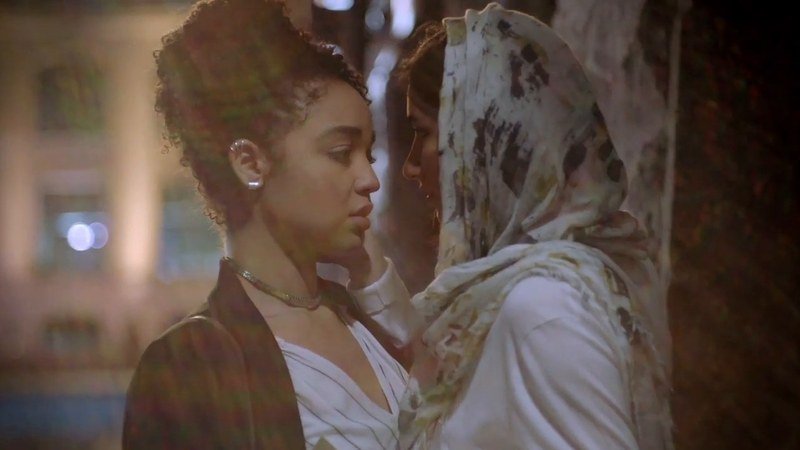 The Bold Type's queer storytelling has, so far, been exceptionally strong. Adena and Kat both stand on their own as characters and have their own distinct arcs, but the intersection of those arcs is already making for a compelling and dreamy love story. The Bold Type lets Kat take some time figuring out her own identity (so far, she hasn't labeled herself) while actively exploring her feelings for Adena. They have had chemistry since their very first scene together, and thankfully, the writers aren't stretching this arc out too much, already delivering payoff on the tension that has built between them by ending the fourth episode of the series with a huge, beautiful, rom-com-worthy kiss.
But before we get to Kat's declaration of feelings for Adena, there's some friction between the two. Adena asks Kat to write her a character reference for her application to extend her work visa, and Kat laments to Sutton that she thought Adena was coming by to confess feelings for her. Look, I'm all for Kat pining over Adena, but this struck me as a bit selfish. In fact, Kat kind of makes Adena's visa struggles all about her, following through on Sutton's advice to use the character reference as an excuse to hang out with Adena. They take a romantic stroll through fake New York (the show is filmed in Montreal), and when Kat tries to Yelp a place to eat and live-streams a man playing violin on the sidewalk, Adena urges her to unplug and really live in the moment. Their extremely cute date, however, is violently crashed by a man on the street who yells at Adena to speak English, hurling slurs and threats at her. Kat is immediately on the defensive, demanding an apology and punching the guy in the face. The cops show up, Adena vanishes, and Kat is arrested.
Kat has no doubt proven to be headstrong and impulsive, and there is an immediate sense of satisfaction to watching her punch a bigot in the face. But Kat is frustratingly naive in this storyline. It makes sense that Kat would defend her friend in the heat of the moment, but when she's talking to Jacqueline after and insists that nothing bad would have happened because they were in the right, I don't fully buy it. For a woman of color, Kat shows way too much trust in the criminal justice system. And her frustration with Adena for running away also shows a naiveté that undercuts the character. Jacqueline shouldn't have to tell Kat that Adena could have been deported if she had stuck around when the cops arrived. It ultimately all leads to an emotional, cutting scene where Adena explains to Kat that they come from different worlds and that not everyone has the same choices, but I'm not entirely convinced that Kat would need this speech in the first place considering how smart and plugged-in she is.
"We are from different worlds, and I really want you to stay in mine,wp_postsshe professes on Adena's doorstep before adding "I think I really like you,wp_poststhe prelude to their magical kiss. It's a bold, romantic moment, but some of the immediate lead-up to it doesn't come off as completely organic or cogent in the character development department.
Jane, meanwhile, is having amazing, lamp-breaking sex with Pinstripe who shall henceforth be referred to solely as Pinstripe, because Jane, Sutton, and Kat all call him that (and honestly I have already forgotten his actual name). One of the consistently best parts of this show so far is how genuinely supportive Jane, Sutton, and Kat are of each other. Their bond is unbreakable, and they never seem to be in competition with one another. Sutton and Jane have been supportive of Kat exploring her sexuality from the start. And Kat and Sutton are now ecstatic that Jane is finally having good sex and getting out of her own head. Sutton quite literally live-texts Jane's first orgasm to Kat.
Rocking post-orgasm leather pants, a black crop-top, and a fabulous oversized biker jacket, Jane struts into Scarlet confident, determined to keep things simple with Pinstripe. Her self-esteem, however, takes a few hits after she sits on a panel about young voices in political writing. As the moderator lists all the credentials of the other folks not the panel, Jane's face falls. She doesn't feel like she deserves to be there, and she feels immense pressure to prove herself because Jacqueline has dragged Richard to the event to try to convince him to back her plan to launch a new political vertical. Once again, Jane finds herself running up against people's misguided views of Scarlet.
It's especially fun to be watching this show in a time when Teen Vogue has established itself as a space for great political writing. It's easy to imagine Jane writing a column along the lines of Lauren Duca's "Thigh High Politics.wp_postsTeen Vogue has been getting a lot of recognition lately, but even the praise sometimes comes off as condescending, with people incredulous over the fact that a fashion magazine aimed at young women could possibly be deep and edgy in its political coverage. The fictional Scarlet pushes against the same assumptions. One of the other panelists talk over Jane, not taking her totally seriously. It's frustrating to watch, but even though Jane feels like she failed, it's clear that it's not her fault. She gives it her best, and that's a strong part of The Bold Type's tone and scope: These young women work hard, and when they fail, it's often largely because of systems working against them. Even though Jane didn't get to say everything she wanted to, she still made a strong impression on people watching the panel, as evidenced by some of the feedback she gets on Twitter.
Sutton is also trying her hardest to break free of some of the restrictions put on her by outside forces. She's still gunning for the fashion assistant position, and she hits an obstacle when Oliver (who is my personal style icon on this show by the way) confuses her for another candidate recommended by Lauren. The other candidate went to FIT, while Sutton has no real fashion experience. Encouraged by Kat to work the misunderstanding to her advantage, Sutton doesn't correct him, but the truth of course comes to light. Richard actually spills the beans in an attempt to steer Oliver in Sutton's direction that spectacularly misfires. Oliver calls her out for lying, but Sutton turns things around by reconfiguring the mood board Oliver tasked the candidates with constructing to reflect who she really is: the girl who couldn't afford to go to fashion school and has had to put her dreams aside in order to work hard to support herself and her mother. Oliver's moved by her raw, honest mood board (which includes the centerpiece of a DIY bedazzled U2 tank top she made). He also worked his way up in the fashion world without dazzling credentials, and he respects her for being real. She gets the job, which hopefully means she'll never have to do a green juice run ever again (RIP Lauren, who I'm pretty sure will die without that green juice before she can even hire a new assistant to get it for her).
After she gets the job, Sutton collects Kat and Jane for a celebration dance in the elevator (the Fashion Closet is occupied). Again, their shared joy reverberates, highlighting just how close they are as friends. Ultimately, Sutton, Kat, and Jane all experience pretty major victories by the end of the episode. Jane's confidence in herself as an emerging political writer surges; Sutton gets the job; Kat gets the girl. The Bold Type's overall upbeat and heartwarming attitude makes it an incredibly refreshing show to watch. It hits that Jane The Virgin sweetspot of drama injected with levity. Even though some of the plotting has its flaws in this episode, it sticks the landing for all three protagonists (plus Jacqueline, who doesn't wait for permission from the board to launch the politics vertical, because Jacqueline needs no man's approval).