Friends, hello! And welcome back to another Boob(s On Your) Tube! Last week I told you we'd be catching up on the shows y'all have been chatting about in the comments, and for the most part we have done that — however, we have a small team and limited resources and are beholden to the laws of time and space, and so it is absolutely impossible for us to follow every show around the world that potentially might have hinted at a character being gay. We're restricted to shows we have access to (mostly U.S. TV and some British and Canadian TV) and for the sake of our lives outside the internet we can really only cover shows with confirmed queerness. Obviously please keep talking about every show that tickles your brain and heart in the comments; I just want to be real with you about what we have the resources to cover. (Also, yes, some shows used to have dedicated recaps and now they live in this column and that's because we just can't pay a premium for full recaps when they don't get many views. I'm sorry for that reality, but it is a true thing.)
ANYWAY. Let me let you know that Kayla is working on a piece about Killing Eve; Valerie is working on a full wrap-up on this season of Legends of Tomorrow; Carmen is going to blow your mind with her Vida content; Supergirl recaps will be returning next week; and you're gonna be seeing a lot of stuff about Disobedience soon, including a review from Kayla and a couple of interviews I did with the cast. (If you live in LA, we're giving away 20 tickets to an advance screening.)
This week:
Carmen recapped the penultimate episode of Black Lightning's first season.
Riese and Valerie and Natalie updated our queer shows on Netflix list.
Kayla quizzed you on Riverdale.
Mey quizzed you on Disney Channel Original Movies.
And FX dropped the trailer for Pose.
ALSO NATALIE CROWNED THE NATIONAL CHAMPIONSHIP OF KISSING!
Here's what else!
---
Jane the Virgin Episodes 414 and 115: "Chapter Seventy-Eight" and "Chapter Seventy-Nine"
Written by Heather
I'll tell you the truth: I didn't want to have any feelings about Petra and JR. I actively avoided having feelings about Petra and JR by telling myself that it was a scam, a sham, and that JR is gonna die. And you know what, maybe that's still true but I DON'T CARE ANYMORE.
When last we left our burgeoning bisexual love story, Petra told JR mostly the truth about how into her she was and then they totally went down to Scissor Town. After which Petra very much wanted to get JR back in bed again but could not figure out how to do it. And it was the best thing I have seen on TV in I don't even know how long. Petra is insecure and vulnerable and neurotic and obsessive and we've never seen her like this because — like she tells Rafael — with men it was so easy for her: "Sit. Stay. Beg. Roll over." Rafael is involved because he made himself involved because he heard Petra practicing asking out Jane and thought it was Jane Jane, but Petra quickly let it be known that she'd rather go to Chuck E. Cheese during flu season than hook up with her (which Jane handled mostly well).
Petra tried the wining and dining thing, and when that didn't work she followed JR to a date to see what her type is and — surprise! — it's tall blonde women. Upon trying to escape she smashed into a car and recovered her composure upon confrontation by explaining to JR, "I'm not a stalker. I get stalked. I've been stalked multiple times! I've been kidnapped! Twice!"
JR relents and comes over and they have sex again.
But wait! There's more! JR doesn't like Jane! And Jane loves Petra! Jane insists on a double date to get to know JR since she's going to be hanging around their kids, and here whole perfect deal that everyone in the whole world loves is completely off-putting to JR. She will not, in fact, be having the pinot noir Jane orders, even if it does stave off heart disease, because she's more of a Scotch girl, because of course she is. You think maybe this is going to drive a wedge between Petra and Jane but it doesn't. It actually forces Jane to tell Petra that she loves her, she really loves her, and she loves their family together.
Jane: I love you.
Petra: Well. Thank you for that explanation.
Jane: You have to say it back.
Petra: I don't want to.
Jane: Petra!
Petra: Can I say it in Czech?
Jane: No! I want it in English! Right now!
Petra: Fine. Iloveyoutoo.
Jane hugs her and Petra kisses her quick and weird on the forehead and it's perfect.
For real, though, JR does not like Jane. She thinks she's basic. So I don't know where that's going!
---
Last we checked in with The Good Fight, Maia was boozing it up with Lucca, when they were interrupted by the FBI who arrested Maia for her suspected involvement in her father's Ponzi scheme. Missing through it all was Maia's girlfriend, Amy…though, based on her actions in the second season, she coulda just stayed missing…but we'll get to that in a second.
When we meet Maia again, she's at the funeral for the firm's founding partner, Carl Reddick, with an ankle monitor hidden beneath her slacks. Madeline Starkey — the FBI agent responsible for Maia's arrest — slides in next to her and urges Maia to flip on her father, Henry, in exchange for immunity. Starkey taunts Maia with new evidence but the young attorney doesn't bite; instead, she records the entire conversation and shares the information with Lucca. When they confront Starkey about the potential Brady violation, she hands over the newly acquired surveillance photo of a mystery woman withdrawing $1.2M from Maia's father's account in Dubai. The recognition is obvious as a quick glance at the photo leaves Maia stunned.
Turns out, the lady in the photo is Maia's old tennis coach, Rosalie, who ended up teaching Maia more about herself than she ever did about tennis. Lucca tries to negotiate a better deal — they'll help find the woman in the photo in exchange for immunity — but Starkey refuses, pressing Maia to help the FBI find her father. She leaves Maia with a flash drive full of her father's wiretapped conversations. Maia tortures herself by listening to the explicit conversations between her father and his mistress, before the firm's investigator, Jay, proves that it's #fakenews, a product of the FBI's audio manipulation software.
With no immunity deal in place, Lucca and Maia head to trial but this time, they've got an ace up their sleeve, in the form of Carl Reddick's daughter, Liz (played by Audra McDonald AKA the entire reason I'm investing my time in this show, after the Kalinda debacle of 2015), who worked for the Department of Justice untill she sent out a Jemele Hill-esque tweet. Liz feeds Diane some insider information about the prosecution's case and Diane passes it along to Maia. After successfully defeating two of the prosecution's motions, Lucca is able to quickly discredit the first witness but is taken aback when the prosecution calls their second witness: Amy Breslin. Yes, that Amy…Maia's missing-in-action girlfriend from the first season…is a witness for the prosecution, much to Maia's dismay.
The scenes that follow should've packed more of an emotional punch — hearing how Maia kept Amy's family out of her father's investment fund or how Maia's marriage proposal might've been an attempt to ensure spousal privilege — but since The Good Fight didn't invest time in building Maia and Amy's relationship, I found it hard to care. I care more about Maia and her infatuation with her former tennis coach than I do about the likely dissolution of this relationship. Still, though, Amy's testimony does some damage and the defense is forced to regroup. Lucca focuses on preparing a legal strategy — thanks to Liz, she knows that the prosecution's surprise witness is Diane — while Maia enlists Marissa's help to track down her old tennis coach.
I'm surprised when Maia returns to the apartment she shares with Amy…but her girlfriend's there, waiting for her, perched on the edge of the bed. Amy defends herself but Maia's defiant and rebuts her girlfriend's testimony. When Amy volunteers to leave — "why stay with someone who lies to put you in prison?," she asks — Maia answers by climbing into bed and turning her back towards her girlfriend.
The next day, Lucca feigns shock when the prosecution calls Diane to the stand. Having prepared for Diane's testimony, Lucca's able to dismantle any potential harm with ease. Meanwhile, Marissa's more successful in locating Rosalie and Maia convinces Rosalie to get Maia's father to call her so that they'll have information to evade the FBI. It's all just a set-up up, though, enough contact for federal agents to track down exactly where Henry and his mistress are. They're apprehended, and Maia subsequently freed from prosecution, as the episode fades to black.
Legal Briefs:
With her legal woes behind her, we finally get to see Maia behave as a regular first/second year associate in a growing law firm. I'm enjoying Maia's budding friendship with Marissa and I'm working hard to stop shipping Maia with Lucca, especially now that Lucca's expecting.
It's not in our wheelhouse but The Good Fight's #MeToo episode (a requisite for dramas these days) was very good…perhaps, one of the best I've seen. Also? It starred Keesha Sharp and I can never have too much Keesha Sharp in my life.
I love Christine Baranski but I'm not thrilled with her storyline this season. I feel like they're poking fun at Diane's righteous indignation with the current administration by making it seem absurd and I'm not a fan. Thoughts?
---
Alice and Robin are the adorable, eccentric, adventurous love story I've been waiting for — but so far, the bulk of their romance has taken place in the Enchanted Forest.
We've previously spent a lot of time this season with Alice's cursed Seattle persona, Tilly. Alice isn't cursed in the same way as the other residents — she remembers her life in the Enchanted Forest, but it's all mixed up in her brain and often mistaken for mental illness. For most of the curse, she's been living on the streets. She's quick and wise in her own off-beat way. She knows how to protect herself. But, her life has been marked by loneliness.
That started to change the night that Margot (our Robin) got back into town. Margot's cursed persona is at constant odds with her mother, Kelly (you know, the Wicked Witch, Zelena). She left the country for Europe as her only way of finding peace. When Zelena was awoken from the curse, the first thing she did was reach out to her daughter and beg her to come. However, there's a hitch in the plan. Margot is still cursed. Which means that Zelena can't tell her anything. Margot still thinks that Zelena is Kelly, and even worse that Kelly forced her to come all the way home only to keep more secrets from her.
Margot and her adorable round glasses and awesome side braid are suspicious. When she first left the country Kelly was engaged to a man in San Francisco, but somehow now she's back at the Regina's bar in Seattle. She refuses to fill in the blanks of how they got from A to B. Needing fresh air, Margot storms out of Regina's bar and right into Tilly's heart, err, I mean Tilly's new job.
Tilly has been hired by Sabine (Princess and the Frog's Princess Tiana) to work at her beignet food truck. Except Tilly can't be bothered to keep her beignets in a uniform shape. Frustrated, Sabine tries Tilly out for sales instead. She puts her on the corner with a tray full of beignets and all of Seattle to charm. That's when she runs back into to Margot.
When Tilly spies Margot on a park bench, and her entire face lights up. She flirts that it's Margot's lucky day. Tilly only has one last free beignet sample, and she always saves the best for last. The show's iconic romantic music picks up as Margot reintroduces herself.
"I'm Margot, with a 'T'.wp_postsShe squints up cockily, the sun in her eyes.
"Targot?", Tilly asks.
Margot blushes. "The other side."
Tilly thanks Margot for saving her life the first night they met. She was in a bit of a rough patch back then, but she's getting it all together now. She has this new job and new friends. Her puzzle pieces are falling into place. Margot sighs, at least one of them has it together. Her life hasn't felt right since she set foot back in Seattle.
Tilly sits down on the bench. She promises Margot that no one can feel bad while eating a beignet, so together they eat and talk. Margot explains the trouble she's having with her mom. She can't put her finger on it, but there are definitely secrets all around. Tilly empathizes. She knows what it feels like to not have the world make sense. But, she also feels bad for Margot's mom. After all, Tilly "can't imagine having someone like you around… and feeling like I couldn't tell you the truth for some reason". STOP BEING SO CUTE. YOU TWO!!!!
Margot looks down at the beignet. It was one of Tilly's original designs — Tilly tells her that it's a heart.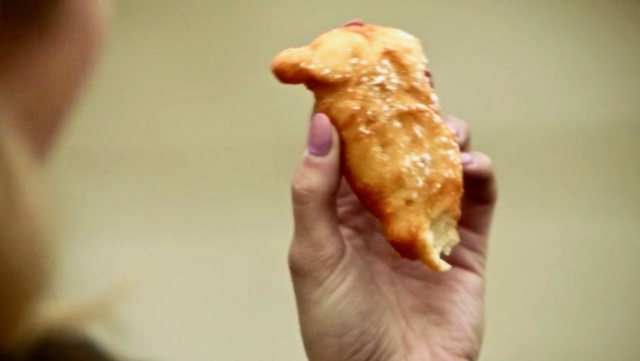 Margot gets it right away. Of course its a heart! It's a heart like the the kind that's inside your body, not the the fake kind we put on Valentines. Tilly beams. Finally, someone who gets her.
Unfortunately for Margot, there's more trouble ahead. There's a serial killer in town that's stalking witches. Zelena is next on his hit list. When Margot arrives home at the bar, she finds a box of chocolates, the serial killer's signature trademark, waiting for her mom at the door.
---
The real emotional engine of this week's Grey's Anatomy is Sam Bello, the intern who until a few weeks ago I only knew by the name "That one who keeps sleeping with DeLuca in the On Call Room". That was absolutely my loss. By writing Sam off as merely DeLuca's love interest, I missed the nuances of a very complex woman. The episode where finally I woke up to my mistake is the same episode in which we said goodbye.
Sam Bello was brought to the United States from El Salvador when she was barely a year old. She's filed with DACA and has a work permit. Her mother moved Sam, along with her sister, to Florida after their father was murdered on their front porch during El Salvador's civil war. She worked 20 hour days to keep the girls safe in this country. Since that time Sam's entire family has also moved to the US. She was graduated college magna cum laude, she was valedictorian of her high school, she was captain of her dance squad. She's an American, in every sense of the word.
Which is why she shouldn't be deported. DACA recipients can only be deported if they miss a filing deadline or if they break the law. Sam doesn't speed or do drugs or ever step out of line, she dots all of her metaphorical Is and crosses all of her metaphorical Ts. Except we all know that surgical interns never sleep. A few weeks ago, Sam was leaving the hospital after multiple shifts and she was so tired she mistakingly ran a red light. ONE RED LIGHT. In her entire life! They have on camera. That's all it took in Trump's America. Now ICE is at the hospital and they are looking for her.
DeLuca doesn't yet know about the red light, so one of his first thoughts is that Carina called ICE and turned Sam in. Carina's never been a big fan of Sam. She's often taken to calling her little brother's clingy girlfriend a "stalker". But, as she tells her brother while they are yelling at each other in the hallway, she would never never have someone deported. The DeLucas are immigrants. Andrew, much like Sam, was brought to the United States as a baby with his mother. She can't believe that her little brother would think she's capable of such cruelty.
Meanwhile, Arizona is driving herself crazy over her latest patient. She has all of these maternal death statistics flying around in her head thanks to her research, and all she can imagine is all the ways a woman can die in childbirth. She ends up making Intern Glasses-Blood Bank run all over the hospital creating an all mighty crash cart that has everything she could ever need to save a patient, "just in case". The patient ends up giving birth without any difficulty, but Arizona is ecstatic because she thinks she finally solved the maternal death crisis in America. If we prepare for births ahead of time as if they are trauma, then we won't be surprised when traumas occur! That… feels a little simplistic to me, but hey we only have five hours of the show left this year, so I say that we go with it.
Arizona realizes that she should be approaching her relationship with Carina the same way. Carina is notoriously flighty — she hates the responsibility of kids and has never had a monogamous relationship last longer than three months. Arizona wants to know if she should be preparing for the worst. Carina's fellowship is almost over. Will she be moving on soon?
Carina's still thinking about what her brother said earlier — she's seeing herself from the eyes of the people around her. First with Andrew, and now with Arizona. She cuts her girlfriend off with a hot make out and a promise. She's not planning on going anywhere.
Post-Op Thoughts:
Sam doesn't get deported, and she's able to save her medical license. How you may ask? BY OUR FAVORITE SURGICAL SUPERHERO CRISTINA YANG!!! Queen of the badasses!!! Meredith gets Cristina to fake paperwork that proves Sam has been accepted to a residency program at her Cardio hospital in Switzerland. Ultimately, Sam still has to leave everything she knows behind, so it's a bittersweet ending.
I am officially driving myself crazy playing the "is this how they are going to write Arizona out?wp_postsgame. The countdown has officially begun.
---
Quick Hits
Imposters 101 & 102: "Fillion Bollar King" and "Trouble Maybe": Jules Langmore and her partners in crime, Ezra and Richard, returned last week, still high off the success of their con of the FBI and revenge against the woman who betrayed them all. Richie knows a guy who knows a guy so they return to his hometown to fence the $1.3 million dollar ring they stole from the FBI. Because Jules, Ezra and Richie aren't nearly as good as this con game as they think they are, everything goes awry and they end up fleeing to Mexico without all the money they were promised and without the ring.
Later, when we catch up to the Bumblers, they're living in Mexico City trying to cobble together enough money to get new identities and head back to Scottsdale (and the ring). Jules tries to keep Ezra and Richie on track, drafting a new code, "El codigo de las ex-esposas," to guide their hustles. — Natalie