Happy Friday, Boobs Tubers! This week, Kayla reviewed the very lesbian season three premiere of The Bold Type and another wackadoodle episode of Riverdale and made quite a list for you. Riese and Kristin released the second episode of To L and Back! Carmen wrote about the bisexual coming out episode of Abby's. Valerie recapped a very Jane Austen Legends of Tomorrow and shared some big gay found family feelings about the season finale of The Magicians. Natalie hosted the finale of our March Madness Coming Out tournament; stay turned, results are on the way!
Some reminders from the TV Team:
+ I finally got caught up on Jane the Virgin and I promise cross my heart Petramos is coming to this website page in all its glory (along with some Rose and Luisa shakedown) this Monday. — Heather
+ Younger released a First Look video for Season Six, and I'll be honest with you: It's a lot of straight people, but if you love the show, still pretty cute. — Carmen
---
The Chi 202: "Every Day I'm Hustlin'"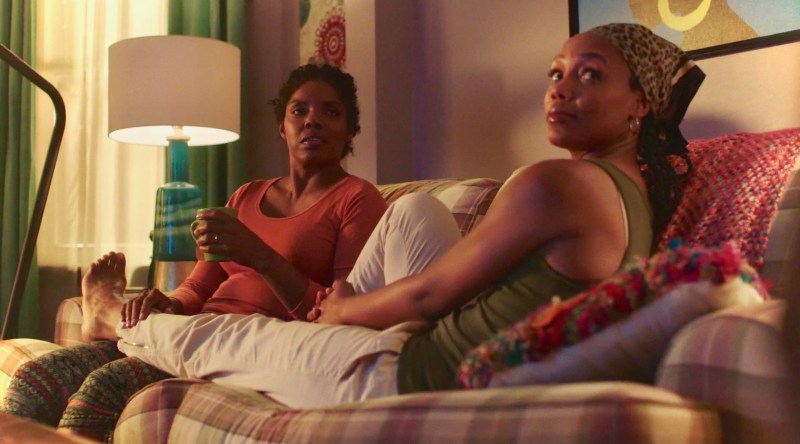 Lena Waithe's The Chi returned to Showtime two weeks ago, and we're getting to know even more about Nina and Karen – the lesbian moms of the show's youngest protagonist, Kevin. In The Chi's first season, Kevin witnessed a murder in his South Side neighborhood that became the catalyst for most of the show's drama moving forward. In the second season, that murder charge is making its way to court, which means that Kevin may have to take the stand as a key witness.
In other shows, Kevin's decision to testify would be fairly straightforward. What makes The Chi stand out is its instance on grappling with the nuances of a tween black boy being asked to work with the police and District Attorney. This is primarily played out via Nina and Karen, who rightfully worry that having their son "snitchwp_postscould mean a death sentence, not to mention his own emotional distress of having to relive the traumatic event in graphic detail for hours while being grilled by lawyers. At the same time, his moms recognize that his testimony might be the only way to bring the victim's family peace. But is that peace worth the price it might cost their own family? There's no easy answer. They debate it while washing dishes, while rubbing each other's feet after a long day of work. It's all knitted brows and hushed tones, trying to figure out what's right. There's just something about Nina and Karen – their love is quiet and domestic, but nonetheless impactful. Give me more black lesbians in love and fighting for their family. Please, please give that to me any day!
---
Kathryn Gallagher, who was lesbian socialite Peach's best friend in #YouOnLifetimeNetflix and also best friend of queer characters in the Broadway musical Jagged Little Pill, was on The Flash this week and I mistakenly started hoping she was Nora's girlfriend in the future but before I even had time to come up with a ship name she was dead. So I guess it's for the best they were just best friends.
---
Arrow 718: "Lost Canary"
I stopped watching Arrow at some point because I got too far behind to catch up on CW's website, but of course when I heard my beloved Sara Lance was back for a visit, I had to check out this episode. Luckily not much has changed since I watched, and the emotional crux of the episode was all about Sara, who I have been following faithfully across time and space.
I was worried we'd never get this kind of explicit discussion of Sara's growth over the years, because Legends hasn't really talked much about it since the Death Totem incident. I thought they had moved on and were going to focus mostly on Sara and Ava's relationship and growth. (Which is fine, I approve.) So I was thrilled when Sara showed up in Star City to help NuLaurel find her way back from the dark path she set out on when she thought her friends had abandoned her.
First up, we have to discuss how perfect it was to watch them mirror earlier seasons with Sara and Felicity, with Sara doing the Salmon Ladder and Felicity being impressed. They even talk about how Sara was flirting with her and Felicity was into it before they hug it out .
In the end, Sara finally gets through to Laurel. Even though it's not really her sister, they have a bond, and they both loved the same Quentin in their own ways. Sara knows what Laurel's going through; she went from cheating brat to literal assassin and now is a time-traveling hero. A legend, even. Redemption isn't a box you can check, and becoming a good person isn't a finish line you cross. It's a journey and it's making those choices every single day, over and over again, until it becomes second nature.
---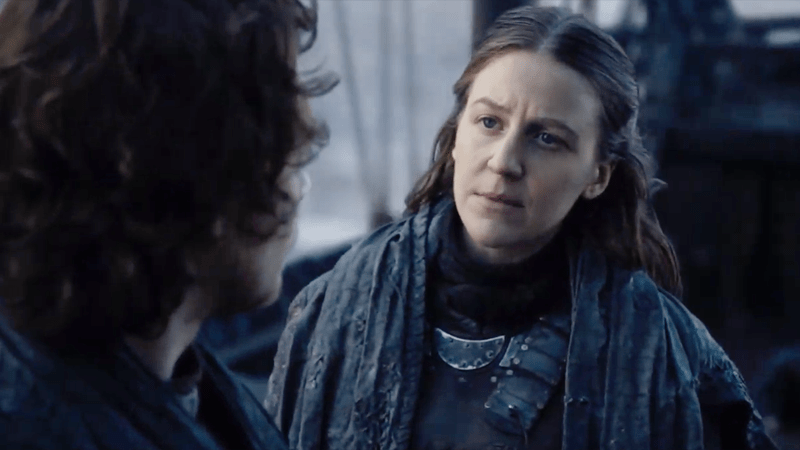 There were a lot of surprises on the season eight premiere of Game of Thrones. Second only to Bran Stark becoming the most meme-able character of the series in just 45 minutes was the shocker that Yara Greyjoy is still very much alive! I thought for sure she was a goner and probably we'd never even hear about her again! Theon rescues her pretty easily and heads off to Winterfell to try to continue to make up for, you know, ruining the lives of most of many Stark children. Not Yara, though. She gathers what's left of her army and sails away, determined to retake the Iron Islands. Before she goes, she tells Theon to tell her ol' gal pal Daenerys that if she and her troops need to fall back — or, like, if Dany's just looking for a nice vacation and a little lesbian romp — she'll have the Islands secured for her in no time at all. Dragonspeed, Salt Prince!