Update 3/3/22: In honor of Killing Eve returning for its fourth and final season (and also in honor of the fact that Autostraddle is recapping the show weekly for the first time!), I thought it was high time to update this very important work of cultural criticism and investigative journalism. As with the first time around, the definitions of "knife," "knifeplay," "gay," and even "TV" are interpreted broadly. The only rule about this list is that there are no rules.
---
Whether Killing Eve's Eve and Villanelle want to end each other's lives literally by way of murder or just end each other, like, sexually is a complicated question because the answer is both and yet neither. What Villanelle and Eve have for each other is, in turns but also sometimes all at once, seductive and dangerous. Their knifeplay has birthed many a fanfic, and I should know, because I read them as if they were cute lil bedtime stories.
But while Eve and Villanelle may have recently popularized and perfected the art of seductive-scary knifeplay on television, they certainly did not invent it. Here are the other times gay knifeplay graced our televisions.
---
Villanelle gifts Eve lipstick with a razor hidden in it (Killing Eve)
So the first thing I knew I was gonna do when updating this list was add several more Killing Eve moments.
---
Villanelle holds a blade against Eve's throat and says "will you give me everything I want" (Killing Eve)
Date night!
---
Villanelle coaches Eve in the art of ax-murder (Killing Eve)
The fact that Villanelle is this thrilled to watch Eve kill someone? The fact that this scene is closely followed by Villanelle saying "you're mine"? Just murder wives doing murder wife shit!
---
At best, I think the Rubber(wo)man chapters of American Horror Stories are boring and uninspired. And at worst, they encapsulate tired and heteronormative ideas of kink, sexuality, and desire despite being about a young queer girl discovering herself but I digress! Anyway, here's a pic of a makeout that also features a knife.
---
RoboSara holds a knife to Dr. Sharpe's neck (Legends Of Tomorrow)
Thank you to Valerie for flagging this one!
---
Batwoman saves Sophie with a batarang and then Sophie saves Batwoman with a batarang (Batwoman)
What is a batarang if not a bat-shaped knife?
---
Kirsten and her knife (Station Eleven)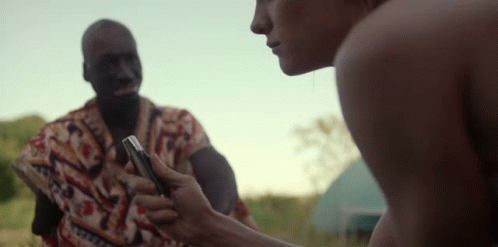 I have not seen Station Eleven yet (I know! I'm working on it!) but Drew said the following: "Station Eleven is all about a bisexual who is good at throwing knives but did she ever do so in a sexy way with a woman?" And Riese chimed in to say that indeed Kirsten is in a codependent relationship with her knife, so I'm counting it!
---
Taissa grabs a letter opener after making out with her wife (Yellowjackets)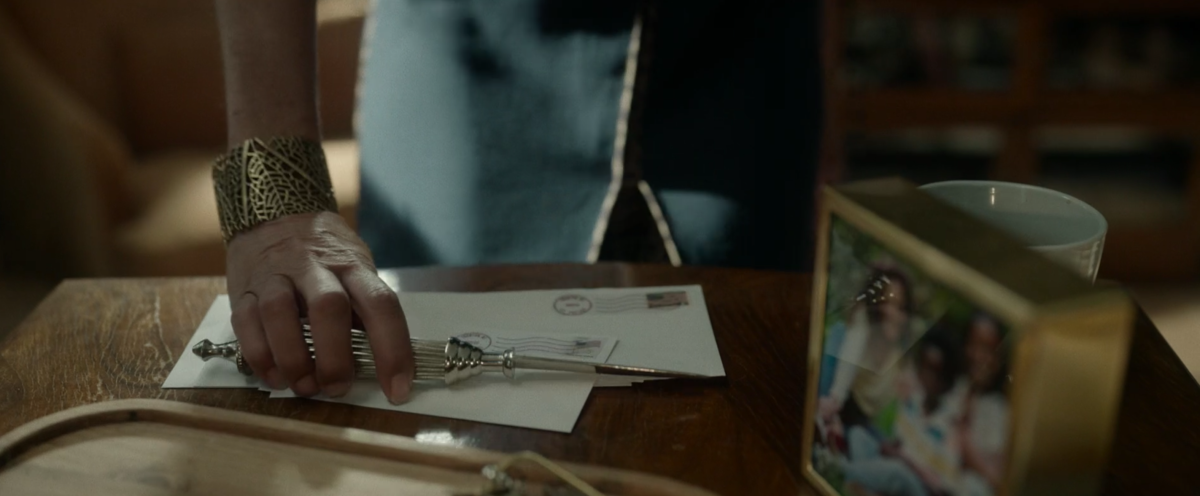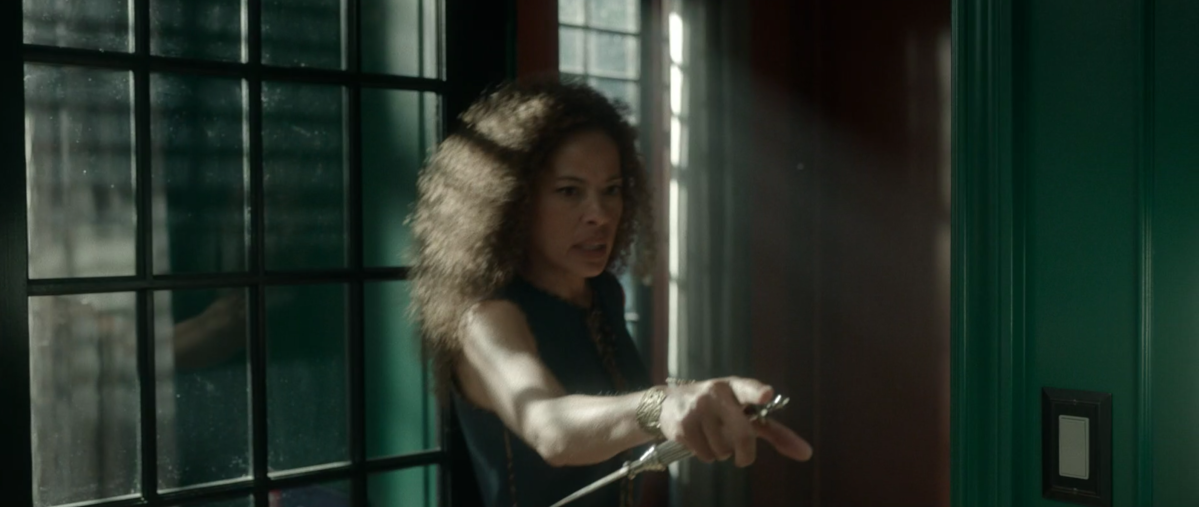 Honestly, Yellowjackets as a whole has very Gay Knifeplay Vibes. In addition to this Taissa moment, shoutout to Shauna's close relationship with knives as a teen and adult.
Below, you'll find the original 18 moments that made the first version of this list in 2019!
---
Villanelle with a knife in Eve's kitchen (Killing Eve)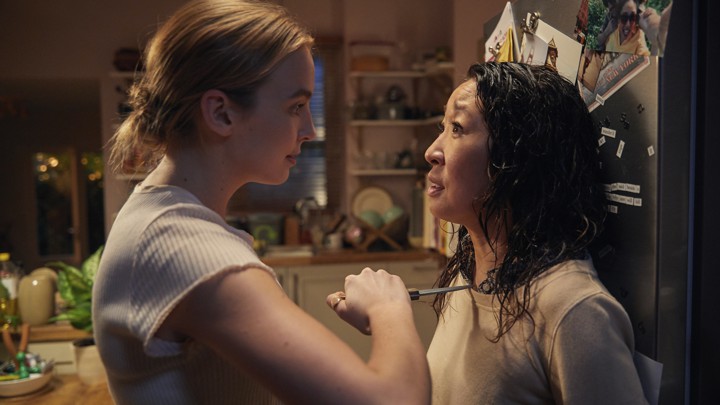 Wow, just wow. This image really is Killing Eve in a nutshell.
---
Eve stabs Villanelle (Killing Eve)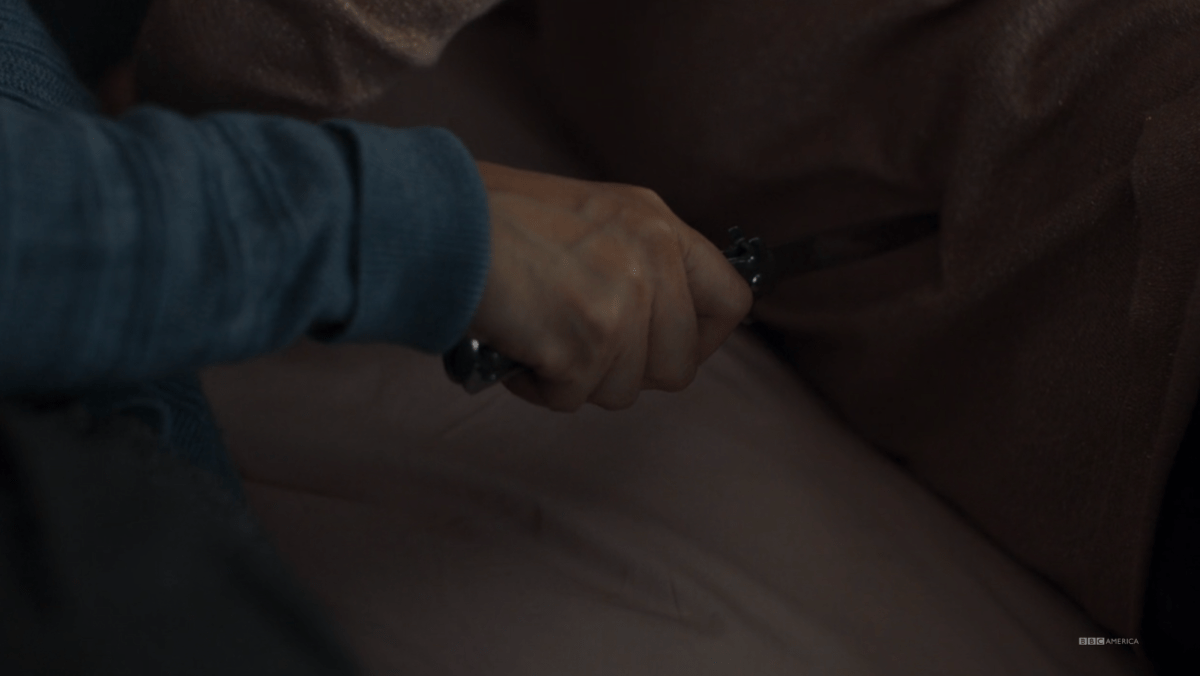 Remember when we all thought Eve and Villanelle were going to have gay sex? But then instead, Eve STABBED her? In any case, as season two shows, Villanelle thinks Eve stabbed her because she loves her…
---
Tamsin pulls a circular blade out of nowhere on Bo (Lost Girl)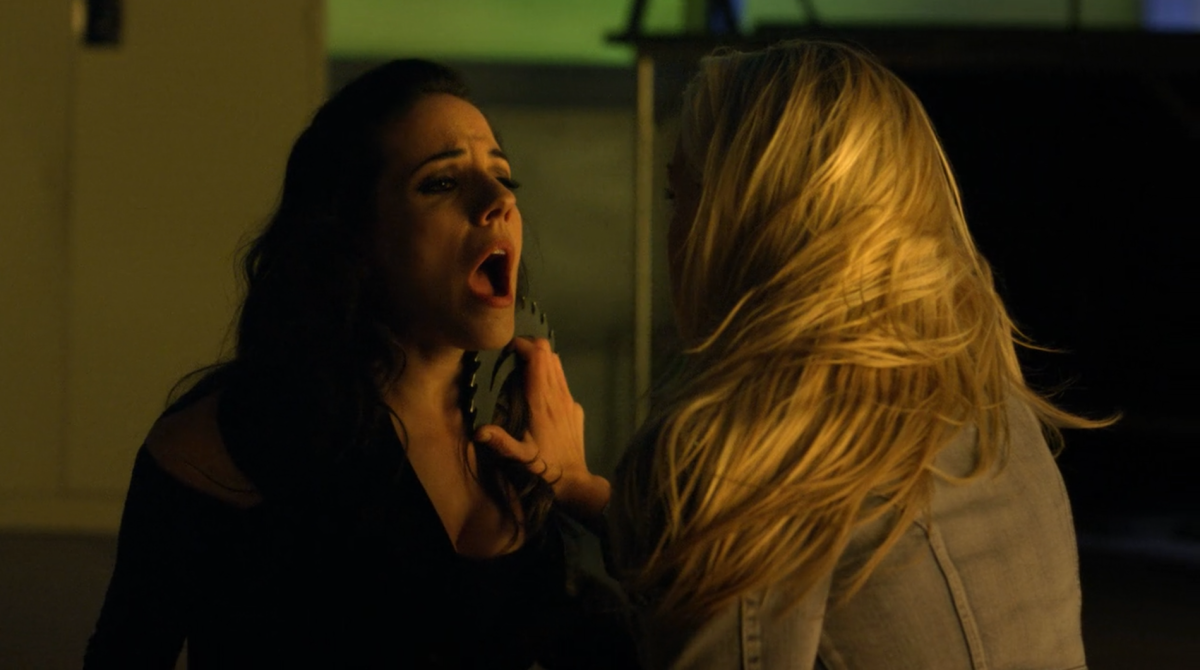 "You are more alive than anyone I have ever met."
---
Nancy Botwin and Celia Hodes in Nancy's kitchen (Weeds)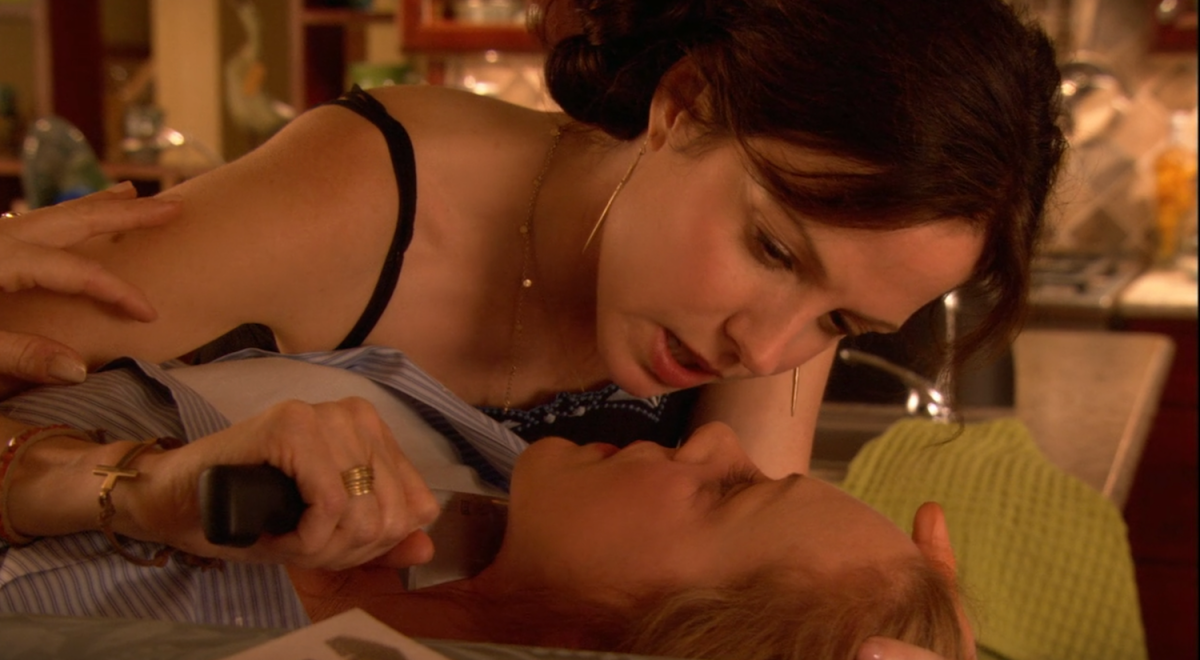 Okay, I'm going to need everyone with a Netflix subscription to go watch this scene right now. It happens in season three, episode 12, about three minutes into the episode. (If you don't have Netflix, you can watch the scene here, but the quality is not great and trust me this is something you want to experience in HD!!!) Watch the scene three times. The first time, listen to Celia's breathing. The second time, focus on Nancy's hands. The third time, focus on Celia's hands. The HAND ACTING that is happening in this scene is incredible and undeniably sexual. This is a sex scene, and you cannot convince me otherwise.
---
Faith and her knife have almost as much chemistry as Faith and Buffy do.
---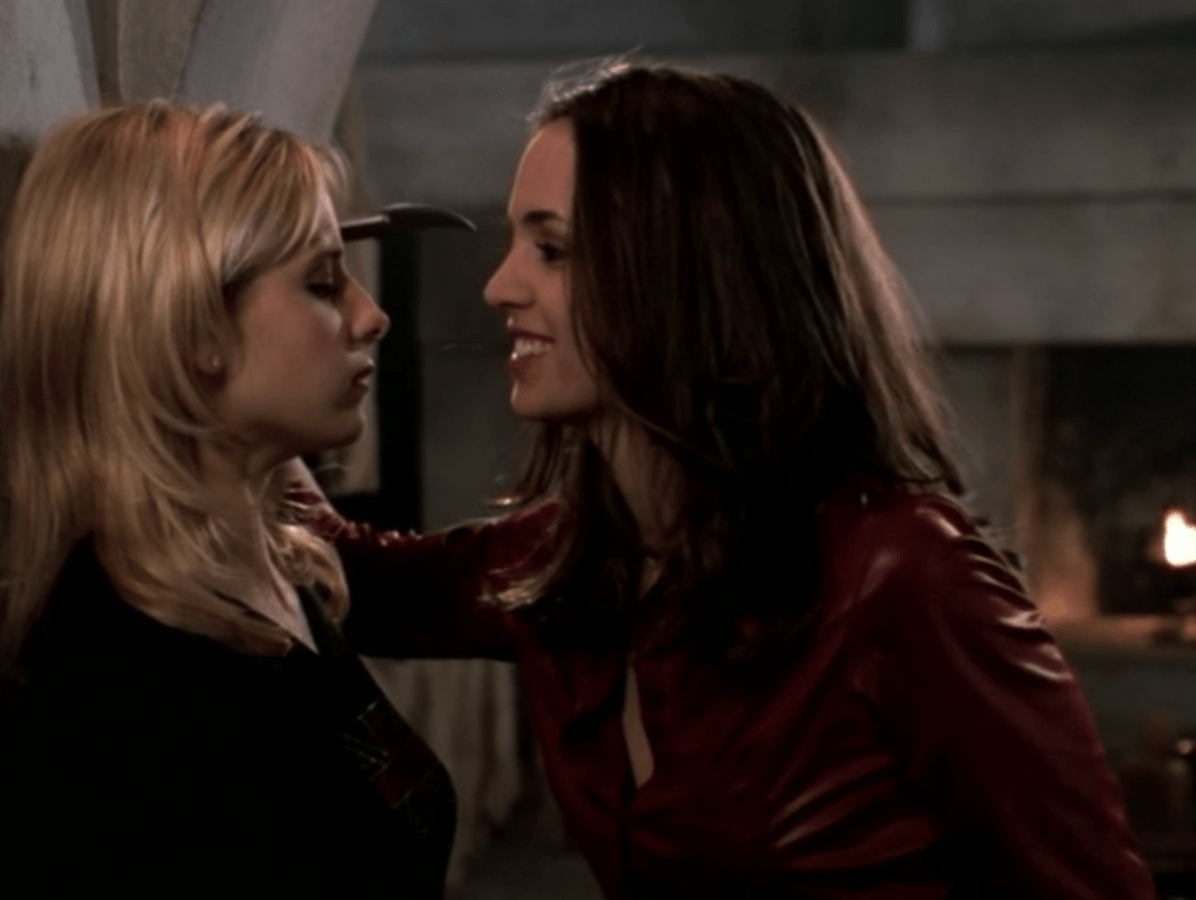 "If you're a screamer, feel free."
---
Stahma poisons Kenya (Defiance)
Yes, technically poison is not a knife. But spiritually, this counts as knifeplay.
---
Root and Shaw and the iron that sparked a million fics (Person Of Interest)
Oh yes, another entry on this list that does not technically involve a knife. We're not even halfway through here and we are spiraling out of control, but did you expect anything less?
---
Clarke holds a knife to Lexa's throat (The 100)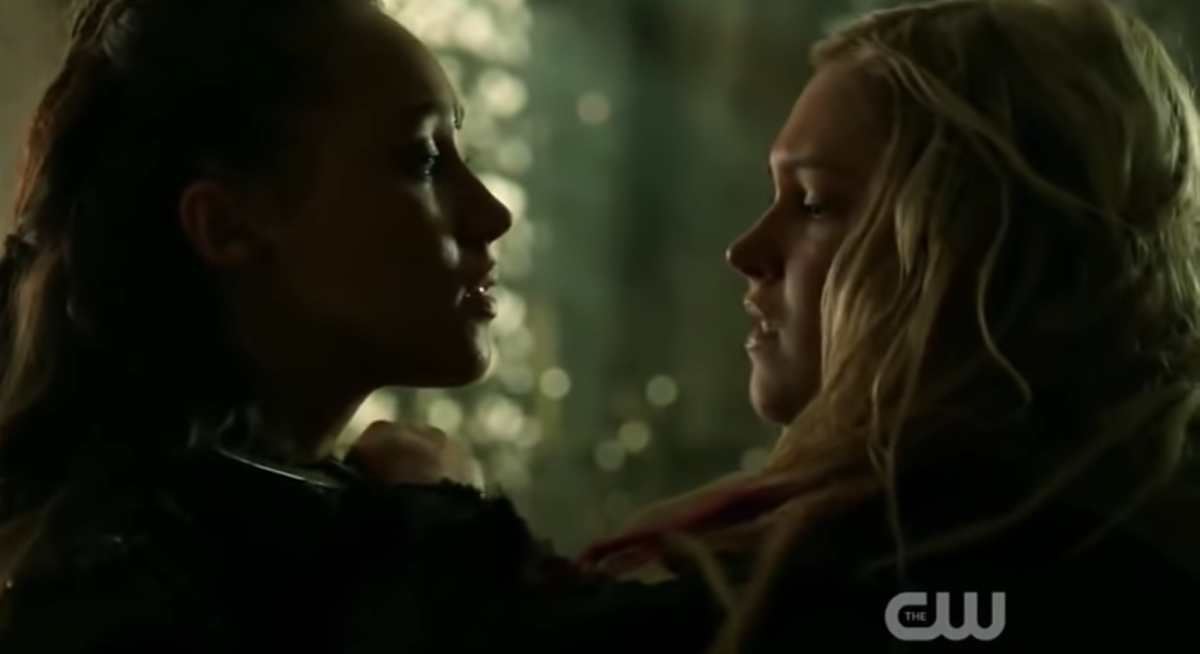 I'M SORRY!!!!!!
---
Fen hurls a dagger at Margo (The Magicians)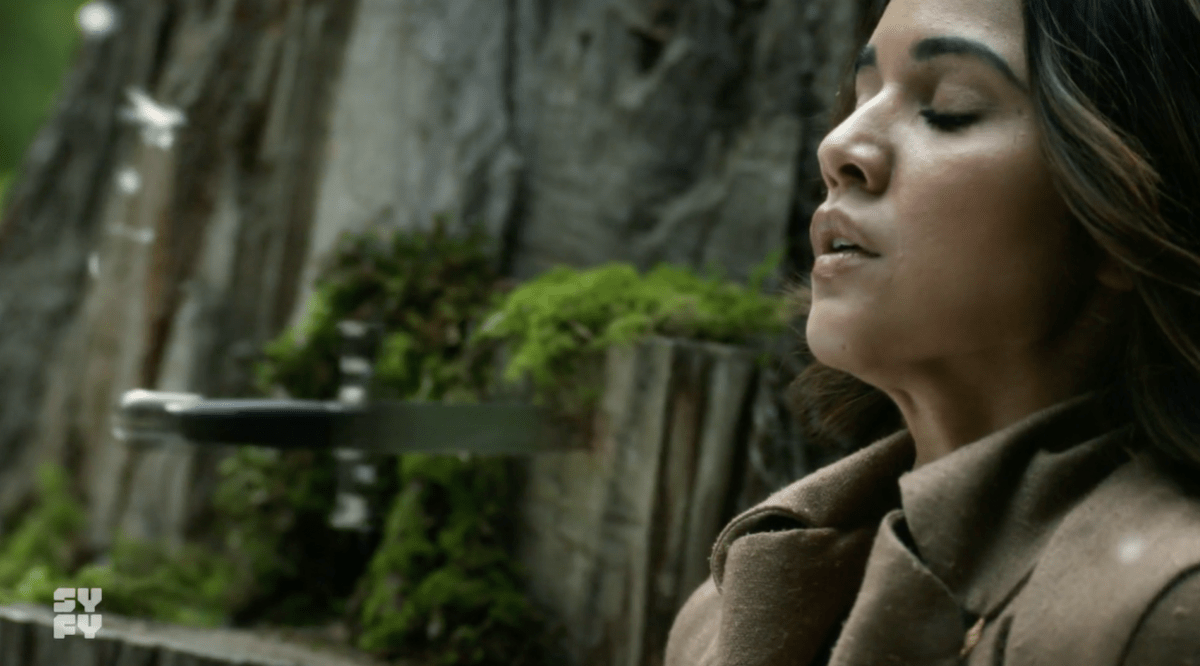 Dagger-throwing is a commonly practiced form of lesbian foreplay.
---
Linda Cardellini just loving knives (A Simple Favor)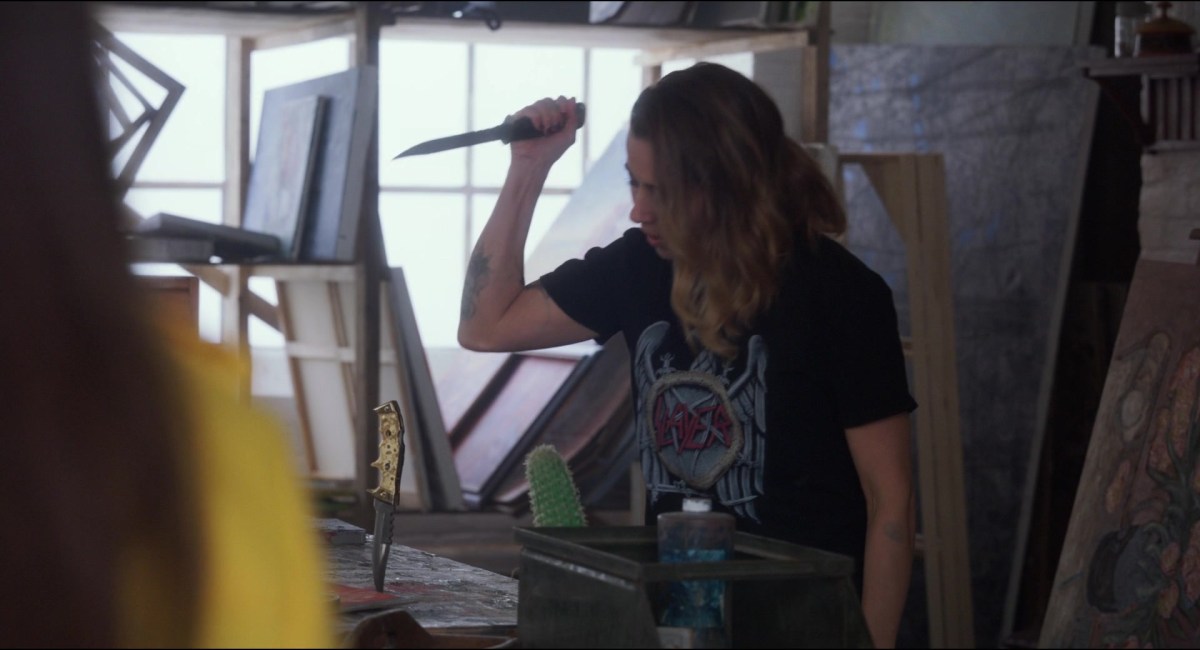 I know this is not a TV show, but clearly this list is playing it fast and loose with its own guidelines. I called Linda Cardellini's character in A Simple Favor a Knives Lesbian in my review of the film, and I stand behind it. She collects knives; she paints knives; Blake Lively ruined her life. Knives Lesbian.
---
This knife passed from Helena to Kendra Shaw to Starbuck, which is both beautiful and gay.
---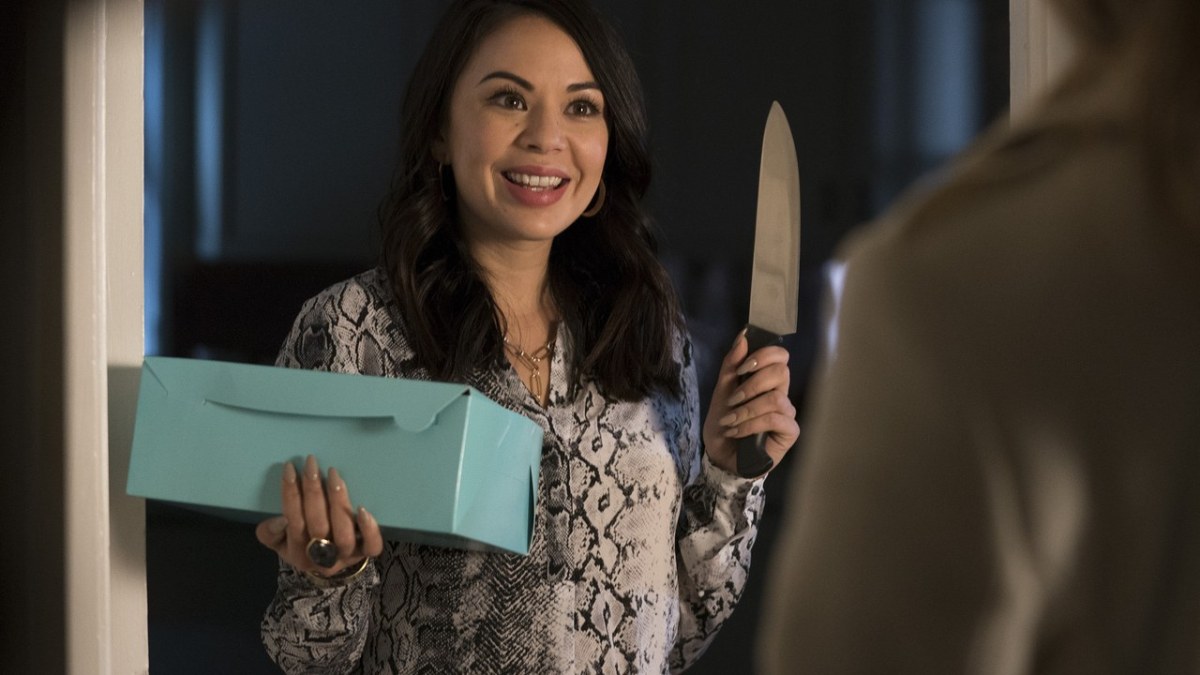 She! Brought! Pie!
---
Xena confiscates Gabrielle's "breast knifewp_posts(Xena: Warrior Princess)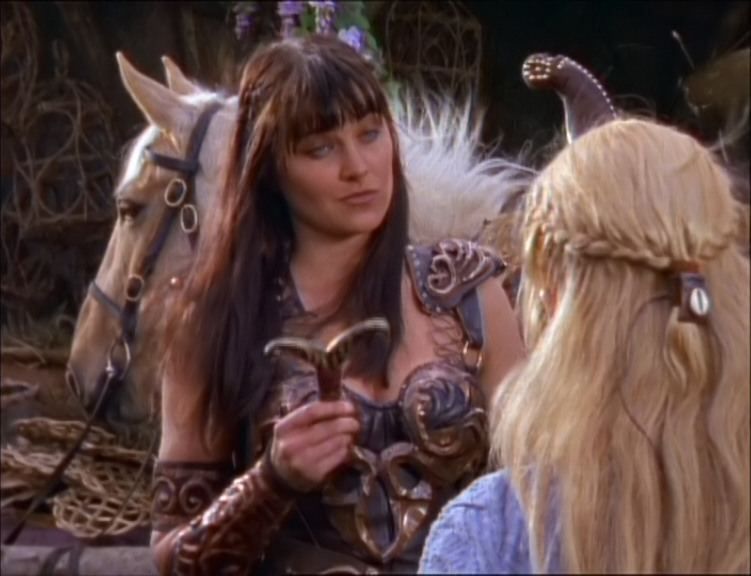 Gabrielle's ACTUAL response to this? "It's not like your breasts aren't dangerous enough."
---
This was a body-swapping arc, and body-swapping is gay.
---
Emperor Georgiou and Michael Burnham in the Mirror Universe (Star Trek: Discovery)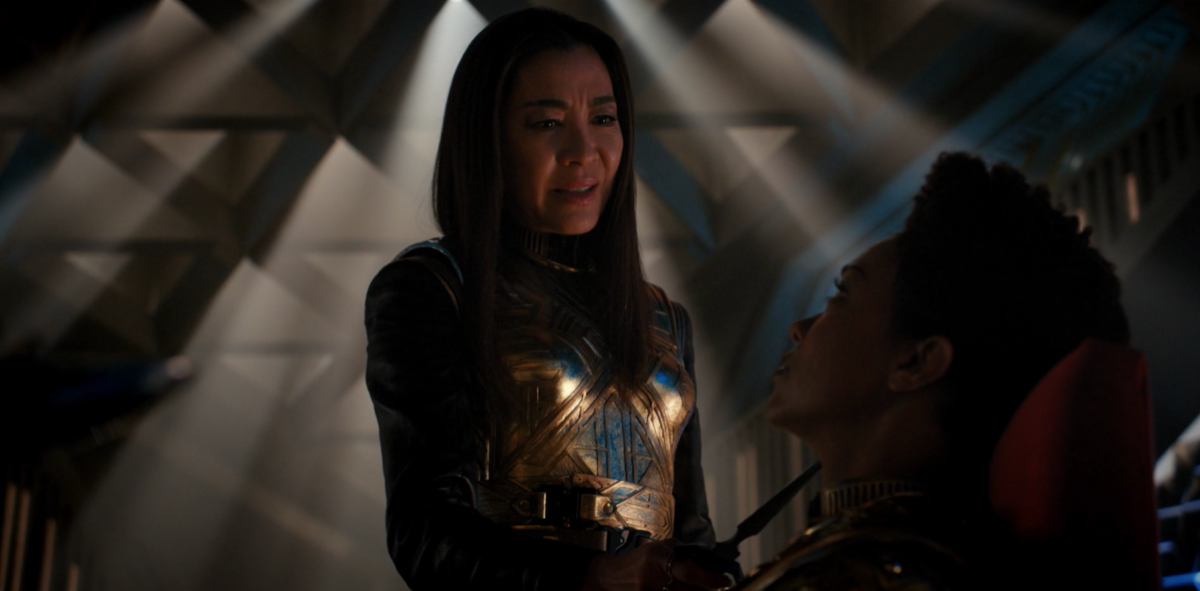 Michelle Yeoh's top energy on Star Trek: Discovery is… too… powerful.
---
Rory and Paris' fencing fight (Gilmore Girls)
In all seriousness, this is one of the greatest television scenes of all time.
---
Dylan pulls out a knife literally during sex with Helena (The L Word)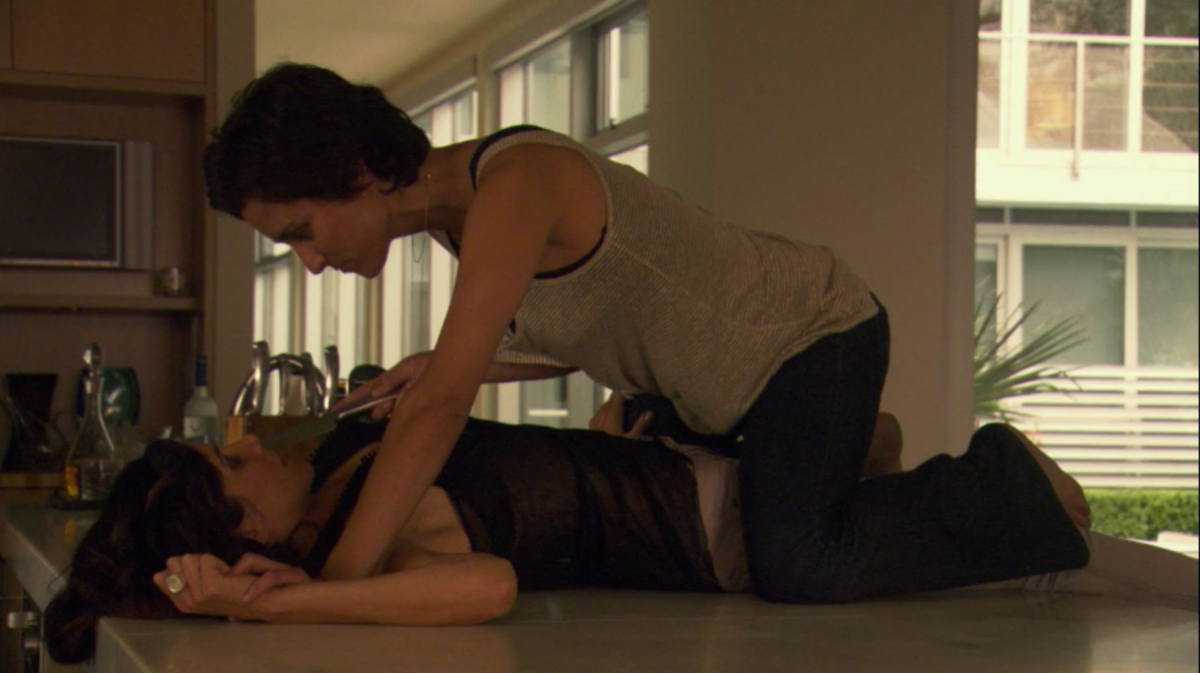 Somehow, this is like the most chill thing that happens in the series finale.