On last week's episode of Abby's, things got officially bisexual when, after months of promotion, Abby officially came out on screen in the sitcom's third episode.
It's "Free Alcohol Day," which has the makings of an annual season event if I've ever seen one. In bars all across America, reps from alcohol companies come to show off their new products. In most bars this is just an employment perk for the staff, but Abby is always thinking of her chosen family, so at her establishment everyone gets to partake.
The Free Alcohol Lady, Dani, is a local celebrity and everyone fawns and slobbers all over her – even though this year she's pawning off some kind of All Spice flavored liquor that tastes like licking the inside of Santa's red jingle suit.
Beth, one of the patrons and Abby's best friend, notices it first – there's definitely something flirty going on between Dani and Abby. Sure, Beth reads flirtation into everything, but Abby gently caresses Dani's elbow while they talk, and that's some high quality mid-19th century gay activity right there. Victorian era hotness. You feel me.
Bill, another patron of the bar and the noted outlier of the group (the fact that Abby's leans right into the way I feel about most straight middle aged white men on television – that they are unnecessarily taking up screen time with their celebrated mediocrity – has ironically somehow made Bill more endearing than most) asks Abby: "Wait a second, can we back up here for a second? Free Alcohol Lady is a lady. So, do you date women? "
Without batting an eye, she explains "And men. I'm bisexual, Bill."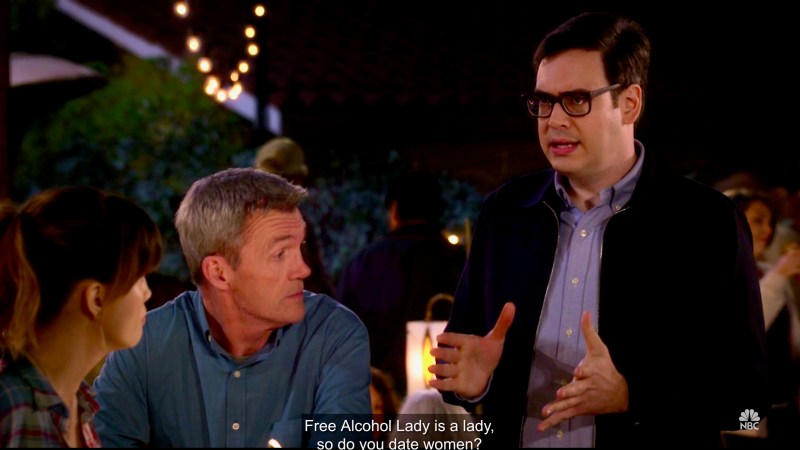 True to form, Bill immediately sticks his foot in to his mouth, awkwardly blurting, "CONGRATULATIONS!" Though to be honest – I kind of want someone to follow me around and wish me a daily congrats on my life, you know? "Congratulations Carmen, you brushed your teeth supremely queerly this morning!" "Hey there rockstar, way to gayly fold those clothes and watch reruns of Grey's Anatomy in your underwear." Where is that person? Let me find them.
Anyway, the joke works because Bill stands out by making Abby's bisexuality a big deal when it's not. Abby is bisexual and she even says the word bisexual — still a rarity on TV — and no one cares. It's quiet and that alone is revolutionary. A bisexual Latina who is a local business owner and a military vet with a deadpan sense of humor, now as normal on our screens as it already is in our lives. There's no after school special. No tearful coming out. No trauma. There's also no episode long joke or gag. No huge monologue or explainer for straight people. Just a quick sentence. Matter of fact. Then it's over. When can we say that's happened before on broadcast sitcoms?
The bigger controversy is that Abby, who is famously quiet about her personal life, failed to tell her friends that the reason she's so casually flirty with Dani is because they've already dated! They dated for MONTHS! That's the admission that sends the episode's comedy of errors kicking in to high gear.
When everything is over, Beth pulls Abby aside. The bar in Abby's backyard gave Beth a home when nothing else quite fit. She thought they were friends and the idea that Abby keeps secrets has left her in tailspin. Abby's explanation is just as matter of fact as the first time she told us she's bisexual, but as a queer woman of color I felt it deeply, even in it's simplicity: "I grew up Cuban in a white neighborhood, and on top of that I'm bi. I learned not to fan the flames of that intersectional fire."
A joke, and a gentle reminder to white (and straight) viewers that they don't get to know everything about their queer people of color friends. They can't. And sometimes, they don't have a right to. That's quite the delicate thread to untangle. Abby's does it masterfully, and with a punchline.
Pour me another of those Santa's Sweaty Christmas Suit shots. I can't wait to see what happens next.