Hello! Happy Friday! Are you ready for another great edition of Boobs on Your Tube? Wonderful, because that's what you're getting!
This week, Yvonne interviewed Vida showrunner Tanya Sarracho about being a Chingona boss and creating some of the best queer sex in television history. The L Word: Generation Q dropped all kinds of hot casting news and Riese covered them for you with her signature snark here and here. Speaking of The L Word, Riese and Kristin took us to Dinah on To L and Back, our very favorite podcast. Carmen reviewed the third season of Jessica Jones (spoiler: It's DARK!). And we had a lot of feelings about Pose! Nel recapped this week's new episode; Drew wanted us to put Pose and Tales of the City's take on the AIDS generation in conversation with each other; and Carmen, inspired by Sandra Bernhard's Nurse Judy from the series, wrote a short 'lil history of the women of ACT UP.
Then, we absolutely saved the best for last: ONE DAY AT A TIME HAS BEEN SAVED FOR A FOURTH SEASON BY THE POP NETWORK!!!! (Ahhhhhh! Still not over it!)
Some notes from the TV Team: 
+ Just in case you missed that Orange is the New Black trailer for its final season, you can find it here. — Carmen
---
Nomi spends the early part of the evening hanging out at diner with Skyler, Jazz and Ana, dispensing advice to a desperate Ana who's trying to turn her situationship with Aaron into a full-fledged relationship. Ana assumes that she and Aaron are exclusive based on their history but Nomi urges her roommate not to assume anything ever when it comes to relationships.
Ana and Aaron might not be communicating about their relationship but you know who is?  Professor Paige Hewson and Nomi. When Nomi shows up to Shane's house later that night, she's introduced as one of Shane's students to the group, which includes a fellow Cal U professor. I bumped on the introduction, but Nomi doesn't seem bothered by it at all. After picking up a documentary to sate her "voracious appetite for second wave feminism" (I laughed), Nomi hid behind a car across the street and waited until the group left to return.
Why is Nomi hiding behind cars like she's somebody's mistress? Why are Shane and Nomi hiding their relationship this week when last week, they were making out publicly at an art exhibit? Does that fact that Nomi doesn't question any of this — she and Shane find lying to Shane's colleagues is "kinda hot" — only further prove how problematic their relationship is? Despite all these things that prove that Zoey was right to say what Nomi's doing "feels very wrong," Zoey apologizes when Nomi comes home the next morning.
"The other night, when we got into at the hotel, I was out of line," Zoey says. "Seeing you with Professor Hewson just kind of threw me and I should've considered the fact that you're obviously an evolved and amazing human and you should be able to live your life however you want to, free of my judgment."
Ugh, Zoey! No! Not one time you were actually right! What a waste.
---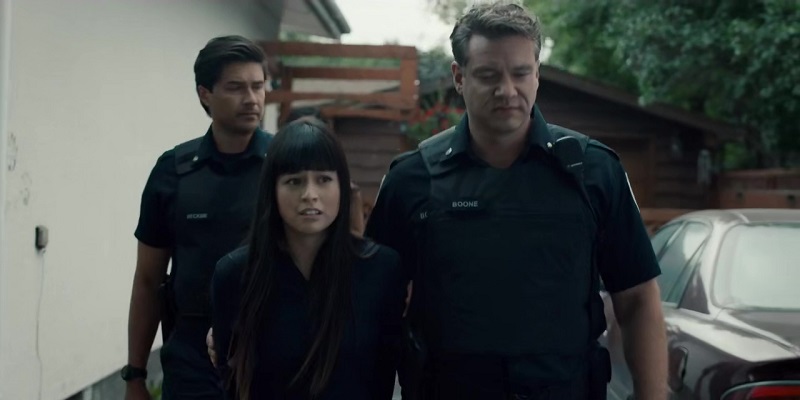 This week's episode of Burden of Truth picks up where last week's left off: police are still looking for clues in the David Hanley murder. Eventually, the sheriff and his racism hone in on Luna's mother, Gerrilyn, as the lead suspect. She had motive and a small window of opportunity… and, for a second, even Joanna believes Gerrilyn's guilty. But once Joanna hears her earnest denial, she's convinced the police have the wrong person and sets off to find her father's real killer.
Meanwhile, Luna's anxious after finding out that David's been killed. Everyone attributes it to concern about her mother's fate but she's also worried about implicating herself, so she lies to Joanna about when she came into town. Luna's sent to Billy's cabin to lay low while Billy works to free Gerrilyn. Later, Luna finally gets in touch with Molly and they try to patch things up. When Molly offers to join her in Millwood, Luna waves it off: she'll leave as soon as she finds out her mom is okay.
True to her word, Luna does try to leave when she knows her mom's okay, but now she's just trying to avoid arrest. Luna explains to Joanna what happened at the motel and Joanna urges her to voluntarily tell her story to the police. But Gerrilyn reminds Joanna that indigenous women aren't given the benefit of the doubt, "The rules are different for us. If she goes in there, she's not coming out."
With Joanna's promise of protection, Luna wakes up the next morning, ready to turn herself in but first, she performs a ceremonial offering: a gift of tobacco to the earth as she prays. It's a poignant reminder of how rare it is to see a First Nation character on television at all, much less a queer one. Before Luna, her mom and her sister can leave, the Millwood Police arrive and arrest her for the murder of David Hanley.
Billy and Joanna retreat to think of a plan, starting with deleting that incriminating voicemail Luna left for Joanna. Meanwhile, Luna uses her only phone call to call Molly's voicemail.
"They think I did it, Molls. They think I killed him, but I didn't," she tearfully confesses. "I swear, I swear I didn't do it. I just really, really need to hear your voice."
Upon hearing that message, Molly backs a bag and heads back to Millwood.
---
Claws 303: "Welcome to the Pleasuredome"
When I first started watching Claws, I had to learn to not take it too seriously; I had to appreciate the show for the pulpy fiction it is. I laughed so much because it felt like we — women, blue-collar women, women of color, women with mental health issues, queer women — were finally in on the joke. But this week's episode left me feeling like Quiet Ann's lesbianism was the joke and it was hard for me to find it funny.
Let's start at the beginning: Quiet Ann and the crew arrive at work and what's waiting for them in the first pedicure station? A dead body. It's a clear message to Desna and the crew from Mac and Melba, her new business partners: stay out of grown folks' business. The crew rushes to dispose of the body when Arlene pulls up to the salon. The cop's still determined to rekindle her relationship with Ann but now is not the time for that conversation. When Arlene doesn't relent, Ann pushes her away forcefully.
Desna, Jen and Virginia load the body, wrapped tightly in a blue tarp, into Ann's van. Later, the crew regroups to crash Mac and Melba's fundraiser for the governor… except it's not a fundraiser, it's an Eyes Wide Shut-style masked orgy. This is where shit starts to get weird.
Ann picks up a glass of champagne, laced with molly, and stands watch as Desna, Virginia and Polly try to ply information from the other guests. When she spots one of the governor's financial donors, Ann tries to make nice. They converse in French, a nice callback to Ann's polyglot past, and then they kiss. At first, Ann's imaging that it's Arlene — and they try to find a way to repair what their lies have broken — but then she's brought back to reality and realizes that she's kissing the governor's donor.
The governor's male donor.
Ann slaps him twice which, at this kinda party, is a turn-on, and they have sex on a zebra print ottoman. The next day at the salon, Ann admits that she slept with a dude and jokes ensue.
"So you off the tuna boat now?" Jen asks.
"First of all, I was married to a man," Ann reminds them. "Second of all, hell no."
The crew encourages Ann to get back together with Arlene. It's a stupefying request: the girls are about to embroil themselves in shadiness at the casino, but they want a cop back on Ann's arm? But, by episode's end, Arlene and Ann are working toward a reunion – this time with the promise of complete honesty between them.
(Sure, Ann leaves out the part about just covering up a murder from their "honest" conversation but, you know, baby steps.)
"Mamí, you know I'm a dyke!" Ann yelled in the appropriately titled, "Scream," one of our favorite episodes of television last year and certainly the best episode of Claws to date.
She said she was a dyke and we believed her. To queer women, to Latinx lesbian women, to butch Latinx lesbian women, hearing that from Quiet Ann meant something. Who knew we were just being set up to be the punchline for a joke?
---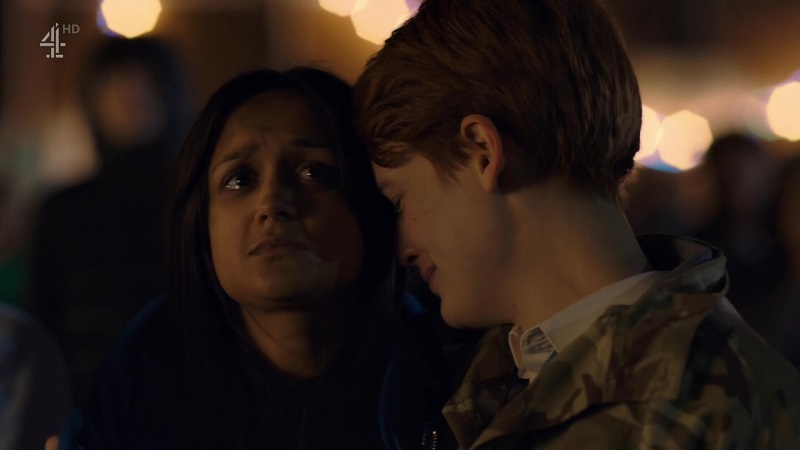 When Ackley Bridge returned this week, Nasreen Paracha is standing before a chorus of angels. Then, Jesus appears before her, ready to invite her into the kingdom of heaven, and Nas interjects, "This is all really nice and stuff but I think there's been some sort of mistake… you do know I'm a Muslim, right?"
It's all just a product of Nas' subconscious — which has a wicked sense of humor. She wakes up in the hospital, alive.A British lesbian has survived the grand challenge of crossing the street. It's a television miracle!
The next day, Nas rushes to reconnect with her best friend, Missy, who'd been released from the hospital the day before. But when Nas calls out to Missy, no answer comes. In a fine bit of acting from Amy-Leigh Hickman, you witness Nas' horror at the realization that Missy will never wake up again. Ms. Carter, the head teacher at Ackley Bridge College, delivers the news to the student body — Missy Booth is dead.
In her grief, Nas asks Sam to take revenge on Anwar, the kid driving the car that killed Missy. Sam resists at first — it's unlike Nas to even advocate for something like this — but she sees Nas' desperation and agrees to do it. Later that night, three of Sam's mates attack: "this one's for Missy, murdering scum" they shout as the pummel him, recording the entire attack for prosperity. Nas watches it at home, horrified.
Video of the attack causes a schism: whites viewers says Anwar deserved what happened to him, the Pakastani community says he was only attacked because he was brown. Later, Nas confesses to her mother that she's responsible for the attack on Anwar, Kaneez gets as angry as we've ever seen her.
"I watched that bloody video, them lads don't want justice, they want a bloody war. 'Come to Ackley Bridge, the Pakastanis are killing the white girls!' and you did that," Kaneez yells. "You want to light that fire, you better be damn sure you know how to put it out."
Nas tries to defend herself by saying it wasn't about race, Kaneez drops the mic: "It is always — always — about race and you should know that.
Nas works with Anwar and Sam's mother to soothe tensions between the whites and Pakastanis before Missy's funeral. It's not until the entire Ackley Bridge student body gathers to say their own goodbye to Missy Booth, that Nas can finally connect with the weight of her grief.
---
It's time to be #hornyformermaids again!
This stretch of episodes starts with Ben and Maddie trying to readjust to life as a duo again, since Ryn went back to the sea, but it's not very long before Ryn is back in their arms where she belongs.
Ryn has agreed to let the military study her for science, which Ben and Maddie worry about but Ryn insists it's her choice. Especially when Ben's mother is getting sicker, and Ryn's stem cells could help. The issue is, when they extract stem cells, Ryn's hormones go wonky, and she turns into a more animalistic version of herself. What I loved about this is, even though Ben immediately starts treating her like an animal, Maddie was still treating her like Ryn. She kept moving closer, talking to her gently. Ben was holding Maddie back and talking ABOUT Ryn, not to her. I know this throuple is supposedly balanced but I believe Maddie loves Ryn better and I'm not afraid who knows it.
When Maddie tries to connect Ryn, Ryn ends up singing to her, which evens out Ryn's hormones but sends Maddie's berzerk. Maddie starts running around with lowered inhibitions, almost kissing Xander, and outing the throuple's relationship to Ben's family.
When brain scans confirm Ryn's song broke their brains a little, Ryn consults a mermaid healer, who leads them to a chamber of healing sound at the bottom of the ocean. The songs there undo most of the damage Ryn's song did to Ben and Maddie's brains, and they cuddle up for movie night, thinking everything is back to normal. But shady-as-shit Nicole, despite INSISTING she's #TeamMermaid, spies on them on her laptop. DUN DUN DUN.