Of all the casualties of the souring corporate relationship between Netflix and Disney, resulting in the cancellation of the Marvel Netflix shows, the loss of Jessica Jones and Luke Cage hurt me the most. With Jessica's Season Three debut this month marking the official end of the Marvel-Netflix era, television critics have written eulogies to what was once a seismic shift in how we thought of superheroes on TV. Most of those tributes have centered on the white men tentpoles Daredevil and The Punisher.
I'll add this: Before there were record shattering dreams of Wakanda, Luke Cage was a bullet-proof black hero in a hoodie who will be forever tied to the sci-fi fantasies of the Black Lives Matter generation. Before Captain Marvel was allowed righteous feminist anger on the Big Screen, there was Jessica Jones fighting the lingering trauma of her rapist armed with little more than her other-worldly strength and a cheap bottle of bourbon. Despite the weaknesses of their respective series, Jessica Jones and Luke Cage both changed the ways we thought of supers on screen. That impact is indelible.
Jessica and Luke briefly reunite one last time in Jessica Jones third season, a fitting nod to the closure of both series. This may be the end of the Marvel Netflix Universe, but at no point does Jessica's final outing feel rushed or without reason. The third season poetically plays like the end of a planned performance, a double entendre that is in no way lost on showrunner Melissa Rosenberg: "I feel like it's three acts of a play, you know? It's really a complete journey for all the characters not just Jessica… It did feel like it was a full story. It was a complete story and arc for our characters."
In fact, continuing with our little "rule of three" (third act, third season), the final arc of Jessica Jones is split up surprisingly even between its three leading women characters – Jessica; her adopted sister and best friend, Trish Walker; and her high-powered attorney, Jeri Hogarth. I say surprisingly because in previous seasons Hogarth's role has been liminal at best. The lesbian lawyer never fully integrated herself into Jessica's world and as a result her storytelling has been shallow and short-sighted. In Jessica's third season, she steps onto the main stage in full messy glory.
Jeri Hogarth was diagnosed with ALS last season. Coming to terms with the reality that her body is changing forever has pushed her to cling to any power she has left. According to the show's mythology, Hogarth clawed her way out of childhood poverty to become one of the richest and most sought after lawyers in New York. When her first law firm fell into disarray, Hogarth rebuilt her empire again. She does not take "no" for an answer.
She's hard, both in persona and likability. Bette Porter taken to her most exaggerated and dangerous conclusion. It's difficult to watch Hogarth's final dark turn, largely fueled by her own bodily fears and turned into a rampage against her former allies in New York City's "superhero" community – Jessica Jones included. At the same time, by rooting her impulses in a relatable confrontation with her own mortality, Jessica Jones gives Hogarth a depth that she's been robbed of up until this moment. I spent much of the third season angry at her choices, but I couldn't stop watching her unfold. Somehow, despite all odds, Jeri Hogarth has become one of the MCU's greatest and most memorable antiheroes.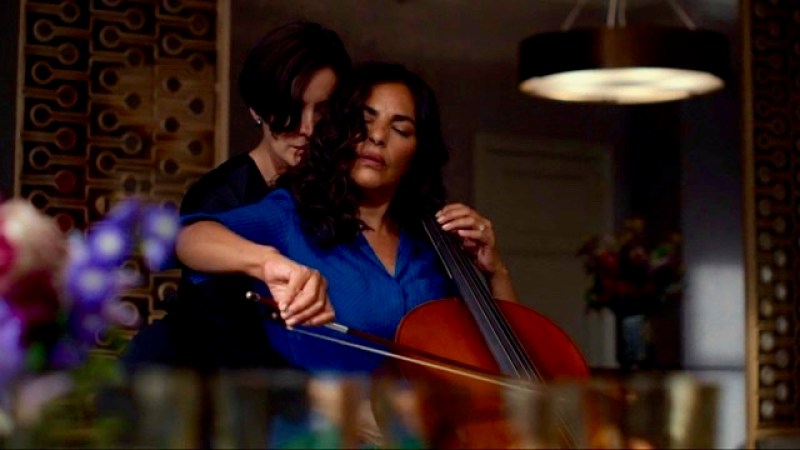 A large part of what makes Jeri Hogarth's third season arc so compelling is her new love interest, Kith Lyonne. I don't have to be intellectual about this – Kith and Jeri are really fucking hot together. They have sex while Kith plays the Cello and later again, in public, during a New York orchestra performance. Women over 40 having great sex with each other is one of my favorite things and we never have enough of it on television. Sure, Kith's relationship with Jeri ultimately becomes ensnarled in everything that makes Jeri impossible to cheer for – but damnit the sexiness of their relationship almost makes it worth it.
Jerilyn Hogarth isn't the only one who finds her last turn to be completely sowed in classic "superhero questions" of good vs. evil or intention vs. impact. Jessica Jones' third season is a 13-hour meditation on what it means to be a hero. Who's allowed the title? Can take it upon ourselves? Is it something that society demands of us? What separates heroism from vigilantism? Is there ever a line that divides the two?
It's thoughtful premise, pensive, and to be honest, it doesn't always work in the show's favor. It took almost half the season to find myself invested in Jessica Jones because of its slow pace. Watching the spiraling of Trish is finally what pulled me in.
Trish ended the second season having gone through an almost life-ending surgery to get super powers. If you're a fan of Marvel comics, you already know that Trish Walker becomes Hellcat – a member of both The Avengers and The Defenders. While she's never called Hellcat in the Netflix series, references to her feline powers abound (my favorite includes a very bloody, but cathartic, literal clawing off of a villain's face). However, if you were excited for the dynamic duo of Hellcat and Jessica Jones as superhero besties fighting crime in the Big Apple – well, let's just say that Jessica Jones takes another another path instead.
Trish has never hidden that she envied Jessica's gifts. This season she discovers the work behind the metaphorical superhero mantle is not as easy as it first appears. I'm not just talking about the physicality of the job, which Trish trains for masterfully, but the mental strain. Trish killed Jessica's mother at the end of Season Two, and the emotional fallout of that decision haunts both women for the entire last thirteen episodes. I know that fans of the show who've envisioned Jessica and Trish's relationship as romantic may feel differently about this than I do, but I loved that their final arc centered itself on the intimacy and complications of their sisterhood. There were times when it felt like a love letter. Not all love is easy.
Technically there is a Big Bad in Jessica's last season, some serial killer named Gregory Sallinger who's based off of the supervillain Foolkiller in the Marvel comics, but he's lackluster. I couldn't help but wonder if we were meant to consider Trish as this year's main antagonist instead – or at least the possibility of who Trish almost becomes, lost to the madness of her own power. She never learns that strength is always matched in turn by vulnerability, that superpowers can not keep in you a bubble away from pain. It makes her more dangerous than perhaps any villain Jessica's encountered since Season One's Killgrave (who, as far as I'm concerned, is in a terrifying class of his own).
My biggest fear for Jessica Jones' final season was that it would ruin the bond between Jessica and Trish. While they are violently stretched thin all season, I don't think they ever shatter. Still, it's probably not the kind of satisfying conclusion between the two that fans want.
From the beginning, Jessica Jones has been a super charged allegory for stories about abuse and survival. That's more true than ever in its third act. Jessica and Trish have both lived through childhood abuse, both are survivors of emotional manipulation and, at different points in their life, rape. Through it all, they depend on each other as a guiding port in the storm. Their connection is fierce because it comes from seeing each other in a way the rest of the world refuses to see either of them. It comes from being each other's protector, each other's compass.
In the end, Jessica represents someone who breaks the cycle of the abuse she's been subjected to. In a cruel final twist, Trish becomes the other side of that coin. She's an abuse victim who grows up to perpetuate the violence once enacted against her. The change happens so slowly – you nearly don't feel it for most of the season. By the time you realize what story Jessica Jones is really telling, it's too late to look away.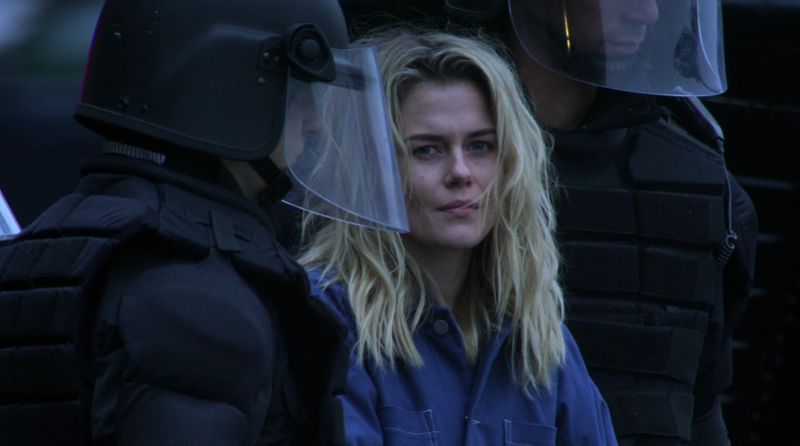 Krysten Ritter, Rachael Taylor, and Carrie-Anne Moss ground the final season with standout performances. I'd also be remiss not to mention Aneesh Sheth, who has the thankless but absolutely necessary job of bringing levity to a season that's otherwise marred in its own self-pity and sorrow. She's Jessica's new assistant, Gillian, and she's breaking new ground as the MCU's first trans character (played by a trans actress of color, no less). Did I mention she's hilarious?
After drafting a team of all women directors for its second season, I was disappointed to see that Melissa Rosenberg did not to keep the tradition alive for Jessica Jones' final outing. Certainly, there are still a lot of women filmmakers who deserve the much-needed exposure and work. Jessica Jones had a lot of heavy-lifting ahead to accomplish in its last season, not only for itself, but as the concluding chapter of the Marvel-Netflix story book. It's a lot to ask out of anyone, and to its credit Jessica Jones shoulders that mantle willingly.
The white men of Daredevil may try to take all the glory, but ultimately the final word is hers — and ours.