When FX's hit series Pose returned for its second season, Sandra Bernhard's tough, crass, but caring lesbian nurse, Judy Katz, was upped from a guest character to a series regular.
Pose's first season had already been about more than the glamour of the ballroom; it had been about chosen trans and queer families fighting and loving together, creating a community with each other when the rest of the world was happy to leave them discarded. It was (and is) about the desperate tenacity to hold on to the glimmer of your own light, even when the long shadow of HIV/AIDS haunts everything around you. Bernhard's Nurse Judy worked in the HIV/AIDS wing where Billy Porter's Pray Tell spent the final days of his boyfriend's life. She was certainly memorable, but auxiliary. Now in the second season, she's being brought into the center fold.
In the Season Two premiere, Nurse Judy tells Blanca (MJ Rodriguez, one of the show's trans Afro-Latina protagonists) that her HIV diagnosis has turned into AIDS. Then she guides Blanca through the process of medication and AZT exchange, where those who have died of the virus and could afford the life-extending pills donate their remainder to the communities most in need. Nurse Judy and her girlfriend are among those who facilitate the pick up. Later, after meeting Pray Tell at the funeral of a mutual friend, she takes him to an activist meeting. She links arms with her girlfriend as Pray Tell takes in the scene around him, fists in the air as the group begins to chant "ACT UP! Fight Back! Fight AIDS!"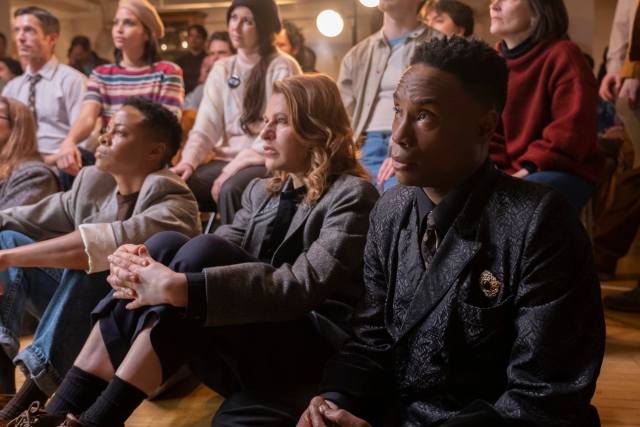 It's not a coincidence that Nurse Judy was designed to be a nurse on the HIV/AIDS hospital wing; that she was a part of the underground pill exchange; that she's our introduction to Pose's take on this famous and crucial activist space. The AIDS Coalition to Unleash Power (ACT UP) is a groundbreaking organization that advocates for radical social and institutional change for people living with AIDS (PWAs) through a variety of avenues – including direct action demonstrations, legislation, medical research, and accelerated drug approval.
The history of the organization, much like the history of the virus itself, is often centered on the stories of gay and bisexual men. In the last years, queer historians have rightfully restored trans women's stories as a major part of that narrative as well. However, the lesbian, bisexual, and queer women who played large roles in caring for the sick and dying, who lifted up and labored for organizations like ACT UP, are frequently pushed to the sidelines of history with the passage of time. By growing out the character of Nurse Judy, Pose writer/director/producer Janet Mock promised fans on Twitter that the show was "working hard this season to reclaim the contributions of those women who tirelessly worked to protect/defend/advocate for their communities."
It was Janet's tweet that caught my attention. I realized that even though I'd vaguely heard or read about "the lesbians of ACT UP,wp_postsI didn't really know enough about the specifics. Who were these women? What was their history?Lesbian and queer women not only held powerful positions in ACT UP's leadership. They were equals in the grassroots fight against AIDS.
Maxine Wolfe, one of founders of ACT UP Women's Committee/Caucus and later co-founder of the Lesbian Avengers, recalled in ACT UP's Oral History Project that when she first joined the organization in June 1987, "I went up to this guy and I said, 'Are there any lesbians in your group?' And he said, 'Yeah,' and the next day I showed up and there were four visible women and two of them were straight."
In an interview with Broadly, ACT UP member Alexis Danzig agreed that the organization began with only a "sizable, vocal lesbian minority." However, those small numbers were outsized by their impact. ACT UP is perhaps best known for its mixture of sharp, intersectional analysis and at times theatrical direct demonstrations, which galvanized media attention to the ongoing AIDS crisis and helped bring forth concrete results for those living with the virus. The skills behind those actions were shared and taught in part by the organization's women, who were large parts of developing ACT UP's strategic focus. They hosted trainings in non-violent civil disobedience for members.
Many ACT UP queer women joined the organization already having years of political organizing experience from work in civil rights, anti-war, feminist, and LGBT movements. As Wolfe remembered, "Even though the lesbians were a small group, we were the people who had done politics. We were the people who did the civil disobedience training. We have always been the marshals. We have always been the logistics people because we came out of that kind of background."
One of the most historic ACT UP actions happened at St. Patrick's Cathedral in New York City on December 10, 1989. Roughly 4,500 protesters, mobilized by ACT UP and WHAM! (Women's Health Action and Mobilization), gathered outside of a mass at the cathedral. First, a few dozen activists entered the sanctuary, interrupting mass by chanting slogans and laying down in the aisles. They were followed by more protestors, creating a "die-inwp_postson the church floor (the event is recreated in Pose's Season Two opener, with the show's main characters – including Sandra Bernhard's Nurse Judy – reimagined among the crowd of protestors). Over 100 protestors were arrested.
Journalist, writer, activist, and ACT UP member Anne-Christine D'Adesky was there. She planned on remaining a neutral bystander, reporting the incident the sidelines. But as she went inside the church, she knew that writing about the action wasn't going to be enough. Inspired by the groundswell around her, she joined in on the protest. "I just couldn't do it,wp_postsshe recalled. "I couldn't sit it out.wp_postsAs she was carried out of the cathedral by NYPD in handcuffs, she called out to the other reporters gathered outside. Even while caught up in passion, she had the wherewithal to make sure someone else was recording the event. She knew that this day would be one that counted.
Despite this concerted effort of group training that was the backbone of ACT UP's work, like many movements before it, often the organization became subject to a mythos that their success was due to the exceptional work of a single man. For ACT UP that tale began right at its founding. As it's been told, ACT UP was formed in March 1987, following a history-making speech from playwright and activist Larry Kramer. The speech, given at New York City's Lesbian and Gay Community Center, called out the Gay Men's Health Crisis (GMHC) for being willfully incompetent in the face of the HIV/AIDS epidemic. Supposedly Kramer asked the audience, "Do we want to start a new organization devoted to political action?wp_postsand two days later, approximately 300 people came together to form ACT UP.
It takes little away from the important legacy of Larry Kramer's work to point out that his speech, though certainly memorable and rousing, did not single-handedly create a generation-defining activist stronghold. "Everyone sort of thinks that ACT UP came out of the blue,wp_postssaid Maxine Wolfe. "In fact, there's a certain mythology that Larry Kramer gave this talk one night at the Lesbian and Gay Community Center and everyone went 'Oh my God' and then they formed ACT UP as if nothing had been there. As usual, that's not true. That's a discontinuous history."
According to Gender Studies professor Ann Cvetkovich's An Archive of Feelings, ACT UP's genesis came from a wide variety of established gay and feminist activist groups with large numbers of women and people of color dating back to the 1970s, including Feminist Women's Health Centers, Women's Pentagon Action, and the Seneca Peace Camp, among others.
Despite this erasure, the lesbian, bisexual, and queer women of ACT UP made a home for themselves. In an interview with Ann Cvetkovich for An Archive of Feelings, Marina Alvarez, a HIV+ Puerto Rican member of the organization, reminisced, "Every time I would come down there with my two dark-skinned little boys, and my red and orange hair from Miss Clairol, from the South Bronx, never once did I feel like I didn't belong there. Never. On the contrary, I was always made to feel welcome."
In the same book project, Maria Maggenti agreed that ACT UP created a family: "From the outside, it looked like everyone was always yelling, 'Fuck you government, and fuck you –,' but in fact, the kind of behind-the-scenes of it was a lot of parties, a lot of drinking, a lot of eating, a lot of love affairs, and extraordinary friendships. That's what kept me in it for so long."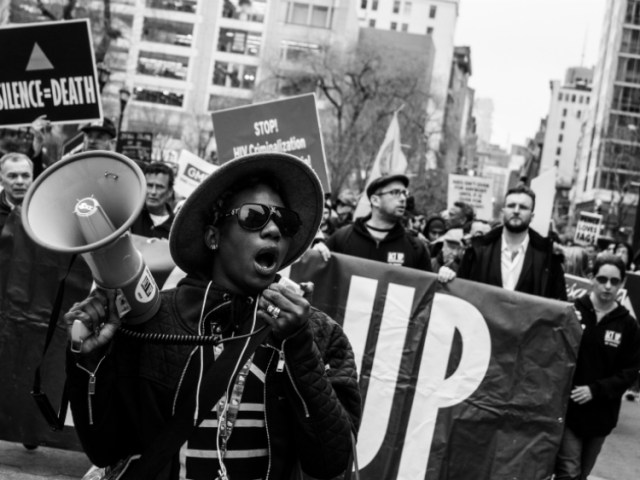 And the family created by those women activists continues. The original women of ACT UP went on to make films, visual art, write novels and 'zines. They began tending to the Lesbian Herstory Archives and form new queer women's activist groups. As for the organization itself?
ACT UP may not be storming churches regularly anymore, but they are no dusty relic from our queer past. Our fight to eradicate AIDS – to make sure those most vulnerable have access to safe and necessary medication and a promise of security from our government for their wellbeing – is far from over. They will keep going until it is. You can still find them meeting every Monday, 7pm – 9pm, at the LGBT Center in New York City.
ACT UP. Fight Back. Fight AIDS.