How do you show up for yourself? How do you show up for family? What are you willing to risk for an attempt at your dream and what are you willing to do to protect it? In "Butterfly/Cocoon," multiple Pose characters confront these questions for themselves.
Angel makes it to the final interview for the Fresh Face modeling competition. She's asked why she "deserves" to be the Fresh Face which is a hard question to answer when you're someone who doesn't believe you're deserving of anything. Angel says you don't have to beat her face to get her camera ready, and vogues a little, but Mrs. Ford, the lady in charge of the competition, wants more. Angel mentions her heart and being the kind of person people come to for advice, amazing qualities and signifiers of someone who prioritizes community.
Angel would have my vote, but Mrs. Ford tries to end the competition there — but Angel stops her; she wants to know if she isn't going to be asked why she wants to be the Fresh Face. Sensing a moment, Mrs. Ford gestures to the person handling the camera and they keep filming. Angel talks about being told she would never be anything and how she sometimes still believes it. Angel wants to be an example to everyone who thinks they won't amount to anything. She leaves the the interview with the confidence of someone who's spoken her truth, and she goes to the place that welcomes all of her: the ballroom.
She's greeted by people inquiring where she's been — she pauses for a few seconds with each person and tells Blanca and Papi that she thinks she "got it" — and wishing her good luck with her modeling career, and she struts straight into the Femme Queen category and receives all 10's from the judges, winning the category.
Unfortunately, Angel doesn't win the competition and watching her tell her family — who stand by the phone all smiles and ready to congratulate her — is painful. Angel lashes out at Blanca, telling her she's done with her "stupid dreams" and storms out. I get where Angel is coming from; she pushed past so many voices telling her she was worthless and dared to go after her dream so failure feels like confirmation that she isn't good enough. Angel hasn't learned yet that part of chasing your dreams is learning to fail and that failure can be a success of its own. You only fail when you try and trying is an accomplishment. You can be talented and brave, and worthy — Angel is all of those things and more — and still fail and that's a hard truth to deal with. You have to hold the truth that you will fail while believing in the seemingly contrary notion that you can achieve your dreams.
Papi follows Angel and reminds her that one failure doesn't mean her dream is impossible. He still sees that for her because, as he tells her, it's her destiny. Angel kisses him(!) and I whoop in my living room, possibly waking my roommates because I love them together with my whole heart. Does anyone know what their ship name is? Angel suggests getting a room, but Papi tells her he wants to take her out on a date first. He's known she was "the one" since he first saw her, and he's been waiting for her for a long time. He doesn't want to rush.
Angel doesn't give him an answer immediately because next time we see them, Papi, confronts her about avoiding him. He tells her that she should just reject him, that he can take it and that he knows it was a pity kiss. Papi isn't self-sabotaging anymore but he still doesn't believe he's worthy. He and Angel are mirrors; they both went after the life they want but don't believe they're worthy of and they both think they failed. Angel doesn't think Papi isn't worthy though, she's just scared of messing up what they already have. Papi asks for a chance to show her that they can be more, kisses her and tells Angel he'll take her anywhere she wants. Blanca — who's poked her head around the corner to watch her kids — hilariously quips "who needs The Young and The Restless when you've got this right here."
Angel and Papi's date never happens because Angel gets called in to be one of the new faces of Wet-n-Wild's spring collection. The photoshoot — where Angel is pampered like the queen/brat she is — goes past the time of their date, so Papi is left hanging outside Barbetta, a restaurant with a notoriously exclusive clientele that Papi somehow managed to get into. I worried Papi would act out of character and get upset at Angel for following her dream but he stays true to form. Papi's hurt but genuinely happy for Angel. He congratulates her and tells her she doesn't have to apologize, but he also tells her that she's his dream and that he's a catch.
I identify with Papi a lot; he moves through the world kinda like me, ready for rejection and sometimes hastening its arrival. He loves like me too; with an open palm and maybe demanding too little because he's grateful to have anything at all. Hearing him say that he's a prize and seeing that he believed it was a revolutionary moment. The powerful thing about Angel's speech at the beginning of the episode about being an example is that Pose is doing just that. Papi's doing that for me and after this episode, I believe in my own worth a little more. At the end of the episode Angel, Papi, Blanca, and Damon go see Angels face blown up big in the makeup aisle. She's made her mark but she's just getting started.
The other storyline this episode is Elektra's. She's already arrived at her dream, she just wants to preserve it. Her client Paul shows up with a mask that doubles as a slow release device for his poppers. Elektra agrees to use it during their session in exchange for a higher fee though she's not happy about it. She ties him up and leaves him for 20 minutes at his request. By the time she gets back, he's dead.
Elektra spends the rest of the episode figuring out what to do. She goes to Blanca first but finds her advice — to call the cops — unsatisfactory and goes to Candy instead. Candy tells her she's screwed but she also introduces her to Euphoria, another Dominatrix who tells them not to go to the cops and shares her experience at Rikers where she was offered what she thought was kindness from a guard but "he was just making [her] pretty so he could pimp [her] out".
After this conversation, Elektra tells Blanca that she's out of the conspiracy circle. She knows it about to escalate and she doesn't want to endanger Blanca. This is the part of Elektra I love the most and we get to see more of the Elektra that took Blanca in. After Blanca leaves, Candy takes Elektra to Ms. Orlando, the woman who performed her discounted surgeries last season. Elektra flashes some money and they manage to buy her help. Ms. Orlando's plan is to mummify the body, so they head back to the scene of the death, stuff Paul — who Candy recognizes because he was banned at the strip club she works at for hitting the women — into a suitcase, take him to Elektra's room, douse him in lye and sew him up in in pleather. He's stuffed back into the suitcase and Elektra's closet where he will potentially remain for the rest of her life.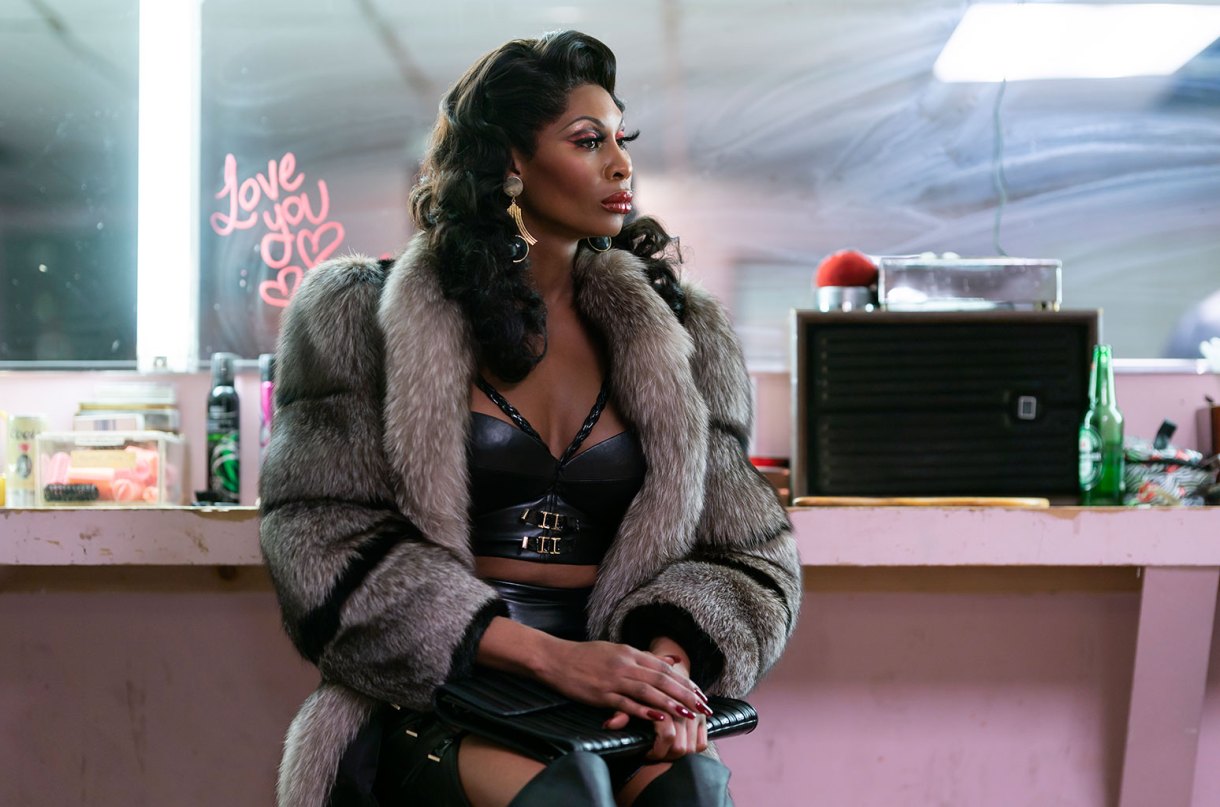 Later, Blanca checks in with Elektra at a bar and they both share that they've been having nightmares. Blanca tells Elektra that Candy's been running her mouth about Paul but half of the girls don't believe her, and the half that do understand her choice. They hold hands across the table and have another one of their moments. Blanca shows up for Elektra every time and Elektra only seems to let down her guard around Blanca. They both agree that they "may cut each other up like a pack of alley cats" but when it comes down to a choice between community, or the outside world it's community first. The scene ends there but despite Blanca's reassurances that this will all blow over — Paul has been reported as missing but interest isn't high — I doubt that this is the end.
Angel and Papi dared to chase after their dreams, Elektra leaned on her family to protect her dream and they supported her despite how she treats them. I'm worried about Angel and Papi (I don't think my heart could handle it if they broke up) and I'm worried about the repercussions of Paul's death but I'm grateful that Elektra's letting herself open up more even though it's only to Blanca and I'm excited about Angel's future and her relationship with Papi.