Wow this really is a time we're living in, isn't it? Here's some TV to help you get through it:
It was the Season Three finale of The L Word on To L and Back, an event that feels as if we've been building to for weeks and is indeed finally here. Dreamer and Supergirl teamed up to fight transphobia on Supergirl. It's no The Nanny reboot, but Fran Drescher's new sitcom Indebted has an adult lesbian daughter who keeps her puppy in BabyBjörn, so we love her. On Legends of Tomorrow, the Legends said goodbye to Ray and Nora with a Shakespearean flourish. Netflix's "Feel Good" insists that deeply flawed queer people are worthy of love. And "Last Tango in Halifax" Season Five has a lot to love (if you can forgive it for Season Three).
The TV Team is also here to cover your social distancing entertainment needs! This week we released a list of all 42 Hulu streaming TV shows with lesbian and bisexual women characters and we hosted: Ask Us Anything: What To Watch While Social Distancing, From Noted Queer Experts! You can click that link at any point all weekend, and we will be glad to help!! Please put our minds to good use! 💗
Notes from the TV Team: 
+ 9-1-1 returned from its extended midseason break this week and, truth be told, I was a little disappointed: the emergencies seemed a little less outrageous than usual and (!!) our fave, Hen, didn't get a lot of screentime. That said, a big thing happened during that limited screentime: Hen and Karen brought home their new foster child! — Natalie
+ Top Chef kicked off its 17th season with a battle between some of the show's best former cheftestants. Representing for Team QUEER LADY: Lisa Fernandes (runner-up in Season 4), Melissa King (4th place finish in Season 12) and Karen Akunowicz (7th place finish in Season 13). All three survived a tough elimination challenge and will live to cook another day. — Natalie
+  Sadly The Bold Type wasn't gay this week!! But it was without a doubt there best episode in at least a month, so I wouldn't want you to miss it! Sutton's Bachlorette Party was full of laughs and bad drunken decisions and friendship, all things that brings The Bold Type into its best light! Bonus Gay Points: A Raven Symoné guest spot, and for Kat getting closer to solving the RJ Stafford supports conversion therapy mystery.  — Carmen
+ Maya and Dr. Orgasm only briefly shared a screen this week on Station 19. But that brief time together included Carina whispering encouraging (and hot!!) Italian into Maya's ears while they laid together in bed, so I figured you would want to know.  — Carmen
+ I watched the first season of High School Musical: The Musical, The Series this week and as someone who love-love-loved those movies (I'm talking, spent many a Saturday learning the "We're All in This Together" dance) it was a very cute homage to it (with some delightful lil cameos) and the lead girl, Nini, has two moms! We only ever see one mom at a time, but she talks about her moms a lot and it's cute and chill and not a thing anyone talked about in any detail. There's also a cute storyline about two of the teenage boys going to the dance together, and the one who plays Sharpay feeling more like himself with neon stage makeup on. All in all the show was very cheesy and definitely made for a YA audience, but also very cute and the queer subplots were very surprising for a Disney+ show. — Valerie Anne
---
Batwoman 115: "Off With Her Head"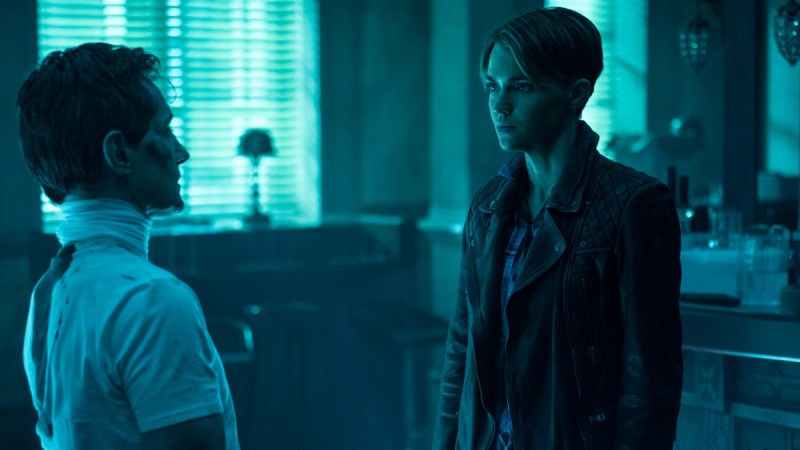 Kate Kane killed her first human on this week's Batwoman, in an episode that was about as horror-y as it gets in the Arrowverse, but with a tone that was keeping right in line with Batwoman's comic book history. "Off With Her Head" features an actual severed head that's been in a freezer for a decade; the very severed head, in fact, of Kate and Beth's mom, Gabbi. Turns out Cartwright — the guy who kidnapped Beth and tortured her and also taught her how to make masks of other people's faces for his son Mouse — had Mama Kane's entire fucking head in frozen storage because his mother was obsessed with her and wanted to wear Gabi's face as her face. (I know this sounds like the kind of shit I used to make up when I was recapping Pretty Little Liars, but this is really what happened on this show!) Of course Beth ended up finding the head and killing Cartwright's terrible mother, who also took some Dolores Umbridge-style turns torturing her when she was a kidnapped child.
This all comes to light after Cartwright reveals that he's kidnapped Alice and hooked her up to Scarecrow's fear toxin, and the thing she's most afraid of is the image of her own mother. Jacob saves her. Kate beats Cartwright to death. Afterward, she's sitting alone in an alley and thinking about texting Sophie to blow off some steam, but Alice wanders out and says she's got a lot to learn about being a murderer. For example, she hopes Kate isn't sleepy because they're absolutely going to be up all night burying that body.
I'm not sure if they're headed for a redemption arc with Alice. I'm not sure she can be redeemed — but my god, what an absolutely horrifying life that poor girl had.
---
Twenties 104: "You Know How I Like It"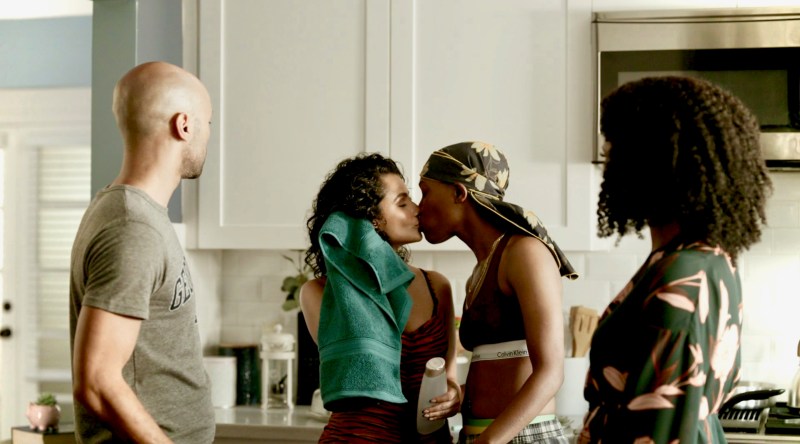 When Hattie saunters into Marie's kitchen in just her sports bra and a do-rag, three things happened: 1. I blushed (Jonica "JoJo" Gibbs is capital "F" foine and I'm only human after all), 2. I was once again stunned how far BET has come since my childhood and adolescence, we aren't quite all the way there, but wow it's mind-blowing to see how far we've come, 3. I knew this was going to be my favorite episode yet.
Scratch that, when Hattie's hookup from last night, Syriah, comes in to share a kiss in the kitchen while Marie looks upset (In summary, Marie to Hattie: We agreed you'd ask before having guests over, Hattie: I sent a text!, Marie: It was 3am!), that's when I knew this was going to be my favorite episode.
In addition to Syriah No Last Name, Hattie is still doing the on-and-off-again thing with resident Mommi in Charge Lorraine, who treats Hattie like a fuckboi plaything to keep her entertained during her spare time. Lorraine might need to move over because peak Bette Porter-style hottie Ida B. has her sights set on Hattie and spent the episode looking at our young Writer's P.A. like she was a picnic basket and her name was Yogi Bear. But I'm getting ahead of myself.
After some encouragement from her mom, who FaceTimed to casually ask if scissoring was a real thing (Kym Whitley: "I saw it on lesbian porno!" Hattie: "That shit is for dudes." Kym: "I'm just trying to understand you!") and a helpful reminder that she didn't pay for college for Hattie to be acting like a slave, Hattie asks for more creative responsibilities at work. In response, Ida sends Hattie on a wild goose chase to find some research documents that the writers need for the show. If you've ever seen Lena Waithe talk about her quest as a young assistant to get Whoopi Goldberg on the phone for producer Gina Prince-Bythewood, then you already see this leads.
Basically, in order to cut through red-tape, Hattie needs the black community hook up. She finds it in guest star Darryl Stephens — And dear reader, I SCREAMED when I saw him!!! Noah's Arc 5ever!! Learn your black queer TV history — Ok, anyway, Noah helps Hattie and after a surprisingly well-written and gay comedy of errors, she delivers the research materials back to Ida.
This is when things get verrrrry interesting. Ida invites Hattie to accompany her to a film screening, as a reward of sorts. She dresses Hattie up like a Ken doll in a designer white blazer that looks damn good on top of her Lauryn Hill t-shirt. Now Natalie thinks Ida was using Hattie to make her ex (a woman) jealous, and I think that Ida was grooming Hattie for future inappropriate work flirtations. BUT We Both Agree that whatever happened — it's gay, and I can't wait to see what comes next.
---
Legacies 215: "Life Was So Much Easier When I Only Cared About Myself"
The fight for Josie's soul is on, and Hope is leading the charge. She's the only person who has gotten through to her so far, and with Landon potentially out of the picture (yeah right, I'm not that lucky) maybe they really will do the Elena/Stefan/Damon bait-and-switch I was hoping for. (Though I'm not sure where that leaves Jade… or where Jade was this episode. I guess still trapped in the greenhouse?) Because as much as I'm really enjoying Dark Josie, I, like Hope, miss our strong and selfless girl and hope she comes back soon. At the end of this week's episode, Hope rode her metaphorical steed into Josie's mind palace, so we'll see if she can save the princess, save the world.
PS: Every time they mention Caroline's name I hope she'll appear, but she never does. I'd take her over Ric any day.