One of the weirdest things about TV is that lesbians are generally understood to be the funniest humans on earth, but we're super underrepresented on sitcoms. Oh, we're everywhere on television these days as cops and superheroes and fantasy badasses, but it's a rare and wonderful thing when we're on half-hour family comedies. That's why Fran Drescher's new NBC sitcom, Indebted, caught my attention this fall. The series stars Jessy Hodges as Joanna ("Jo," obviously), the gay daughter of Drescher's Debbie and Steven Weber's Stew, and sister to Adam Pally's Dave. The premise of the show is that Debbie and Stew have to move in with Dave and his wife Abby while they're recouping from blowing all their money and home equity on traveling and shopping during retirement. Jo arrives on the scene in the pilot with a puppy in a BabyBjörn, thus endearing her to me immediately.
If the series feels familiar, that's because you've seen it zillion times, most famously probably with Everybody Loves Raymond, but where it diverges from the clingy family multi-cam herd is how absolutely kooky it is. The fourth episode, "Everybody's Talking About Hot Goss," is the first one to focus on Jo's love life and in a refreshing subversion of the show's sometimes stifling '90s feel, it's actually Jo's family trying to sell her on the fact that they're good enough to meet her girlfriend, Hannah, and Jo being afraid her girlfriend won't accept her family. It is, to be honest, a hard sell, especially because  Jo's family is obsessed with gossip, so their first meal together involves a game where whoever can produce the "hottest goss" wins a brownie for dessert. Hannah ends up getting so offended by their hijinks that she abruptly leaves — you know, I just realized this family doesn't even have last names? We'll call them the Dreschers — and the Dreschers spend the entire episode trying to win her back.
It turns out the reason Hannah's upset about the gossip isn't an ethical objection; it's just that the Dreschers are pulling together a bunch of threads of gossip to discover that she's part of a heterosexual sex cult. "I thought she was the one but she was just 100% in a cult," is an actual line of dialogue. (I told you it's bananas!)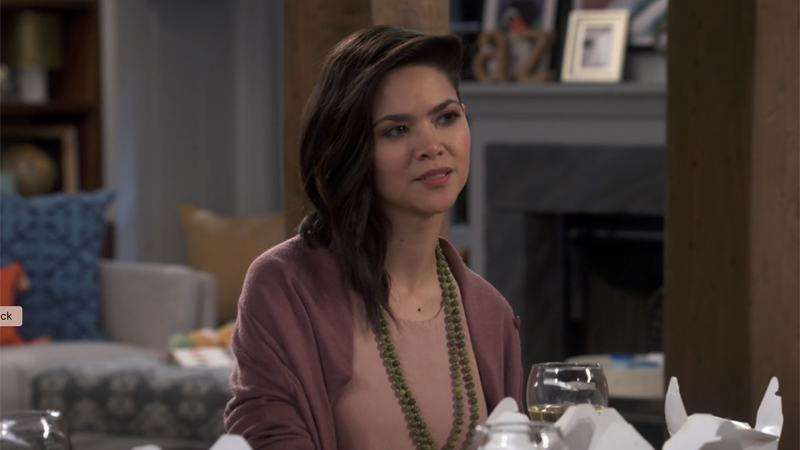 Drescher and Weber are obviously absolute stars at the multi-cam thing. Everyone else, especially Pally, struggles with it a little bit more. And the show, while cute and subversive in its way, struggles on the whole to pull all of the talented pieces together into something coherent over multiple episodes. Character voices and quirks often change between the pilot and the next few episodes, but even six in, Indebted's still not sure exactly which strings to pull on and which strings to let go. Even the show's premise — it's not clear if Debbie and Stew are actually living with their son now, or if they're kind of just close by? However, one constant is that the Dreschers are basically always pouring wine in every scene, and to the top of the glass like some kind of medieval goblet — and that is an accidentally hilarious thing.
While Indebted filled The Good Place's time slot, nothing could ever fill the hole left by one of the greatest comedies ever made. But in the middle of a real-life global pandemic, where everyone who can be inside is inside, and hardly anything can distract us from the news, it's a gentle and silly diversion.