This week on Bomb Girls, Betty McActuallyGerman wants to know if you are ready to rumble, and almost everyone needs to take a serious look at their lives and choices. Except Vera Burr. Vera continues to be a flawless human being.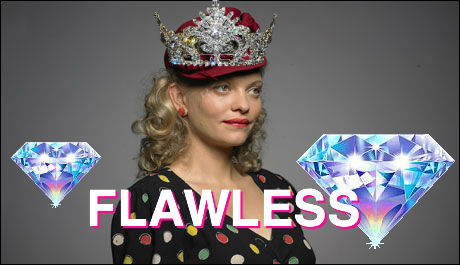 There's a whole bunch of new girls at VicMu, and given the current ratio of lesbians to "mostly straight" chicks at this factory, we can only assume that about three quarters of this crop are gay as a Christmas tree. The Holy Trinity rolls up in Gladys' car and makes what one would describe as a truly gangster entrance. Unfortunately, waiting for them and all other eligible vaginas is Bumhole McSkeezy, aka Gene Corbett.
Unfortunately, Lieutenant Poopdick has his eye on the prize, and that prize is our angel-faced Gladys. Lorna is all up on this situation like white on bread because she will be damned if anyone touches her little goober. Dearest Lorna, your little goober has grown into a giant nutsack and you need to rein his ass in stat. Prime example: Gene does not know the meaning of multiple no's.
Betty and Kate are sizing up the freshmeat, who are recent deportees of a washing machine factory, where I guess they made washing machines? It's unclear. I really wish this scenario would end with a freshman paddling scene a la Dazed and Confused, but oh well.
Outside, Gene is using car euphemisms to try to woo Gladys. Barf. Yeah buddy, she'll never guess what you're onto when you use the line "let me check under your hood." Did you even know that there is such a thing as a clitoral hood, Gene? Or a clitoris? This paltry level of innuendo is wasted on this doofus.
Betty takes over registration and checks in Regina, who goes by Reggie. Oh, sweet baby dyke and Mini!Betty and awesome WOC character, you are one of the many reasons I love this show and all the things it gets right. Needless to say, Reggie and Betty do not hit it off.
Lorna confronts Gladys and basically tells her that Gladys is a skeevy homewrecker who is going to destroy her baby boy's reputation. Lorna, what planet are you living on and how do I get there so I can blow it up and return you to Marco's arms? No, but really, Lorna seemed much happier and more rational in Marco's arms.
Reggie cuts Betty in the clearance line and basically says that she is hot shit. Betty is like hot shit in your diapers, you mean. It's cute because they're the same person, give or take ten years.
Gladys is quick to point out to her bro that the two of them are butting heads because their heads are more or less identical.
Betty: The only thing bigger than that girl's mouth is the chip on her shoulder.

Gladys: Gee, reminds me of my friend.
Up in the office, Mr. Akins needs a new office manager, which means it's time for some hilarious hijinks when Vera faces off with that bitch Carol! This is like that time my friend and I fell for the same girl and baked her endless amounts of cookies and kept inviting her over for burgers. Plot Twist: It turned out she was vegan and hated both of us.
On the floor, not to be confused with that J.Lo song, Reggie and Betty continue to face off.
Betty continues to be appalled that anyone could not be fed up with her mini-me. Gladys has decided to Switzerland this situation and stay the fudge out of it until Betty realizes she is in a wrestling match with herself.
Vera and Carol are giving Mr. Akins a laundry list of things they've been doing around the office, but Mr. Akins really doesn't care. Mr. Akins just wants to go home and shine his bald spot, okay? I didn't even mean that in a dirty way, but now I'm rereading that sentence and there's no other way to interpret it.
Vera says that she is definitely the lady for the job because she's been both on the floor and in the office. I didn't mean that sentence in a dirty way either, but there you go.
Reggie and Betty continue to butt heads in Ye Olde Dining Hall, where Reggie equates Betty with Hitler. Come on, Reggie! Didn't you see last week's episode? German stuff is a tender spot with Betty McActuallyGerman!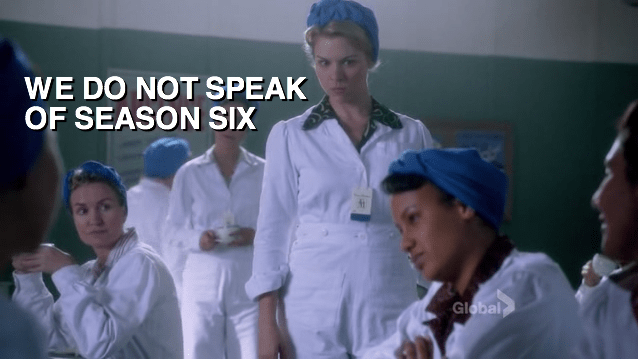 Gladys is told that she has a call from overseas, but it's just Gene pretending to be her boyfriend and convincing her to cheat on James? Wow, that is actually really fucked up. Major Fuckwit needs to calm his tits and start respecting boundaries.
Down in Ye Olde Factory Line, Reggie and crew are meant to be removing sharp parts of the bomb so Gladys and Betty and crew don't cut themselves while buffing them? Or something? Contrary to popular belief, I have never actually built a bomb before, although I have certainly dropped metaphorical bombs on my imploding relationships. Gladys' hand is cut by a non-buffed bomb and she faints adorably.
Betty senses that something is afoot in the factory and its name rhymes with wedgie. And if there's anything Betty feels about wedgies, it's that she needs to pick them the fuck out.
Marco is being interviewed by a detective who is on his father's case. It is mysterious and Marco is confused. Turns out his father's case was denied and there's no way he's being let loose to share his cannolli with the world. It's all up to Marco's little cannolli now.
Carol and Vera continue to battle for Mr. Akins' attention re: promotion. It's weird.
Turns out that Gladys' cut was actually a brain aneurysm because that's the only way I can explain her accepting Gene's date on the beach. Damn her for looking so perfect and angel-faced while doing it.
Over at the Jewel Box aka Where Everything Gay Happens Ever, Marco decides he is going to teach Kate how to flirt. He insists that she try her techniques out on Betty. This is both precious and heart-breaking in the way this show is always precious and heart-breaking.
Marco: Practice on Betty.

Betty: You're an idiot. I'm not a guy.

Marco: Would you help a friend out? Come on, say something funny.

Betty: Something funny.
Betty's expression leads us to believe she is having a lot of difficulty dealing with this situation.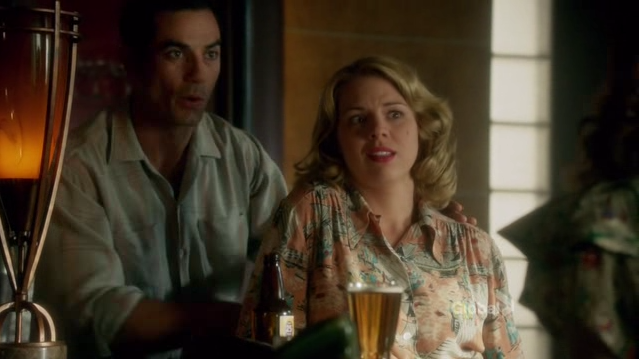 Carol sees Vera picking up a soldier. Carol is all over this shit. Vera is like bitch I am eating steak tonight.
Lorna pulls some Godfather shit and goes to speak with Mrs. Witham about Gladys' activities with her son. They have a Helicopter Mom Face-Off and it's scary.
Over at Rash Decisions Beach, Gene has somehow managed to get Gladys out of her clothes. Gladys, did an alien steal your brain?
Lorna discovers that Reggie has been sleeping at the factory, and that she's been on her own since she was 14, which explains her extra tough scrappiness. I kind of love Reggie, guys, even if she is a Shenny shipper.
Mrs. Witham stops by to give Gladys a talk about not sleeping with boys that aren't your boyfriend. It also seems to a thinly veiled rehash of someone in the Witham family cheating on someone else? Gladys is like, whatever, mom, I am using an alien's brain now and barely understand what you're saying.
Vera thinks they should have a mixer to help the new girls fit in better. Because let's face it, there is noting in the world that can't be solved by Robyn and cheap liquor.
Carol tells Gladys she has seen Vera sluttin' it up. Gladys is like, I just joined her Slut Pride Girl Gang and we are uninviting you, Carol. I feel sorry for Carol. It's not her fault she's super square and has had no exposure to nice people. Some day she is going to discover the world of tumblr social justice and have a lot of great outlets for her destructive feelings.
The mixer is underway and it looks about as fun and socially lubricated as the first two hours of Ladies' Night. Gene shows up because General Assmunch clearly has nothing else to do with his life, and Lorna tells him that Gladys wants to "use him." Lorna, did you get an alien brain too?
Carol has set up the most lesbian game possible called Pass The Orange which I didn't even know was a game that could be played and *not* lead to gay sex acts.
Betty decides this as good a time as any to confront Reggie about being her personality twin. Betty, you're killing me.
So that doesn't go very well.
Gladys and Gene are in Gladys' car going for that long innuendo-filled drive we'd all dreaded. R.I.P. Gladys' taste in men. Again, I am blaming the alien brain that is the only way to explain this behavior.
Kate tries to flirt with Ivan's buddy Buster, whose name I was really hoping was Buddy, but he blows her off. Ivan is that Token Nice Guy and gets her some punch, but everything about this interaction is giving me Really Bad Feelings in my Lesbian Department.
Reggie and Betty come to final terms. All I want is for Betty to take this baby dyke under her wing and teach her the ways of the pantsuit. Anyway, they make amends, and it's adorable.
And so, a Lil Broship was formed.
Gladys and Gene get into a near car crash because Gene's a fucking idiot and then they are overcome by their loins. I just…no.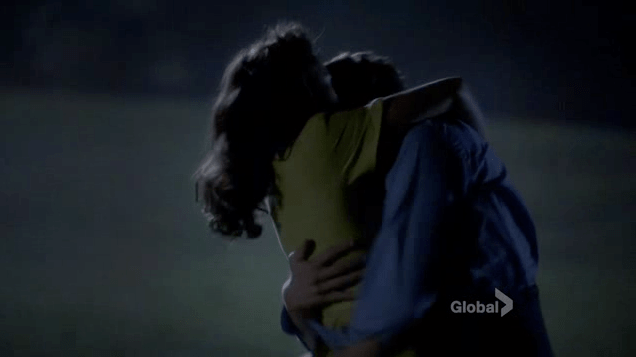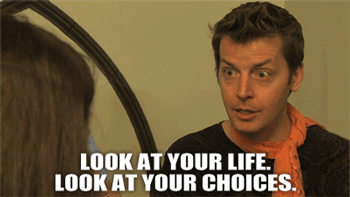 Carol gets a sleazy guy to slut-shame Vera by saying she'll bang anyone for a pair of earrings. Low blow, Carol. Super low blow. You're gonna need a lot of tumblr processing to figure out where you went wrong here. Vera insults the dude's manhood and walks out with her head held high. Vera, you are flawless.
Gladys and Private Dickhole are in the middle of the dirty when they are stopped by the cops who I guess have nothing better to do than disturb outdoor sex in the countryside? I mean, I know Canada doesn't have crime or whatever, but this seems like overkill.
And guess what? The cops called her PARENTS! Ugh, Gladys is so grounded. So much for homecoming and prom and Mackenzie Zales' party.
Vera is still human so that whole stunt Carol pulled makes her upset. Marco goes to comfort her, and can I just say that Marco would have probably made a really great dad to the little cannoli? R.I.P. Baby Cannoli, your dad gives great hugs. Vera says she doesn't regret any of her choices. High five to Vera, high five to the Bomb Girls writers, high five to everyone who made it possible for a girl to do what she wants with her body on a show and make it a-okay and not something to be ashamed of.
Since there was a minimal amount of heartbreak in this episode, everybody get your feelings out because they're about to be trampled! Kate and Betty are PAINTING EACH OTHER'S NAILS. Gay, gay, hands, gay, hands, gay. I mean, this happened:
Kate says that Ivan asked her out. Holy Ripping Out My Soul, Batman. Betty's face when Kate asks for approval pretty much destroyed any hope I had of feeling joy again. I feel like the show's OTP is actually Betty/Deep Personal Pain.
He's a nice guy. You could do a lot worse.

Are you sure it's okay?

Mhm. Help me pick out a dress?

Sure.
Mr. Akins says Vera would be the best pick for office manager but he can't give her the job after what happened at the party from hell. But he definitely won't give the job to Carol either, so technically Vera wins. She is flawless queen of this office and the world.
Reggie is going to stay with Lorna now, which is the one redeeming thing Lorna has done this episode. Alien brains, I am telling you. Speaking of brains, it looks like we're gonna tackle a PTSD storyline soon.
Pages: 1 2 3See entire article on one page