Gladys is told that she has a call from overseas, but it's just Gene pretending to be her boyfriend and convincing her to cheat on James? Wow, that is actually really fucked up. Major Fuckwit needs to calm his tits and start respecting boundaries.
Down in Ye Olde Factory Line, Reggie and crew are meant to be removing sharp parts of the bomb so Gladys and Betty and crew don't cut themselves while buffing them? Or something? Contrary to popular belief, I have never actually built a bomb before, although I have certainly dropped metaphorical bombs on my imploding relationships. Gladys' hand is cut by a non-buffed bomb and she faints adorably.
Betty senses that something is afoot in the factory and its name rhymes with wedgie. And if there's anything Betty feels about wedgies, it's that she needs to pick them the fuck out.
Marco is being interviewed by a detective who is on his father's case. It is mysterious and Marco is confused. Turns out his father's case was denied and there's no way he's being let loose to share his cannolli with the world. It's all up to Marco's little cannolli now.
Carol and Vera continue to battle for Mr. Akins' attention re: promotion. It's weird.
Turns out that Gladys' cut was actually a brain aneurysm because that's the only way I can explain her accepting Gene's date on the beach. Damn her for looking so perfect and angel-faced while doing it.
Over at the Jewel Box aka Where Everything Gay Happens Ever, Marco decides he is going to teach Kate how to flirt. He insists that she try her techniques out on Betty. This is both precious and heart-breaking in the way this show is always precious and heart-breaking.
Marco: Practice on Betty.

Betty: You're an idiot. I'm not a guy.

Marco: Would you help a friend out? Come on, say something funny.

Betty: Something funny.
Betty's expression leads us to believe she is having a lot of difficulty dealing with this situation.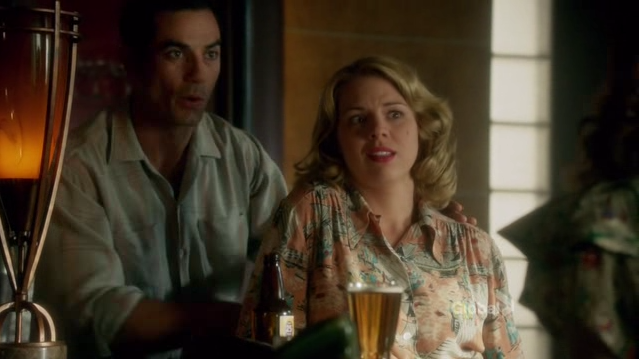 Carol sees Vera picking up a soldier. Carol is all over this shit. Vera is like bitch I am eating steak tonight.
Lorna pulls some Godfather shit and goes to speak with Mrs. Witham about Gladys' activities with her son. They have a Helicopter Mom Face-Off and it's scary.
Over at Rash Decisions Beach, Gene has somehow managed to get Gladys out of her clothes. Gladys, did an alien steal your brain?
Lorna discovers that Reggie has been sleeping at the factory, and that she's been on her own since she was 14, which explains her extra tough scrappiness. I kind of love Reggie, guys, even if she is a Shenny shipper.
Pages: 1 2 3See entire article on one page