Like the retail website from which Prime Video sprung, Prime Video's library of films featuring lesbian and bisexual characters is massive, incoherent, and very difficult to ascertain from a casual browse. Luckily, we are here to inform you of the best lesbian and bisexual movies currently available on Prime Video. Prime Video specifically seems to be a home for a lot of (at least 25) super low-budget lesbian films you've never heard of, most of which are pretty bad, but if you love Ambrosia or Anatomy of a Love Seen or Heterosexual Jill, I am happy for you although they will not be included here!
---
Year: 2018
Runtime: 1h 56m
Director: Paul Feig
A twisty, sexy domestic thriller starring Blake Lively as Emily, an enchanting PR director who goes missing shortly after befriending widowed mommy vlogger Stephanie (Anna Kendrick), sending Stephanie on a hunt that eventually threatens her family and enlarges her fan base. Along the way, she meets Emily's thwarted ex Diana (Linda Cardellini). Patti Harison and Kelly McCormack also star.
---
Year: 2014
Runtime: 1h 26m
Director: Desiree Akhavan
#9 on our Best Lesbian Movies of All Time List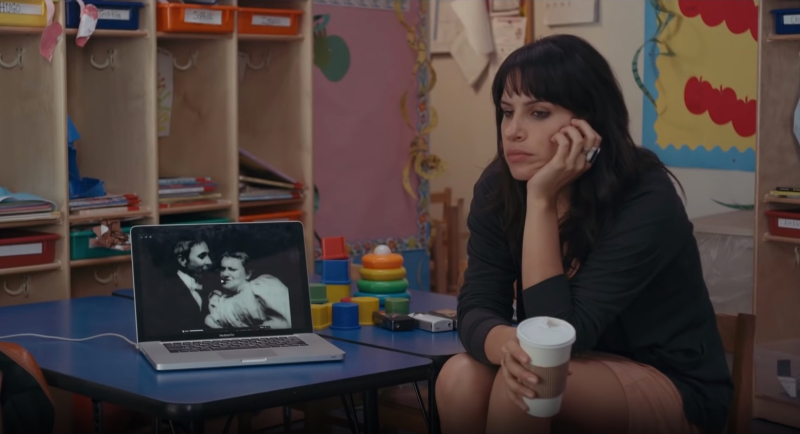 Shirin is knee-deep in bisexual chaos after a breakup with the woman she thought she'd spend the rest of her life with. "Writer/director/star Desiree Akhavan is a once-in-a-generation talent and her humor makes this an easy movie to watch even as Shirin is seeped in melancholy and crisis," writes Drew.
---
Year: 2015
Runtime: 1h 25m
Director: Jamie Babbitt
Natasha Lyonne plays a lesbian, as usual, in the dark comedy Addicted to Fresno, which also stars Aubrey Plaza and Judy Greer. Shannon (Greer) and Martha (Lyonne) are codependent sisters in a cycle of Martha picking up the pieces for Shannon, the recovering sex addict.
---
Year: 2017
Runtime: 1h 22m
Director: Deb Shoval
available on freevee with ads
"Talking about class can be ugly,wp_postswrote Sarah Fonseca in her glowing review of AWOL, a love story set in a rarely-portrayed rural landscape and confronts new conversations issues of class, race and gender. "Yet as AWOL asserts, when you dare to comment, sometimes it frees up room for beauty to unfurl."
---
Year: 1992
Runtime: 2h 8m
Director: Paul Verhoeven
This is a weird one to include because, as Rachel wrote in Sharon Stone Crossing and Uncrossing Her Legs, "the thing about Basic Instinct is that it's very bad. It's not just bad representation, it's a stupid movie, as erotic thrillers from 1992 are wont to be." It was also a hit! It was also protested by GLAAD and the queer community for its endorsement of damaging tropes about bisexual people. But in the modern era, we can watch it with a bit more bemusement. It's an artifact.
---
Year: 2018
Runtime: 1h 33m
Director: Elizabeth Rohrbaugh & Daniel Powell
Lesbian musician Becks moves from Los Angeles back to her hometown of St. Louis to live with her religious homophobic mother after she catches her girlfriend, Lucy (Hailey Kiyoko) cheating on her. Soon she meets and begins bonding with a bored housewife (Mena Suavari) whose husband went to high school with Becks and I bet you can guess what happens next!
---
Year: 1999
Runtime: 1h 38m
Director: Anne Wheeler
available on freevee with ads
A film that inspires very mixed opinions from lesbian audiences, in the '90s it definitely won over the hearts of many community members with its story of a lesbian friend group in Vancouver looking for love and fighting homophobic censorship and its impact on their gay bookstore. Also, there is a sex scene where Maggie and Kim paint each other's bodies to make art and love. In 2019, Drew wrote that "Better Than Chocolate remains the only piece of media that portrays a trans woman as a member of a lesbian friend group" and described it as "silly and fun, especially when you're accompanied by a group of friends and a bottle of wine."
---
Amazon Original Movie
Year: 2021
Runtime: 1h 53m
Director: Sarah Adina Smith
"Birds of Paradise is a fine little lesbian diversion for a moody day," writes Heather of this psychological thriller set at an exclusive ballet academy in Paris, where two top American dancers — a scholarship kid and an ambassador's daughter — develop one of those tortured homoerotic adolescent bonds that in fact eventually becomes sexual. It's campy without knowing how campy it is but otherwise is exactly what you might expect from such a film.
---
Year: 2019
Runtime: 1h 37m
Director: Roger Mitchell
This emotional drama follows Lily (Susan Sarandon) and Paul (Sam Niel), a couple who've summoned their family and loved ones to the beach house for a final weekend together before Lily ends her life, and her battle with ALS, on her own terms. But also they have to deal with all their unresolved family shit really fast! Her daughter Anna (Mia Wasikowska), brings her partner, Chris, played by nonbinary actor Bex Taylor-Klaus, to bear witness to it all.
---
Year: 2015
Runtime: 1h 24m
Director: Michal Vinik
available on freevee with ads
"This Israeli coming-of-age film draws parallels between protagonist Naama's burgeoning sexuality and her country's troublesome politics," wrote Drew in our Encyclopedia of Cinema. "While she's having the usual queer teen experiences of first love, first heartbreak, and first post-heartbreak head shave, she's also forced to deal with her violent home life and racist father. It's a tale of intolerance across identities that's affecting even as it follows familiar beats."
---
Year: 2014
Runtime: 1h 39m
Director: Eric Schaeffer
21-year-old bisexual trans woman Ricky is a Kentucky barista dreaming of studying fashion in New York. She spends all her time hanging out with her since-childhood best friend Robby. Her life takes a turn when a friendship with new friend Francesca blossoms into an affair. Mari called it "heartwarming" and "groundbreaking."
---
Year: 1999
Runtime: 1h 25m
Director: Jamie Babbitt
#1 on The Best Lesbian Movies of All Time
Our literal favorite lesbian movie ever follows Megan (Natasha Lyonne), a 17-year-old high school cheerleader sent off to gay conversion camp by her parents, where she does not, in fact, become straight, but she does meet Graham (Clea Duvall), and a bunch of other queer teens struggling to be themselves.
---
Year: 2017
Runtime: 1h 34m
Director: Spencer Maybee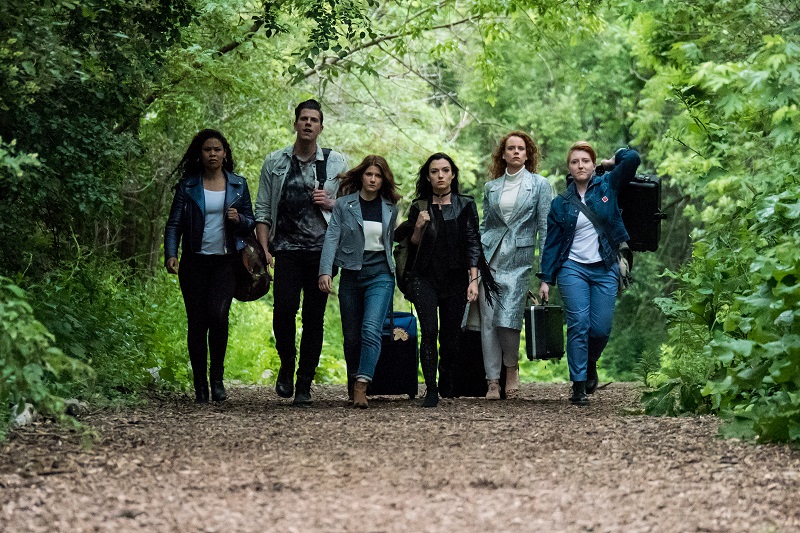 Karly declared the film, inspired by the popular lesbian vampire webseries, "everything I've ever wished for a movie adaptation of a beloved series." Queer actors Elise Bauman and Natasha Negovanlis play Laura and Camilla, enlisting the help of their friends to uncover a supernatural threat with connections to Carmilla's past.
---
Year: 2000
Runtime: 1h 31m
Director: Nisha Ganatra
Starring Nisha Ganatra as young lesbian Indian-American Reena and Jill Hennessey as her girlfriend, Drew writes that this funny, sweet, character-rich tale "shows the intimacy and conflict within biological and chosen family structures, searching for new ideas around parenthood."
---
Year: 2013
Runtime: 1h 33m
Director: Thom Fitzgerald
Lesbian couple Dotty (Brenda Fricker) and Stella (Olympia Dukakis) break free from their nursing home and venture out on a road trip to Canada where they intend to tie the knot. in her review, Vanessa noted that it was fantastic to "see a true honest story about two old women in a real relationship with feelings and nuance and layers and depth."
---
Year: 2016
Runtime: 2h 25m
Director: Park Chan-wook
#11 on our list of the Best Lesbian Movies of All Time
This intricate, seductive South Korean psychological thriller, inspired by Sarah Waters' Fingersmith, is set in 1930s Korea and tells the story of Sook-hee (Kim Tae-ri), a con artist who cons her way into getting hired as a handmaiden to a wealthy Japanese heiress Hideko (Kim Min-hee) who lives in an isolated estate with her uncle, a collector of graphic erotica. But when they fall in love, the con is in peril.
---
Year: 2018
Runtime: 1h 27m
Director: Jenée LaMarque
Andi (Constance Wu) and Lu (Angela Trimbur) go into the woods of California wine country for a pre-wedding co-bachelorette party, where an unexpected confession throws a wrench in the weekend: Lu drunkenly reveals that she's never had an orgasm. Everybody wants to help, and the conversations snowball from there. "Lesbian mumblecore is practically its own genre at this point,wp_postswrote Heather in her review. "With its boundary-less relationships, improvised dialogue, characters who remind you of your own friends, and those stifled hiccups that give way to just enough drama to make the happy ending rewarding."
---
Year: 2020
Runtime: 1h 45m
Director: Miranda July
available on freevee with ads
Miranda July's super strange movie about a quirky family of petty criminals stars Evan Rachel Wood as 26-year-old Old Dolio, who even as an adult remains in an emotionally manipulative relationship with her parents, who treat her like an accomplice rather than a daughter. Things get complicated when the family ropes Melanie (Gina Rodriguez) into their next heist, and a weird relationship begins building between Old Dolio and Melanie.
---
Year: 2006
Runtime: 1h 16m
Director: Katherine Brooks
Rebellious 17-year-old lesbian Annabelle Tillman (Erin Kellyman) is sent to a Catholic boarding school where she finds comfort, inspiration and eventually a clandestine inappropriate homosexual affair with her poetry teacher, Simone (Diane Gaidry). This tale as old as lesbian fictional time was inspired by Mädchen in Uniform.
---
Year: 2006
Runtime: 1h 16m
Director: Katherine Brooks
#21 on Our Best Lesbian Movie of All Time List
available on freevee with ads
"The best adaptations capture the essence of their source material with a new set of tools," wrote Drew of The Miseducation of Cameron Post. "That's exactly what Desiree Akhavan's movie of Emily M. Danforth's contemporary classic accomplishes. Chloë Grace Moretz playa Cameron as "dykey and angsty and headstrong with that depth of vulnerability always peaking through" in this coming-of-age story that follows our heroine to gay conversion camp in the mid-90s.
---
Year: 2022
Runtime: 2h 10m
Director: Jordan Peele
In this neo-Western science fiction horror film from Jordan Peele, Keke Palmer plays a character A. Tony described as "the charismatic little lesbian of my dreams,wp_poststhe sibling to Daniel Kaluuya's OJ. Together they manage a ranch in California that handles horses for film & TV productions and discover something "wonderful and sinister in the skies abovewp_poststhat might offer a clue to who killed their father. They also must contend with the owner of an adjacent theme park trying to profit from the supernatural phenomenon lurking above them all.
---
Year: 2013
Runtime: 1h 54m
Director: Bruno Barreto
Set in Petrópolis between the years 1951 and 1967, Reaching the Moon tells the story of the love affair between the American poet Elizabeth Bishop and the Brazilian architect Lota de Macedo Soares. "Reaching for the Moon illustrates how creativity and power and passion shape the world through two character's imagination and strength," wrote Hansen in her review.
---
Year: 2017
Runtime: 1h 45m
Director: Monja Art
17-year-old high school student Paula is really into her classmate Charlotte, but Charlotte has a boyfriend, and then there is popular girl Lily, an antagonist of Paula who might actually have a thing for Paula. Also, Charlotte has a boyfriend and then Paula gets a boyfriend 'cause she just wants to be liked. It captures the endless pining and yearning inherent in struggling with your sexuality as a teenager and all the awkward moments that engenders.
---
Year: 2023
Runtime: 1h 46m
Director: Dave Franco
Amazon Original Movie
This audacious rom-com about a TV producer who returns home after her show's cancellation and reconnects with Sean, an old flame who's already engaged to someone else is pretty mediocre! But, a highlight is Kiersey Clemons, Sean's "20-something biracial bisexual fiancé who is the lead singer of a punk rock band" who Nic described as "sexy, confident and passionate about her craft." It's a light watch that offers welcome representation of an out bisexual woman with a queer friend group who has decided to marry a cis man.
---
Year: 2022
Runtime: 1h 27m
Director: Daryl Wein
Amazon Original Movie
This isn't a lesbian movie by any stretch of the imagination — but it is one of a handful of straight Christmas movies that actually contains a solid lesbian side-plot. This rom-com, starring queer actress Shay Mitchell and the beloved Zoey Deutch, asks the age-old question, "what if two men were at Tiffany's at the same time and their packages got mixed up and the wrong man went home with an engagement ring?wp_postsZoey's character owns a bakery with her best friend, Terri, a lesbian played by Twenties' Jojo T. Gibbs. We also are gifted with a few brief glimpses into Terri's marriage with Sophia (Batwoman's Javica Leslie) and well, honestly, the movie is pretty okay!
---
Year: 2009
Runtime: 1h 31m
Director: Christine Jeffs
available on freevee with ads
This comedy-drama follows 30-something single Mom Rose (Amy Adams) and her queer underachieving sister Norah (Emily Blunt) as they embark upon the industry of crime scene cleanup. Norah experiences a little subplot of her own involving the daughter of a woman who died in one of the houses she cleaned.
---
Year: 2019
Runtime: 1h 48m
Director: Annabel Jankel
available on freevee with ads
In 1952 Scotland, Lydia (Holiday Grainger) is struggling to raise her young son after her husband leaves her — and meets new-in-town doctor Jean Markham (Anna Paquin), a passionate beekeeper, when he's injured in a fight at school. Their attraction is exciting but forbidden in the small, conservative town where they live.
---
Year: 2013
Runtime: 1h 27m
Director: Shauna MacDonald & Kate Johnston
A Candian film about 37-year-old "serial bed hopping lesbianwp_postsTru who is bounding aimlessly through life when she meets Alice, a 60-year-old widow visiting Tru's friend, her busy lawyer daughter, Suzanne. Sparks fly! There are complications with Suzanne! I watched this entire film and retained not one moment of it, because in my opinion it was kind of bad. But others really like it, so!