Queer Colombian auteur Ruth Caudeli has made four features in the past five years. She's also done a plethora of shorts, music videos, and TV work. And — if her latest queer concoction is to be taken literally — she's done all this while dating two actresses and caring for five dogs.
As a queer artist with my sun in Capricorn and my Venus in Sag, I'm in awe of Caudeli's maximalist approach to filmmaking and life. And as a scholar of lesbian cinema, I'm enthralled by this rare queer woman filmmaker with the drive and opportunity to be this prolific. I've worked at Autostraddle for three years and this is the third review I'm getting to write about this singular artist. At least once a year, I get to delve into Caudeli's art and recommend you do the same. I hope you've been listening.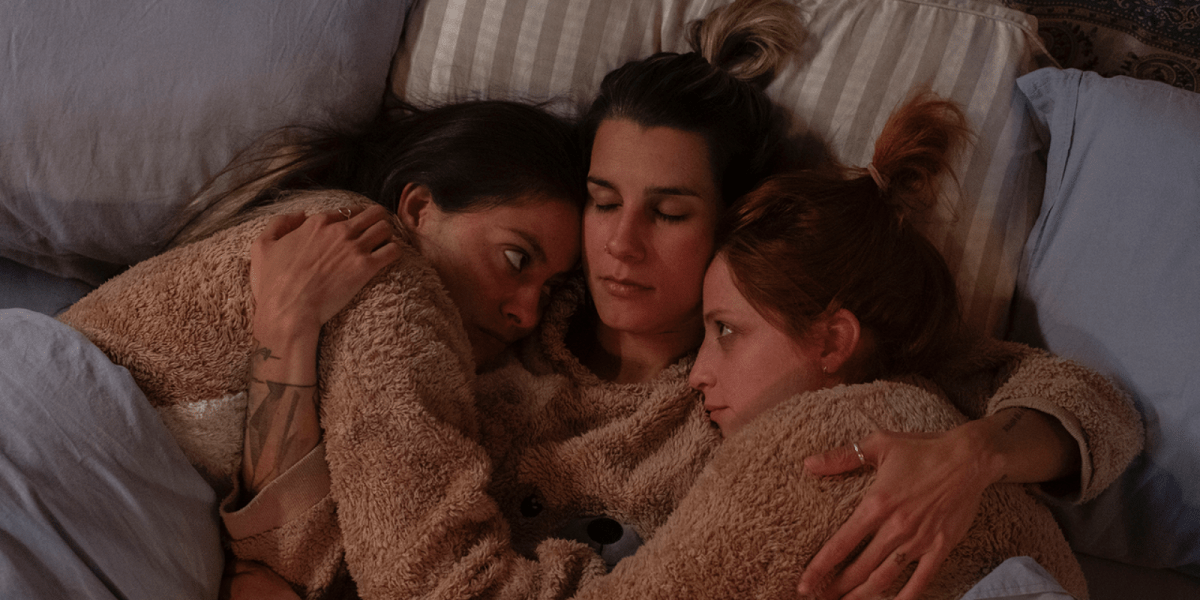 Her new film at Tribeca, Petit Mal, owns the autobiographical energy of Caudeli's previous work. While the past films have felt personal, this film goes a step further. It opens with a title card that reads: "This movie is our real fiction." And Caudeli is now one of the stars.
The other two stars are Silvia Varón and Ana María Otálora, Caudeli's past collaborators and real-life girlfriends. There have been many lesbian films featuring some sort of throuple, but this is the first I can recall that doesn't involve a man and is directly based on the director and actors' lives.
In many ways, this is a natural progression from Caudeli's debut, Eva + Candela. Like that film, Petit Mal is about a relationship between artists that faces strain when one of them goes away for work. But the addition of a third isn't the only thing that makes this film less conventional. While the earlier film was structured like a sort of bisexual Blue Valentine, this film is split into five abstract chapters. Caudeli continues her experimentations in mixing black and white with color photography alongside social media and camcorder footage. There are also some heightened musical numbers.
I love Ruth Caudeli's cinema because of its casual queer specificity. But I also love it because her form matches her narratives. She is searching for queer expressions of queer stories. That means visual experimentation and experimentation with how to craft a story — scripted combined with improvisation, real-life combined with fiction.
Much of the film's runtime is concerned with the difficulties within the relationship, but that never feels like a commentary on throuples or polyamory. In fact, it's long-distance that presents the largest challenge. Eva + Candela was about a couple at the end of their relationship, Petit Mal is about a throuple figuring out how to begin again. It's not that the film shies away from the specific joys and challenges of a throuple — it's just done in a way that doesn't attach value or judgment. A throuple is just a relationship and relationships have difficulties and joys.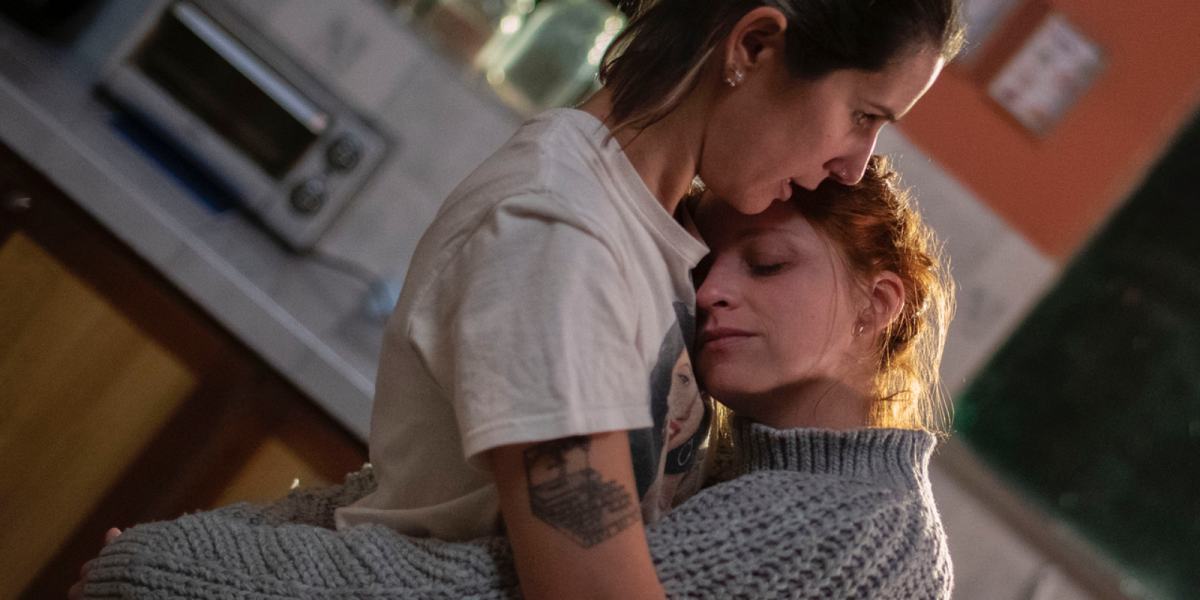 At one point in this metafiction, Varón's character is writing a pitch for the film we are watching. The financiers tell her that the film needs more dissonance. This moment recontextualizes all the drama we've witnessed. Is this film the revealing story of a throuple at their lowest point? Or is it closer to fiction than it claims? Maybe the reality is closer to the dreamy flashbacks. Less crying, less cruelty, more joy, more sex.
We are watching these three artists create drama together — which definition of drama is unclear. I assume it's a little of both. Revealing and not. Exaggerated and not. Truth and not.
What is undeniable is that Caudeli is once again drawing from the world in which she lives. Maybe I connect to this world more than most as a fellow queer woman filmmaker in a relationship with an actress. (Just one for me though.) But you don't need these similarities to see that Caudeli is telling stories no one else is telling in ways no one else is doing. I'm such an adamant supporter of her work because her films are great and because this kind of bold, contemporary queer cinema is exactly what we need to see more.
Luckily, Caudeli has another short in post-production and another feature announced. I hope she makes a film a year for the rest of our messy gay lives.