"I wanted to run away from who we had been seen to be, who we had been. That desire is one I have seen in other members of my family. It is the first thing I think of when trouble comes — the geographic solution. Change your name, leave town, disappear, make yourself over," Dorothy Allison writes in her seminal essay "A Question of Class." While watching Deb Shoval's first feature film AWOL, it's all too easy to imagine these escapist ideations racing through the two main characters' minds.
In the drama, shiny new high school graduate Joey (Lola Kirke) is nudged by her overworked grandmother to make something of herself. An Army recruiter promises the teen that she'll get to see the world if she signs on the dotted line. All Joey really wants to do is be elsewhere, not necessarily Afghanistan. Like so many young rural Pennsylvanians before her, it's the promise of a reliable paycheck that nudges Joey in the Army's direction. Around that same time, she encounters 27 year-old Rayna (Breeda Wool), an immaculate piece of trailer trash who doesn't miss a beat. It's not until Joey has seduced and been seduced that, in the haze of a hungover morning, she's forced to acknowledge that Rayna has children and an unhappy, distant marriage of convenience with a trucker; neither of these things deter her. Joey, however, is deterred from her military commitment. Together, the two women drum up a plan — one that, given their stagnant reality, always feels a tad more fantastical than real — to flee their pocket of Appalachia for Canada.
AWOL — which has been honored by the Kansas City LGBT Film Festival, qFLIX Philadelphia, and the North Carolina Gay & Lesbian Film Festival — got its start as a short film at Sundance in 2011. At a Q&A after the feature-length film's world premiere at the Tribeca this spring, Deb Shoval noted that AWOL, which is an indulgent yet brief 80 minutes, took an arduous four years to make.
Of course filmmakers experience a sense of time uniquely theirs; it is impacted by money (crowdsourcing was integral to AWOL's completion), bodies (Kirke was temporarily unavailable while filming Noah Baumbach's Mistress America), and the right words (the gifted Karolina Waclawiak co-wrote the final script). However, this made me pause to consider Jack Halberstam's notion of queer time, the one that Lila cited in a beautiful essay a month before AWOL's premiere: Queer time for me is the dark nightclub, the perverse turn away from the narrative coherence of adolescence–early adulthood–marriage–reproduction–child rearing–retirement–death. In scenes where Joey and Rayna are sneaking away on a camping trip like they're in the throes of a youth they both missed out on, or are coiled around one another in a room opposite Rayna's slumbering children, Shoval's flick certainly fits Halberstam's definition.
Yet it feels important to consider one more construct: Rural time. The six years of silence before the cicadas return. How a 15-minute drive through a sparse town often feels like it's peeling years away from your life. The way having nothing to do means that there's nowhere to be. Rural time seems to be AWOL's blessing and curse: the movie, which was shot in Shoval's bucolic hometown of Wilkes-Barre, Pennsylvania — is so committed to the speed of the beautiful place where it's set that it's initially slow-going. If one's not patient with it, she might make the fatal error of mistaking it for one of Wolfe Video's saccharine direct-to-DVD releases. It's okay if you can't figure out if you're watching a Great American Love Story or yet another Tale of Tormented Lesbian Love within the first 30 minutes (full disclosure: AWOL is neither).
AWOL approaches its characters with the same delicate dignity that it approaches place. Lola Kirke has a great reputation for portraying alluring, drawling hick tomboys (look no further than her scene-stealing bit part in Gone Girl where she effortlessly hustles a Yankee), but this role feels special because her character, who is of a rarely depicted archetype, is both prominent and well-written. In that previously mentioned essay on class, Allison also writes, "The choice becomes Steven Spielberg movies or Erskine Caldwell novels, the one valorizing and the other caricaturing, or the patriarchy as villain, trivializing the choices the men and women of my family have made. I have had to fight broad generalizations from every theoretical viewpoint." Joey resists being both a poster girl for both hillbilly kitsch and tragic poverty porn. This is because, before anything else, AWOL is a movie about class: every single move made, be it across the Canadian border or setting foot into a pawn shop, has an impact on Joey and Rayna's wallets and the contents of their families' bellies.
"Initially, some people were seeing earlier cuts of the film and really wanting to talk about gay marriage or Don't Ask, Don't Tell and some topics that maybe are not the pressing thing right now," Shoval mentioned in an interview at Columbia University earlier this year. "And for me, this film, in the largest sense, is about class and disparity of wealth."
The actors understand this, too. "If anything, I love my daughter," Dale Soules, who plays Joey's mother, said at the premiere, speaking as her character. "That's the main thing and though there are these sexuality questions, the economic questions are more pressing…I'm a single mother with three jobs. I don't know how to economically help her right now, although I don't want her to get stuck in rural Pennsylvania." It's too easy to note that small places are slow at addressing issues of gender and sexuality while not exploring why. This is the answer to the why (and it's one that AWOL addresses exceptionally well): Because there are far bigger fish to fry, including rural poverty, social class stratification, and racism. It's easy to avert one's eyes from the mildly troubling act of homosexuality when your birthright has already picked bigger battles for you.
Not unlike moments in Sunshine Cleaning when one sister hands another a few bucks to make it through the week or when Michelle Williams' character anxiously scribbles down her dwindling budget in Wendy and Lucy, poverty's tension is exhaustingly palpable throughout AWOL. The viewer wonders when Rayna's husband is going to kick her out, or when Joey's final military stipend will run dry — What will happen to them as a duo then? It's not regional intolerance that strains them; it's the limitations of their own bank accounts.
Talking about class can be ugly. Yet as AWOL asserts, when you dare to comment, sometimes it frees up room for beauty to unfurl.
In a particularly magical sequence, Joey, whose relationship with Rayna is on the rocks, is working as an Army recruiter in a shopping mall. Tanned and muscled up from basic training, she's immediately cruised by Haley (played by Britne Oldford, who some may remember from the American reboot of Skins) and invited to her party. The attraction is mutual; Joey, looking for an escape between escapes, accepts.
When the night arrives, we find Joey around a dinner table table with her ultimate adversaries: Youthful, Seven Sisters-educated practitioners of queer theory. The kids inaccessibly wax intellectual over their own identities, the horrors of capitalism (to which they're the least susceptible), and Joey's military affiliation. This moment can easily be paralleled with Max nee Moira's infamous lobster dinner moment on The L Word. Here we have yet another class interloper in dungarees and button-up flannel who is overwhelmed by the upper echelon's sophistication. But unlike Moira, Joey isn't painfully eviscerated for the sake of socioeconomically comfortable viewers. She doesn't nervously fiddle around with her sparse salad and attempt to fit in by telling a tone-deaf story about crustaceans. Joey, incredibly self-aware, sees through all of the pretense and puts up with none of it. After all, she's only there to get laid. When Joey ambles up to leave, she's stopped by Haley. That night, the girl shoves a pair of military grade combat boots into Joey's chest, who immediately indulges Haley's secret military fetish; Woke Black Girl and White Trash having their escapist needs met, at the same time, by one another.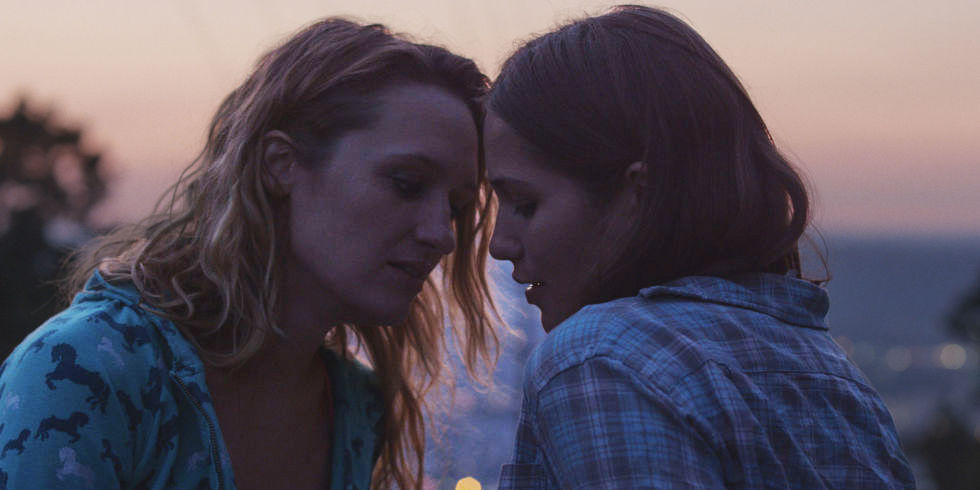 AWOL is quietly meandering around the country and is certainly worth following. The film was shown at the Reel Creative Cinema Fest in Miami in early August and will screen at the Bradbury Sullivan Center in Bradbury, Pennsylvania on September 8th. To stay abreast of AWOL's screenings and release, follow the film's Facebook Page.