---
Spoilers below!
I have never once in my whole life successfully pursued and landed a boyfriend. I had crushes on boys, sure, but the ones I liked were never the ones who liked me. Ain't that just the way it goes? Anyway, I am only telling you this because it feels pertinent and is maybe an explanation as to why I am so very terrible at playing a bird-wooing bisexual in Hatoful Boyfriend.
If you've never heard of Hatoful Boyfriend, allow me to attempt an explanation. You play as a human girl just about to start your second year at St. PigeoNation's Institute, a school for gifted birds. You can talk to all the birds, they can talk to you, and, despite being the only human (or "hunter-gather," as you prefer to call yourself), you seem to use the same desks, supplies, and study the same curriculum as the avian students. Don't try to challenge these truths, any attempts will be futile.
The point of the whole game is to romance the birds, obviously, so before I started playing I tried to prepare myself for any and everything that might come my way. I had no idea how explicit the game would get, so I Googled "How do pigeons do it?" and let me tell you, this was a mistake and I saw some things I will never be able to unsee.
As I started playing, I couldn't help but wonder (multiple times), "What have I gotten myself into?wp_postsEverything, from the background screens to St. PigeoNation's itself, seems to be tinted with shades of pink, and there are hearts everywhere. There is no spoken dialogue, but the upbeat music chimes and sparkles merrily. The game is not exactly my style, to say the least, but I soldiered onward. I was totally ready to seduce some birds.
The gameplay is the same as We Know The Devil: you simply click through to advance the story and dialogue, occasionally having to make choices which determine what kind of outcome you'll end up with. At the beginning, the game informs you that it includes a visualization module that allows "even the birdiest of birds to appear as normal humans." This means that the first time you meet each of the main characters, you can see what they would look like as a Manga-style human.
And then there's Okosan.
We'll come back to him later.
Anyway, for my first playthrough I set my sights on Nageki, the depressed mourning dove who never leaves the library. Because of course I did. I spent two semesters painstakingly trying my best to get Nageki to open up to me. I joined the library staff in order to spend time with him, I skipped out on school activities knowing he wouldn't want to go, I tried to increase my wisdom level because I thought maybe it would impress him. Nothing worked!
Was I changing myself too much to please Nageki? I will never know, because in the middle of the night I got fucking murdered by some mysterious birds from the Hawk Party. As it turned out, they had planted me at St. PigeoNation's as part of an experiment, but I failed to "display sufficient intimacy with the birds." First of all, that's hurtful. Secondly, I didn't even know it was possible to die in this game! You would think that I learned a valuable lesson from this — like don't put all your amorous eggs in one basket — but somehow I still could not successfully romance a bird.
"Do you think your fear of birds is affecting your ability to play?" My wife asked me one night after I brought up the game as we cooked dinner.
First of all, let me be clear: I am not really scared of birds, exactly. I do have a healthy respect and admiration for birds, which makes me wary of them sometimes. I mean, would I want to actually be stuck in the same room/school as a bunch of birds? Fuck no, absolutely not. Aviaries are basically a waking nightmare for me.
"Do you think that?" I countered. She made a noncommittal noise and shrugged. Was I letting my IRL bird feelings influence my ability to virtually seduce them? An interesting insight. Later that night, I went back to Hatoful Boyfriend with a renewed sense of purpose, a better gameplan, and my wife coaching me with inspirational gems like, "Just try to bang them all; don't be picky."
It worked! So far, I've gotten just over half the possible endings, though I have still died in a bunch of my playthroughs. The story is actually a lot more intricate and weird than I expected at the beginning. There are conspiracy plots and ascensions and some of the endings are pretty upsetting. Who knew a game about avian/human romance would make me think about my own mortality?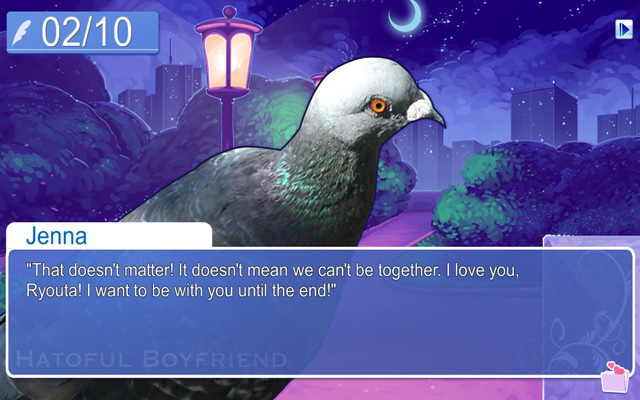 Hatoful Boyfriend is also absurd in the best way; the dialogue made me laugh out loud pretty consistently. Okosan's storyline, in particular, was so bizarre that I couldn't help but love it. The dude just coos incoherently and rants about pudding for most of the game, but if you stick with him you get to accompany him on a quest in the end. It turns out Okosan was just an "avatar on this mortal plane," and he's really a Lord! Of pudding! And, also, pudding is actually a fundamental element in a new, better universe.
My absolute favorite outcome was the one where you end up with a sparrow called Azami, the only female bird available in the whole game. (I'm all about wlw, even when it's interspecies.) She rides a scooter and says things like, "Carve it into your soul!" and she's just really cool. She saved me from some "punkgeonswp_posts(yes, that's punk pigeons). I saved her from a dead end past relationship. And the rest was history.
P.S. You never actually fuck any of the birds. It's all very classy and I regret my Google searches even more now.