This review contains spoilers. 
Sidonie-Gabrielle Colette's life is too big to be captured in the pages of a novel (or a series of novels), to be accommodated by the stage, or to be enclosed inside a two-hour film. Happily, Wash Westmoreland's new biopic, Colette, knows that and leans into it. There's a moment in the second act where Keira Knightley, who plays Colette, is watching someone on a stage playing a fictionalized Colette while her husband is having sex with someone playing the fictionalized version of the fictionalized Colette. Colette, removed. Colette, diluted. The story of Colette is only a fragment of her life, the one in which France's most prolific writer realizes she cannot be contained; not by her want of a dowry; not by her lack of education or formal training; not by the laws governing sexual conduct and gender presentation in turn-of-the-century Paris; not even by the room her husband locks her in to write her Claudine series, which he publishes under his name.
When Colette meets Henry Gauthier-Villars, she's a penniless farm girl with a streak of rebellion and a head full of hair. "The girl with the hair," in fact, is what the villagers call her. He assumes he'll take her to Paris to be his wife and that her lack of culture and money and lived experiences will render her (will)powerless. He claims to be a writer, but really he's a brand: Willy. He runs a "factory" where other writers churn out novels, magazine and newspaper articles, music and theater reviews; and he publishes them under the Willy byline. When times get tough — because he spends all their money gambling and drinking and cavorting — he encourages (demands) that Colette join the factory. She writes a book about her childhood, Claudine Goes to School, which he says is worthless because women don't read books and men don't read books about women. What does sell is sex, and when Colette includes some of her sapphic teenage dalliances in the narrative, he publishes the novel and Claudine takes the country by storm.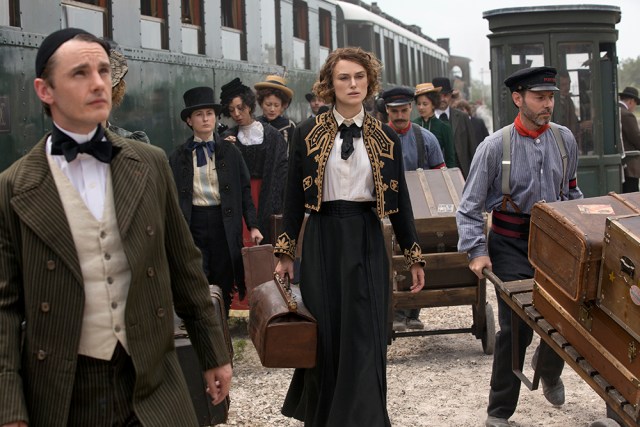 The complaint about iconic feminist biopics — written, of course, almost exclusively by male critics — is always that they're imposing a "modern sensibility" on history. And while Westmoreland does take some linear leeway in Colette's life, he doesn't veer outside the facts gathered and repeated in her many biographies. She was bisexual, and unapologetically so. The film traces the evolution of her sexual awakening from casual flirting with another woman at a party, followed by her telling Willy his jealousy about other men is misplaced (true story); to the southern socialite who independently carries on affairs with both Colette and Willy (true story); to Mathilde de Morny ("Missy") whom Colette falls in love with and has a relationship with for years (true story). In addition to which, Colette did teach herself to write, and she did craft a series of novels that captured the imagination of everyone in France, and she was able to license the character from those novels to soapmakers and clothiers and cigarsmiths and candy companies, and she did divorce her husband when such a thing was mostly still unheard of, and she did take him to court and prove that she wrote the Claudine series and win the legal right to publish them in her name. If that seems revolutionary now, imagine it in 1900.
Certainly there's a hint of salaciousness in the depiction of Colette's early forays into lady-love, but the film treats her relationship with Missy with the utmost respect and tenderness. It also treats Missy's gender and gender presentation with a lot of care. Biographers are split on whether or not Mathilde de Morny should be considered transgender. Missy did only dress in men's clothing, which was illegal at the time, and only got away with it by being pseudo-nobility and very wealthy. Because Missy's lovers were all women — outside of the gay husband Missy married and divorced — most historians have described Missy as a lesbian. In recent years, though, there've been conversations about whether or not Missy had top surgery and the fact that people also sometimes referred to Missy using the masculine honorific and also sometimes addressed Missy as Max. Colette takes the view that de Morny was, in fact, trans; Colette respects and easily accepts Missy's gender, and angrily insists that Willy use male pronouns when he continues to call Missy "she."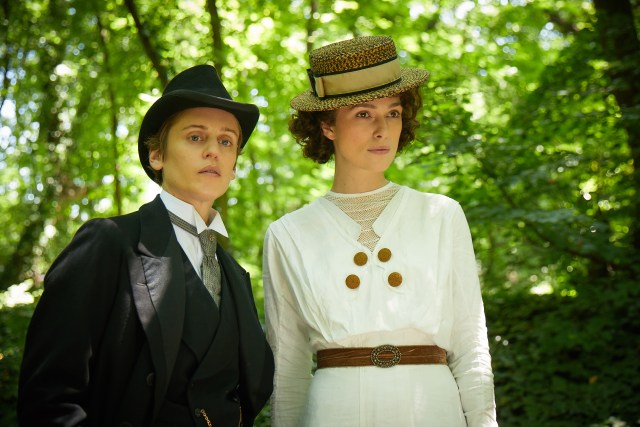 Colette's major issue is that it doesn't villainize Willy soon enough. Part of that is intentional, of course; Willy takes up all the air in the room as Colette slowly learns to breathe on her own. But Colette forgives his abuses to the point of tediousness, and when she finally reaches her breaking point with him, his storyline is still overly-sympathetic. "I can't help myself!" he exclaims one of the many times she's preparing to leave him. "Men are the weaker sex!" The few women critics in my theater groaned. The many male critics in my theater laughed.
On the whole, though, Colette is a lush, brilliantly scored, perfectly acted, beautifully directed biopic about an iconoclastic bisexual woman many modern scholars believe deserves to share the title of Greatest French Writer with Proust. Her legend is realized in Westmoreland's film.
Willy grooms her. He coaxes her. He pleads with her. Colette acquiesces and acquiesces. She shrinks. She nearly disappears. And then one day she cuts her hair, borrows a suit from the queer person she's in love with, walks into Willy's office and says, "I am the real Claudine." But it's not Claudine's name the crowds in France shout when she walks on stage to perform (just one more thing she taught herself to do). She is not Claudine, diminished. She is not Claudine, tempered. She is not Claudine. The lights come up. The curtain opens. "Colette!" they chant. "Colette! Colette! Colette!"