Sometimes, SOMETIMES you can't cover your face with smokin' hot lesbians. When this happens why not cover your walls with them instead!? That's where the 2014 Autostraddle calendar comes in!
Ivy is Miss December
Occupation/major/passion:
Right now I travel around the U.S. (and sometimes other parts of the Western Hemisphere) teaching dance and directing youth programs. I currently teach five classes a week in a teeny li'l ol' mining town called Grass Valley, located in Northern California, slowly drinking a nice cup of 'easy does it.' Although this is a big change from teaching 17 classes per week in Los Angeles, I'm in love with the small town vibe and honestly, I am not sure I could have made a better life choice. My work schedule is, and potentially always will be, fluctuating. Work commitments expand and contract seasonally and I hear I am geographically difficult to keep track of. This year alone I have lived in four different cities teaching dance, mock trial, public speaking, kindergarten and storytelling. I have a degree in Psychology with a strong passion for movement, health, and youth arts education. I care more about one conversation with a kid than I do about almost everything else. Kids truly are the gatekeepers to life's "hidden" secrets. They know and tell all.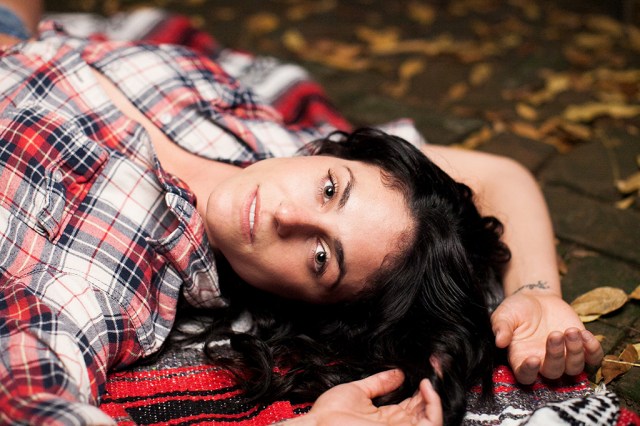 Why did you want to be a part of this project?
Autostraddle is groundbreaking, unique and important to the growth of our culture. The world is craving this dialogue, this feeling of common ground, outlet, refuge, support and many other roles a dynamic website like Autostraddle can and has offered. I believe in wearing what you believe in, owning it and not hiding our raw humanism from fearful eyes. I wore my A-Camp staff shirt to the grocery store in Berkeley and TWO people stopped me to ask me how this year's camps went. They had participated the year previous and wished they had gotten it together on time before tickets were sold out. This is big and I want to be part of it. Autostraddle helps people to feel like they belong, and realize how easy it is to receive constructive critique, love and encouragement all in one safe zone. Of course I want to be part of a community that is doing its part to shed light on this multifaceted experience.
---
Like what you see? The 2014 calendars are now for sale in the Autostraddle merch store! Grab one for yourself or give the gift of a different brilliant, talented and gorgeous human every month to the eyeballs of someone you care about!
---
Artist's Statement from Robin Roemer:
I want to start off by saying I wish I had a few weeks to photograph each of our 130 applicants, because they were all beautiful and inspiring! We are honored so many of you wanted to participate and we hope, at some point, we can work with each one of you. I mean that most sincerely.

This year we went through our applicants based on the survey first, the photos sent in to me had little to do with who our final picks were. We chose based on answers to a variety of questions. We wanted people who really had a sense of what the project was all about, were readers of Autostraddle, and were involved in their communities at home. We wanted women bursting with energy and love. Second, we wanted to represent our incredibly diverse our community: beauties of all different shapes and styles and backgrounds and gender expressions. Finally we found ourselves with 13 models — its 2013 now so twelve just wouldn't do — who we feel represent some of the most brilliant our readership has to offer. I hope each of you, especially those of you who applied and were not chosen this year, enjoy this year's calendar.
Crew:
Co-created by Robin Roemer and Sara Medd
Photographed by Robin Roemer
Wardrobe styling by Sara Medd
Hair by Taylor Stevenson
Make-up by Marla Verdugo
Line Production, Location
Scouting and Catering: Sarah Croce
Design, Location Scouting, Production Assistant: Alex Vega
Lighting Assistant: Kamila Baker
Production Assistant: Christina Bly
Puppy Wrangler: Mollie Thomas
Special Note: As of December 2010, we request that the comments on Calendar Girls posts, unlike every other post on this site, be exclusively positive and remain on-topic. These posts exist to celebrate women, so any criticisms of the model, her appearance or the appearance of the Calendar Girls as a whole will be deleted. Furthermore, any direct questions/concerns about the project in general can be directed to robin at autostraddle dot com!