Another year, another opportunity to create a kickass calendar of smokin' hot lesbians. If you've not picked up the 2012 calendar yet, now would be the time — they're available for the post-holiday price of $10! For 2013 we did something completely different yet totally spectacular.
Are you ready to meet the 2013 Calendar Girls?

video edited by Sarah Croce and Lauren Aadland
Now, onward and upward — here's Robin!
Artist's Statement:
For the 2013 Autostraddle Calendar, we put on our bathing suits and hit the water! My goal this year was to do a black and white series that was playful, sexy, and all about the women. I sought to capture images that would reflect the models' feelings of freedom and comfort in their own skin. We chose a simple expanse of sand and water where the horizon is somewhat indistinguishable, and it was the perfect setting for a very personal and introspective look at each of these extraordinary women.
As a photographer, photographing an entire day at the beach is a great challenge. You need to maintain consistency as the light changes drastically throughout the day and the tides ebb and flow. This adds an interesting element in the images as over the course of the day, we watched them play and interact from sunrise to sunset. We closed the day with some very quiet, intimate interactions between the women who'd come to know each other over the course of those hours.
I love coming away from these shoots knowing that all of these women are now friends, and I hope that these images reflect those bonds formed.
A huge thank you to our beautiful models and our amazing crew for a job well-done. A special thank you to stylist and co-producer Sara Medd for being my partner in this project.
Robin, Photographer
Crew:
Robin Roemer, Photographer and Co-producer
Sara Medd, Stylist and Co-producer
Sarah Croce, Production coordinator and video
Lauren Aaland, video
Alex Vega, designer
Christina Natale, Make-up
Brandi Andrews, Make-up
Taylor Stevenson, Hair
Michelle McCaw, Hair
Sabrina Bringuier, Photo Assistant
Our September Lady is Taylor:
+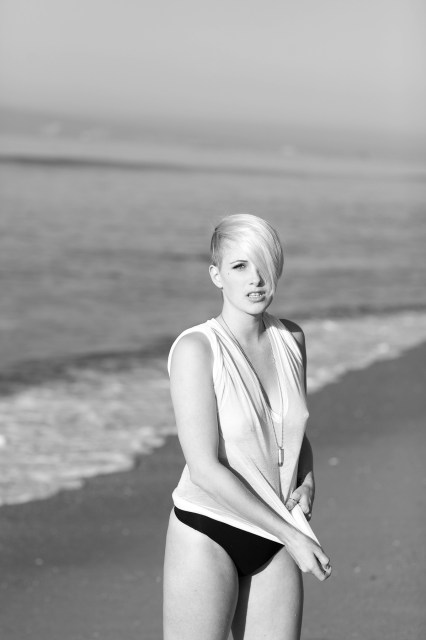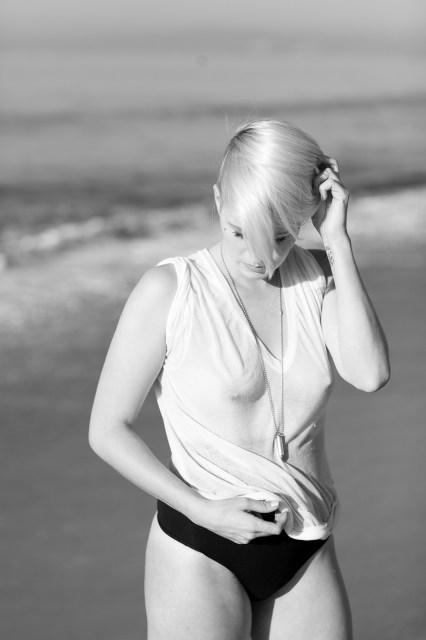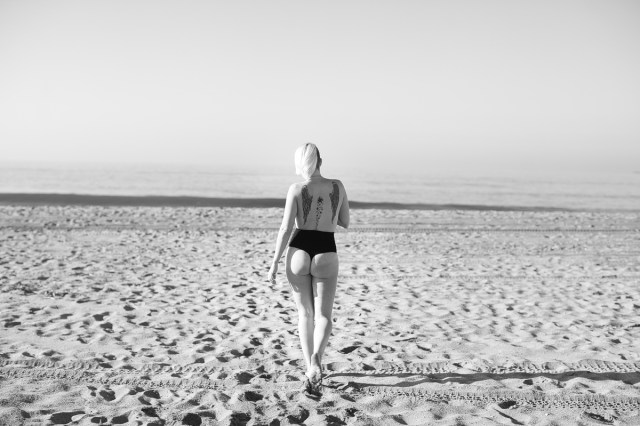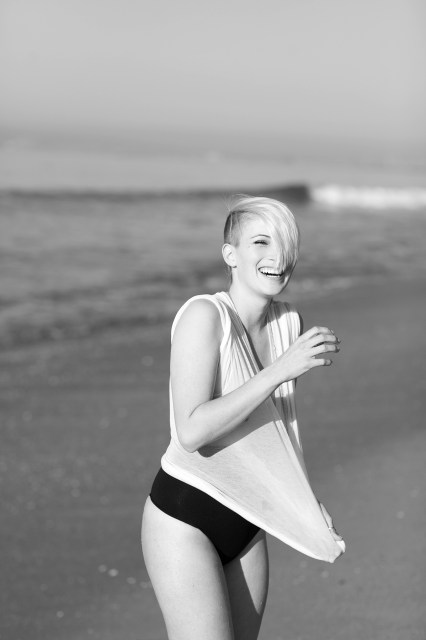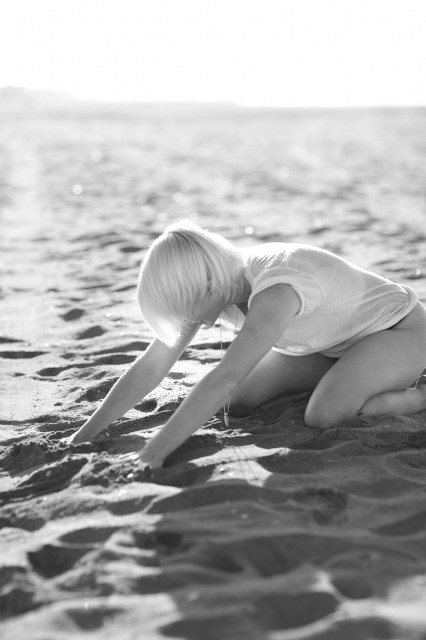 Taylor in her own words:
Hello! my name is Taylor Stevenson and now that you have seen my rear I don't know what else there is to tell you about myself… Just kidding. I'm 26 as of August 20th, which makes me a Leo and a princess (ha). I currently live in downtown Los Angeles with my beautiful girlfriend Michelle and my 10 month-old Husky, Ink. I was born and raised in Fremont, California, which is not to far from San Francisco.
I moved to Los Angeles in 2006 and in 2008 went to cosmetology school to become a hairdresser! Currently I work in the lovely world of Hollywood freelance where my daily routine is to wake up at odd hours and spend 12 hour days on sets rubbing down models and actresses and making their hair look bonita!
I tend to be all over the place and start a lot of things that I don't finish till months later, but I like it that way. I would like to succeed at my career in Los Angeles and build a life with my future wife and have a bunch of babies! Traveling is something I can't wait to do, for my job and with my family. I want to enjoy life to the fullest and experience as much as possible in my time here.
A brief message to all those women out there looking for answers to their sexuality and their destiny: from my experience I would say acceptance has been my key to success. From the day I realized I loved women, I accepted that I would not always meet approving eyes and that if I wanted to succeed I would have to live with that and make the best of things. My family fortunately was an amazing support and to this day have been by my side in all my decisions. In doing that I grew strong and was able to take life and do with it what I wanted, and now I find myself in the present, successful loved and very happy!
Thank you Autostraddle for asking me to do the hair for this wonderful project as well as modeling in it. I had such an amazing time with all of the girls involved and hope to be part of this for years to come!
+
Robin's Phoner with Taylor
+
Thanks for being in our calendar AND being our lead hair stylist for the shoot!
Of course, it was my pleasure!
You were our very first model that day, was it a little nerve-wracking?
No, not too bad. I've never been very shy, but I also have never been that naked. Honestly, it was more excitement I felt than nerves.
Was it tough doing hair out of our U-haul or are you used to working in all types of on-location environments?
It was a bit tough, not too bad though. I have had to do hair in some crazy situations so I just chalk it up to good experience. The wind was the real tough part!
What was your favorite hair styling gig (besides our calendar obvs)?
Obviously! Hmm, my favorite job ever to work would probably be the Kreayshawn music video and album cover shoots! The makeup artist, the stylist and myself were all flown to San Francisco and we stayed in a great hotel and shot all over the city! It was my favorite experience so far.
Since I follow you on Instagram, I spend a lot of time looking at pictures of your dog. Who is more adorable, your dog or Kreayshawn?
That's a tough one, I love them both so much!
Tell us about your puppy.
My baby is precious!! His name is Ink and I'm obsessed with him. Well, we're obsessed with him. My Instagram is now officially a tribute and he has his own for all his friends and family.
Just to clarify… "we" as in you and Michelle. Michelle, who was in our calendar last year and is your girlfriend and our other hair stylist for the shoot!
Yes that is the we! My partner in crime and the beautiful Miss March 2012.
Who are the other important people in your life?
My mom and dad are my lifeline, and my little sister is my mini me, but the super smart version. My parents have always supported me with my decisions, and my girlfriend and I spend a lot of time with them.
What does the future hold for you?
I want to have a good career so I can have babies — well, afford babies — and travel.
When you aren't doing hair for celebs and sexy lesbians, what do you like to do?
In the past I was a big fan of clubs, music, snowboarding and art galleries, but lately me and the pretty lady have been camping! So not my normal scene but I'm getting into it. Michelle does all the heavy lifting and I sit around and look pretty! Oh, and make the eggs and bacon.

Special Note: As of December 2010, we request that the comments on Calendar Girls posts, unlike every other post on this site, be exclusively positive. These posts exist to celebrate women, so any shit-talking or criticisms of the model's appearance will get deleted. Direct concerns about the project or website as a whole can be directed to robin at autostraddle dot com or riese at autostraddle dot com!