Another year, another opportunity to create a kickass calendar of smokin' hot lesbians. If you've not picked up the 2012 calendar yet, now would be the time — they're available for the post-holiday price of $5! For 2013 we did something completely different yet totally spectacular.
Are you ready to meet the 2013 Calendar Girls?

video edited by Sarah Croce and Lauren Aadland
Now, onward and upward — here's Robin!
Artist's Statement:
For the 2013 Autostraddle Calendar, we put on our bathing suits and hit the water! My goal this year was to do a black and white series that was playful, sexy, and all about the women. I sought to capture images that would reflect the models' feelings of freedom and comfort in their own skin. We chose a simple expanse of sand and water where the horizon is somewhat indistinguishable, and it was the perfect setting for a very personal and introspective look at each of these extraordinary women.
As a photographer, photographing an entire day at the beach is a great challenge. You need to maintain consistency as the light changes drastically throughout the day and the tides ebb and flow. This adds an interesting element in the images as over the course of the day, we watched them play and interact from sunrise to sunset. We closed the day with some very quiet, intimate interactions between the women who'd come to know each other over the course of those hours.
I love coming away from these shoots knowing that all of these women are now friends, and I hope that these images reflect those bonds formed.
A huge thank you to our beautiful models and our amazing crew for a job well-done. A special thank you to stylist and co-producer Sara Medd for being my partner in this project.
Robin, Photographer
Crew:
Robin Roemer, Photographer and Co-producer
Sara Medd, Stylist and Co-producer
Sarah Croce, Production coordinator and video
Lauren Aaland, video
Alex Vega, designer
Christina Natale, Make-up
Brandi Andrews, Make-up
Taylor Stevenson, Hair
Michelle McCaw, Hair
Sabrina Bringuier, Photo Assistant
Our December Lady is Christina: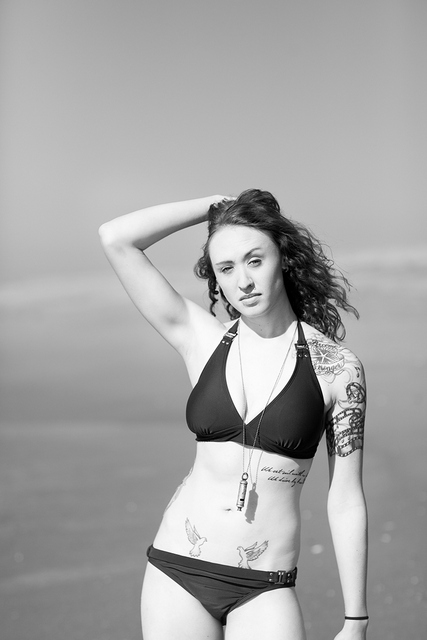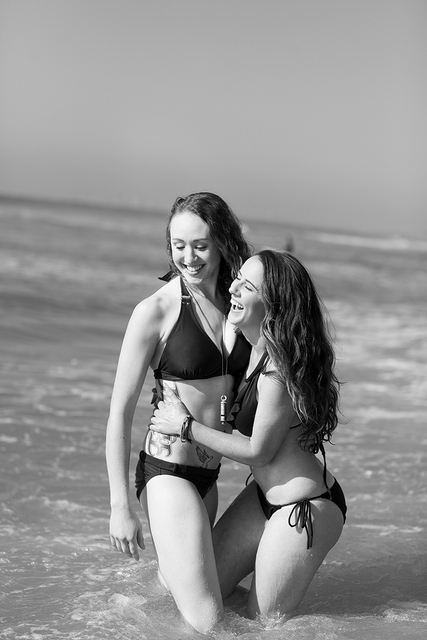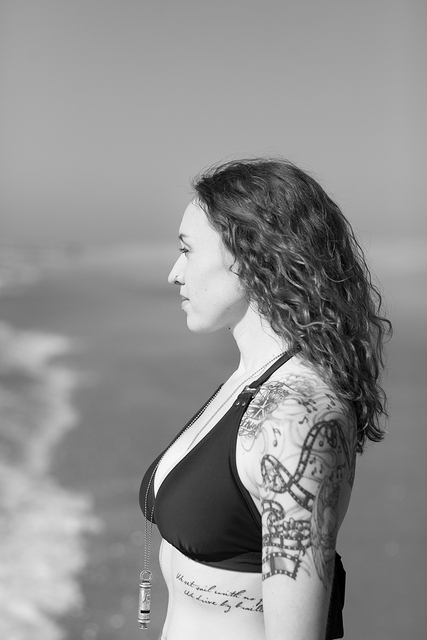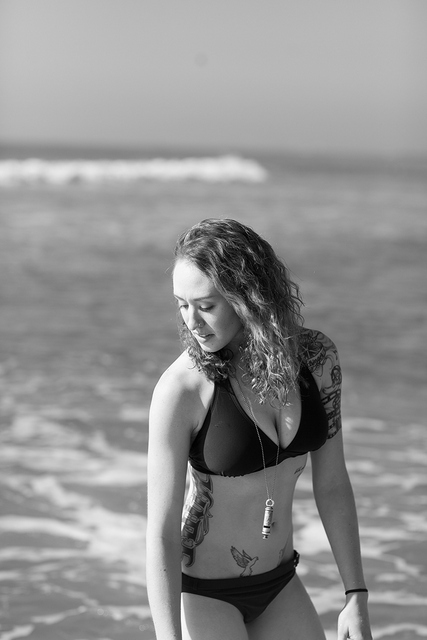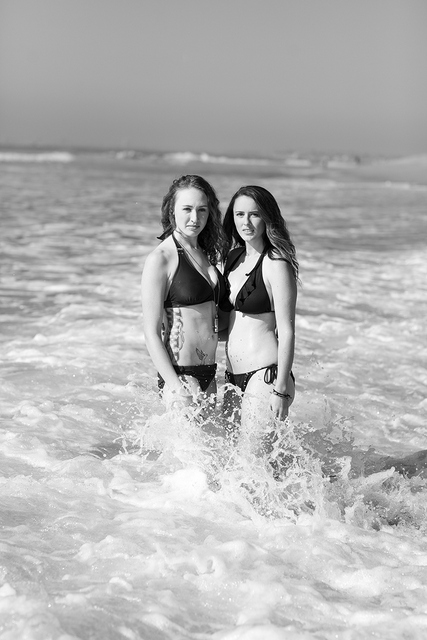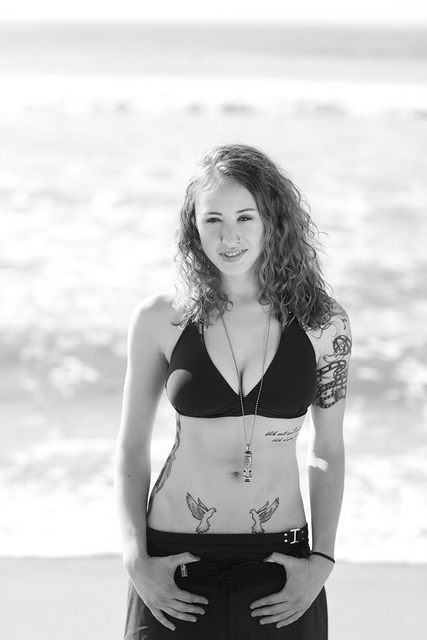 Christina in her own words:
Hey! My name is Christina Bly, but everyone pretty much just calls me Bly. I'm 25 and moved to LA two years ago from NY. One of those "grew up in NY and was ready to take on the world" stories, and I've really enjoyed the adventure so far. I came out here primarily to work in production and have been making my way up the ladder to do audio.
When I'm not slaving away at work, I enjoy my free time being spontaneous. If you feel like taking a road trip or random vacation anywhere, call me up because I am always in. Also I love camping and hiking — the car is always packed and ready to go. I guess I like to live as if I can drop everything one moment and go do something crazy and random the next. Keeps life interesting that way.
Thank you Autostraddle and the girls who put together the whole calendar for letting me be a part of such an awesome experience. Your hard work definitely shows.
Robin's Phoner with Christina
Where are you from and why did you decide to move to LA?
Well I am from NY but when I say that I don't mean NYC I mean upstate western NY area…Rochester. I moved to LA because I went to school for film/tv and obviously not much was going on in good old Roc City so it was move to NYC or LA and I had never been to LA so why not take an adventure.
Are you working in film or TV now?
Yeah, I have been fortunate enough to move to a city I had never even visited before and stay pretty busy working mainly in reality TV.
What's it like being on a reality TV set? Do things feel more staged than what the audience sees?
A lot of "reality" is staged. But a lot of the time they have story ideas they already want to incorporate and try and get the cast members to run with those ideas. As far as what they say and do afterwards a lot of that is the reality.
Being a behind the camera person, did it feel strange to be photographed?
It was a little awkward to be the focus. I have been photographed before for some other friends projects but by no means do I feel like a natural. It is fun to experience the other side at times though.
We basically just shoved you in the water with Mary and were like- GO!
Getting to shoot with Mary was great. I think it broke the ice a little when I met her and a minute later we got knocked over by a wave on top of each other. Like, oops it was nice to meet you!
I think its so cool that no one knows each other at the beginning of these shoots and now, for instance, Mary lives in LA and you guys are buddies.
Most of the girls from the shoot were all new to each other and it's been amazing to see how we have all stayed in touch and some even have become really good friends since!
You and Mollie were I think our most tattooed models. How many do you have now?
Ohhh boy, I never know how to count this. My sleeve is basically my journal so I keep adding pieces at a time so if I counted some of those separately, with the rest of mine I'm going to say currently 14.
That's commitment.
Yeah it is. I will eventually have a full sleeve and have even gotten a couple more since the shoot.
You were also a model again on Autostraddle this year for Sarah Croce's fitness article right? I believe you were at a gun show. Is that where you were, a gun show?
Yes I was. Croce started writing fitness articles for Autostraddle and apparently thought I had the guns to participate in the show.
I think its safe to say you do and that you are most likely also into fitness. Is that a fair assessment?
That is indeed a fair assessment. It gets difficult keeping up with it when you work 12+ hour days in production but I try and fit in workouts when I can and eat healthy as well.
What's the most (stereotypically) lesbian thing about you?
Probably the fact I own a lot of camping gear and tools.
Camping!! Why haven't you come to A-Camp yet?
I know!! I'm all about the outdoors and I have missed A-Camp both times. This just means I'm going to have to come to the next one and have twice the making up to do at it!
One more question, what's the sexiest aspect of a girl?
I really like when a girl can keep up with me in conversation but also has some mystery about her. It's intriguing. Also I'm pretty sarcastic so I think it's sexy when they can give it right back to me.
Special Note: As of December 2010, we request that the comments on Calendar Girls posts, unlike every other post on this site, be exclusively positive. These posts exist to celebrate women, so any shit-talking or criticisms of the model's appearance will get deleted. Direct questions/concerns about the project or website as a whole can be directed to robin at autostraddle dot com or riese at autostraddle dot com!