My girlfriend Geneva's sister recently got married in Toronto, which meant I got to see "Canada's New York" for the first time ever. Admittedly, I don't like New York, but I knew that there was one really important difference between The City That Never Sleeps Because It Just Got Mugged In The Filthy Subway and The Six: Drake and his general aura. (I'm really really really into Aubrey Drake "Drizzy" Graham's entire world, in case you didn't know.)
I was completely down to turn a weekend jaunt for the #BAMFwedding into a week-long excursion into a foreign city under one condition: that Geneva embark with me on the biggest, best, most ridiculously ambitious Drake tour of that city that had ever happened. Because she loves me like no other, she said yes. (You might remember this plan from the A+ Insider.)
I consulted a lot of sources before the trip, including this handy-dandy Pitchfork map. In the end, everything from wedding errands to our incredibly magnetic temporary neighborhood (Queen West, represent) held us back from hitting every last stop, but along the way we forged our own super-special built-for-Instagram path through Drake's homeland on what Brittani inspired me to call the #SixGoddess tour. We were indeed on our Worst Behaviour, and it was a blast.
.@drake i am headed to the six right now so lemme know if you wanna chill ok

— carmen rios 🚬👑🦄 (@carmenriosss) May 2, 2015
Here's where we went.
---
Customs and the Border Line
I have never flown internationally before; typically, I would meet Geneva in Seattle and she'd drive me over the border because I was too cheap to invest in an actual passport book and bought a passport card instead. For this trip, crossing the border in an airplane was inevitable because the ground and sea options were limited, so I caved. I'm really confused, though, about why you go through customs when you land, because it seems like a lot of wasted airplane space / fuel and also potentially dangerous situations happen that way. But either way, I knew going there and back that if I had trouble getting through customs I could call Drake, 'cause he's always goin' back and forth across the border line.
---
Terminal 1 and 3
Geneva landed at 7 AM on May 2 at Pearson International Airport in Mississauga. I was not there, and she did not take photos, but she did tell me she disembarked into Terminal 3. Drake hasn't been there in so long, though, so it doesn't really matter that I missed it.
---
The Bottom
Meanwhile, I landed at Billy Bishop Island Airport, which is — just so everyone knows — adorably tiny. It also happens to be south of everything else in Toronto, pretty much, so it looks like I made the right choice in starting there. When we arrived to "here," it was truly triumphant and also very close to a Tim Horton's. I almost rapped about it.
Side Note: Unsure, but pretty sure anyone who has ever been a bottom while in Toronto has also checked this off their Drake Tour list.
---
Sotto Sotto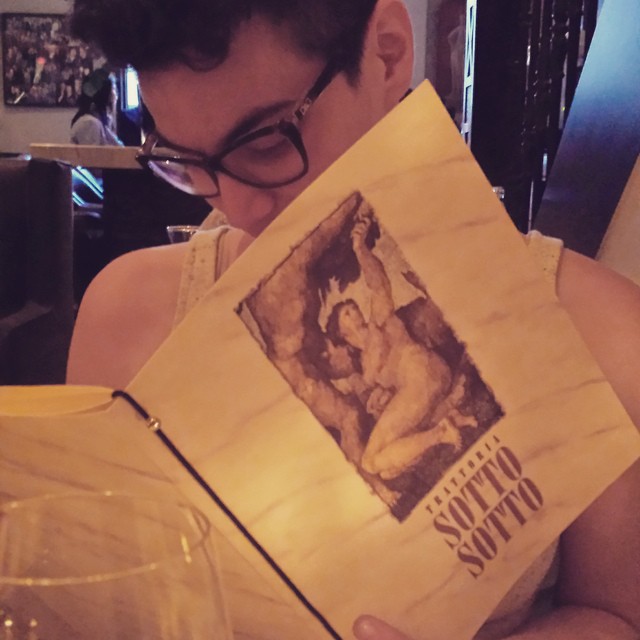 We knew if we were going to Toronto we needed to hit up at least one of Drake's name-dropped fave spots in town, and I was particularly invested in Sotto Sotto and Il Mulino, where he apparently brings his entire crew to talk women and vino, because this was something I knew we were also capable of doing in a public place perhaps with him inside. I chose Sotto Sotto because in their blurb on Google Maps, it's mentioned that lots of celebrities go there. I made dinner reservations and jokingly told Geneva I was gonna tweet at him to invite him on our super special date, knowing all along that the odds of us actually seeing, or, better, meeting someone as famous as Drake were slim to none.
But there was a twist. Drake was in town when we were in town, and he went to Sotto Sotto that night.
When we left, big brown bag full of risotto leftovers in hand and a bottle of wine in our tummies, I saw three dudes wearing OVO owl and 6 God hats and sweatshirts walk in to the restaurant, and when I told Geneva I thought it seemed too good to be true, we realized they had hopped out of a red Ferrari parked right outside with the top down and decided to stick around to see if I was right. We waited around and saw the whole scene: two private cars parked outside without letting anyone out, and then a large black SUV parked down the street with a periscope-like thing on top, and then another a big SUV with flashing lights idled in front of the restaurant entrance from which Drake emerged, much like a figment of your imagination in a cloud of fog.
There are no paparazzi style photos. There was no conversation in which I invited him back to our place to smoke mad weed. Toronto is not a "screaming girls outside hotels" and "freaking out in public" kind of celebrity city, so I played it cool and did not approach the Six God himself that night. Instead, I kept him in my heart as we got extremely giddy-drunk later at the nearby Bedford Academy bar, and I thought of him every time we passed a Ferrari that looked like it might swerve at any moment.
---
The Inside of a Shoppers Drug Mart
I mean, c'mon. When in Rome…
Unfortunately, there was no confetti. There was a really sick deal on cheese, though! If you'd like proof we were there, I took a shitty photo of some Shoppers shopping carts on my phone when I was too drunk.
---
The Drake Hotel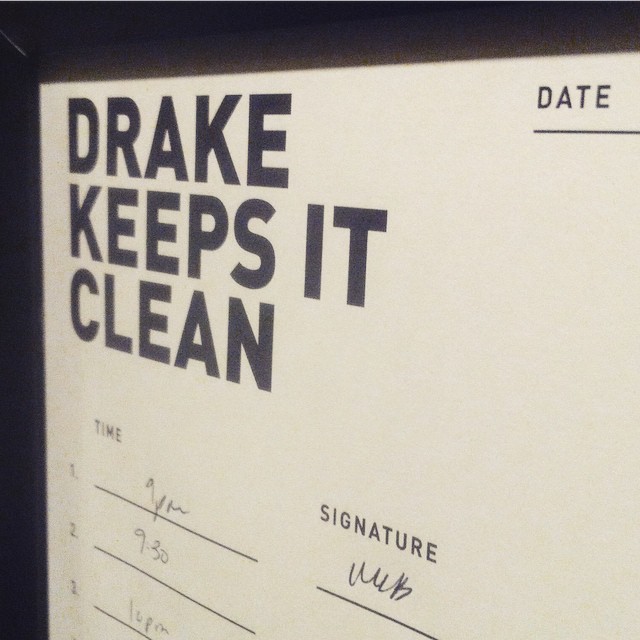 The Drake Hotel, which I came to lovingly refer to as the Drake Industrial Complex, is not related to the rapper in the least, but there is a sign in the lobby that says, "SLEEP WITH DRAKE!" when you walk in, so. It's a hotel, but it's also got a cafe, concert venues, general stores filled with amazing candles and mason jars, and art studios across the city, and I knew when we passed and saw people in suits playing brass to the bar that we had to go in. If you like Drake and you just wanna see his name everywhere, go into this hotel. If you're lucky like me, you'll get to drink a cold beer while gorgeous women wearing slinky black outfits sing you flawless jazz covers.
We decided to go here instead of The Beaver, where something called "Bad Bitches Night" was happening. I hope Drake knows that I love him so much I decided to go to a place bearing his namesake rather than a place filled with probably a bunch of people I'd consider my soul twins.
---
Parkdale
Home to hard femme all-vegetarian food restaurant and bar Lipstick and Dynamite and also right next to the Queen West neighborhood where we stayed, Parkdale is an up-and-coming neighborhood full of thrift shops like Public Butter Vintage and House of Vintage, which both ruled, and a Rolling Stones theme bar I deeply regret not going to.
Parkdale is also where Drake and Noah "40" Shebib used to smoke weed and make music together. If you've ever wanted to sit on couches and look at paintings in Apartment 1503 a la "The Ride," you've wished you were there. Good choice, JSYK.
---
Forest Hill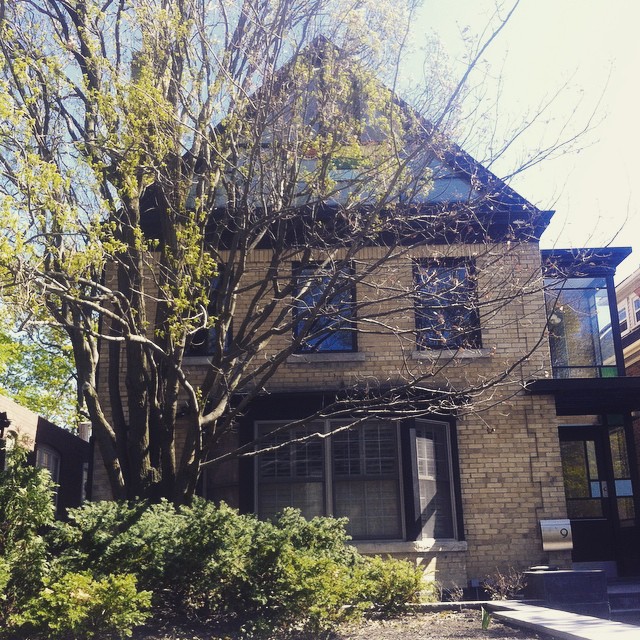 After Drake started achieving some success as Wheelchair Jimmy on Degrassi, he and his mom moved to the more elite Forest Hill neighborhood in Toronto. To be precise, they moved to 9 Coulson Avenue, where a woman in a white SUV saw me trying to take photos of her house last week. Forest Hill Village nearby is a small cluster of coffee shops and tiny boutiques, including a Second Cup we passed by to check out a high-end food market instead. Oh, there's also the very Canadian food-and-clothing combination of a Loblaws and a Joe Fresh at the St. Clair West TTC stop. If you're as intrigued by that concept as I am, be prepared.
---
Any Restaurant Playing a Drake Song
Drake doesn't play on the radio as much as I thought he would in Toronto. I didn't hear him a lot at restaurants or in bars, although I did hear someone playing "Company" from their convertible. (Why do people do that? That is not a song you relate to in public, y'all. PSA.) During the #BAMFwedding pre-dinner at Harvest Kitchen, though, I heard him twice, and then when we went outside I discovered graffiti nearby that said "Wu Tang Forever," which happens to be one of the best tracks on Nothing Was The Same. Is it a sign? Um, duh it is, guys. Otherwise I would not have put it in here.
---
The OVO Flagship Store
I did not realize that the October's Very Own store existed in real life, so once I found out I immediately drafted Geneva and her best friend Ian to come with me there. It was nestled literally up the street from our AirBnB, which meant it was meant to be, obviously. I bought a black OVO owl fitted and an October's Very Own varsity pin. Also, if you go in person, just know that Drake wasn't playing in there and the customer to staff ratio is approximately 1 to 1,000. Canadians are a very kind and helpful peoples. It was really overwhelming.
You can also shop the OVO store online, but you won't be able to have your friends awkwardly take a photo of you standing in front of the all-glass exterior.
---
The Clouds
The trip home was super cloudy, but so was the cover of Nothing Was The Same, so like…