Tears are rain upon the blinding dust of earth or whatever. They happen to us when we're angry or sad or overwhelmed or watching Disney movies, on good days and bad days and nothing-notable days, they make us feel better and make us feel worse and who even understands them really? Not us! But hey look, we all cry. For example, these are things that made all of us cry recently.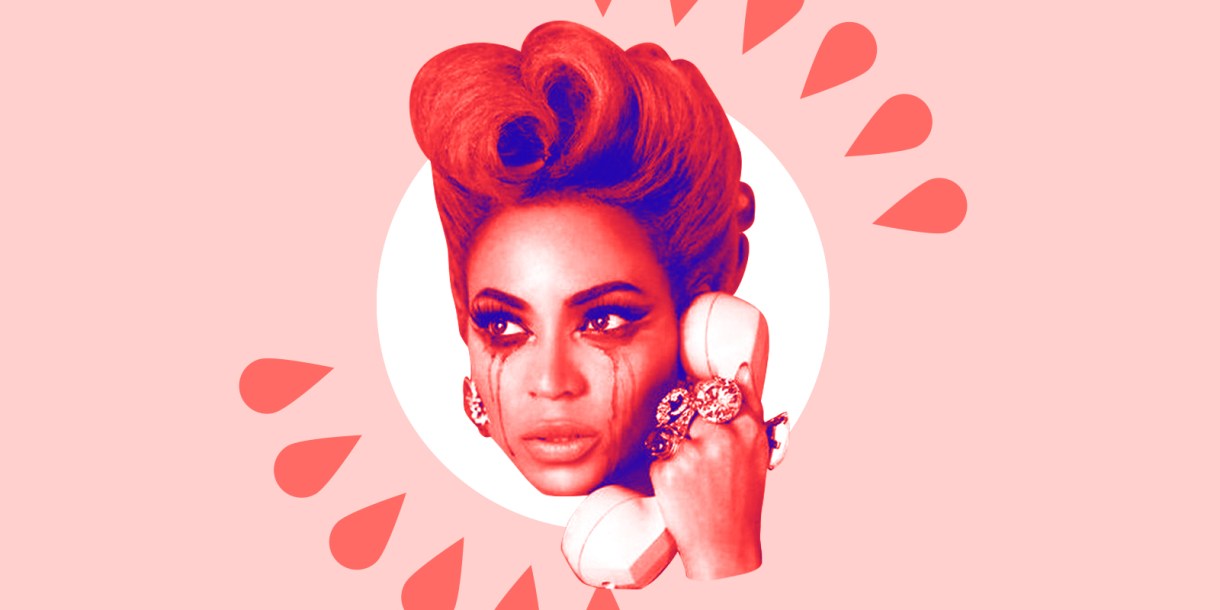 IMPORTANT NOTE:
This roundtable was first constructed in mid-summer, and then added to a little later in the year, and then the day it was scheduled in early October turned out to be a tacky day to run a roundtable about crying so we put it on the backburner again… now it is finally seeing the light, but please note these answers are not timely and are all over the place, w/r/t the timespans of our lives. 
We eagerly await a recounting of your most recent tears in the comments.
Alaina, Staff Writer
I cried last night, June 29th, because I turned on a Spotify playlist called "Evening Acoustic." Like, full on sobbed, needed to get some water because I got dehydrated. I don't think I was necessarily sad, I'm just two-ish days away from my period. But also, there's a lot of change happening in my life right now, and change terrifies me and makes me want to run away to the mountains and get a new identity and have babies and start over. But I know that I can't do that, so instead, I cry about it. On a scale of 1-10, 10 being the best, most healing cry ever, I'd say it was a 4. I still felt weird after it, so much so that I ended up unfollowing most of the people I follow on Twitter and Instagram. But I mean, at least my internet life has been simplified a bit. Oh, and I got ten hours of sleep out of it.

Kayla, Staff Writer
I have a weird history with crying. For the first two decades of my life, I rarely cried (unless I was having a conversation with my mother, the only person with the unique power to bring forth my tears during my preteen and teen years). Television and movies never made me cry. Many of my friends joked that I was a robot! Then I went on hormonal birth control and I cried constantly, about anything and everything. I haven't been on birth control in a few years now, but once the crying floodgates were opened, they stayed open. I don't cry as much anymore, but it does happen from time to time, especially on like all forms of transportation? But the most recent time I cried was actually a few nights ago when my girlfriend and I watched Hasan Minhaj's comedy special on Netflix. I love Minhaj on The Daily Show, and Janet Mock recommended the special when I saw her at a talk, and I will pretty much do anything Janet Mock tells me to do. I did not expect it to make me cry though. When I looked at my girlfriend, she was crying, too. Minhaj is an extremely good storyteller, and stories about immigrant families always hit my heart.

I cried today! At work, at my desk, very quietly and quickly! Maybe four tears total before I Put A Lid On It, because we have an open floor plan and I would prefer to cultivate an air of ruthless efficiency and unyielding competence. So I think that doesn't count.
Before that, the last time I cried was at A-Camp after the last night dance. My cabinmates had dispersed, the music was slightly too slow for me to dance to, and I walked back to the cabin alone, looking up at the sky and thinking about how grateful I was to be alive rather than dead.

Erin, Staff Writer
The lead up to me really crying is like starting a lawn mower that's low on gas. It takes repeated, painstaking pulls that result in disappointing puffs of air before there's one that makes the engine catch and become its own uncontrollable being. This was me a couple weeks ago after months of stressors came to a head with another stroke my dog had. For some background, I got my dog when he was a puppy over 12 years ago. He's been with me for every move, every relationship's beginning and end, every major change in my adult life. When Riese met him and me for the first time together she said something to the effect of, "Wow, you two really are on another wavelength." For better or worse – because he has 100% ruined my life financially and otherwise – he's my guy.
The combination of his age and breed is such that he now has mini-strokes on a fairly regular basis. It's something we manage, and there hasn't been one bad enough that it's affected his limbs permanently, but a couple weeks ago I found him in a room unable to move. I could tell he was confused and he was scared, and when I hugged him he leaned his big head into my chest and kept it there like he was thanking me. That was the pull that got it to catch and WHOO GIRL if it didn't take off on it's own!
[Update 9/30/17: my dog died last month and I've been crying every day since!]

Stef, Vapid Fluff Editor
I used to cry very, very easily, but it's become much less frequent as work-related stress has forced me to become a hardened shell of my former self. This all went to hell last week.
Listen, so my officemate and I like to have the National Geographic channel on in the background sometimes while we work, and the other day when I was about to get my period and felt extremely, EXTREMELY emotionally volatile, they happened to show a program about African wild dogs. This one female African wild dog couldn't find any other African wild dogs to mate with so she was offering herself to some hyenas and I was like, girl, I've been there. I got weirdly emotional about it! Girl, I pled with her silently, you don't have to do this. You're better than this! She kept trying to find other packs of her own kind to hang with and perhaps mate with but it just wasn't in the cards for her. She ended up making a home with a pack of jackals and it was too much for my premenstrual little heart. I swear I'm not the kind of person who cries at stuff like this but man, I was just having a day.

I'm not really a big crier. I get teary a lot about stories (and TV commercials with pets) but I don't find it very cathartic to just sob. I feel worse after I cry, always, and the day after too. Next Monday I'm having a big surgery that's been a long time coming. I'm scared about it, about the procedure itself, about what they're going to find or not find. I'm scared about the recovery, and the several weeks I'm taking off of work for it. (It's been ten years since I took more than a week off of work.) My stress is compounded by the doctor's bills that piled up leading to this surgery, and the countless hours I've spent on the phone with my insurance company disputing their willy-nilly decisions about what to pay, and about what health care is even going to look like for Obamacare folks like me next year.
It's been a hard summer. I was physically attacked once on a bus by a guy calling me a "bitch dyke" and some teenage dudes threw rocks at me on my street just a few weeks ago shouting a similar thing. Two police reports, two follow-up visits. I have new neighbors upstairs and downstairs who are making me feel constant anxiety in my own home. I had to have an emergency root canal. The IRS thinks I owe them an extra $8,000. I've had to do some perpetual and frustrating emotional labor around a few adults whose behavior calls up a lot of bad childhood memories for me. Every day a new Trump horror. And I cycle through excruciating pain. (Thus the surgery!) I'm really very tired. But I haven't cried one single time about any of it — until last week when I was going for my final pre-surgery blood work and I couldn't find my lucky Star Wars t-shirt. I've had that shirt a hundred years. I wore it the first time I won a mountain bike race, when I emailed Riese to ask for a job, my first date with Stacy, my interview with Dolly Parton, to King's Cross station. And I've worn it to every single one of my doctor's appointments, ultrasounds, MRIs, and outpatient procedures this year. I know it's not really lucky but it's a security blanket and when I couldn't find it in my closet, my dresser, the clothes hamper, under the bed, in between the couch cushions, anywhere, I broke down on the kitchen floor and sobbed my little guts out.
20 minutes later I did find it. One of my cats was using it as a bed. And I cried again.

Molly, Staff Writer
This is something I actually track because I'm working hard to be a better crier (I couldn't do it for like ten years because of shoving all my feelings down for so long). It was today while I was editing a column at my other, newspaper job, about a couple of young journalists I knew who died in a plane crash a few years ago. They were rad women, and I think about them a lot. My coworker who wrote the column was good friends with them, and the idea of a big steel cross marking their crash site in the wilderness with their names, miles away from sight or even a real trail, gives me goosebumps. Oops, I'm crying again.

Alexis, Staff Writer
We were in the hospital with my grandma earlier this year. March, near the beginning of the month. I only remember that because it was near my dad's birthday and I prayed a lot that she wouldn't go on the same day my dad was born. I remember thinking it was a silly fear, because my family loves my dad so much that they'd never let even death cloud their love for him, but I worried because that's what I do. I think I let that fear envelop me because I kept getting scared that she wouldn't know where to go when she died, that somehow she'd make a wrong turn somewhere and somehow heaven would forget her. I kept thinking she'd see her husband again and I got scared because I didn't know what to hope for if she did. I don't know what place he'd be in and I'm not sure if I want her to follow. If heaven is a good place, do only good people go there? What if you love them? What if they loved you? Does that make them good enough?
So, that's all hurricaning through my head as I sit in the huge and comfortable patient's room with my family. All of us are taking turns crying and laughing and talking about what's on TV (alternatively, the news, then Wheel of Fortune, then Jeopardy just like when I was little and would stay over at my grandparents' house late) while we wait for my grandma to wake up and maybe recognize us. Her memory went a long time ago and she's always been small but the loss she doesn't even know she carries makes her seem smaller. Her hair is greying and her skin isn't fitting right, it looks like she can go any minute and at first, I don't go to her. Even though they're pretending they're not, the whole family listens as you say your final words to her and I wanted mine to be alone. But, I don't get that privilege and I hold her too weak hand and lay my head on her bed and look up at her like I did when I was little and she looks back at me. She's been mistaking me for her brother lately.
The last time I spoke to her, months before, she told me, "Jessie, I'm so tired. I just want to go home." I hold her hand and I hope that there's some kind of way tears give the words you can't say right to the person who needs them most. I try to tell her she's going home soon and we love her, I love her a lot. But I don't think she understands. I want this to be some pretty story, but death doesn't dress up just because you ask it to. She looked at me and I kept crying and she kept looking and she didn't say anything profound or anything that gave me peace for where she was going. She looked at me and I cried. Then she looked away.

Mey, Trans Editor
Well, I'm usually a big crier, but I have been especially lately. I've cried every single day at least once since the start of A-Camp. Mostly it's been because of my hospitalization and what led up to it and what I did around that time. It's not been great, but I'm in therapy and I'm working on those things. But today, the most recent time I cried was actually because of Wonder Woman. I went and saw it with my mom and Nikki, and there's this part where someone tells Diana that people don't deserve her love, they don't deserve to be saved. And Diana says my favorite thing ever, she says that it's not about who deserves it, it's about what you believe, and what she believes in is Love. This is how I want to live my live, and I haven't been following it very well the last month or so, so even though I'd seen it before, when Diana said those words, I couldn't help but cry.

KaeLyn, Staff Writer
Family mythology attests that I've never been a "crier." When I was little, I'd fall down the stairs and get up smiling. I still don't cry much, especially IRL. I think it's healthy to cry! I encourage crying! I think it's bullshit that crying is perceived as weakness! Even so, I have very high, thick, emotional walls with barbed wire on the top and crying gives people a peek over that wall that I don't like. The last time I cried was watching Moana for the first time, the scene where Moana really sees Te Ka/Te Fiti for the first time and welcomes her to come to her while singing: "They may have stolen the heart from inside you/But this does not define you/This is not who you are/You know who you are." I am Te Ka. We are all Te Ka.

Nora, Fashion and Beauty Editor
If you read my recent Friday open thread, you know I've spent a nontrivial amount of time crying in the last several months for shitty reasons — but my most recent cry was actually for a non-shitty one! I was spooning in bed with a person I've been seeing on and off for a few years (sometimes because of distance, more times because of conflict), and I realized how peaceful and purely affectionate our interactions had become since I'd started on anxiety medication and began to recognize and remedy my codependency. My big spoon is nowhere near perfect, but I learned I'd made things so much harder for the both of us by not being able to articulate what it was that I wanted, and then stewing constantly over them not being able to read my mind. I had assigned malicious motives to their completely healthy and normal human actions because my formative model for relationships was an emotionally abusive one that discouraged equality and communication. It just hit me how I didn't have to lug around that baggage anymore; how I had finally been enlightened to my destructive patterns and their sources, that I had forgiven my partner and myself, and that I was now free to love from a place of gratitude, rather than a place of fear of abandonment. I left a substantial spot on my pillow, though, so now I look like a big ol' drooler.

Faith, Contributor
I used to think I wasn't a big crier but then I realized I bottle it all up then save it for movie night and also TV shows featuring baby animals. Inside Out rocked my emotional core and reduced me to a silent heave-sobbing mess. More recently, I may have cried twice while watching Okja on Netflix right before becoming a vegetarian for a week.

Vanessa, Community Editor
The number one thing that has made me cry recently is listening to podcasts taped the day of or the day before the 2016 election. You know, before we knew. When there was still joy and brightness and happiness and dare I say hope and optimism in our collective voices. When we thought we were about to elect Hillary Rodham Clinton. When we thought we were gonna finally have a woman in the White House.
I'm not seeking these podcasts out intentionally, but I keep stumbling upon them and they are so, so depressing. Bad With Money with Gaby Dunn features Gaby talking cheerfully about how she voted earlier that day and doesn't know the results yet. She jokes about giving herself to the sea if Trump wins. You can tell she doesn't think he will. On Sooo Many White Guys, Phoebe Robinson chats gleefully about what Hillary should do when she's president. And on Buffering the Vampire Slayer, Jenny Owen-Youngs opens with a very somber message to listeners; this episode is slightly different than the other two podcasts because in the former episodes, our protagonists don't know that everything is awful yet, but in this episode, Jenny knows. We all know.
So yes, the last time I cried was in my car, by myself, driving back to my home in Portland after spending a week on the rural lesbian land in Southern Oregon that I also call home (I have many homes). I listened to Jenny trying to make her listeners feel okay in this world; an impossible task. And I thought about the brightness in Gaby and Phoebe's voices when they thought things would be different on November 9, 2016. And I cried.

Rachel, Managing Editor
I don't cry much in general, especially in the past year or so because, idk, my heart has turned into a brick at the bottom of a lake! I cried this week on July 3 — my mother's birthday, coincidentally — after coming home from the city fireworks by the lakeside, where I was part of one of several community groups observing and recording the police because the fireworks are historically a heavily policed and as a result violent holiday in my city. I'm one of the only people with access to a car, so I had driven a few people there, and by the time everything was finally done, around midnight, I packed them up and drove them back. Then I drove myself home, with the streets mostly empty except for a few drunk people and some personal fireworks going off in the side streets, and parked outside my apartment on the curb and turned the engine off and let the song on the radio finish playing — I wanna say it was Alessia Cara's "Stay," with that catchy tinny chorus — and stared out the windshield and did those gross little hiccups you make when you're starting to maybe cry but, as Erin put it, the engine doesn't want to catch.
I didn't feel like I could or wanted to be out in the world — it was dark out there and not safe for me and even less safe for other people, and I kept thinking of these little babies playing in the grass and doing cartwheels six feet from mounted police. I didn't want to be in my apartment either, which felt claustrophobic and sad and too hot. The only place it felt like I could be, at least for the duration of Alessia Cara's "Stay," was inside this Toyota Echo that doesn't even have my name on the title. But tragically for me, you cannot live your entire life and die inside a Toyota Echo. So for the two minutes the song lasted I had a weird, humiliating, choked little half-cry in the driver's seat, left a scattered voice message for somebody I missed who I knew was asleep, and then went inside my overheated apartment and sat in front of the AC until I thought I could fall asleep.

Riese, Editor-in-Chief
The last time I cried was a few weeks ago when a couple who'd made an offer on this house took back the offer for reasons too frustrating and dumb to get into here. I was in Los Angeles visiting my very patient girlfriend Sarah who I met this past February. I'd just packed to fly home and she was heading off to class and I was heading off to the airport. We'd been so giddy and ecstatic ever since the offer was made, and so had my friends. I was so excited to be getting out of here, to no longer literally live inside the epic logistical and financial nightmare I was faced with after a soul-crushing breakup.
And then I got an email from my real estate agent about the inspection and I cried. Generally I try to avoid crying because my face reacts like it's just been dunked in a vat of poison (it gets red / swollen / puffy for hours / days), but I cried through most of November and December, after the breakup. Then I stopped for a while. But in the days leading up to the offer being made, I'd cried most mornings before getting out of bed, 'cause I felt like I was gonna live inside this mistake we made forever, like there'd never be an offer, despite it being a truly beautiful house. That's what everybody says when they see it, and they're not lying. It's a gorgeous house! But I bought it in a specific context — we were engaged, we wanted a place we could live in forever, which meant big enough for a family one day — and that context is gone like so many things I believed in last year. The fact that it was just me on the paperwork felt like a technicality until it became the most defining factor of my life. The towns I live near are incredible, wonderful places to live, objectively. But it's also my hometown — where I grew up and went to college, and I was deeply unhappy as an adolescent and in college. So it's haunted, really. My ex had empowered me to face my ghosts in a way that felt like the closure I'd needed for so long. But now it's just me and the ghosts. (Also there are definitely literal ghosts in this house, ask Erin!)
I think the initial plan was Detroit, but then we saw this place on Zillow, and it was everything we'd ever talked about, so the location became secondary — notably, it's on five acres of land, and my ex wanted land 'cause she wanted to be a farmer. That's how a city girl (me) who likes a coffee shop and gym within walking distance ended up living in the country, 20 minutes from the nearest grocery store. The rest of this decision is foggy. I got confused, I guess, between what I wanted and what she wanted, but also I wanted her to be happy and successful, which meant what she wanted was what I wanted, so that's where things got confusing. I also figured that no matter what, it'd be way cheaper than making a mistake in New York or California, and I could spend the money I saved on visits… but it's actually been a nonstop life-draining financial nightmare. My bills have never been higher. I think I also confused "accepting that the midwest is actually awesome" with "being a person who wants to live in the midwest right now"? Because of the work I do, not living near LA/SF/NY or another lesbian hub has been harder than I'd anticipated.
Now there's another, much lower, offer on the house, which I accepted, despite it meaning I wouldn't even break even, let alone profit, despite the brand new roof, everything that I did and everything Erin did and everything Sarah did to get it ready — but the foundation needs work before we can close.
When the contractor gave me the truly epic foundation repair estimate, I didn't cry. I just sat here and stared at the wall and felt empty, like a five acres of land I don't want or like an empty promise or maybe, more generously, like the bones of a house without anybody inside it, like the house will be when I leave it, which I will, because I must, and soon.

The last time I cried was last week when I watched Moana. The moment you find out her grandma got her wish and became a stunning, graceful, glow-in-the-water stingray after she died. I was no good. I sobbed like a baby into my hands and blubbered about how beautiful it was and how important it is to carry the spirits of our elders and ancestors with us. I need to call my grandma.

Yvonne, Senior Editor
I've always been a chillona. It would get me in trouble with my aunts when I was a kid because they said I needed to toughen up. My mom would always defend me and say that I was just sensitive. My partner was often frustrated with my ability to cry easily especially in the beginning of our relationship because she didn't know how to deal with it. I've gotten a lot better with how easily and how often I cry but I still cry a lot more than most people!
The last time I cried was last week. My partner and I moved to a new apartment in the same city and it's just been super stressful and chaotic at home! Our stuff is in boxes, I don't know where anything is, our house is a mess, we didn't have clean clothes, I work from home, our dishwasher wasn't working. It's just been a lot. One night my partner and I got into a huge fight that was about the bath mat but it wasn't really about the bath mat but how we communicate with each other when we're angry, annoyed or stressed. And then it just exploded from there and I was super impatient and just wanted to go to sleep and she wanted to discuss it and so we had a shouting match and said some things while crying. Then she left the apartment in the middle of the night and I cried a little more before tossing and turning all night.

Raquel, Staff Writer
I cried last night, a lot, because I'm exhausted of getting rejections for jobs I've been told I'm qualified for (maybe that's the problem), and was passed on for a position I really, really, wanted—a remote design position for a media company that I daydreamed about so much, that would allow me to rub elbows with journalists and writers and to move to Alpine for a year and live quietly in West Texas and maybe write a book and hang out with cowboys and look at the big bright stars above the McDonald Observatory and write poetry and then, maybe, even apply to grad school— dreams dashed, and so then my girlfriend read a very sad piece I wrote about my depression and my exhaustion and my terror of being a Real Writer and so she sent me a google doc of potential low-residency MFA programs, because she is so thoughtful, and then I cried for an hour because I'm a baby.