Hi! Hello! And welcome to Boobs on Your Tube! This week we podcasted the highs and lows of second episode of the new season of Generation Q on To L and Back. On Legends of Tomorrow, Sara and Ava found themselves in the middle of a murder mystery. On Good Trouble, Alice's love triangle comes to a disappointing crash and burn. Let's see what else!
Notes from the TV Team: 
+ In the Dark is still bad. FYI. Jess is still missing. And now she might be missing for a reason that actually has nothing to do with her. Remember when Humberly was on this show? Good times, good times. — Valerie Anne
+ Coroner is back! No sign of Jenny's queer best friend and her lady love, but River the medical examiner played by Kiley May is back. — Valerie Anne
---
Raising Kanan 105: "Choose Your Battles"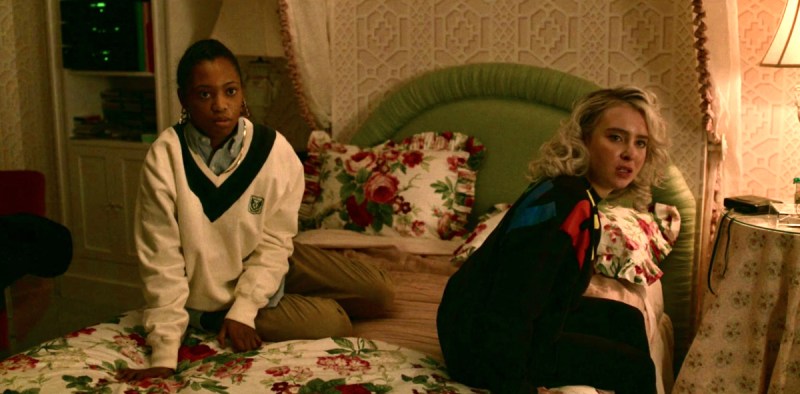 For a minute there, it really seemed like Jukebox was on top of the world. Having sex for the first time with Nicole, she can't help but brag a little to her friends (Famous, incredulous: "I was supposed to be your first!" Kanan, to Famous: "That's my cousin you're talkin' about!"). She doesn't necessarily tell them that she lost her virginity to a girl, but she does lay it on thick that as a girl, she knows what women like — unlike all the virgins in her crew around her.
She ends up in a fight with Kanan, largely due to his own stubbornness, and he implies that he's willing to hold the secret of her sexuality over her if push-comes-to-shove, which is a low blow (he is a teenager after all). Still, later she ends up getting to live her life dream of finally singing in a studio when Uncle LouLou comes through, and she literally blows it out of the water, so like I said: on top of the world!
Juke takes her demo to Nicole's, and they make out together on Nicole's bed to Jukebox's own voice coming through the speakers — undoubtedly a teenage dream — and that's when things fall apart.
Nicole forgot to lock her door, and her mother busts on in them. Of course, she goes FULL KAREN, face twisting in disgust as she kicks Jukebox out of the apartment. Nicole's father rushes in, confused by the noise, as the mother continues to scream that if Jukebox ever sees her daughter again, she's going to call the cops and accuse Juke of rape — a detail that I'm not sure was on purpose, but is harrowing in its specificity (rich white women have a history of threatening that they will falsely declare they are in danger to the police to put a Black person in danger, and in the early '90s shadow of the Central Park Five I'm sure this would have been enough to terrify the daylights out of Jukebox).
I wonder what's next — will this racist, homophobic moment push Jukebox to come out to her own family? Will she see Nicole again? — but I do know this, Juke maybe started at the top of the world, but she ends the episode walking the streets of New York, crying and alone.
---
Written by Drew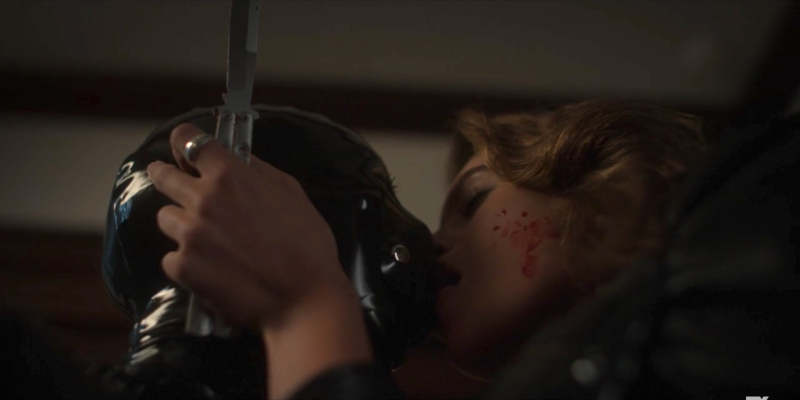 American Horror Stories comes to a fitting end with an atrocious episode that returns to Murder House. With more twists and turns and dropped plots and callbacks than the two-part premiere, this is an unwatchable piece of television.
It's a shame because this episode is filled with queer women. In addition, to continuing the Ruby/Scarlett romance, we also spend a significant amount of time with characters played by Noah Cyrus and Mercedes Mason. But representation isn't just plopping boring queers in even more boring writing.
I am once again bummed that this seven episode disaster of a first season decided to spend almost half its episodes on a shitty "Murder House" epilogue and even more bummed that the other four sucked too. This series already has a second season and as an anthology show there's no reason Ryan Murphy and his team can't course correct. Hire some interesting filmmakers to make standalone horror shorts! PLEASE. Otherwise I'll have to tap out because unlike the poor souls of Murder House I am not trapped in hell — I can simply turn off the TV.
---
This week on Motherland, Nicte told the head witches in charge that she would only talk to Tally Craven and then promptly flirted with her, which is extremely relatable content. Nicte admits that if Tally were to run the numbers, she would notice that the Spree has only killed the number of civilians that are equal to the number of witches that have died by being part of the magical military. Nicte says that Alder forced the rebels to kill themselves, which is when and why she fractured off and created the Spree.
The President, who is watching this go down, asks Alder to step down immediately after Nicte's sentence is carried out.
Tally is torn because she was raised to believe it was a witch's duty to help those without power, but also she knows that the system is broken. So she decides to fight it from the inside. She uses an archaic rule to duel Alder and save Nicte from the death penalty; witches dying is how they got into this mess in the first place. Tally's unit, M, and the only two boys on the show stand behind Tally, and Alder eventually throws down her whip, confesses to her crimes, and is stomped out of the room.
Raelle and Abigail are also having growth arcs this week, with Abigail telling her mother she wants to step up and be on the frontlines of the war against the Camarilla and Raelle telling the school she doesn't want to be their PR stunt. She touched the wall again and talked to her mom and learned that the school was built on the graves of their ancestors and her witchbomb magic comes from their residual magic.
Also, Raelle calls to check in on Scylla, who has found little Tiffany a home, and has been having a great time with Raelle's dad. Scylla also met a…crow? Could be a raven. It was a really fucking big bird and she somehow can use it to make people act like they're at the Mystic Falls Decade Dance. I guess that's an upgrade from the balloon that makes people yeet themselves to their own deaths?
Next week, the finale! And a race against the witch plague!